Located on the ground floor of the Platinum One Suite, Café At One, is a compact eatery serving quality - and most importantly, tasty - food. From Breakfast, Lunch and Dinner to a host of sweets and savories, you'll be sure to find something delish to satisfy your hunger pangs.
Ambience
Cafe at One can best be described as cosy, which means you will be pressed for space and seating on a busy day. However, I presume that a majority of their clientele prefer to order food to go, which will certainly ease up the seating. Considering the space, decor and ornamentation are sparse, but tasteful.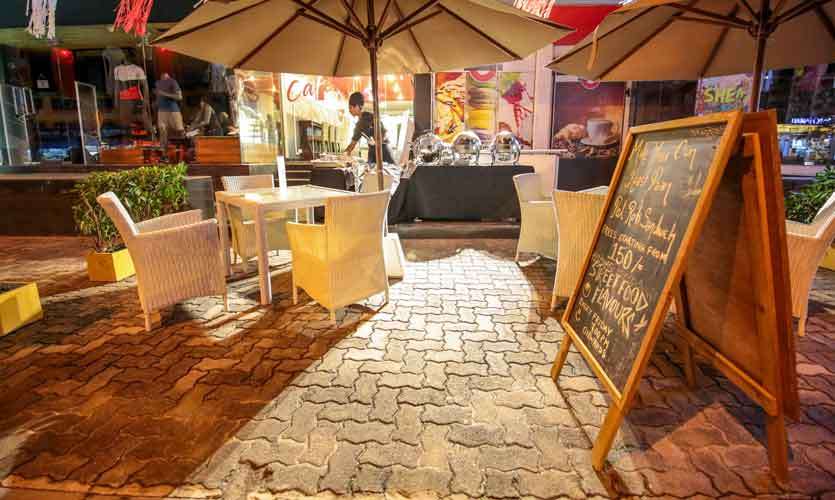 Drinks
There are a variety of beverages available at Cafe at One from fresh juices, smoothies, shakes, tea and coffee as well as the beloved Kola Kanda which is available for breakfast. I opted to try the Mango Smoothie, which comprised mango and yoghurt, a complementary duo that when balanced perfectly, makes for an absolutely divine drink. While it may seem trivial to expect perfection in a drink, a well made drink is something I appreciate because I've noticed that many establishments tend to not really bother about the quality of the drinks they serve, focusing on the food instead. I was happy to note that the Mango Smoothie was prepared to my satisfaction; the sweetness of the mango and the tang of the yoghurt balanced well enough to elicit the best out of the taste.
Food
For such a tiny cafe, Cafe at One has a surprisingly large offering of food, including a plethora of local favourites I wager you won't find at many cafes in the area. Add to this a range of desserts and savories and you will find yourself spoilt for choice whether you're craving a hearty meal or a light snack.
I was told that Breakfast is especially quite popular at the Cafe owing to the choice available. They serve freshly prepared local favourites like Kola Kanda, Roast Paan, Cowpea, Milk Rice, Roti, Dosa as well as Fresh Fruit Platters for those who'd like something lighter. If you're not in the mood for local food, you can opt for Sandwiches, Wraps or something off the shelf like Hotdogs or Pastries. Their Roast Paan is freshly prepared at their live sandwich station with the filling of your choice, and due to popular demand, is available throughout the day. Also available all day long is their recently introduced Achcharu, which is bound to be popular among the cafe's patrons.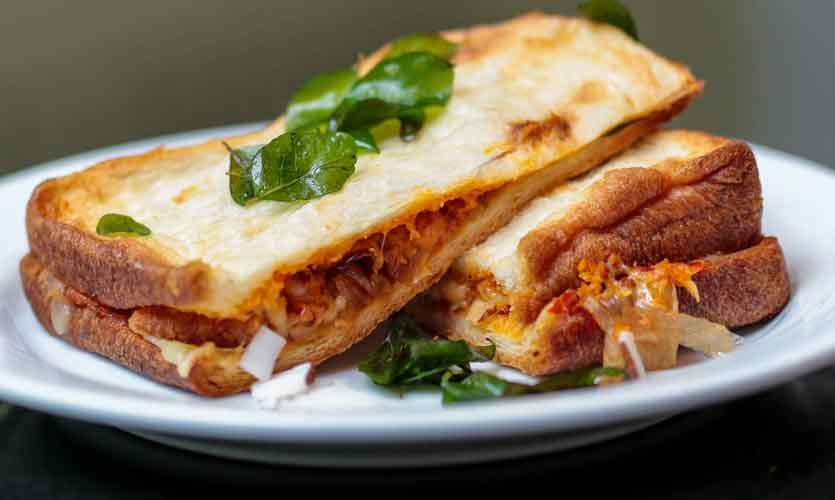 Their lunch option is limited yet pretty varied in terms of their offerings comprising everything from Rice and Curry, Fried Rice, Nasi Goreng, Salads, Soup in addition to the Village Pack, 'a large serving of rice, meat and accompaniments filled with local flavours'.
Dinner, however, is a more fun yet casual affair as they take to the street, complete with abundant seating outside and live action stations. With that in mind, I dropped by the Cafe for dinner hoping to experience the street food style ambience, but unfortunately, the weather wasn't very kind to outdoor seating that day so I resigned to indoor seating. Focusing on quality over quantity, the Chef explained that for the sake of providing tasty and fresh food, he decided against a large menu for the cafe, a fact that was evident in the food.
As a starter, the Chef presented an atta flour Chapati with a Salmon filling, a new menu item he was currently experimenting with. Much like a quesadilla (but without the queso) at first glance, this roti exhibited a melange of flavours accentuated by the curry leaves and friend onion. Perfect for when you crave a light savoury snack. I also tried the Roast Paan with two fillings - one with a seeni sambol and the other a cheese and pol sambol combo. I hoped to try their Roast Paan with Polos, but unfortunately, they'd run out. Nevertheless, both the Roast Paan options I tried were equally flavourful with undertones of expertly employed local ingredients.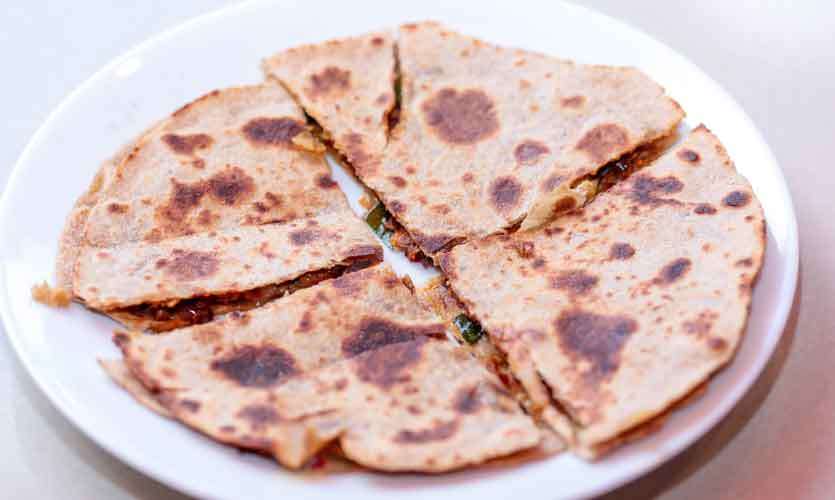 For dinner, you can choose among live action stations featuring varieties of Koththu, Mongolian Rice, Roti and even Wadey. As a huge fan of Koththu, I was very impressed by the quality of the koththu I tried here. The koththu wasn't swimming in oil like in most places, and shone thanks to the chef's mastery over local ingredients. Incredibly tasty, I would gladly recommend the koththu here.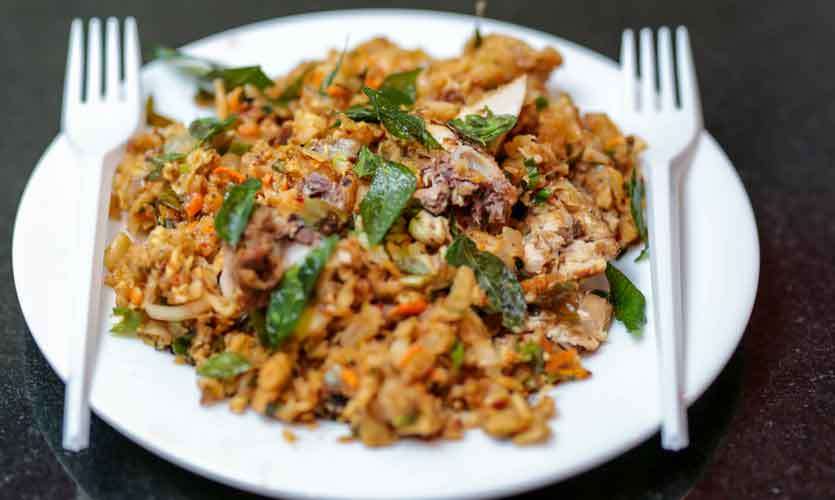 Dessert
A plethora of sweet treats line the shelves at Café At One. They have cupcakes, cheesecakes, donuts, fruit cakes, chocolates, eclairs or whole cakes. However, while the dessert items I sampled were satisfactory, they didn't blow my mind. The primary concern was that they lacked moisture and were more on the dry end of the spectrum, taking away from the overall taste and texture.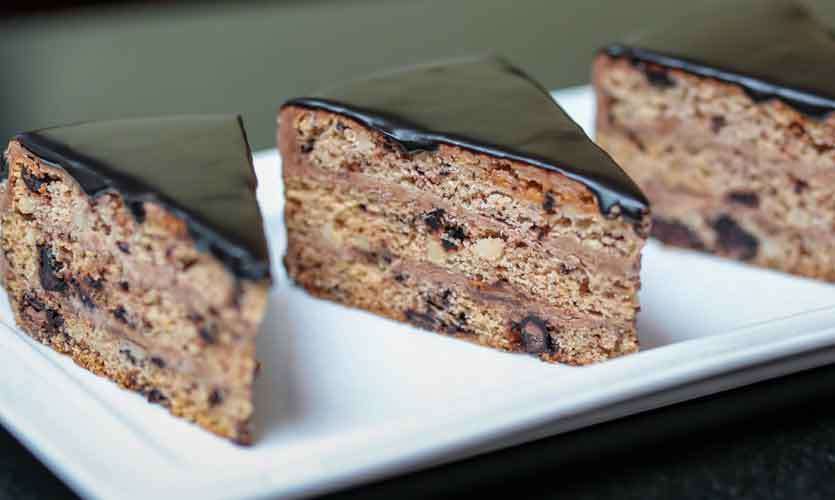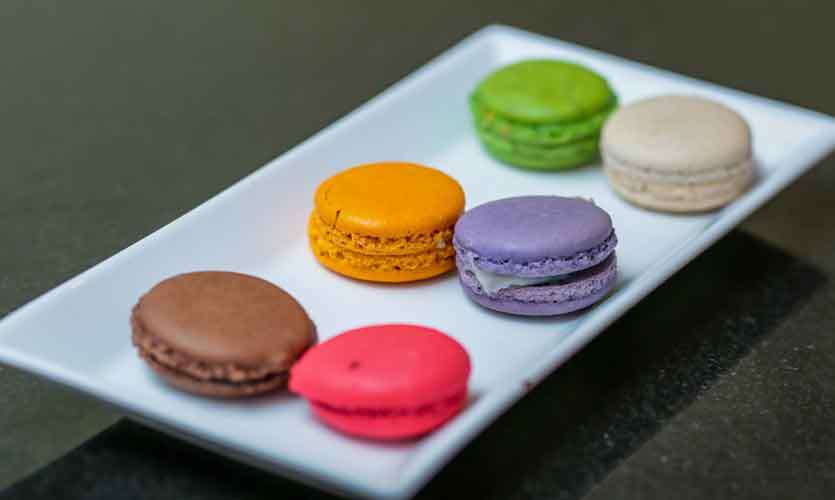 Without a doubt, Café At One impressed me with their tasty food. The secret, if I may say so, for the excellent food was certainly due in large part to the Chef's proficiency over the usage of local ingredients. This element alone sufficed to elevate the flavours and make the food stand out. If you're looking for a place to sit down and enjoy a meal, then this might not be the place for you (especially during rush hour - breakfast and lunch), but if you want to grab a quick bite or take food to go, then it would serve you well. The Cafe's ambience in the evenings however will make for a great hang out spot after work.

What I recommend: Their Koththu is fabulous and without a doubt one of the best I've tried. The koththu is very flavourful without being overbearing.
Notes: Café at One offers catering options for office parties and gatherings.
Delivery: They deliver savories, sweets, breakfast, and lunch servings to customers within a 5km radius of the building for orders of 20 people or more. They are also on Uber Eats.
Would we go again? Most definitely!

Pics: Damith Wickramasinghe