The Movenpick Colombo recently hosted a select gathering at a high tea to introduce the dessert lineup available for their Swiss Dessert Promotion which will go on until the 29th of February. The delectably indulgent desserts on offer are certainly worth foregoing any diet for! This saccharine heaven is certainly worth all the hype!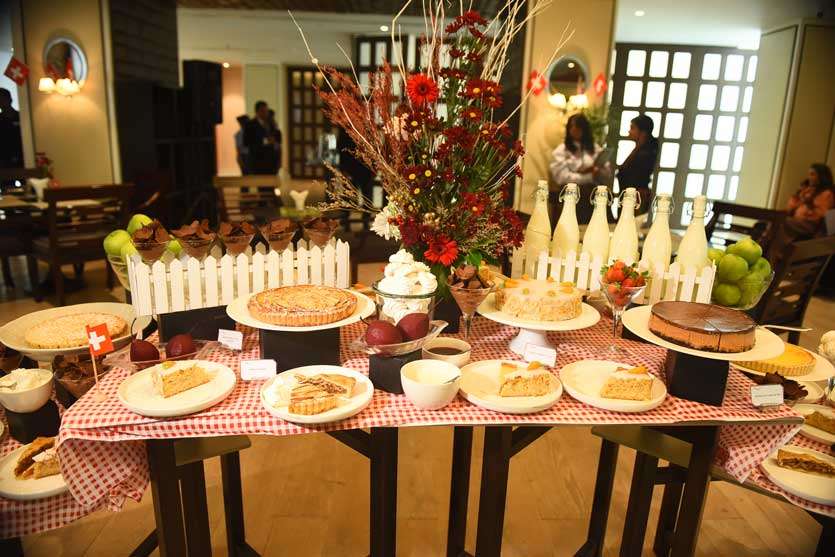 The Movenpick brand boasts over 70 years of culinary mastery, and frequently hosts a variety of food related events giving discerning diners a chance to sample a melange of international cuisines.
From the Swiss Carrot Cake to the Chocolate Mousse, Schlorzifladen and Hazelnut Dessert Pie, you will find yourself spoilt for choice. There's something for everyone - whether you prefer the well known dessert staples or are more inclined to checking out unfamiliar desserts, the items on the menu are varied, yet undeniably appealing. The Schlorzifladen, a pear tart, was an interesting dessert to start off with. The slightly sour pears worked well with the sweetness of the cream. Although it looked like it would be, the tart made for a relatively light dessert. Equally light, but certainly rich in flavour, was the chocolate mousse. The airy and decadent dessert is one of my favourites of the desserts I tasted. The best item off the menu was, without a doubt, the Hazelnut Cream Pie. The tastiest dessert, this will likely appeal to those of all ages. With a brownie-like base, the creamy hazelnut tasted heavenly! Just the right amount of sweet, it is a dessert I will happily keep going back for!
While the dessert promotion is short-lived, the Movenpick ice cream flavours are a permanent fixture, and will also be available at any of the hotel's dining venues. Among the delightfully delicious flavours available are the Caramelita, Crème Brûlée, Maple Walnut, Stracciatella, Strawberry, Swiss Chocolate, Tiramisu and Vanilla Dream.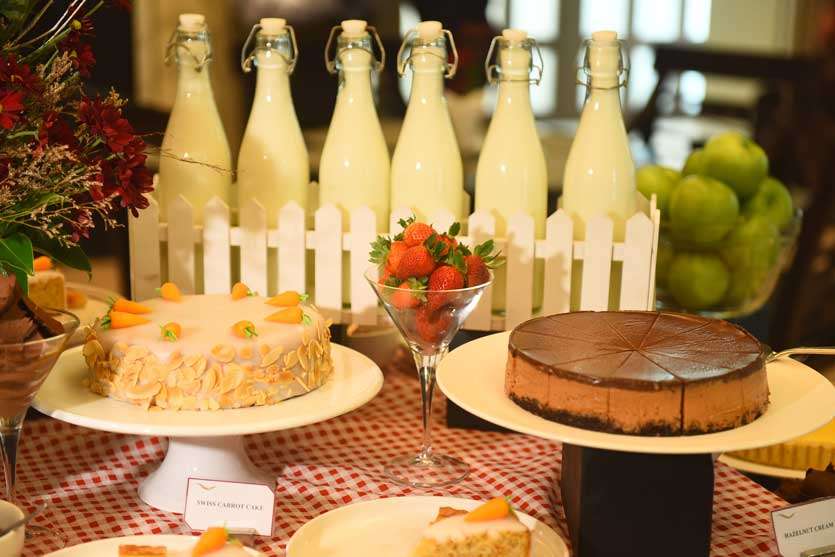 Swiss Dessert Promotion Menu
Swiss Carrot Cake - Rs. 390
With royal icing, marzipan, carrots & caramelised walnuts
Swiss Chocolate Mousse - Rs. 490
With passion fruit jelly & chocolate sauce crumbles
Apple Torte - Rs. 390
The most creamy, rich and decadent torte with vanilla custard & caramelised raisins
Swiss Meringue with Cream - Rs 390
Whipped creme & strawberry
Schlorzifladen - Rs. 590
A cream pear pan with cream anglaise. The pear filling is a dream!
Hazelnut Cream Pie - Rs. 490
A generous chocolate crust and hazelnut cream, this ruich, creamy pie is perfect for fulfilling that chocolate craving.
Engadine Walnut Cake - Rs. 590
From the beautiful Swiss region of Engadine, this cake is filled with crunchy walnuts, honey and whipped cream.
Spiced Red Wine Poached Pear - Rs. 690
Movenpick vanilla dream with spiced sauce
The Swiss Dessert Promotion ends on the 29th of February. So make sure you drop by and try out the delectable line up of Swiss desserts. The desserts are available at the Lobby Lounge, AYU and Robata Grill & Lounge.
Address: 24, Dharmapala Mawatha, Colombo 3.
Contact: 0117 450 450
Website: https://www.movenpick.com/en/asia/sri-lanka/colombo/movenpick-hotel-colombo/overview/
Instagram: @movenpickcmb
What I recommend: Hazelnut Cream Pie
Parking: Available, including valet.
Notes: The desserts are only available until the end of this month
Pics Nisal Baduge