How do our food experts cook and eat? This week, Chef Charith who was in the final 8 of Masterchef – The Professional Contestants in 2021, takes our Q&A!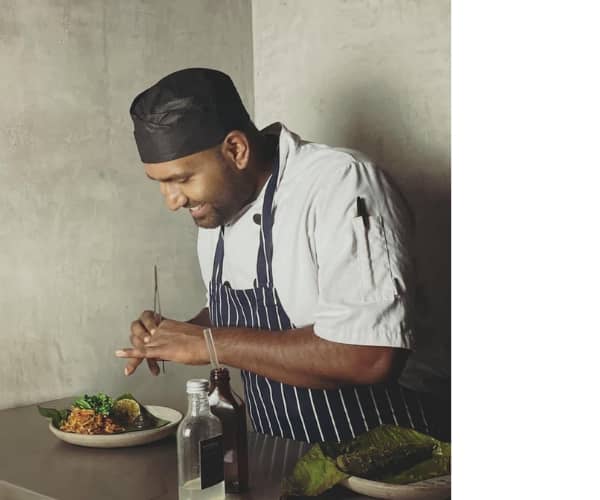 What made you become a professional chef? I like to eat fresh and tasty food. When my mom is cooking special meals for the family or for friends, I was the first person to taste it and give her feedback before it goes to the table. That made me more interested in cooking.
Your first memory of cooking? When I first came to the UK, I had no knowledge about cooking so I made dhal and pork curry for the first time. Luckily, it came out well and it was tastier than it looked!
Any particular habits in the kitchen? Prep! I like to have all my prep done before I start cooking and I keep my section clean and tidy all the time. When I'm cooking at home, it's not that different either, the only difference is that I like to listen to Sri Lankan music or have the Siyatha Morning Show in the background!
How was your experience at Masterchef – the Professionals Contestants? Oh my god, it was really amazing. I'm so glad I got through to the final eight. I would have loved to be in the final three but I'm really glad of what I achieved in the competition representing Sri Lankan food.
What was your favourite dish you got to create at the contest? That would be my Cod Curry (kiri malu) with Ceylon tea pickle salad, crispy cod skin with n-duja (a spicy Italian spreadable sausage) and egg stuffed godamba roti.
You are known for creating a fine-dining twist to Sri Lankan food – what has been your favourite invention so far? Hmmm, I've got quite a few but my favourite is Scallops and Rambutan Ceviche. I got really good feedback on this. Grace Dent, one of the top food critics in the UK, said it was the hottest and spiciest thing ever served in the MasterChef UK competition. That really made my day.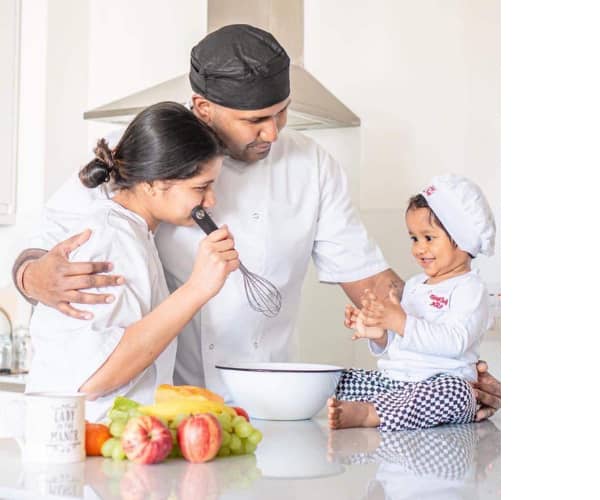 What was your favourite childhood meal? My mom's favourite kiri ala curry. When I was small, I used to go with her to dig them up and sit next to her while she prepared and cooked them. I can't make it now unfortunately because it is really hard to find kiri ala in the UK and would probably be hard to find it in Sri Lanka also now!
What's something you love to eat but not cook? Sushi
It's your last day on earth, where are you? I'd like to stay at home with my family eating dhal, hal masso tel dala, pol sambal and papadum made by wife.
A meal you would whip up to impress someone? Lamb roast, Yorkshire pudding, roast potato, cauliflower cheese and lamb and mint gravy.
Your favourite odd food pairing? Oysters with ambarella achcharu. This is something you must try - trust me! It sounds a little odd but it is so good!
What's the most adventurous food you've eaten? Sea snails with garlic butter in one of my previous restaurants. I didn't like it at all!!
What's a dish you'd love to relive for the first time? Coconut and lemongrass creme brulee.
The restaurant of your dreams? I would like to do a café in the UK with western food for breakfast and lunch and Sri Lankan food in my own style for dinner. I'd love a very rustic vibe to it, with a rustic interior and nice, cool, slow music playing in the background.
When you are not working, do the cooking or have someone cook for you? My wife actually does cooking but she takes ages! So I'm happy to do cooking rather than look after my little monster.
Your favourite recipe that has been passed down to you from family? Black pork curry.
What's your favourite cookbook? The whole fish by Josh Niland
What's your favourite food movie? Burnt!