Sun kissed golden sands with the salty scent of the ocean wafting through the air; Galle is without a doubt an ideal holiday destination. Located just out of reach of the hustle and bustle of the town, Amari Galle is the only five star resort in the area and brings together the elegance of Thai roots with the essence of Sri Lankan culture to provide a haven in which to enjoy the ultimate Asian experience. The apt tagline of Colours and Rhythm is embodied in the hotel as Amari Galle seems to breathe life in the tired traveller, even as you enter the premises.
Cups that resembled coconut shells filled with refreshing king coconut juice, greet the visitor at the entrance.
Āhāra Gourmet Gallery
Āhāra provides a diversity of culinary options through three kitchens that specialise in Sri Lankan/Indian cuisine, Middle Eastern/Western cuisine and Asian/Thai cuisine. Āhāra presents their guests with a little something more to tantalise their taste buds. As with any hotel, the classics are readily available for your indulgence. However, should you so choose you may prefer the "Re-Imagined" version of the dish you have selected; these reflect a unique spin that hero locally sourced ingredients and spices to depict the interconnectedness of the distinctive flavours of Asian cuisine. In addition to the classics and the "Re-imagined" are a variety of sharing platters that have been termed as "Always better together" which reflects Amari Galle's belief that experiences are always better when shared.
Executive Chef Sampath Meddawattege explained the thoughts behind the presentation style of some of the signature dishes.

The Coral Reef
Consisting of yellowfin tuna, lagoon prawns and cuttlefish with pumpkin puree, this dish is made to reflect the imagery of a coral reef similar to what lies just beyond the shores of Galle.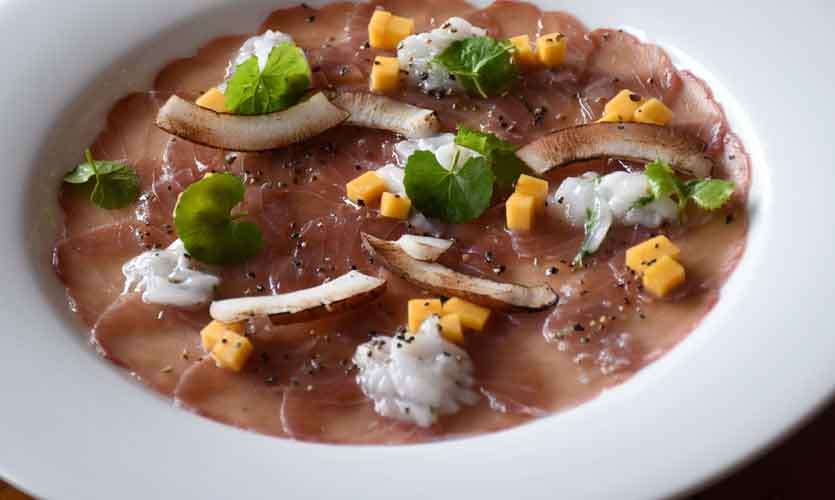 Local Tuna Crudo
The use of local spices and young coconut is aimed at bringing an island vibe to this seafood dish. Made from pumpkin, local yellowfin tuna and coconut salsa it heroes the fresh local seafood that is purchased daily.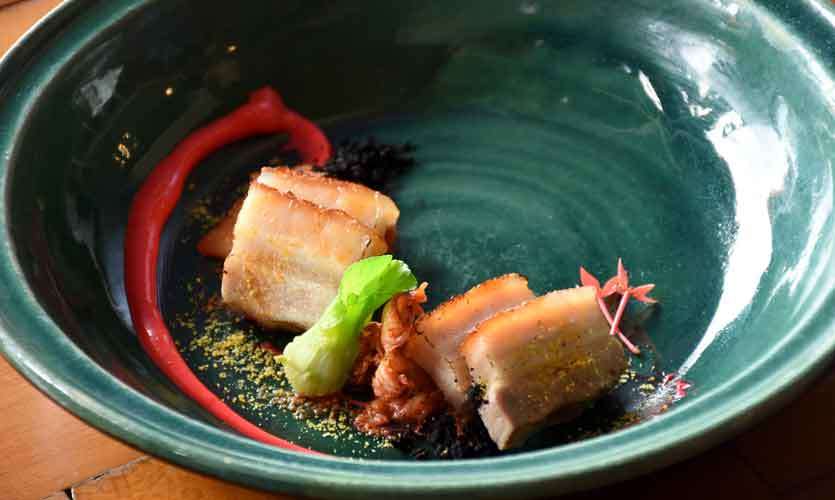 Twice Cooked Char-Siu Pork Belly
This dish heroes Amari's Thai roots with kimchee style snake gourd and is first slow braised and then pan seared in char-siu sauce.

The Surf 'n' Turf
A classic with a Lankan twist including your choice of beef or chicken breast, grilled lobster, seer steak and jumbo prawn.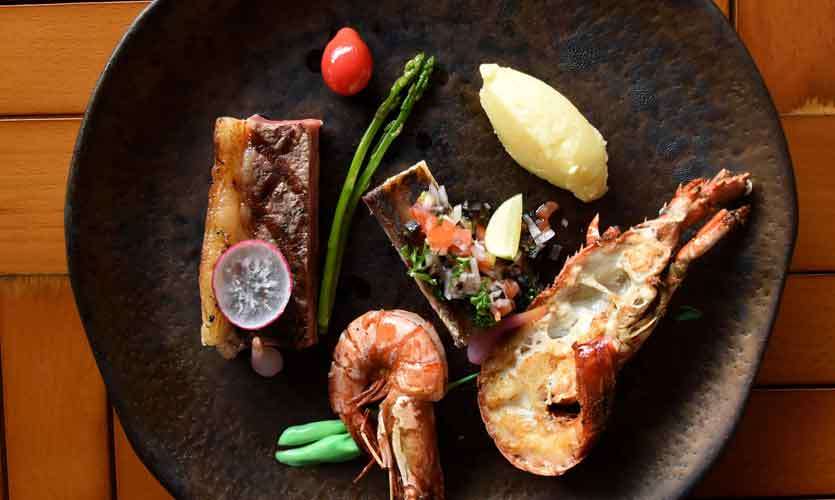 Rack of Lamb (Chettinad Style)
This dish embodies South Indian style of cooking with a coconut chutney to accompany the tender meat.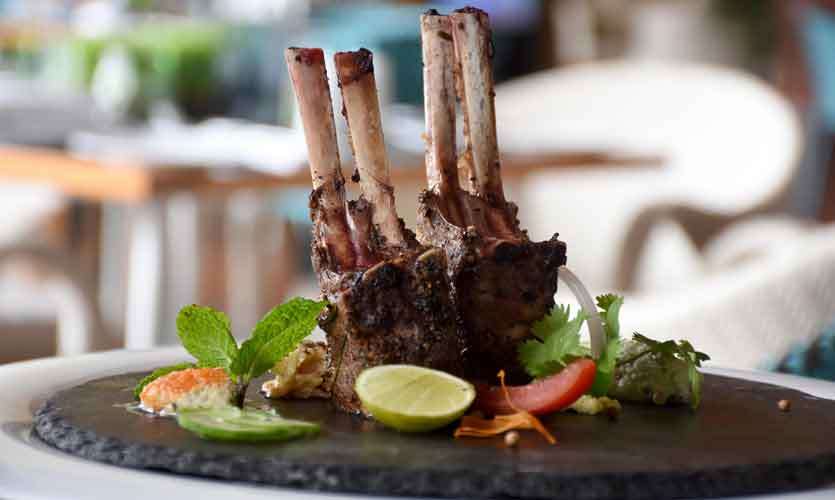 Dum Ka Um-Rubiyan
Similar to a butter chicken curry with raisins, served in a little wooden pot, this dish was visually impactful, embracing Lankan culture.

Layered Chocolate Torte
By far the most elegant dish, this Belgian chocolate torte with praline, pot de cream, crispy base and espresso ice cream is a chocolate lover's dream!

Willard Mango Panna Cotta
The bright, warm colours are deceiving as this vegetarian panna cotta with fresh mango puree, candied fruit and chutney is aimed at cooling the palate.
A three course meal was then presented for us to sample the food presented to guests at Āhāra.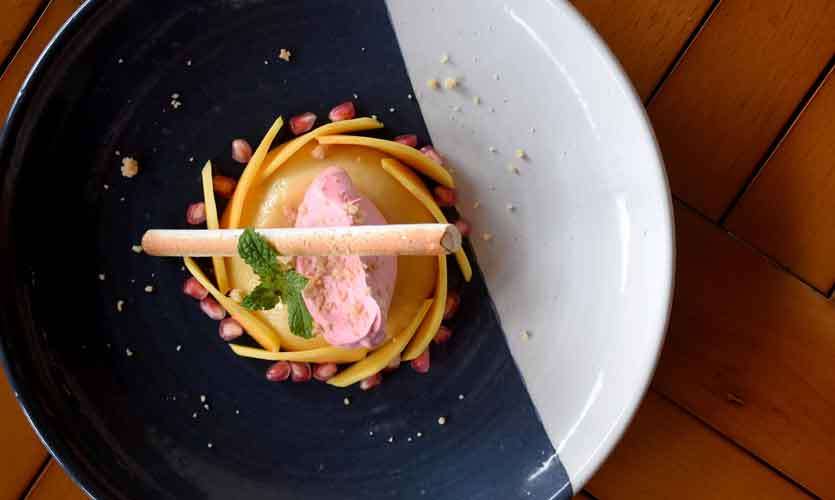 Karapincha Bread
Each Amari hotel serves its own signature bread that reflects the area in which it is located. At Amari Galle, this is the Karapincha bread. Soft and warm, this spiced bread was a real hit among the guests.

Slightly spiced prawn and tomato cream soup
Warm and creamy with just the hint of spice, this delightful dish was the perfect entree. The prawn meat was tender and complementary of the rich tomato flavour.
Lemongrass infused fish
While the infusion of lemongrass was a delight for sense of smell as well as taste, the proportion of fish in ratio to the accompanying rice and egg was off balance. For a main course, it lacked suitable accompaniment in the form of vegetables or carbohydrates.

In-house made Chocolate Chip Ice-cream
The cold dessert was an ideal conclusion to the meal with the sweet chocolate flavour and crunch of chocolate chips, sliced through with the slightest hint of mint. The little mint leaf atop each dish added a splash of colour to an otherwise visually plain dish.
Amari Galle is certified to use ISO22000, a Food Safety Management System that traces the food from the farm up until service to ensure the provision of safe food to customers. They monitor critical controlling points and minimise potential hazards related to food safety. Amari Galle is the first hotel in Sri Lanka to implement this system.
In addition, it has therefore surpassed the standards of other Amari hotels assuring customers that international standards are being met with regards to food safety.
The team of approximately 70 chefs, sous chefs, pastry chefs and kitchen staff are excellently qualified with experience working overseas. They strive to ensure that they set the benchmark for food in the area. Chef Meddawattege, the epitome of dedication had come in to work in spite of it being his birthday and he being entitled to a day off. As a result we were in for an amazing spread that had our tastebuds dancing. His international training and experience of working in 6-7 countries encourages him to think outside the box. Being from the area, he is able to harness the essence of Galle and create dishes that ensnare the senses. With him we had the pleasure of meeting Sous Chef Kamal Sen and Junior Sous Chef Sharm Anton who are part of the Āhāra team.
Speaking to Shashank Bhatia, the Assistant Food and Beverage Manager, he spoke of the overall objective being to "create unforgettable experiences" that present something for everyone to enjoy.
By: Rahéra Wijesinha
Photographer: Kushan Pathiraja