In a world full of picky eaters, Pizza is perhaps one food item that no one can complain about! (If you do, you are not human). While the pizza chains seem to dominate the pizza market in
Sri Lanka, from time to time we all crave an authentic Italian pizza with its thin crust, fresh mozzarella and hearty toppings. In need of some good old Italian pizza, we went in search of all the places offering Italian pizza and was quite surprised to find that the options are plenty to choose from. So we dedicated a week of pizza tasting to see who does it best and here's our list of our favourite spots for great Italian pizza.
Santore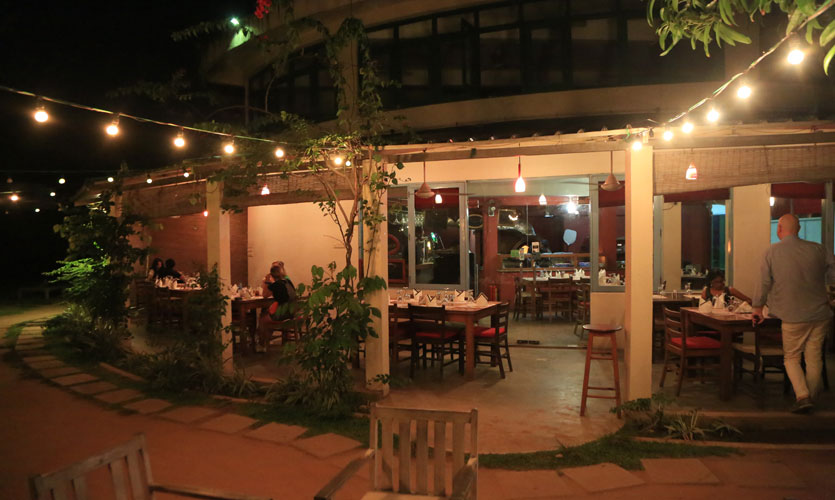 Nestled behind the Sri Lanka Tennis Association, the Santore Italian restaurant is a hidden gem. They are known for their excellent pizza and pasta and their pizza menu is quite extensive. We tried a half and half pizza with their Vegetarina and their Pizza Ragout. Their Pizza Ragout included a topping of Beef ragu and green chilli's and their Vegetarina was topped with grilled vegetables and bread crumbs. I loved the Vegetarina topping and it's probably my favourite vegetarian dish from this entire round. The beef ragu also had the perfect balance of spice and the two toppings together was a great combination!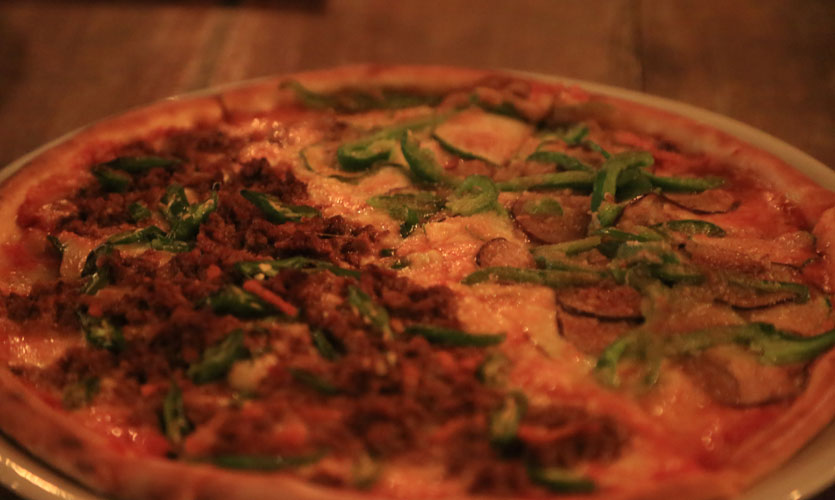 Address: 45, Sir Marcus Fernando Mawatha, Colombo
Contact: +94 11 2 689444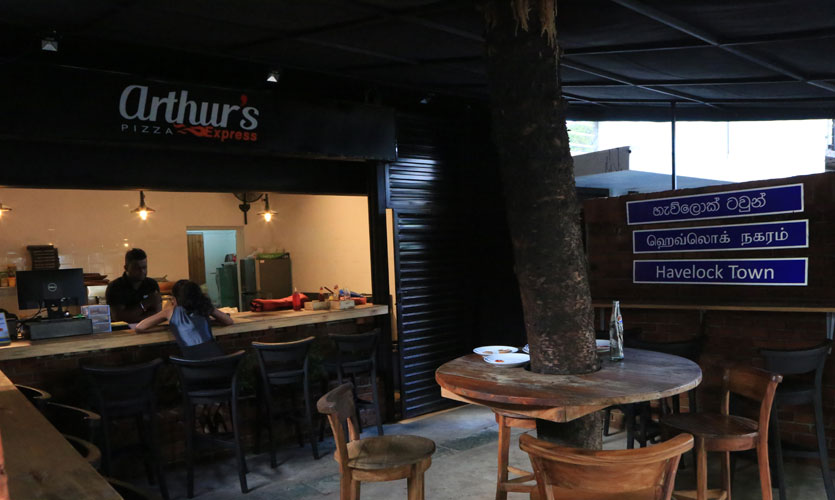 Arthur's has finally opened up an express outlet in Colombo down Havelock Road. While they have a few Italian topping selections, they are well known for their Sri Lankan toppings so we opted to try them instead. We ordered half Chicken Nai Miris and half Paneer Masala. The Paneer Masala was a great vegetarian option filled with chunks of fried paneer and Mozzarella cheese.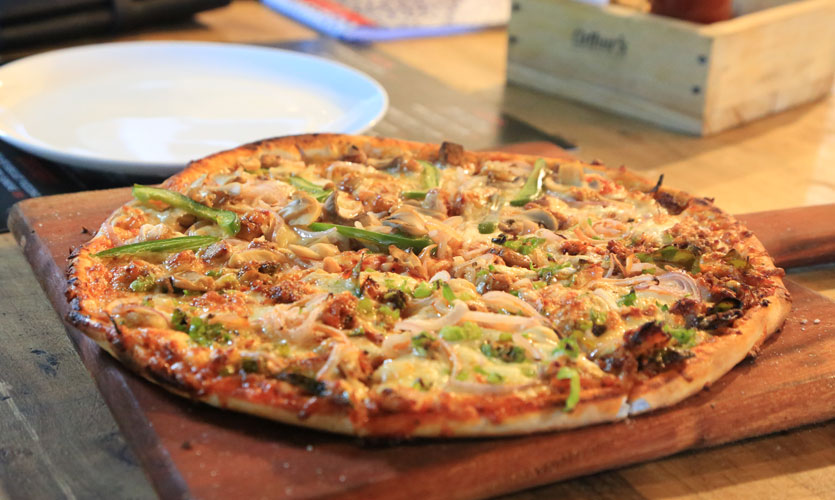 Our favourite however was the Chicken Nai Miris which was chicken served on a base of Nai Miris sauce. Nai Miris is one of the hottest chillies grown in Sri Lanka and can make a grown man cry from its sheer spiciness. So obviously we wanted to try it! The Nai Miris pizza truly lived up to its reputation and elicited a few tears and gasps from us. As Sri Lankan's, spice is a big part of our palate and after gulping down a glass of ice water, this pizza is left us extremely happy (and a little out of breath!)
Address: 185/7 Havelock Rd, Colombo.
Contact: +94 11 2 586241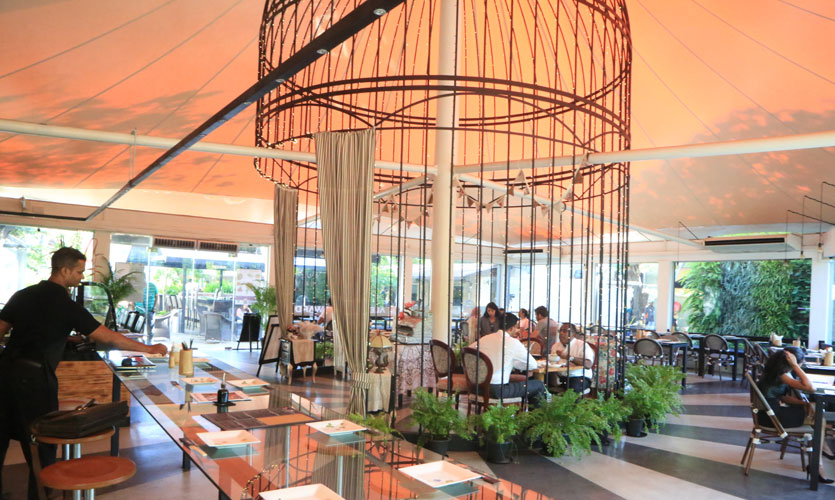 Oro 1889 at Alexandra and Ward serves authentic Neapolitan pizza channeling the very heart of Naples. With all their ingredients imported from Naples and cooked in a custom made oven from Naples, their pizza is as genuine as it can get!
We tried their Vesuvio and their Ortolana. The Vesuvio was made with Italian Tomatoes, Neapolitan Salame Piccante and topped with fresh mozzarella. The Salame Piccante is Salame made with red peppers and a variety of paprika and it really added a heaty flavour to the pizza. The Ortolana was a vegetarian option packed with aubergines and mushrooms.
The best part about this pizza is the dough. Made using only 4 ingredients, the dough is left to rise for 24 hours and is tossed in the oven for a few minutes in high heat in order to keep all the ingredients fresh. Because of this, the pizza is light and soft and doesn't make you feel like all you are eating is dough.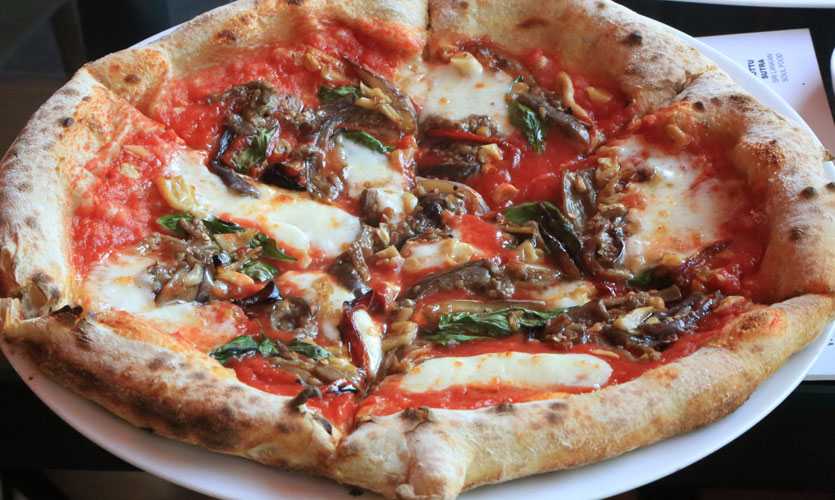 Address: 5, Alexandra Place, Colombo 7
Contact: +94 11 4 718758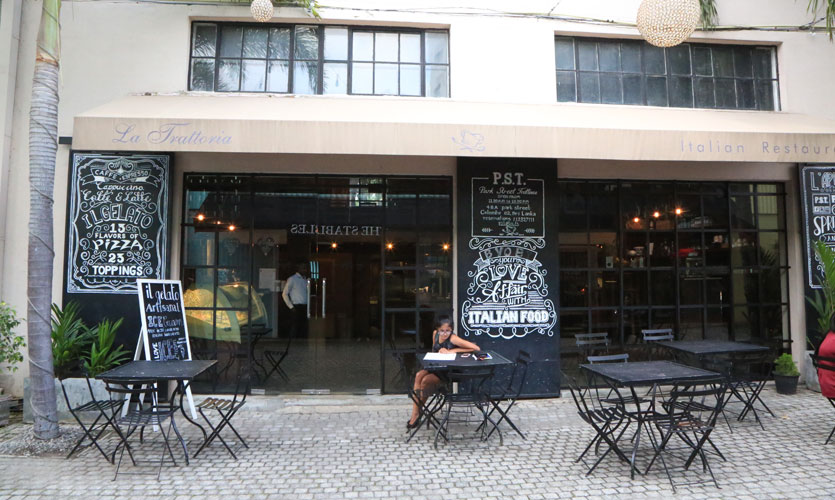 Italian restaurant, Park Street Trattoria has its own pizza menu offering vegetarian, meat and seafood options. We opted for a seafood pizza called the Frutti di Mare which included a mix of prawns, cuttlefish and tuna on a tomato sauce. The pizza was simple, with a few key ingredients it allowed you to spice it up to your liking. We opted out of the Tuna but we really liked how generous they are with their seafood! Along with good pizza, they also offer a killer ambience and is a great place to wind down!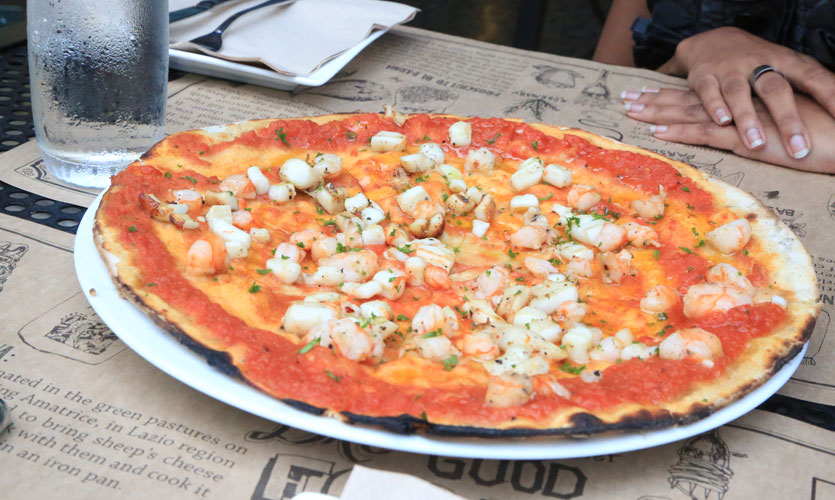 Address: 48 Park St, Colombo
Contact: +94 11 2 327111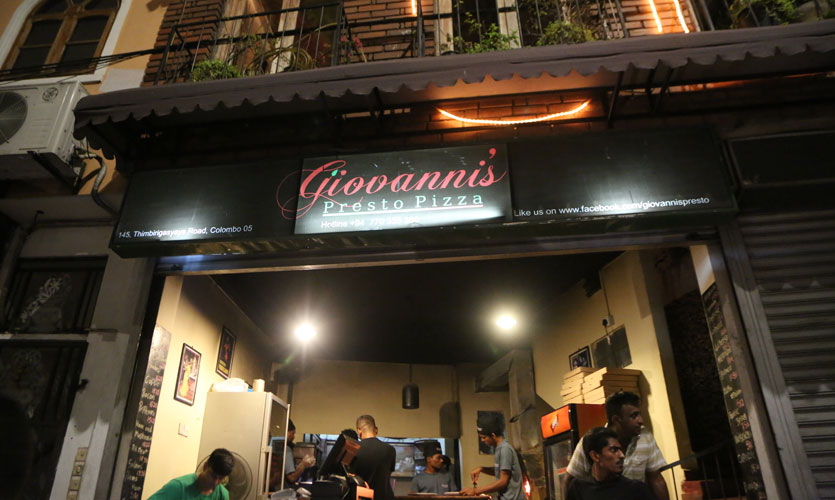 Giovanni's has really expanded their pizza joint and now offers a larger seating capacity. They've also added new items to their menu like garlic bread and desserts.
We opted for a half-half pizza with one half Margarita and the other their famous Spicy Chicken. Their Margarita was an absolute classic made with three ingredients; tomato, basil and mozzarella. No one can accuse Giovanni of skimping out on the cheese because ours was practically oozing of it and we can never find fault with a pizza swimming in cheese! They really have a lot of options for vegetarians and their Four Cheese and Tutta Verdura comes highly recommended.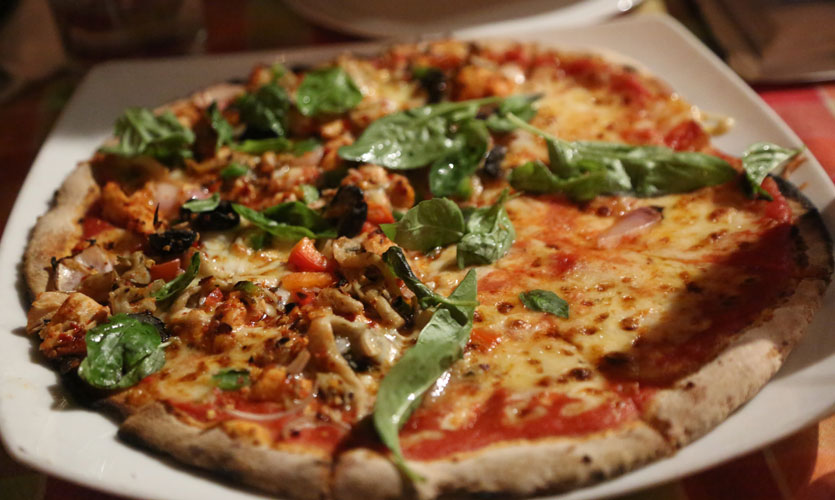 The Spicy Chicken was topped off with bell pepper, capsicum, onions, mushrooms and olives.
The chicken was generously served on the pizza and if you sprinkle a bit of chili flakes on top, the pizza is perfected! Props for Giovanni's for their extremely fast service as well! We got our pizza in just 10 minutes.
Address: 145, Thimbirigasyaya Pl, Colombo
Contact: +94 77 033 5366
Harpo's Pizza is a known name around Colombo. They've always been super innovative with their pizzas, (their pizza cone for example!) and recently they introduced Sri Lanka's largest pizza at 150 inches. We tried their Pizza Pollo (Chicken) and their Pizza Kheema (Mutton) and they didn't disappoint! Oozing with cheese, both pizza's had ample chicken and mutton in each slice. We really love their Pizza Pollo with the shredded chicken topped off with excess cheese and the Pizza Kheema had just the right amount of spice!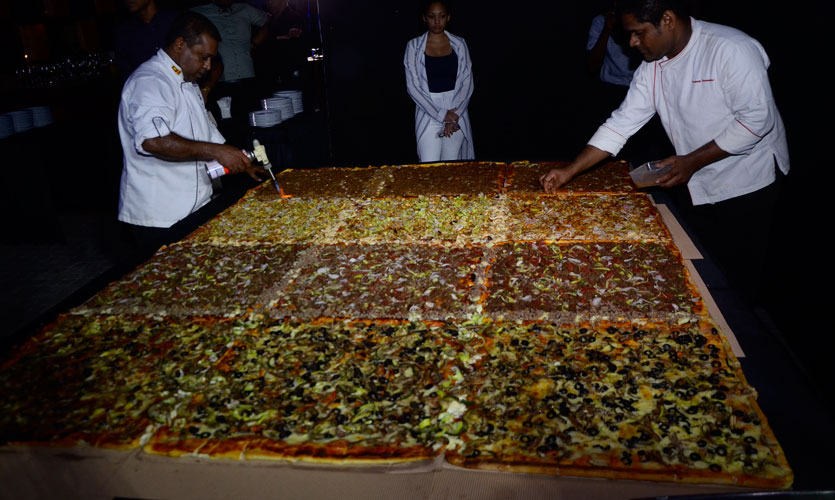 Address: 79 R G Senanayake Mawatha, Colombo
Contact: +94 11 2 695920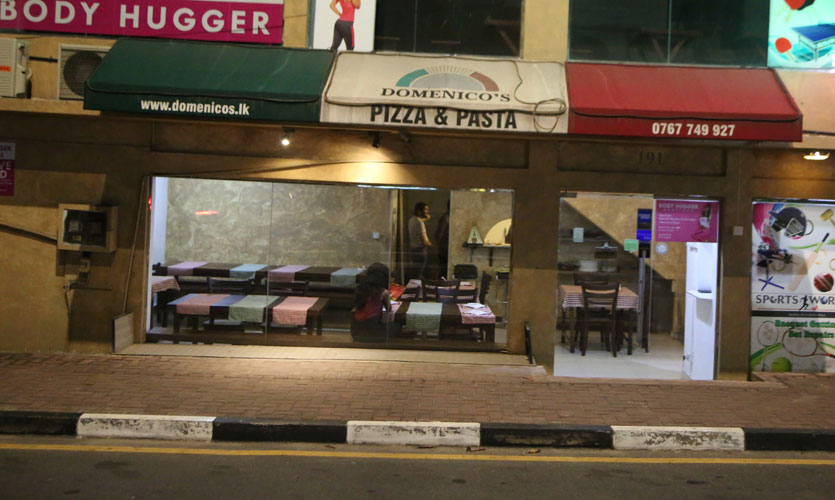 Domenico's in Thimbirigasyaya offers the second largest selection of pizza's we've seen with over 30 toppings. Whilst they also specialise in authentic wood fired Italian pizza, they stand out from the rest by using low fat mozzarella cheese and having 0% fat on their pizza dough. Their menu offers a range of vegetarian, seafood, chicken, beef and lamb pizzas. We tried their Smoked Salmon which is a topping of mozzarella, zucchini and smoked salmon marinated with lime juice and fresh cream. The smoked salmon was fresh and beautifully prepared.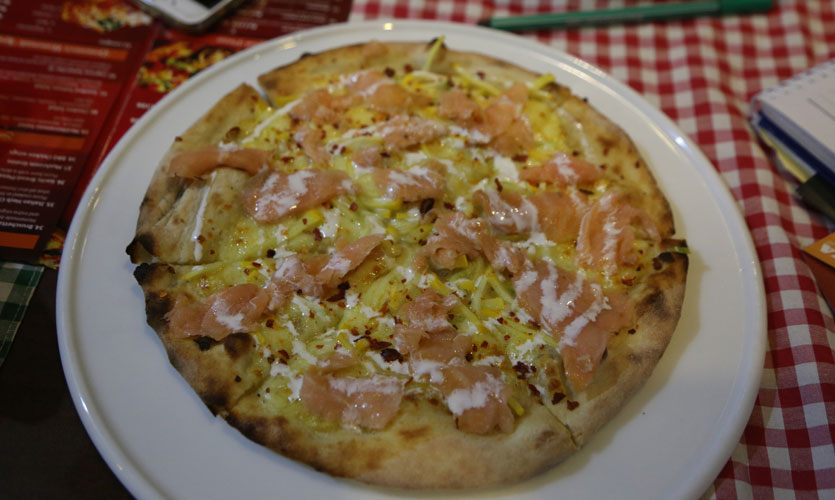 Address: Mangala Uyana, Colombo 5
Contact: +94 11 2 505900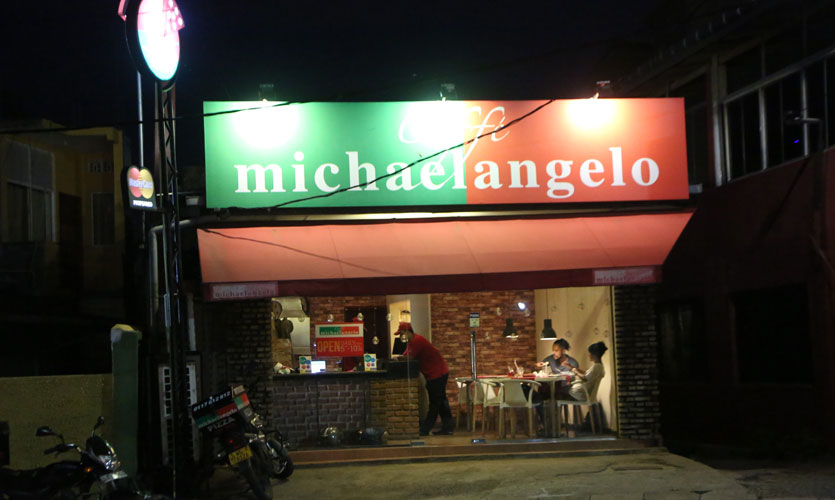 Michelangelo does traditional (and nontraditional) Italian wood-fired thin crust pizza. They have a Sri Lankan twist section of their menu dedicated solely to Sri Lankan toppings. They only offer half-half on their 12 inch pizza so we ordered the Pol Sambol as one half from the Sri Lankan twist and the Hawaiian from their normal Italian range. We were excited to try Pol Sambol pizza but were quite disappointed with what we were given. The menu describes the pizza as Pol Sambol topped with mozzarella but all we received was a pizza with Pol Sambol on top and no cheese holding it together which rather felt like eating a sandwich for us.
Their Hawaiian however was pretty standard with large chunks of ham, bell pepper and pineapple. They also had a few seafood pizzas that the staff informed us were a crowd favourite but would generally take around 45 minutes to prepare.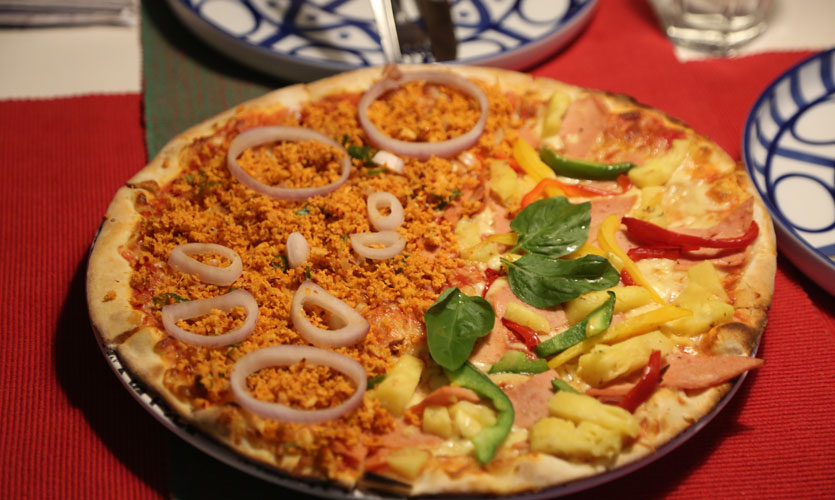 Address: 530, Nawala Road, Rajagiriya
Contact: 94 11 7 612612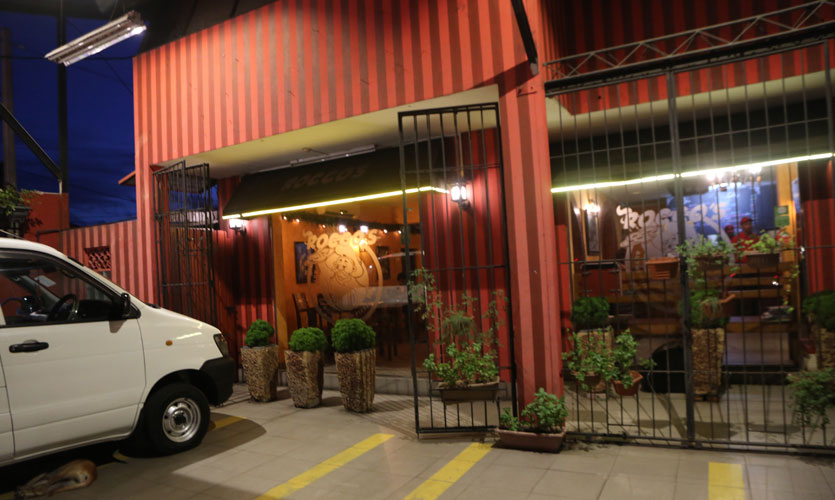 One of our favourite surprises doing this round was discovering Rocco's. Opening to the main Nawala road, Rocco's probably has the largest pizza menu offering a whopping selection of 40 different toppings. Unlike other places, Rocco's thankfully offers half-half toppings on both their 9 inch and 14 inch pizzas.
For vegetarian pizza, Rocco's have over 10 toppings to choose from but we decided to try their Zucchini on recommendation and we weren't disappointed. They kept it simple with a few thin slices of zucchini and cheese. I enjoyed the zucchini simply because it was sliced so thin that it has crisped up in the oven and had a crunch to that I liked. For our meat half, we opted for their Moroccan Lamb simply because lamb as a topping is rare to find! The topping was marinated Australian lamb, capsicum, onions, feta, oregano and mozzarella garnished with a mint sauce. Rocco's for us was a true underdog. Their portions were generous and the pizza was truly enjoyable but more than anything they had the perfect crust; thin and crunchy! Rocco's also has a great ambience with a downstairs formal seating arrangement and an upstairs chill lounge.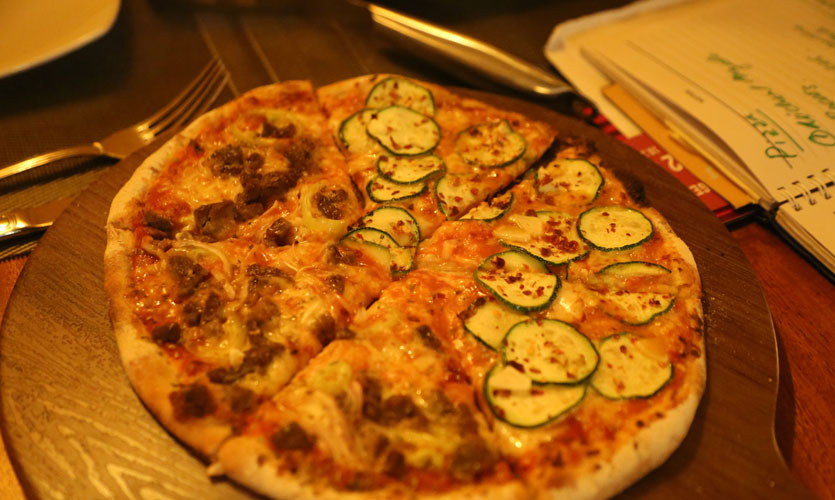 Address: 615A Nawala Rd, Sri Jayawardenepura Kotte
Contact: +94 72 201 2121
Photos Zeeshan Akram jabeer