Rihaab's Review
All Berry Bang – Fresh Intentions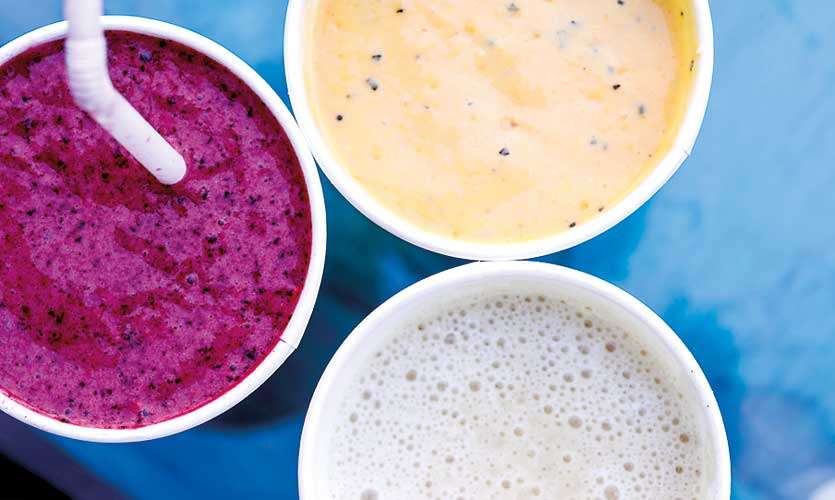 Perusing the drink menu - although it is very small - will leave you flip flopping from one drink choice to the other, since the combinations listed all sounded very appealing. I finally zeroed in on the All Berry Bang which comprised Strawberry, Raspberry, Blueberry, Banana & Strawberry Yoghurt, and was very glad I did. True to its name, the drink was rich in flavour thanks to its ingredients. I was also surprised to actually be able to taste the said ingredients in the drink, more so considering many places typically skimp on the pricier ingredients. All things considered, it definitely would have been a plus if the drinks were served in glasses or other environmentally friendly options as opposed to plastic cups and straws, which is the only option they currently have.
Prawn & Mushroom Dumplings - Noodles & Dumplings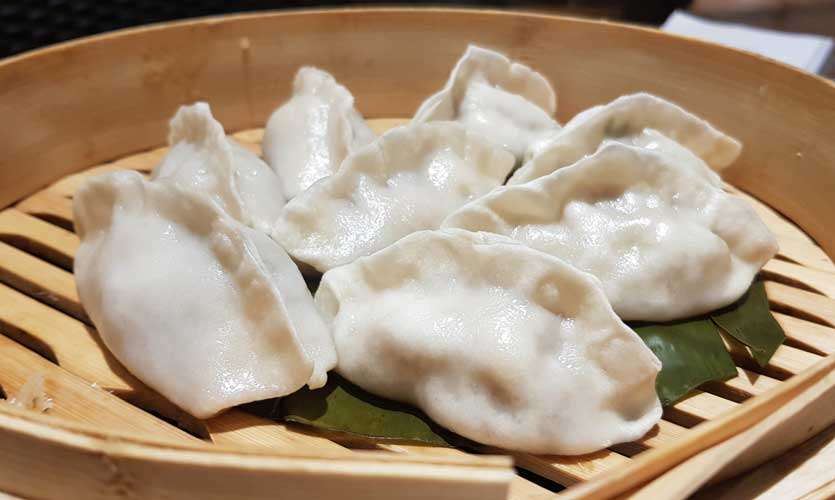 Picking off the menu at Noodles & Dumplings is pretty easy considering they have a very small menu. I picked the Prawn & Mushroom Dumplings (8 pcs) Rs. 1500 which was served with a dipping sauce and chili paste. Although the dumplings were on the pricier end of the spectrum, they were generous with the fillings in the dumplings and I tasted prawns in every bite. Eaten with the dipping sauce and thechilli paste, the dumplings certainly were satisfactory and surprisingly quite filling.
Kung Pao Chicken - Mao Cuisine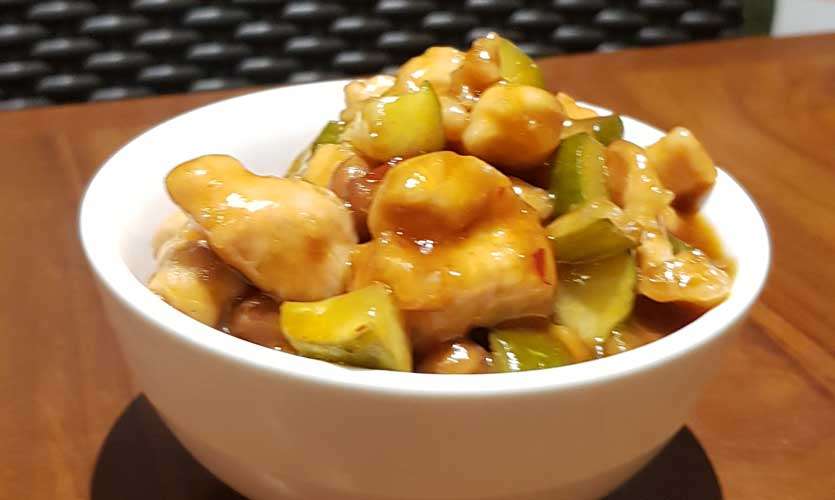 If you're hungry, Mao Cuisine is the place to head over to - they have the dishes prepared in advance, so you get your food almost instantaneously. I picked the Kung Pao Chicken (Rs. 500) which is typically a spicy Chinese stir fry. The Kung Pao Chicken I tried here wasn't exactly spicy, but leaned more towards sweet. Although this might sound a little off-putting to many (including to many of my companions before this tasting) the Kung Pao Chicken ended up being quite popular, and the dish was devoured within seconds! In addition to the chicken, peanuts and vegetables were used to add flavour and textural vibrancy to the dish. I ordered rice to go with it (at an additional cost).
Beef Rendang - Sumatran Spice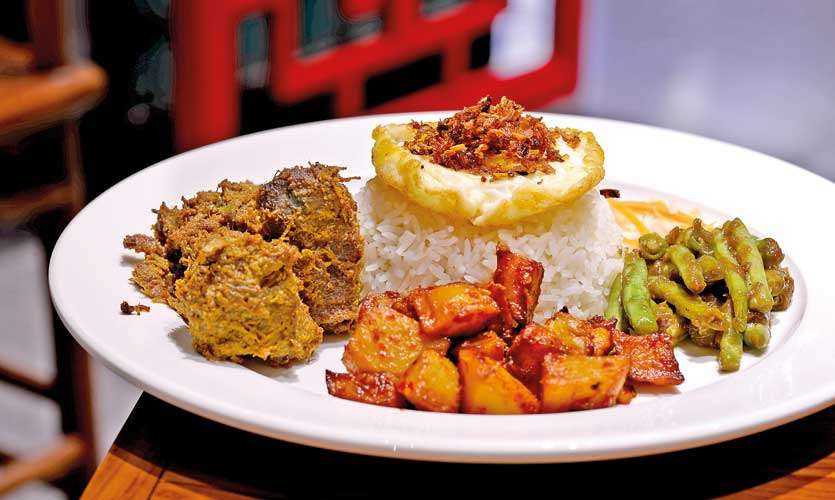 Fans of Good Market alum Far East Indonesian Cuisine can now head over to Food Studio; they are known here under their new name Sumatran Spice and have many fan favourites listed on their menu. I tried the Beef Rendang (Rs. 1200) which comprised a hearty portion with plenty of sides. The rendang was served with beans, stirfried potatoes, sambal, pickled veggies, and was topped with a fried egg. The rendang had incredible depth of flavour. However, despite the fact that the rendang is a dry curry, the meat was not tender, which would definitely have been the cherry on the top. Especially considering the other elements were all very tasty and added complexity and texture to the overall dish.
Kalea 65 - House on the Moon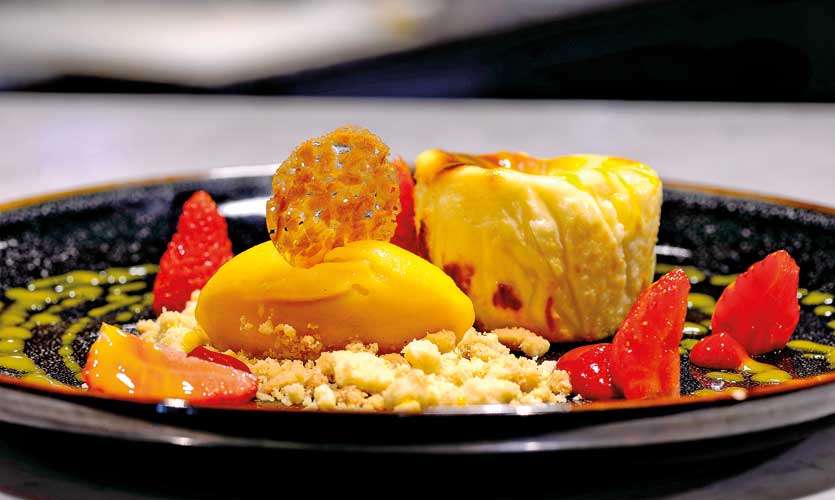 The House on the Moon dessert bar have been creating quite the buzz with their inventive desserts and coupled with theatrics and beautiful plating. I tried the Kalea 65 which not only looked great but also tasted incredible!!!!
The Kalea 65 comprised creamy cheesecake that was slightly caramelised, served with fresh strawberries, mango and passion fruit sorbet and almond crumble. Interestingly, House on the Moon pairs desserts with flavoured tea, and the Kalea 65 was served with mango and passionfruit tea with a little bit of strawberry. The dessert was almost too pretty to eat, but the cheesecake beckoned and I was in dessert heaven. Slightly hardened on the outside and incredibly creamy on the inside, the Spanish inspired cheesecake tasted incredible! The sorbet and the crumble added acidity and sweetness as well as texture, making it an awe inspiring dessert that I highly recommend you try! Keep in mind though that the Kalea 65 is only available Monday through Thursday.
Michelle's Review
Blueberry Sorbet - Punch Island Bar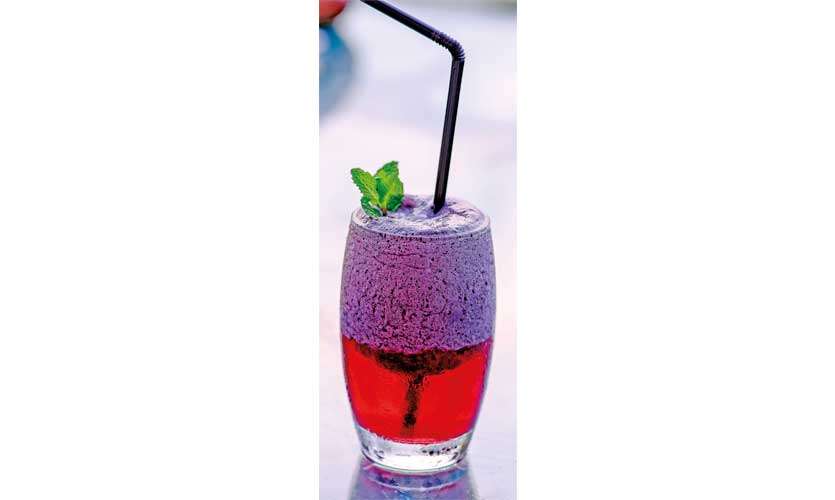 The Blueberry Sorbet available at the Punch Island Bar for just Rs. 650/ is very refreshing and absolutely perfect to cool yourself down on a hot afternoon or enjoy on a balmy evening, in which case you should grab one, go sit out on the terrace and experience bliss. It's very pretty to look at, but it might not be a good idea to waste too much time taking pictures of this colourful drink, as it melts quite fast and you're left with just the liquid (lesson learned). Even though it contains blueberry puree instead of the real thing, the intense blueberry flavour makes its presence felt. The Vanilla Frappe concentrate and lemon juice make for the perfect balance of sweet and sour which is felt right from the first sip. It goes down well and the aftertaste is very pleasant. Hop over to CCC and give this a try!
Black Wood-ear Stir Fry - China Street Food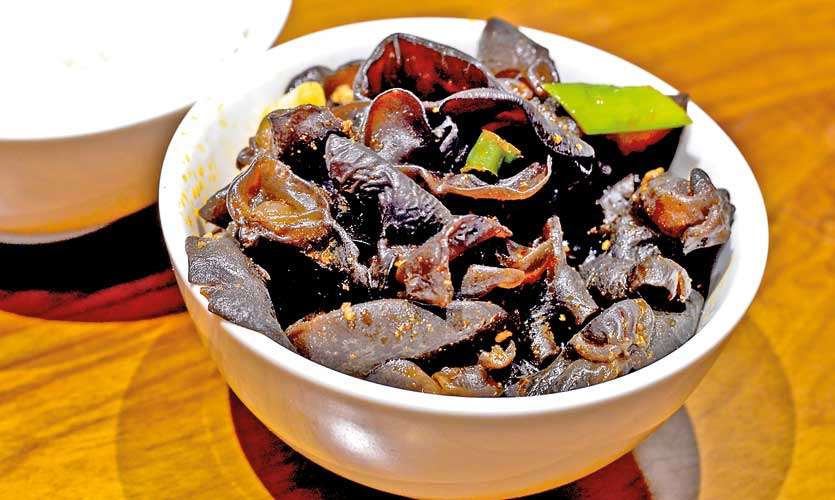 This place has many dishes that are interesting - and delicious of course! The one that particularly tickled my fancy was the Black Wood-ear Stir Fry costing Rs. 300/. It's a type of mushroom that is dark brown/black in colour and has a rubbery texture. Each bite is pleasantly chewy and you might want to take your time and enjoy each mouthful. This mushroom dish is served stir fried along with red chillies, a small amount of Bombay Onions and mixed in either oyster or soya sauce. It's absolutely delicious, and at the end, you start wishing the portion has been bigger. This is a great accompaniment to steamed rice and knowing how much we Sri Lankans love our spices, the Black Wood-ear Stir Fry is guaranteed to be popular with many. It's also a great vegetarian/vegan option, if you ask for soya sauce to be used instead of oyster sauce.
Singaporean Snacks - Midah Sisters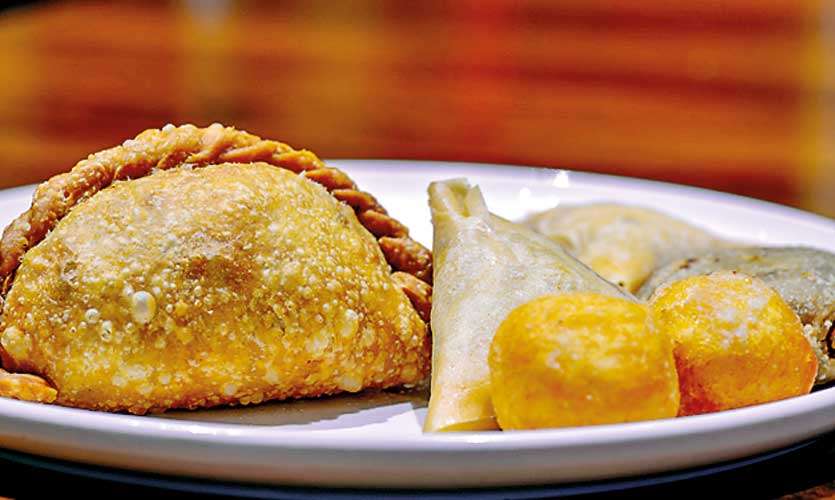 These finger foods are delicious grab-and-go options for busy individuals and serve as great lunchtime options for the busy bees. The Curry Puff and Curry Samosa are dreams come true for the curry lovers as both are generously stuffed with filling and contain the excellent spice and flavour combination of a good curry. Note: ask for it to be heated. The golf ball-sized, golden Sweet Potato Balls are very chewy and also best eaten hot as they tend to get rather oily and limp once cold. With the first bite of the Mung Bean Fritter, I immediately recalled the 'Mung Kavum', which is a popular traditional sweetmeat that is made here during the Sinhala and Tamil New Year over here in our sunny isle. This yummy snack containing the humble mung bean is slightly crunchy and can be eaten either hot or cold depending on your preference.
Sacher - House on the Moon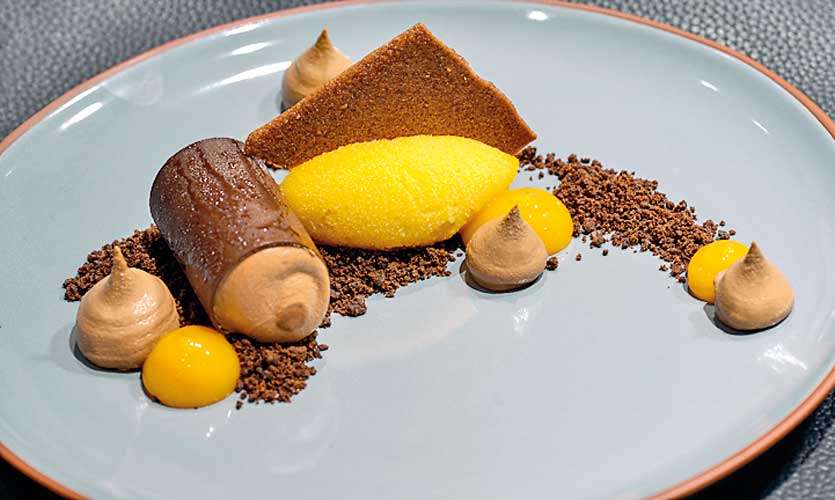 The effort that House on the Moon puts into plating and presenting their fare is just impressive! Everything served here is a marriage of fancy desserts and modern tea which enhances the desserts to perfection. I was presented with the Sacher, inspired by the well-known 'Sachertorte' and told that the mid-19th century Prince Metternich of Austria wanted to serve a special dessert to some important guests. His Head Chef was ill and the task fell to his 16 year old apprentice, Franz Sacher, who had no idea then that the cake he made that night would be world-famous one day. House on the Moon has done a delightful fusion of this dessert where a chocolate mousse cylinder under a layer of dark chocolate is served with apricot sorbet on a bed of crumbled chocolate biscuits and topped with apricot gel and chocolate ganache. This is paired with a light peach and chocolate tea; as it supports and complements all the flavours, sip it after finishing the dessert. Priced very competitively at Rs. 1400/, this is an ideal romantic date dessert where you can soulfully gaze into each other's eyes and spoon the sweetness into your mouth (or each other's).
Tina's Review
Passion Fruit Sparkler from the Punch Bar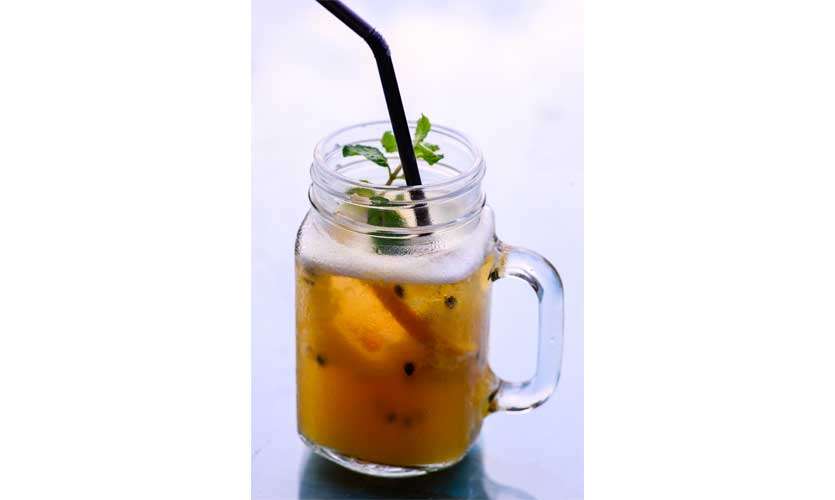 A refreshing drink with lots of passion fruit and fresh lemon the addition of orange juice and a dash of soda gives this drink a nice fizz to it. A tad sweet, if you need your drink less sweet best tell them to go easy on the sweet stuff. Overall it was a nice drink to sip while sitting at the terrace and watch the setting sun.

Teppanyaki Chicken Set from Midah Sisters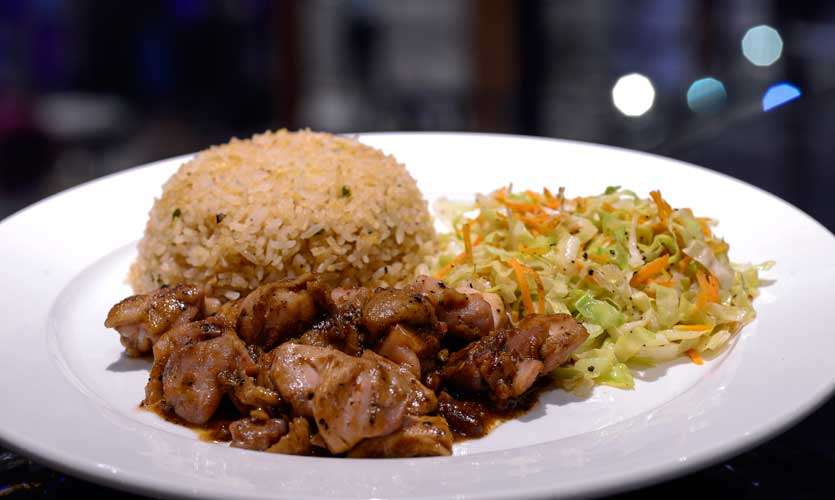 A generous serving of chicken which has absorbed the mirin and soy well was served with an equally generous portion of rice. Teppanyaki means cooked on a grill therefore there was not much oil and it made for a somewhat healthy dish. While the chicken and rice were nice the salad I felt had seen better days.

Ten Don from Tokyo Shokudo
Tempura over rice is called Ten Don and this is exactly what was dished by Tokyo Shokudo. Generous as ever the rice was piled high and atop that were two tempura friend jumbo prawns and a selection of slivers of tempura fried vegetables. The tempura was crispy and crunchy and well seasoned. I would definitely have this again.
Sushmita's Review
Punch Island Bar
Strawberry Sangria (mocktail) Rs. 650 – A brightly coloured, enticing and fizzy thirst-buster, that not only tastes delicious but is light and invigorating.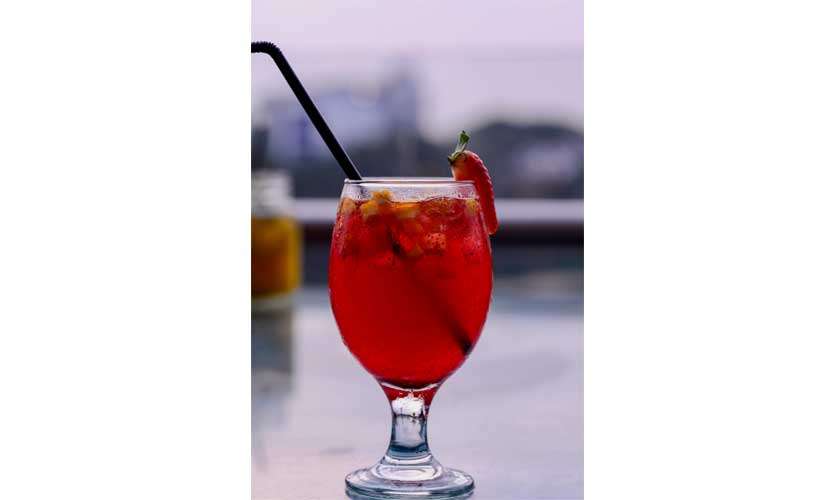 Okra Kitchen (Sri Lankan cuisine)
Set menu – One egg hopper, two plain hoppers and seeni sambol Rs. 400 –Best eaten hot and fresh off the 'thaatchiya'. We recommend pairing it with one of the curries listed on the menu.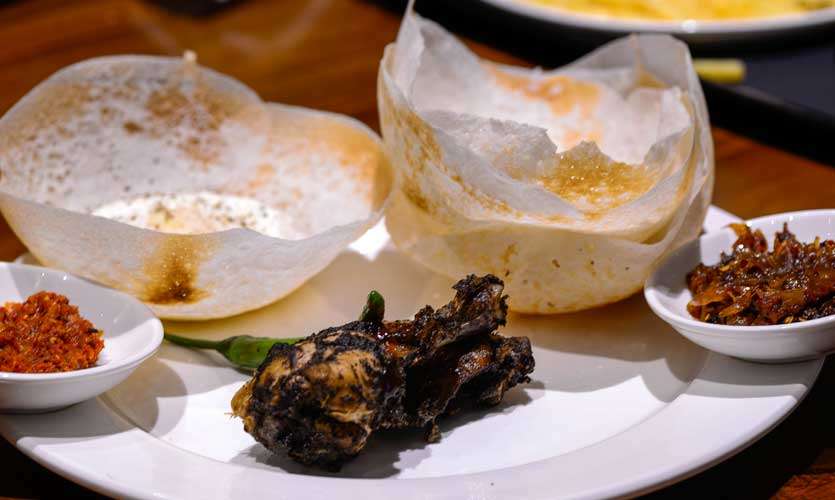 Kukulmas (chicken) ambulthiyal Rs. 650 –An interesting spin on the usual ambulthiyal, which is typically fish, however we weren't completely sold on its execution as the meat lacked flavour.
Little Prince by Mitzi's
Death by Chocolate Rs. 600
A gooey slice of heaven, flawlessly created for all fierce chocolate enthusiasts.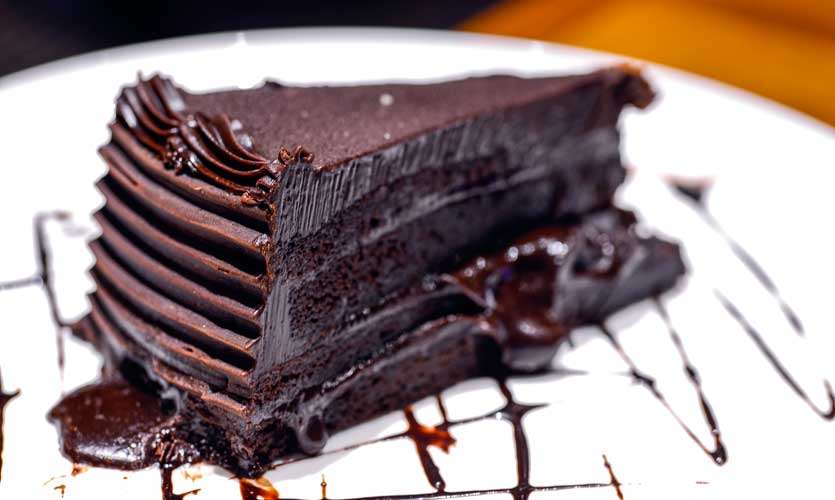 Lemon Meringue Rs. 600
While this was soft and citrusy, we found the biscuit base overpoweringly sweet.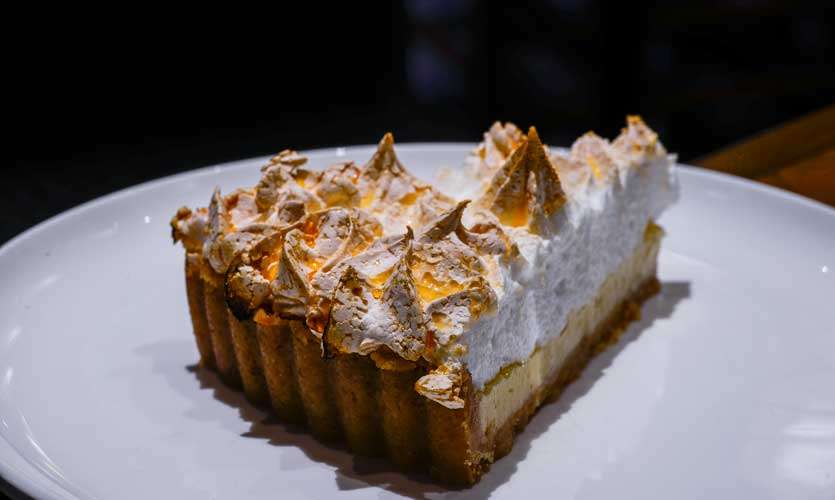 Ursula Bastians' review
Grub Sri Lanka
Har Cheong Chicken Burger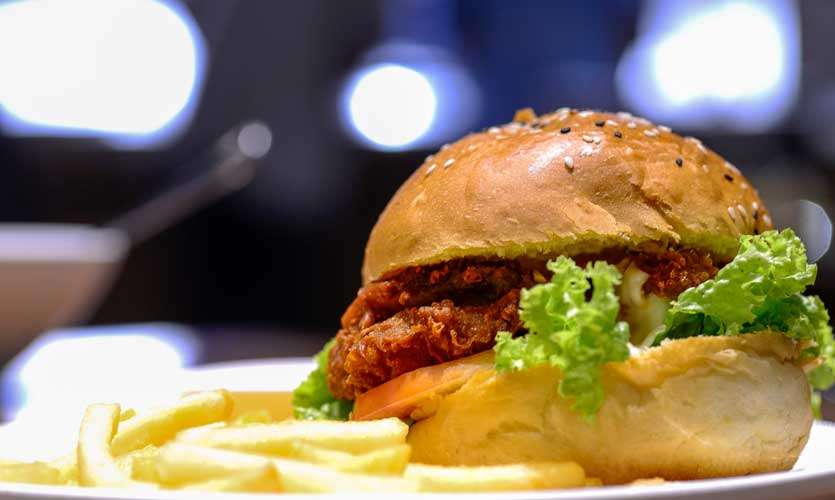 So, we reviewed the famous "Har Cheong Chicken Burger" from Grub Sri Lanka, which is a Singaporean chain! Let us tell you if we were to come back to food studio this would be a regular dish we would go for! It's beautiful in every way! They give you a large chunk of Chicken which is marinated in prawn paste and garlic aioli. The dish comes with a side of fries and Ketchup, but they really don't need to give you ketchup! You know for a fact that a dish is great when you don't have to resort to Ketchup to make it taste better! 100/10 to Grub Sri Lanka for their part in making what is without a doubt one of the best burgers we've had in our lifetime.
Singapore Chicken Rice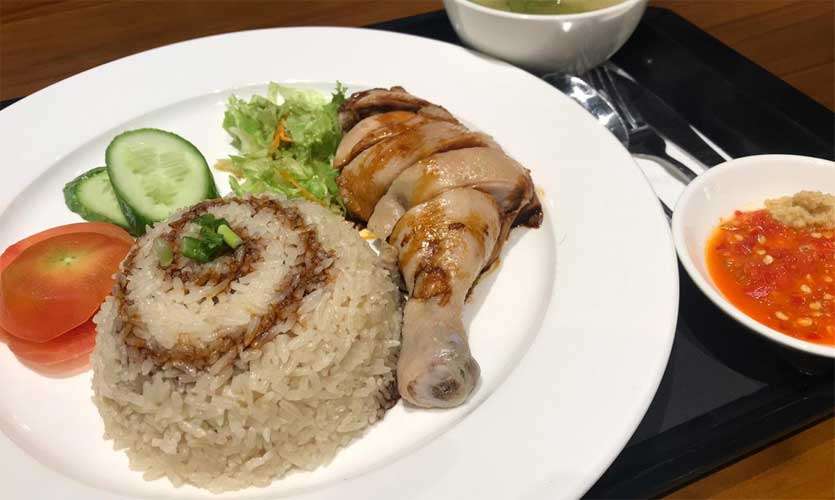 This was a favourite amongst the group! Funnily enough it takes a couple of hours for the dish to be prepared! So, there's a lot of love and time that goes into making this rice dish which costs 900 rupees! Its so worth the price not just in terms of taste but also when it comes to portion size and presentation too! This dish comes with well obviously delicious chicken rice, A huge piece of tender chicken that just falls off the bone, sliced cucumber which adds the fresh crunchiness you didn't know you needed and the tastiest flavour clear soup, and on the side, you get chilli sauce with ginger paste which is rather different yet divine! This dish is a must have should you happen to visit Food Studio! It comes highly recommended by many individuals and we are the latest to hop on that bandwagon.
Pina Colada / Mango Smoothie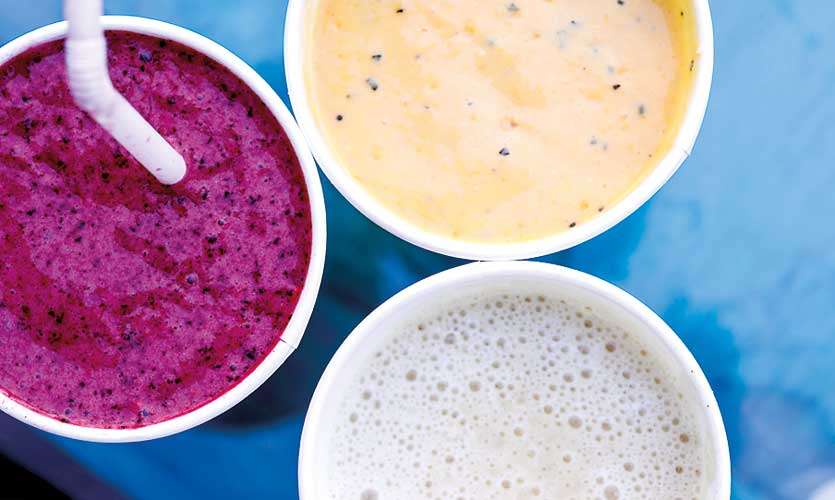 The Pina Colada from the Roots outlet called "Fresh Intentions" was a different experience. Believe us when we say that the drink was tasty but its ingredients were the most confusing of all! It had Banana! It was really tasty! And because of the use of the Banana it had a smoothie effect to it! However, I loved the Mango smoothie the most! I believe the Pina Colada must be drunk when it's cold, the taste tends to change the more the coolness of the drink goes, however the Mango smoothie was divine and can be carried around while shopping! Its also rather filling and refreshing. So, if you're a little hungry but you can't eat a lot "Fresh Intentions" is the place for you!