Using a slightly tweaked traditional Burgher recipe, Shalika Perera dishes out some awesome lamprais. His business, The Leaf has been in operation over the past five years but he only took on orders to be delivered on a Sunday. Lucky for us, that has changed and they now take on orders right throughout the week.
Shalika has worked as a chef in a number of hotels which is where his passion for food stems from. He runs his operation along with efficient staff while he makes sure that the utmost taste and hygiene standards are maintained at all times.
Taste And Value For Money - 4.5 stars
Traditionally Dutch Burgher lamprais should consist of a meat curry with beef, pork and lamb but over the years lamb has been substituted for chicken. The vegetable aspect of this flavoursome pack of rice should be ash plantain but that has also been replaced by brinjal pehi. However some places have both vegetables in the lamprais. The rice has to be cooked in a rich stock with spices as this is the base of true lamprais. It must also contain two frikkadels (beef cutlets), seeni sambol and blachan (a paste made with dry prawn powder) and then packed into a banana leaf.
This is where The Leaf varies from the traditional in that they use two fish cutlets or two potato cutlets instead of frikkadels and it is a little more spicier.
So let's break it down. The Leaf has Chicken Lamprais (Rs. 375), Mix Meat Lamprais (Rs. 375) and Vegetable Lamprais (Rs. 375), with the common element in all three being the rice that was cooked in a spicy stock.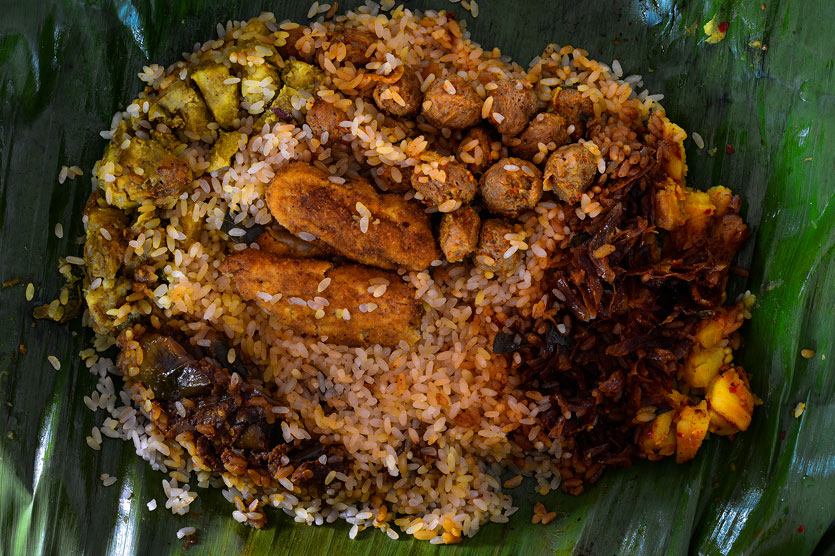 The Vegetable Lamprais had potatoes cut into tiny cubes and stir fried with chillie flakes while it also had two potato and green chillie cutlets. In terms of protein it had TVP (soya). The combination of all these vegetarian elements brought together quite a delicious lamprais.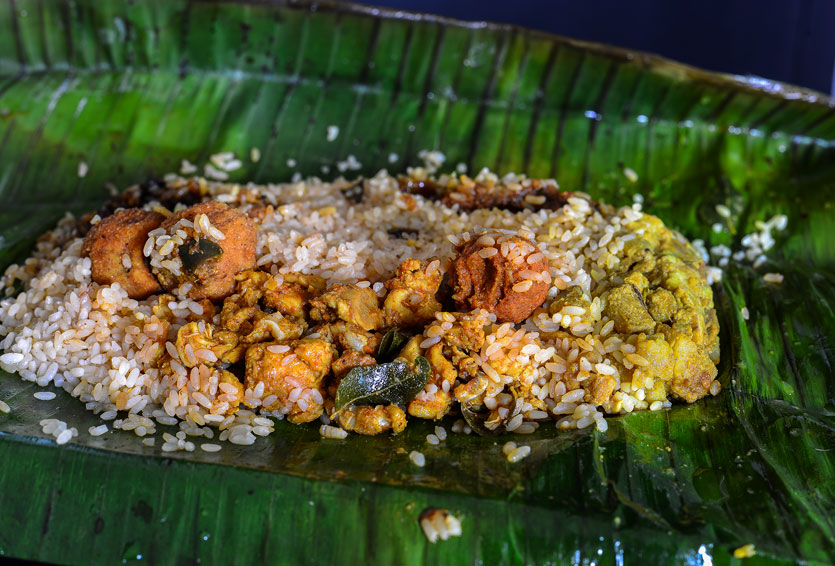 We next tried their Chicken Lamprais which consisted of tiny cubes of succulent chicken, two fish cutlets, brinjal pehi, ash plantain, seeni sambol and blachan, which was scrumptious.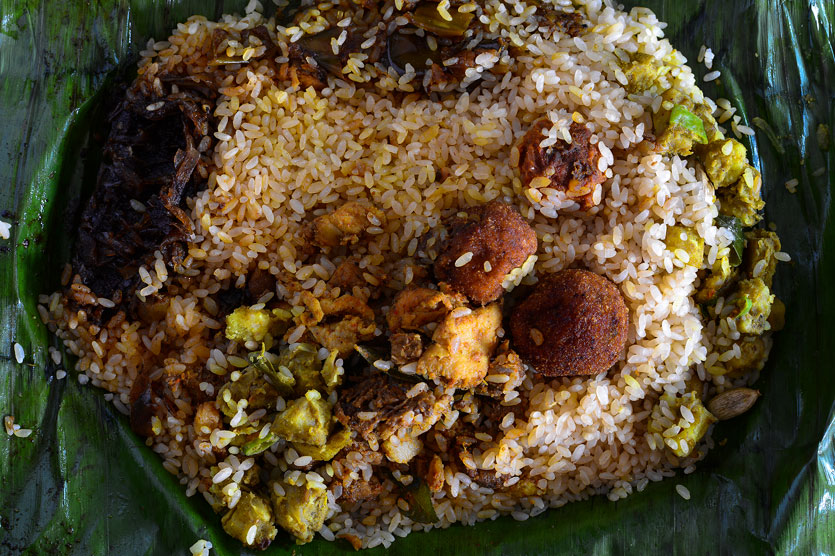 However the star among the three packets was the Mixed Meat Lamprais. The elements were the same as the Chicken Lamprais except for the meat curry consisting of soft cubes of beef, succulent chicken cubes and delicious cubes of pork.
There was really nothing to fault in the three packs of lamprais in terms of flavour except for the fact that frikkadels in the Mixed Meat Lamprais would have been a good touch.
Service - 5 stars
I placed my order with Shalika and wanted the packets delivered before 12 noon and he was at my gate by 11:45AM, while he was courteous and friendly which made my experience with The Leaf a pleasant one.
Notes
- Orders need to be place 48 hours in advance
- Only delivery or take away
- The price for delivery is based on the distance
- Delivery is free for orders above 15 packets
Tel: 070-231-8322/3
Address: 639/9, 1st Lane, Bulugaha Junctions, Kelaniya
PHOTOGRAPHS by Kanishke Ganewatte