"I can only tell you that my food is the kind that will make you go 'WOW' at first sight" is all that Chef Bun Boon says with a big smile on his face as he sits across from us. There's a language barrier between us but of what little communication we have, he has already piqued our interest and set the bar high in terms of our expectations for the night.
Chef Bun Boon is the new Head Chef of Shangri – La Hotel, Colombo's Shang Palace, the signature restaurant serving authentic Chinese flavours of Dongbei, Sichuan and Canton. Chef Bun Boon comes to Colombo with nearly 30 years of experience and carries with him a culinary journey that spans across Malaysia, Singapore and Philippines. His story starts at the age of 14 with a new found love for food and a dream that he could eat better as a chef. It was in 1998 that he started training with Mr. Jereme Leung, a pioneering chef of Modern Chinese cuisine, who taught him the A-Z's of Chinese cooking. "Mr. Leung was a great master and I learnt everything about Chinese cuisine from him. He pushed and trained me in the art of cooking and taught me how to be a good chef." Whilst working in several reputed hotels and restaurants, Chef Bun Boon is now a master himself having crafted generations of traditional Chinese recipes and techniques – a skill that is now at the core of what Shang Palace has to offer.
Chef Boon comes highly recommended by Executive Chef of Shangri – La Hotel, Colombo Patrick Buttgereit who has previously worked with Chef Boon for over 4 years. "I know his qualities and what he is capable of and I know he can deliver the standard Shang Palace has set for itself."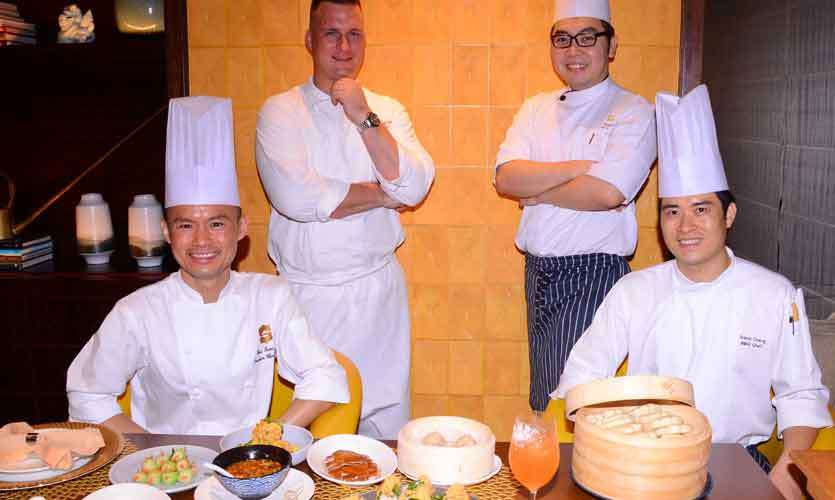 In welcoming Chef Boon, Shang Palace also welcomed a new menu that was painstakingly and attentively curated by Chef Boon himself. "My food will speak for itself" says Chef Boon when asked about the new menu, "but I can promise you authentic Chinese unlike you've ever tasted before."
With 'A Road to Shangri- La' in hand (a fruity cocktail of gin, sparkling wine and grenadine syrup), we set out to see what Chef Boon's takeover has in store for us;
Shang Palace Signature Peking Duck
Pulling off proper Peking Duck is not an easy task so when a restaurant rises up to the task it's doesn't take much to notice. Peking Duck dates back centuries and is the dish of Chinese emperors and dynasties that is now a representation of authentic Chinese cuisine. The Peking Duck is a Shang Palace special; lacquered with Chef Boon's secret recipe, the duck is marinated for 48 hours and slow roasted till the skin turns a beautiful shade of glossy brown. The real theatrics of ordering this dish is when its placed on a rolling cart and brought to be carved tableside by Chef Suma Cheng who is the restaurant's very own dedicated chef for Peking Duck. The carved meat is served with pancakes and steamed bao buns along with condiments like duck sauce, cucumber sticks, chopped garlic and white sugar to create your own little dish at the table. The remainder of the duck is served as a second course either deep fried, stir fried or sautéed or as a soup made with the remaining bones.
The fact that the skin was left to dry for 48 hours produced the crispiest of outer skin when roasted and contrasted boldly with the juicy tender meat on the inside and we were left uttering 'wow' more than once (as Chef Boon predicted!).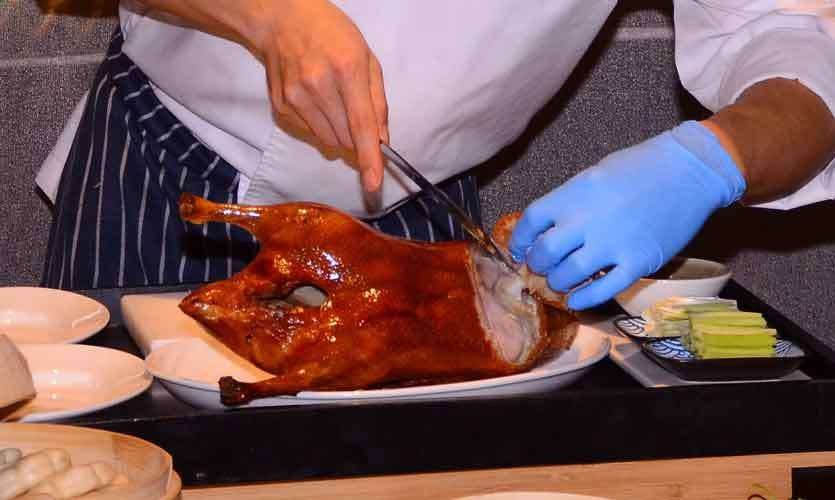 Tofu Hot and Sour Soup (Rs. 800)
The hot and sour soup was, true to its name, hot! The thick savoury broth made with chili bean paste was packed with firm tofu, shiitake mushroom, carrots and green onion and is made 100% from scratch. If you are not a fan of tofu, try their chicken or prawn alternative.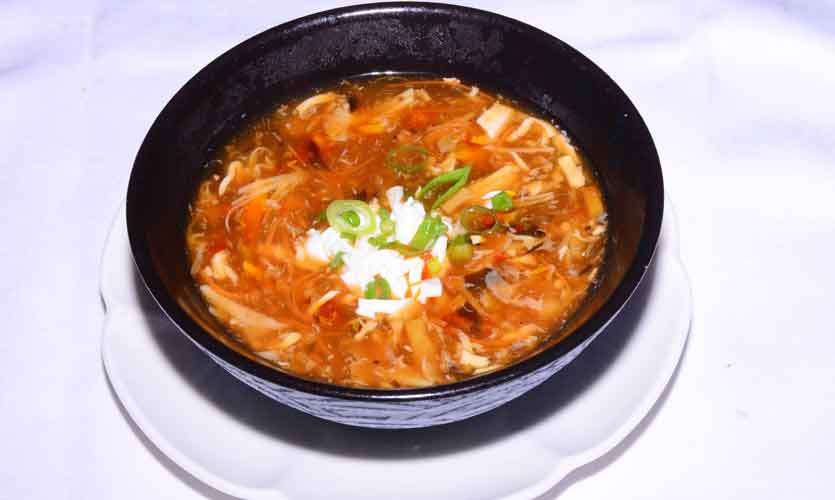 Crispy tiger prawns with mango flavoured mayonnaise (Rs. 2,500)
Batter fried prawns were served with a drizzle of mango mayonnaise, mango chunks and toasted almond shavings. This appetizer was a respite from the spice and was cleaned off the plate almost immediately.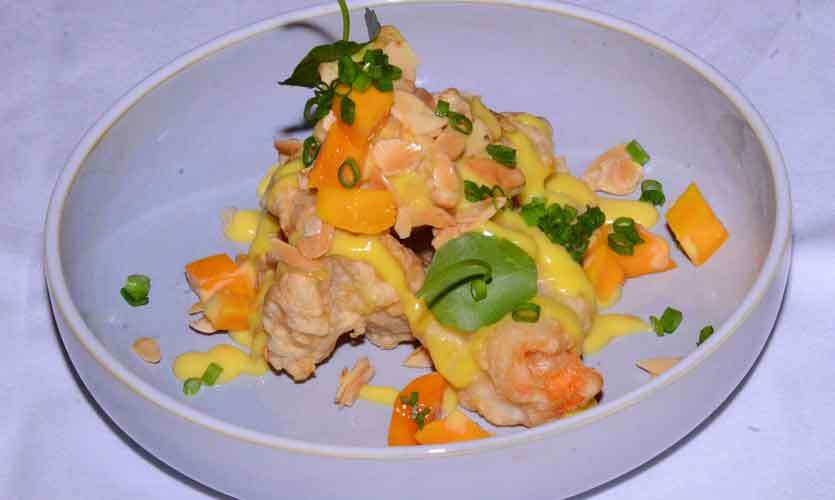 Mantou Chicken Slider (Rs. 1,100)
These mini burger sliders may look small but they are substantial! The mango mayonnaise comes into play yet again with chicken glazed in sweet BBQ sauce and the end result was absolutely divine.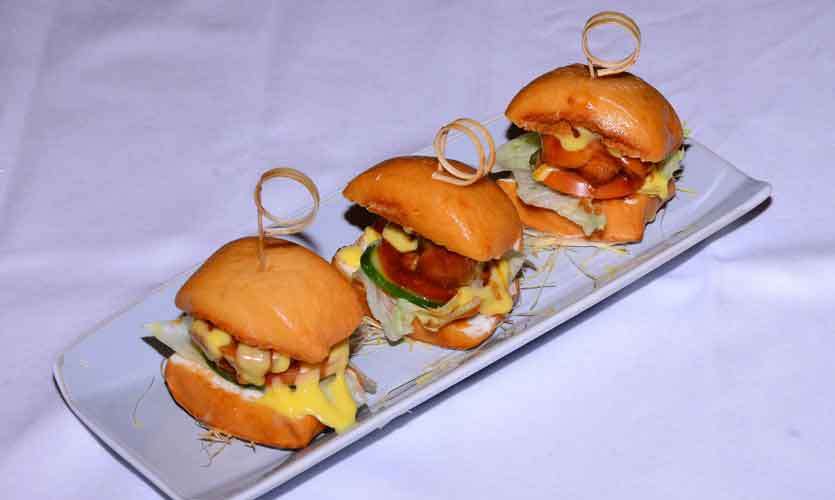 Shiitake Mushroom Bun (Rs. 1,100)
Hands down, the cutest baos we've ever seen! From the umbrella top to the bottom stem, the bao presented a clone of a shiitake mushroom and is made entirely of steamed bread with vegetable and truffle essence and lightly dusted off with cocoa powder on top to complete the façade.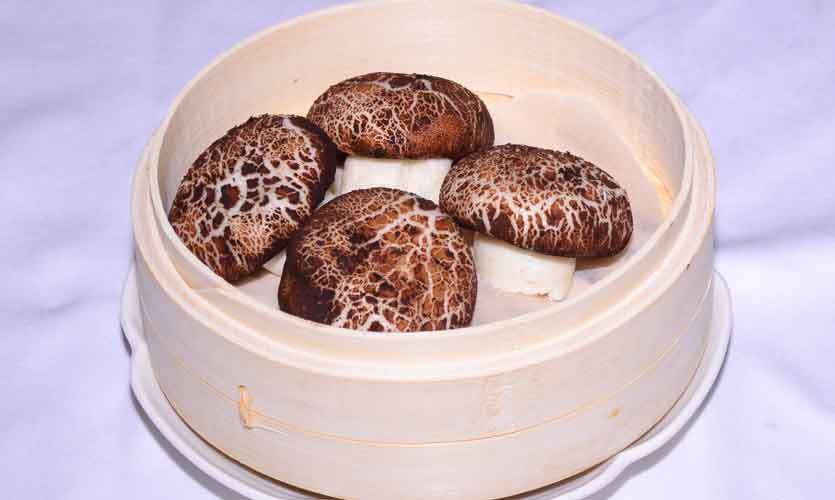 Shanghainese Xiao Long Bao (Rs. 700)
This is traditional steamed dumplings served in a small bamboo steaming basket. The dumplings had the most delicate skin stuffed with a pork filling and a rich, savory broth. If you are a fan of dumplings and dim sum, this dish is one of the many you can find at Shang Palace's Weekend Yum Cha.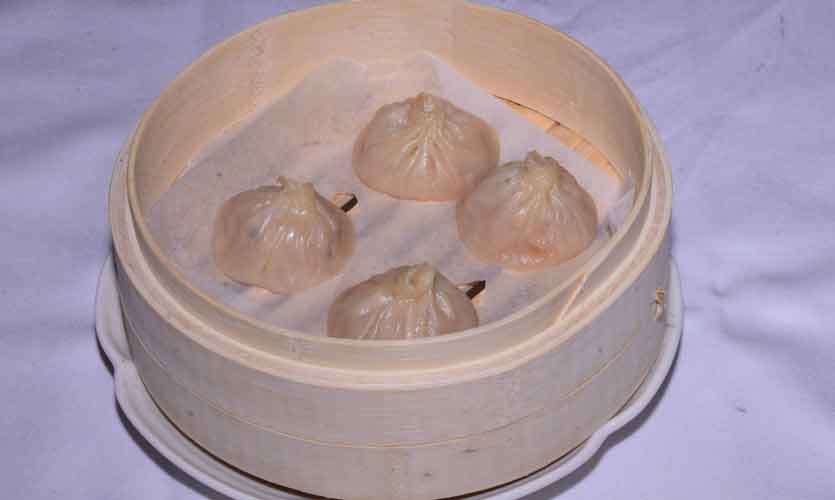 Signature Taro Dumpling with Braised Duck (Rs. 1,100)
This dim sum dish is absolute crispy goodness. The crispy outer shell is made from mashed taro and is filled with minced braised duck and deep fried till there is a crunchy, light, fluffy ball of deliciousness.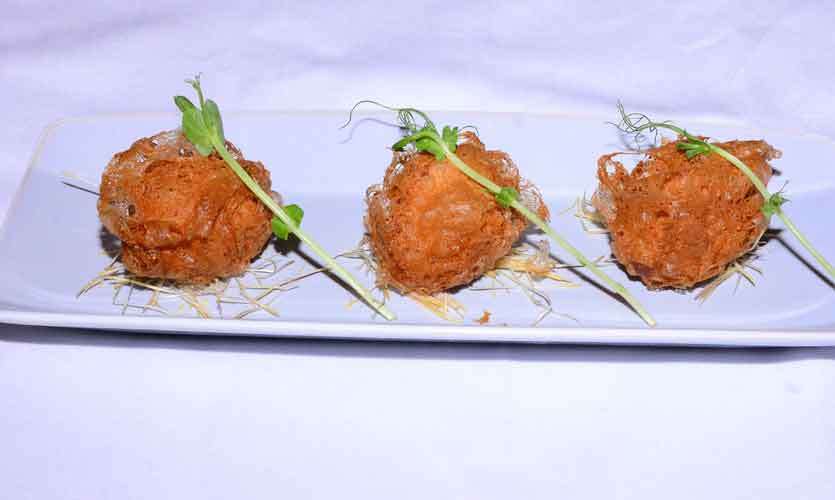 Marinated Cucumber (Rs. 700)
This is a salad that is both crunchy and cooling. The cucumber is marinated with a garlic and sesame dressing and invokes very simple flavours.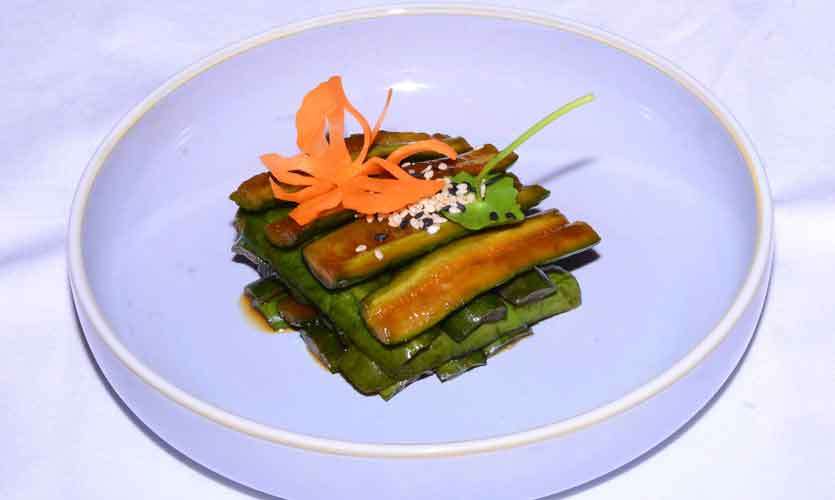 Okra Salad (Rs. 800)
The okra is blanched for less than a minute and hence retained its light flavour and crunch. The okra salad is tossed in Shaoxing wine and soya vinaigrette which cut through the slight blandness of the okra.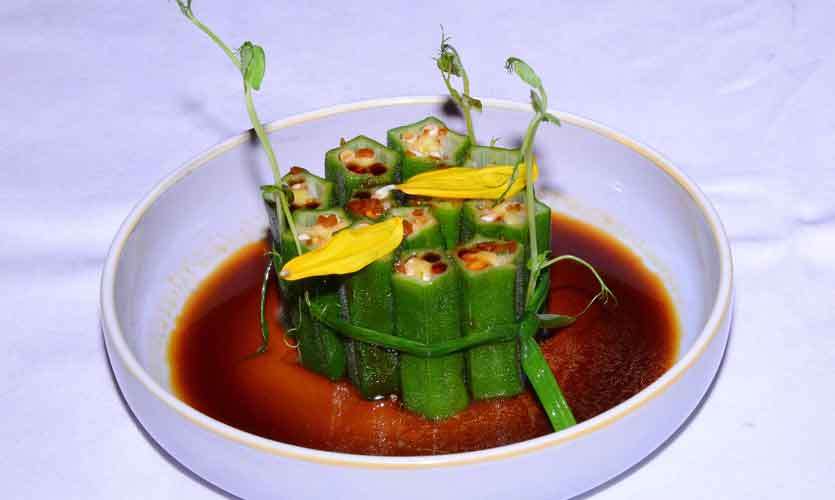 Crab Rice (Rs. 1,700)
This Chinese style is a great carb that will work perfectly well with other dishes from their sizzling platters or Sichuan delights. As we were having an assortment of different flavours and textures, the crab rice acted as almost a palate cleanser of sorts that allowed us to jump from one dish to another.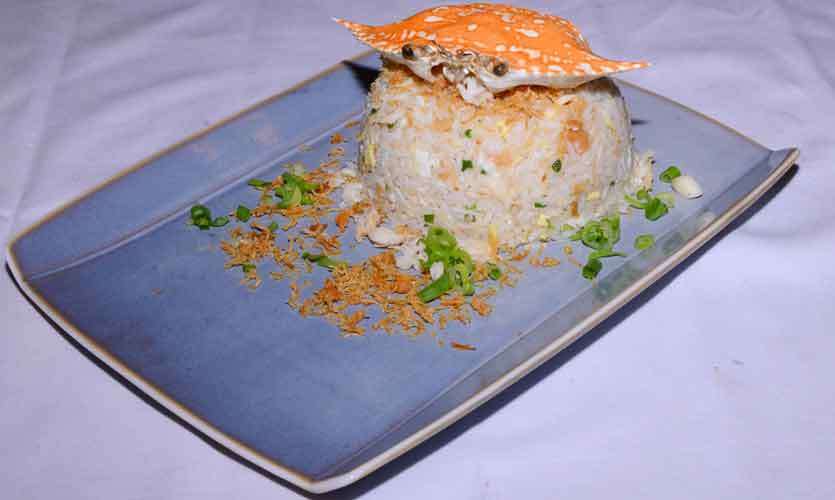 Deep Fried Pineapple with Vanilla Ice Cream and Honey (Rs. 1,600)
This dish was almost too beautiful to eat and we truly hesitated to distort this work of art on our plate. The deep-fried pineapple with soft vanilla ice cream and honey is a sugary sweet guilty pleasure that we indulge in out of pure greed! And while the intricate presentation at first glance looks like mere plate art, it is a fruit platter in disguise.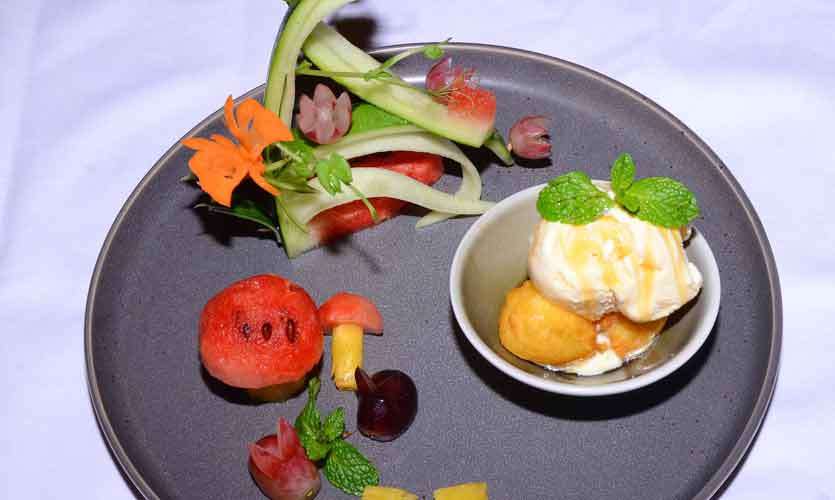 Shang Palace is a calling for all authentic Chinese food aficionados. Chef Bun Boon and his team are on a mission to revitalize Chinese food and we are all for it.
Tip – A big fan of dim sum? Make sure to check out their Weekend Yum Cha for all you can eat dim sum!
Pictures by: Waruna Wanniarachchi