World Heart Day was celebrated on the 29th of September and was a reminder of how important it is to live a heart – healthy lifestyle. Heart attacks, strokes and cardiac arrests seems to be too common and too frequent nowadays, and is an indicator of how we should be more cautious and conscious of nurturing a healthy heart.
Flora recently relaunched their margarine which is now made with plant-based oils, Omega 3 and 6 and enriched with vitamin A, D and E. The Flora margarine contains 70% less saturated fat than butter and is regarded as a healthy alternative to the highly saturated fat found in butter that increases risk of heart disease.
"Flora is made with sunflower and canola oil and is a product that provides necessary nutrients for a healthy heart, which are also vital additions for a balanced diet. It's always wise to start a healthy diet and an active lifestyle which can drastically reduce the risk of heart diseases. We believe healthy eating can be fun and we are determined to encourage people to make a habit of it!" commented Shehani Liyanage, Marketing Manager of Flora.
In celebration of World Heart Day, Flora teamed up with Spinner Café, a well-known healthy café that encourages diners to eat clean and be active, to introduce a special Heart Healthy menu for a month with a wide range of dishes made using Flora margarine that is promised to be both delicious and healthy.
We were invited to Spinner Café to see how a heart healthy menu can easily be included in our lifestyle and here's what we thought about what's on offer;
Chicken Roti Sandwich (Rs. 360)
The chicken roti sandwich would be our perfect grab-and-go breakfast option because it is both filling and convenient to eat. A spicy chicken filling mixed with onion and spinach is sandwiched between thin coconut roti and held together by a light layer of flora margarine. The fresh-off-the-pan roti had a crunchy exterior that we loved so we definitely recommend eating it hot!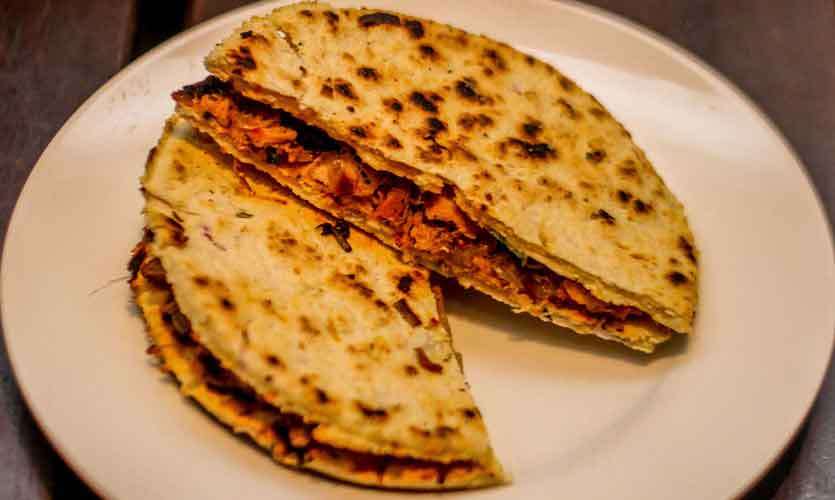 Easy Breakfast Sandwich (Rs. 300)
It's just as it says – this sandwich is an easy breakfast fix for those who prefer something light and fruity for breakfast. Fruits in a sandwich was a first time for us but we were pleasantly treated to a sweet treat when we ate it. Flora is lightly spread on toasted bread and the sandwich is layered with thinly sliced bananas and mango with a small sprinkle of cinnamon. It's an ideal meal for anyone looking for a quick breakfast.
Chicken Manioc Kottu (Rs. 550)
Here's a dish that took us completely by surprise! The Spinner Café has created their own little twist on kottu by substituting roti with soft mashed manioc and this little creative spin is mouthwateringly delicious. The manioc is mixed in with vegetables and is served with a sunny side egg and a piece of chicken and leans on the spicy side (which we loved!). A must try from their menu.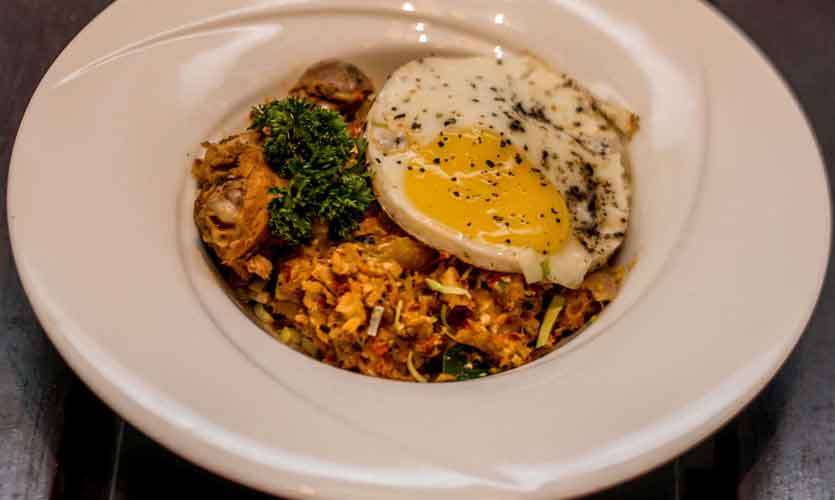 Tuna Salad (Rs. 720)
If you are looking for something on the healthier side like a salad, Spinner Café offers a tuna salad that is lightly tossed in margarine, vegetables and served with toast and a light dressing. It's a pretty big salad and can be easily shared among two people.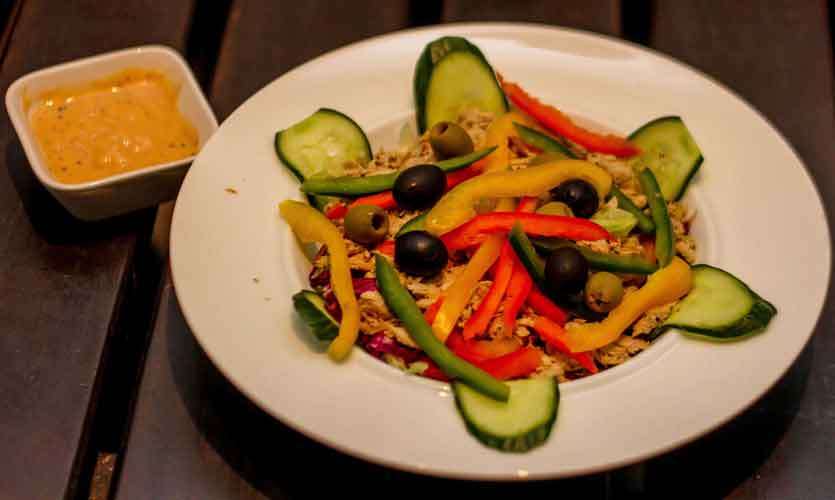 Chicken Sandwich (Rs. 520) and Vegedelight Sandwich (Rs. 380)
We found their chicken sandwich to be a filling, standalone meal that had us feeling stuffed just after a couple of bites. A generous portion of cubed chicken is stuffed between four slices of toast along with fresh tomatoes, spinach, egg and salad leaves. If you prefer a vegetarian option the equally filling Vegedelight sandwich is the perfect alternative with added cucumber, onion and purple cabbage.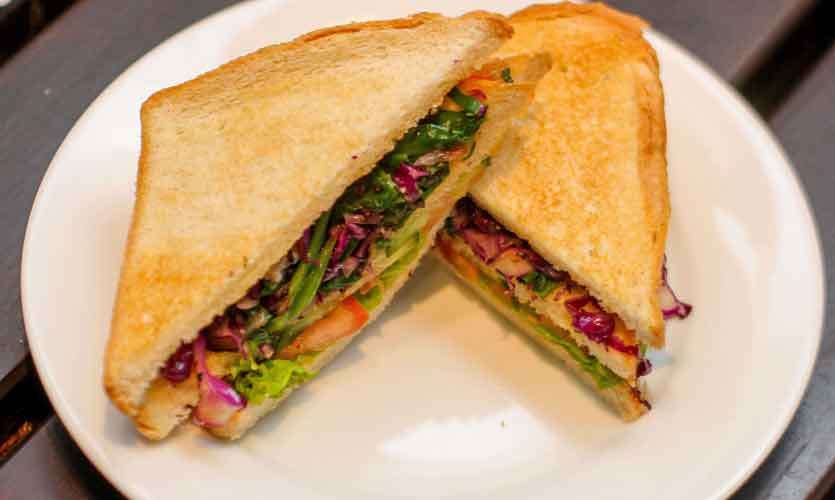 Both sandwiches are made with brown bread and is super chunky and satisfying – perfect for a work lunch or if you want a light dinner.
Pasta (Rs. 420)
As a more substantial dish they've introduced a chicken pasta with tricolour bell peppers which was not only colourful but also delicious. Red, green and yellow bell peppers are sautéed with a little bit of margarine, shredded chicken, onions, finely chopped garlic, parsley, tomato and mixed in with penne pasta. What we liked about the dish is that it deviated from the usual creamy pastas we are used to having and the kick of spice in the three peppers added to the dish.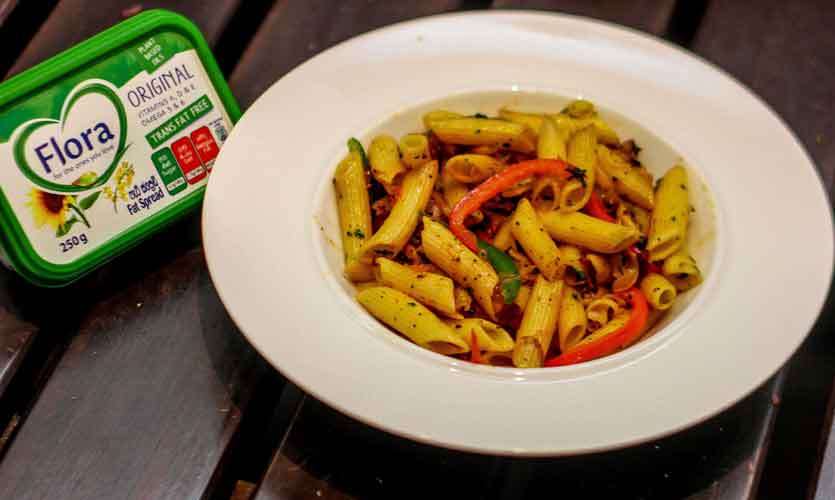 Basil and Tomato Thai Chicken (Rs. 490)
If you like Thai flavours - this dish is just right for you! Cubed chicken is tossed in with mushrooms, tomato, basil and anchovy paste and served around a bed of fragrant white rice. The dish was a little dry but packed plenty of flavour! We also thought the dish is very reasonably priced considering the portion size is big enough to serve two.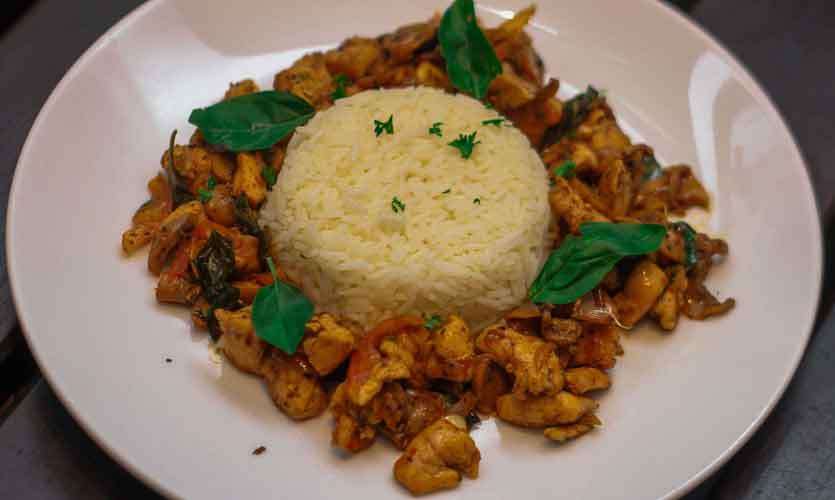 Banana Oatmeal Pancake (Rs. 350) and Brownie (Rs.220)
Dessert doesn't have to be unhealthy and Spinner Café is out to prove it. Their oatmeal pancake is soft and practically melts in your mouth and is served with sliced bananas, raisins and topped off with a generous amount of honey. We just simply couldn't resist digging into this sweet treat!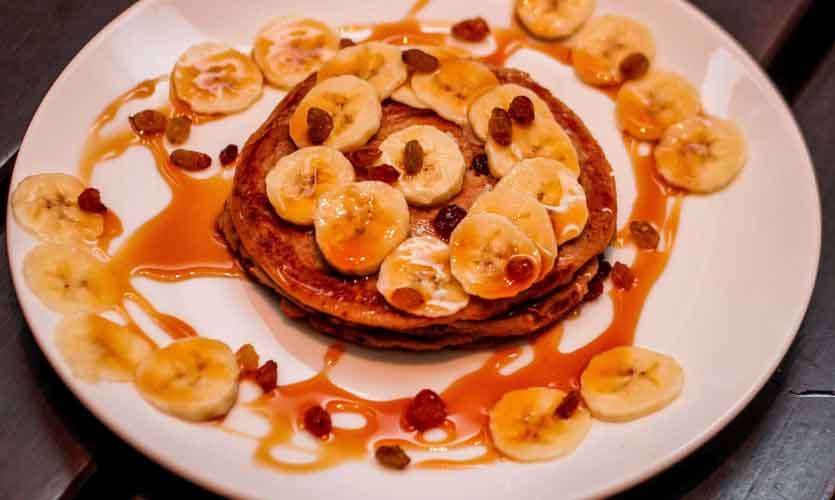 They've also got some decent brownies with a cake like texture – not too gooey, not too firm and has a nice crusty top.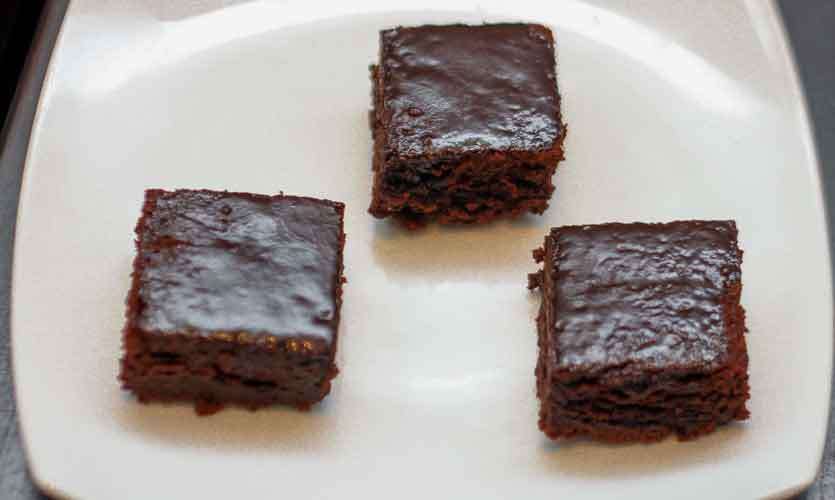 *. Spinner Café will serve the Flora Heart Healthy Menu till the 29th of October. The Menu is available for dine in or delivery on UberEats.
Pictures by: Pradeep Dilrukshana