We visited Superfood for the first time in 2017 when it was a little café at Villa Raha and fell in love with the place for their chic ambience and excellent food. 2 years later, the café has grown enormously. They now have their own space in Galle road and the menu has expanded to included a variety of new dishes and ingredients.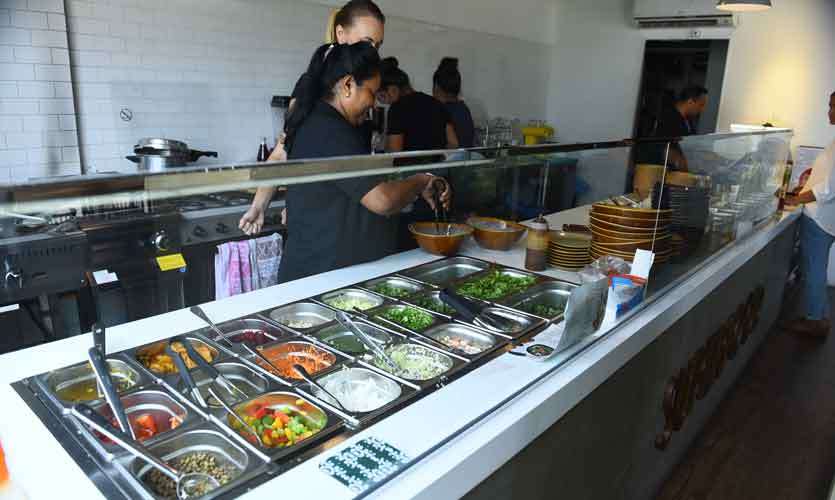 But has Superfood still kept the same standards as they did when they first started out?
Here's what we thought of the all-new Superfood when we checked out their new location and menu;
Ambience
Unlike their previous café, the new location is a very intimate set up. A few tables, a couple of lush sofa seats and a few individual dining bars take up most of the space and towards the very back, a fully open kitchen completes the restaurant.
In line with the health aspect of Superfood, green is the central colour palette for restaurant and we loved how they've integrated it into the interior with in-house plants and a stunning jungle print wall mural that stands out prominently just as you enter.
We really liked the ambience at the café. We can easily imagine ourselves spending some alone time or meeting our friends for a meal here.
Drinks – 4/5
Superfood continues to serves their guest what they call Vitamin Water. This is water infused with either vegetables or fruits. Infused water is actually an easy way to get yourself to drink more water because the water actually tastes a lot different; in the sense that it feels a lot more refreshing and is also known to help control appetite, weight management and other health complications.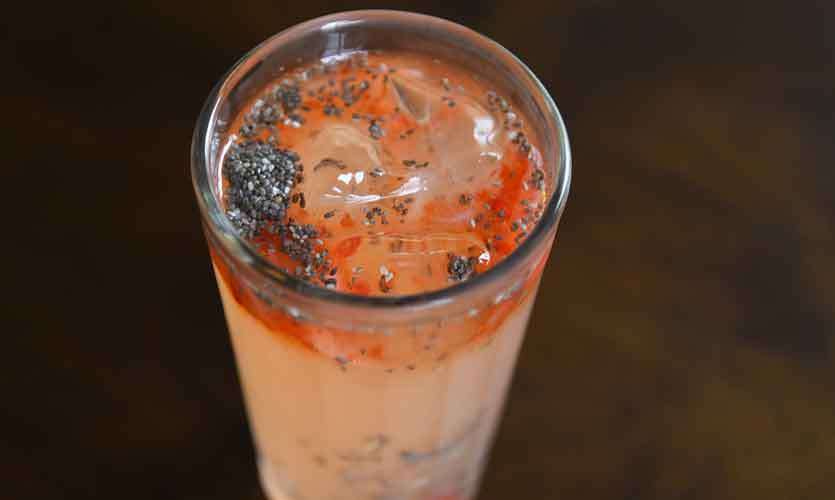 They have a range of coffee like latte, cappuccino, americano and espresso (all made with vegan milk) as well as their usual homemade lemonade and cold pressed juice. The newest addition to their drink's menu is the smoothie (Rs. 790). You get to pick 3 types of fresh fruits and toppings along with your choice of vegan milk. The type of vegan milk can really make a difference in the taste and texture of your smoothie. The cashew vegan milk tends to have a very creamy texture whereas with the hazelnut vegan milk you get a very roasted aftertaste in your drink. We ordered our smoothie with hazelnut milk and toppings of flax seeds, kithul and salt coconut chips and loved the flavour and texture combination. The smoothie is actually sufficient enough to be considered a meal in itself because it was quite heavy.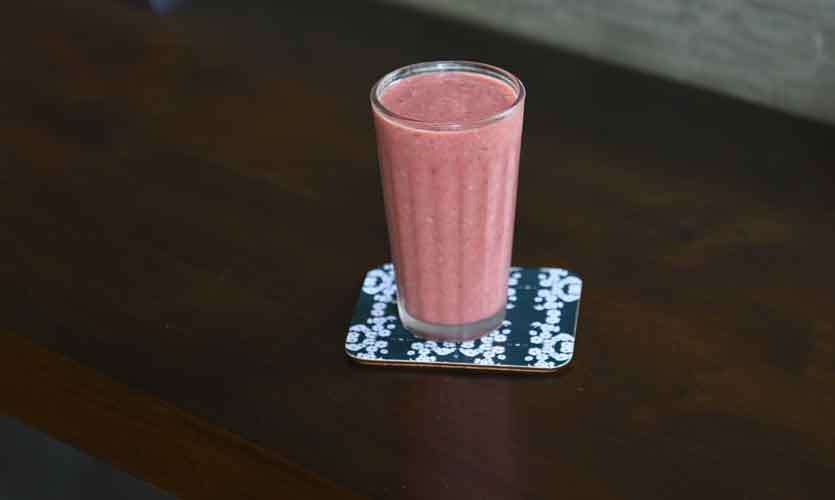 Food – 4.5/5
The menu at Superfood has changed significantly since we've last visited. The menu is now divided into two; you can either order a Harvest Bowl which are prefixed bowls with set ingredients or you can Make Your Own Bowl. There are 9 Harvest Bowl options to choose from and it varies from vegan and vegetarian to meat and seafood and there are two bowl sizes; small or medium with the difference in the bowls being a mere Rs. 200.
We opted to order their Pesto Chicken Harvest Bowl in the medium size (Rs. 1300). For the base we had mixed salad leaves, basil and rocket leaves with a side of couscous, avocado, tomatoes, celery, bean sprouts, mung beans, cucumber, long radish, garlic carrot, quail egg and the protein were grilled chicken thighs along with a green pea sauce and a pesto sauce. With over 15 ingredients in a bowl the Pesto Chicken bowl looked quite intimidating at first glance but once we mixed all our ingredients in and dug into it, we experienced how well each ingredient worked with each other.
Our favorite was the Make Your Own Bowl options because it allows you to pick your favorite ingredients and it's a lot more fun. A small bowl is priced at Rs. 1100 and a medium bowl is priced at Rs. 1300 and you can choose 2 bases, 6 main ingredients, 1 protein and 2 sauces but you can also add – on extra ingredients at a nominal price.
Our Make Your Own Bowl was a little eccentric. We chose mix salad leaves and warm quinoa for our base and our main ingredients were a mix of vegetables and fruits like avocado, strawberries, apples, celery, roasted pumpkin and herbs. For our protein we picked their grilled salmon for an extra Rs. 100 (but its totally worth it!) and our sauces were the mustard vinaigrette and since we were feeling a little adventurous, the baked eggplant paste. We also added some mozzarella cheese balls and grilled halloumi cheese.
The eclectic variations of flavours and textures in our made up bowl were quite unique. Adding in fruits gave a certain sweetness to the dish and the two different kinds of cheese really contrasted in texture as mozzarella is soft and has a lactic taste while the halloumi is semi-hard and salty when grilled. The protein options for making your own bowl is plenty with all kinds of meats and seafood with no added costs but paying an extra Rs. 100 for their grilled salmon is completely worth it because not only do they serve a large chunk of salmon, they also cook it perfectly.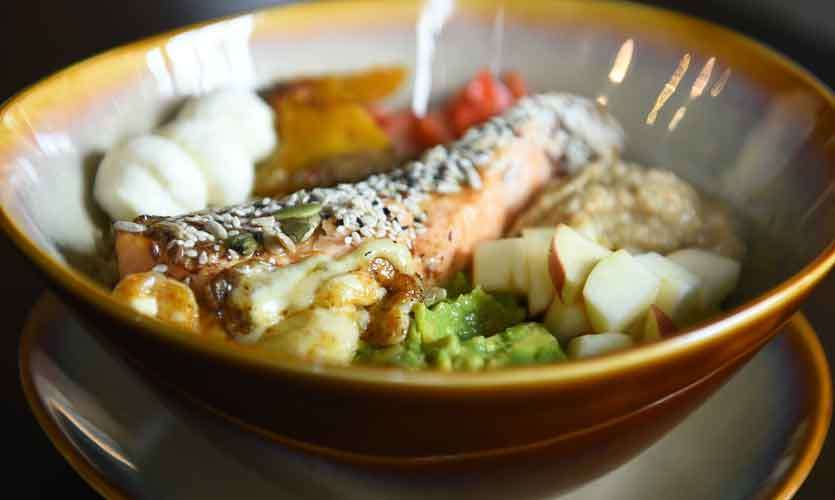 As for our sauces the mustard vinaigrette was a great choice but the baked eggplant paste was a hit or a miss and depends entirely on personal preferences; you either really like it or you really don't and unfortunately, we didn't really like it as a mixer for our salad.
Superfood also has vegan dessert of which we tried their vegan Apple Pie (Rs. 690). In the future Superfood plans to introduce sugar-free desserts made with dates.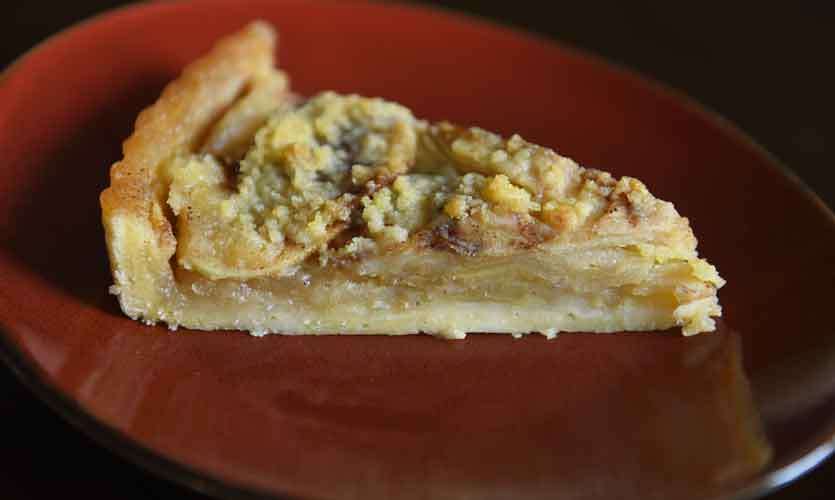 All the vegetables used in the making of the bowls are completely fresh as they are brought in daily and the cheeses are brought from a Sri Lanka based cheese producer specializing in European quality cheeses and none of the sauces have sugar and even the drinks substitute sugar with kithul. Because they have an open kitchen concept, everything is out in the open and not only are you assured that your food is fresh and the preparation area is clean and sanitary, you are also able to witness how your food is being made and the whole process, from the payment counter to your table, is transparent.
Service – 4/5
Amande and Ruta is still very much at the heart of running Superfood though now they are joined by several staff members. The service is prompt and the maximum time you'll have to wait for your bowl is 10 – 15 minutes on an average day.
Overall – 5/5
It's very rare to revisit a restaurant and find themselves still continuing with the same standard as they had when they first started out. The menu and the location may be different but the quality of the food and ingredients used have not changed at all – they still ensure that the products they use is of quality and fresh. Except for some of the vegetables that are cut and prepared daily, most of the ingredients are prepped to order right in front of you. The pricing is also reasonable as the bowls are massive and easily shared by two persons and we thought the food was easily valued for money.
Overall, we were super happy with our revisit to Superfood. We loved the food and the ambience and mostly we were happy to see how Superfood has grown significantly in two years!
Parking Facilities – On the road.
Toilets – Available. Clean and Sanitary.
Would we go again? Yes!
Tips – Make your own bowl and experiment with the ingredients!
Pictures by: Nisal Baduge