From the owners of the Thai Heritage Food Truck comes 'Nom Nom Asia', a restaurant specializing in 6 different Asian cuisines; Thai, Vietnamese, Chinese, Malaysian, Indonesian and Singaporean. Owned and managed by the Sunnadeniya family, Nom Nom Asia is a business venture that is close to their heart. It is founded on the influence of their many travels abroad to different countries and the experiences of all the different cultures they've witnessed.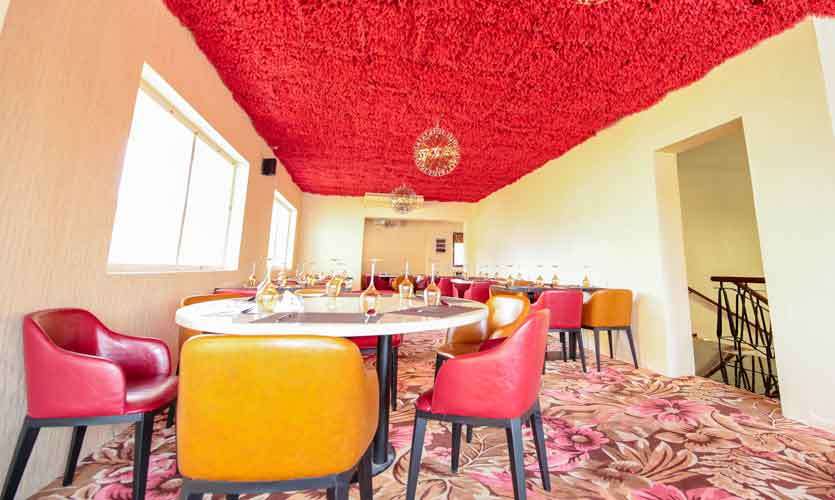 "We travelled a lot ever since we were kids and we were brought up to be all major foodies! My father, Kolvin Sunnadeniya, would always make sure we tried all kinds of food when we travelled so later, even if we sat for dinner, we got used to reviewing our food talking about the flavours and the textures!" shared Savindri Sunnadeniya, a partner at the newly opened restaurant. "We opened Nom Nom Asia because we wanted to create a restaurant that had all these great dishes from our travels and we wanted to create a place where it's not just the ambience or the aesthetics that are good but also where the food is great."
Setting themselves apart from other Asian restaurants in the scene, Nom Nom Asia differentiates itself based on the authenticity of their dishes. "Our menu doesn't attempt to create fusion dishes. It's not Chinese fusion or Singaporean fusion. We created our menu by handpicking dishes we tasted and loved and thought would go well together and we wanted to keep those dishes authentic to their origin."
Ambience
Nom Nom Asia has two dining spaces. The downstairs has both an indoor dining space and a small strip of an outdoor dining area and is ideal for quick lunches and dinners. The upstairs offer more privacy two private rooms ideal for groups of diners with one room large enough to accommodate a group of 80 and the other smaller room can accommodate a more intimate dinner party for a group of 12.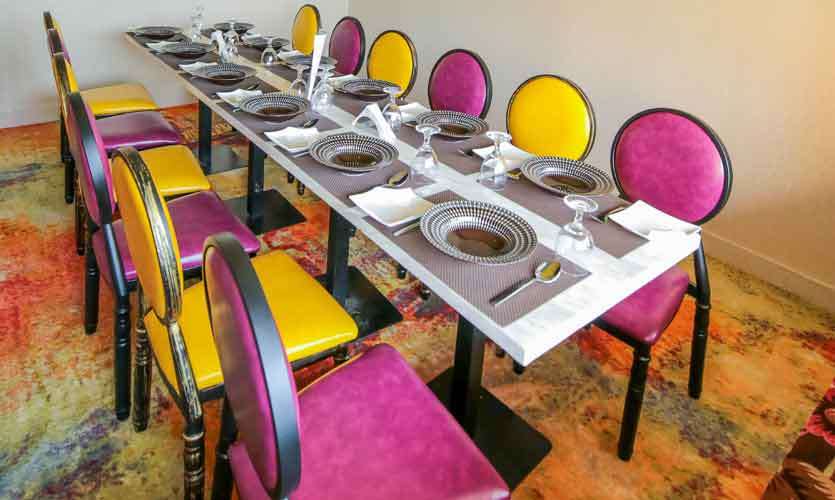 The décor at Nom Nom Asia is what really creates the ambience. You enter the restaurant through a 150-year-old door and walk into a creatively decorated space popping with colour. The colour schemes and the little decorative pieces all bear the influence of travel as it represents a certain place or a country the Sunnadeniya's have visited; be it hanging flowers from a temple in Thailand or a patterned tile from a restaurant in China.
Drinks 3/5
Unlike their food menu, the beverages they offer are very few. Besides a few sodas and fruit juices, guests can either order a hot green teapot or a flavoured iced tea. We tried their seasonal Chrysanthemum Cold Tea (Rs. 350) which is a flower-based infusion beverage made from chrysanthemums and is a popular drink in East Asian countries such as China.
Chrysanthemum once brewed produces a light yellow colour and is a naturally sweet tea with a citrus aroma to it. The cold tea is presented in a jug alongside a bowl filled with ice and sugar syrup and the tea is consumed once it is poured into the bowl of ice. The Chrysanthemum was super refreshing and instantly cooling – which was a perfect drink to have on a sunny, sunny afternoon!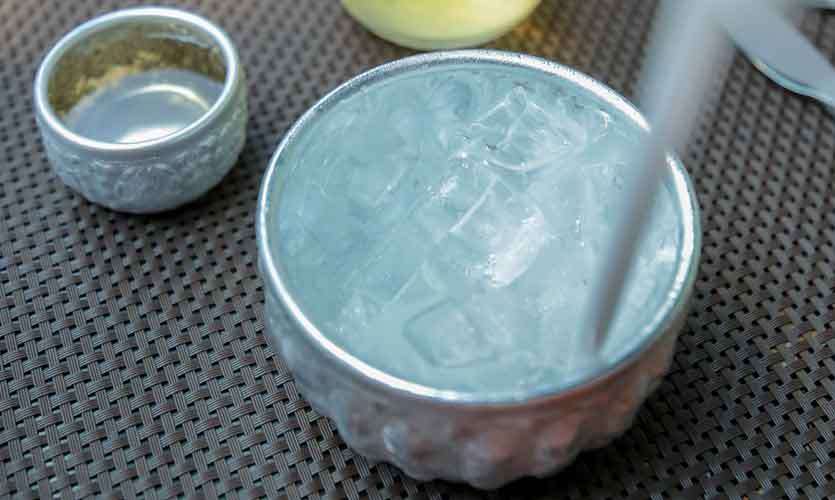 Food 4/5
The menu at Nom Nom Asia is extensive and is a combination of some of the best dishes from Thailand, China, Vietnam, Indonesia, Malaysia and Singapore. Thai Chef, Suri, of Nom Nom Asia has had many years of experience in cooking authentic Asian dishes and the menu promises just that with a variety of appetizers, soups, salads, meats, seafood, noodles and rice. The restaurant is currently in the works for a dessert's menu as well.
We started off with one of their speciality salads. The Vietnamese Banana Blossom (Rs. 950) is a salad made of scraped banana flower and prawns. The salad was interesting because there were so many different textures that went on in this dish as alongside the banana flower was the shredded cabbage and onions which all played a role in how the dish came together. It also packed quite the punch as it was very easily one of the spiciest salads we've had!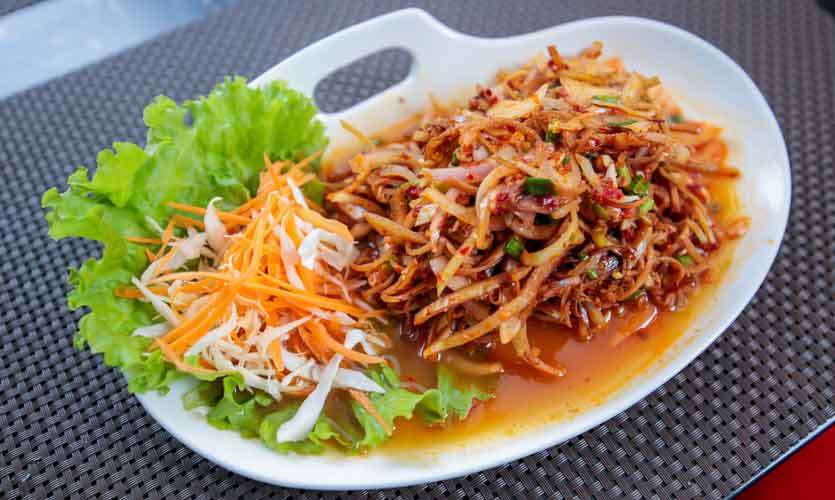 For our main meal we ordered several dishes. For our carbs we ordered their Salted Fish Fried Rice (Rs. 1195) and for protein we got their Chili Garoupa and to make sure we ate our vegetables we also ordered their Buk Choy (Rs. 750).
The Salted Fish Fried Rice is a Cantonese dish and is simply fried rice with the addition of salted fish. While it is merely a simple addition to what is a usual fried rice, the inclusion of the salted fish gives the rice so much more flavour and fragrance.
The Buk Choy was served in oyster sauce along with black mushrooms and fried garlic and complimented the meal.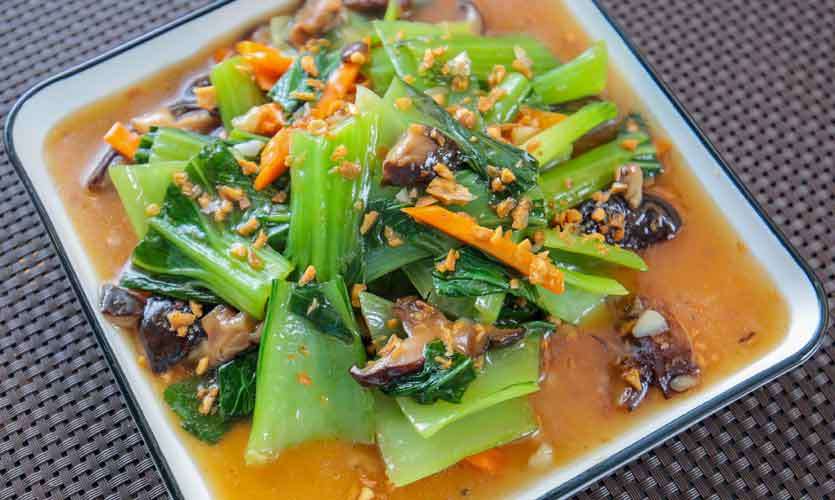 The star of the main course was their Chili Garoupa. The stir-fried garoupa in a chilli sauce was not just crunchy but it was also packed with intense flavours. A must try dish if you are a fan of fish!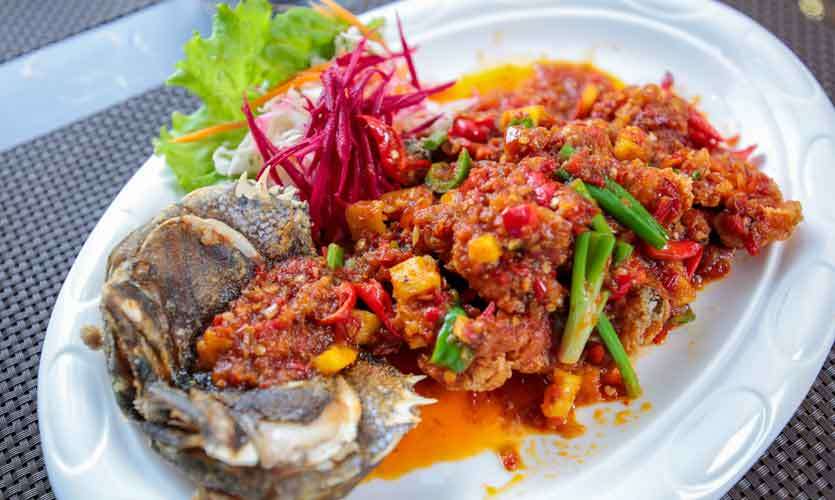 Overall 3.5/5
Overall our experience at Nom Nom Asia was great. They have created a lovely ambience with their creative décor and the food just ticked all the right boxes; great flavours, good portions and value for money.
Pictures by: Damith Wickramasinghe