Kemara stands for 'healing' in Sanskrit and that is exactly what it offers in terms of mind, body and cuisine. Kemara Life is the brainchild of Kishani Gunawardena and is a brand that has developed and expanded over the years to create, what Kishani likes to call, a 'Lifestyle'.
Kemara started off as a wellness centre offering massage and reflexology treatments and gradually introduced its own line of boutique products that are 100% plant based and free of paraben and artificial chemicals. Following the success of the brand and in line with its ethos, Kishani recently kicked off 'Kemara Cuisine' which stands to be the only paleo café in the island.
"With Kemara we wanted to create a holistic lifestyle that can be catered to on an end to end basis. It's not just getting wellness treatments and using vegan products but also living a lifestyle and maintaining a diet that's equally as clean and vibrant. And that is what Kemara Cuisine offers" explains Kishani.
After experimenting and researching on a variety of diets, what stood out to Kishani was the Paleo diet in which preference is given to lean meats, fish, fruits, vegetables, nuts and seeds.
Their menu, based off on the paleo diet, is 100% gluten, grains, sugar and dairy free.
They have weekly menus that change every week and they have a set take away menu that offers a range of savoury and sweet breads, butters, jams, cheese and desserts.
In the launch of the new café, we popped by for lunch to try out their paleo cuisine, curious to have a taste of gluten, grain, sugar and dairy free food!

Drinks
Kemara has the largest drinks menu we've ever seen in any café as they offer an assortment of drinks ranging from cold pressed juices to meal replacement smoothies and smoothie bowls.
We tried their Mango Miracle which was served with a side of honey which we didn't have to use as the smoothie had a good balance of flavour and a heavy citrus aftertaste that we enjoyed. However, it's a pretty filling drink so we'd recommend you opt for a lighter beverage if you are ordering food off the menu.

Food
All their meals and products are 99% locally sourced with a few key ingredients such as nutritional yeast and nuts being imported due to the lack of availability. The food at Kemara attempts to reproduce every day favourites like pizza, nachos and noodles with healthier alternative ingredients such as cheese made from nuts or noodles made from arrowroot. The food is made to order and everything, from the sauces to the bases, are made from scratch.

For appetisers we started off with their Herb Almond Bread and Nut Butters . The Almond Bread (Rs. 595) uses finely ground almonds and hence the texture of the bread is a lot different as it is very friable and dry which allows it to be paired off by one of their Nut Butters or Jams. We tried it with their Almond Butter (Rs. 1,280 for 120g) and Cashew Butter (Rs. 1,170 for 120g) which had a thinner consistency than normal butter with an almost puree-like texture. Both flavours of the butter complemented the bread well, though we did prefer the cashew over the almond.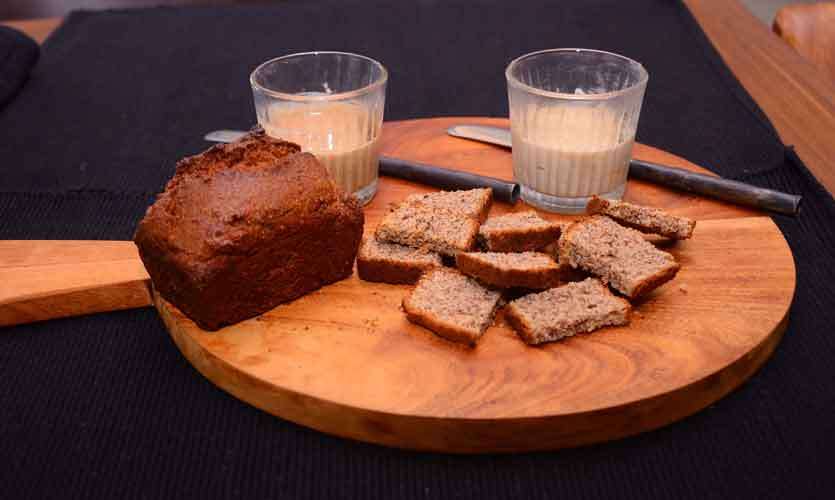 We then tried their Platter (Rs. 1250) made of carrots, cucumbers, strawberries and grapes accompanied by four types of tasting dips; sundried tomato and basil butter dip, coriander and lime butter dip, a herb and garlic butter dip and a classic cashew butter dip.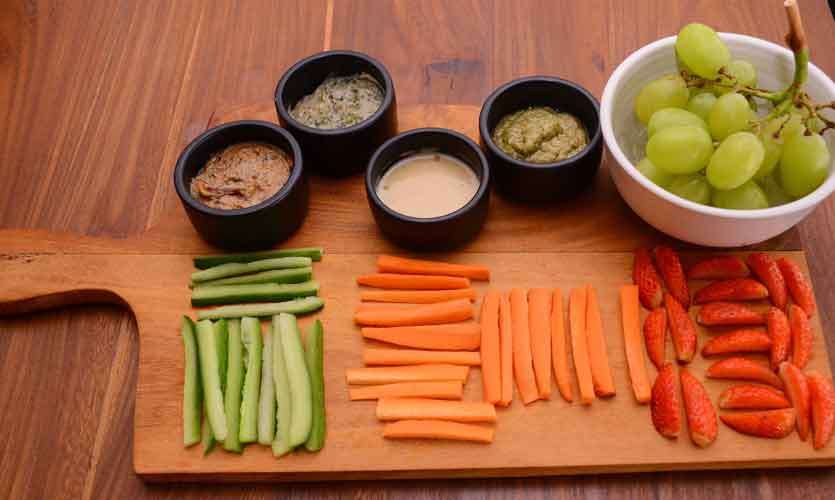 The sundried tomato and basil dip was the most flavoursome which the opinions split from 'we like it' to 'it's too overpowering' so it depends on individual preference. We all did however enjoy the coriander and lime and the classic cashew dips as they worked well with both the fruits and vegetables and were subtle in their flavour.

What we were really excited to try out were their Pumpkin Nachos (Rs. 1350) (5325) that were served hot off the oven along with a suggestion to eat it right away so the nachos won't get soggy. We were pretty surprised to find that the pumpkin nacho didn't stray too far from a regular nacho; it was super crunchy and fresh and the only difference we could taste was that it was slightly chewy and there was only a very mild flavour of pumpkin. The nachos were served with guacamole made with avocado, tomato, pumpkin, flax and chia seeds. For us, the nachos were a winning dish!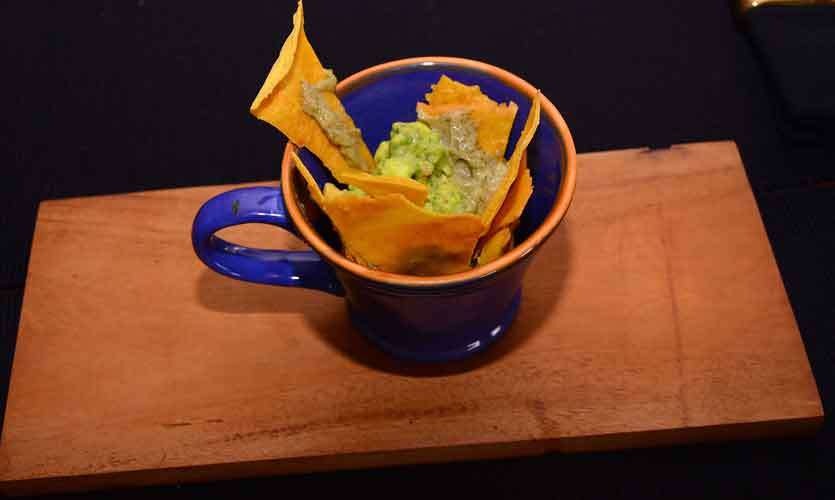 For mains we had their Thai Prawns with Sweet Potato Noodles (Rs.1750). The presentation was beautiful and at first glance we were concerned about the portion size only to be assured that such a portion will easily fill us up. The Thai prawns were cooked well and were complemented with a lemongrass dressing that added a touch of savoury to the dish. The sweet potato noodles were tossed in tricolour bell peppers and leaned towards the sweet side which is a contrast from the usual savoury flavours we are used to tasting. But as promised, we couldn't eat beyond what we were served as the small portion filled us up quite fast.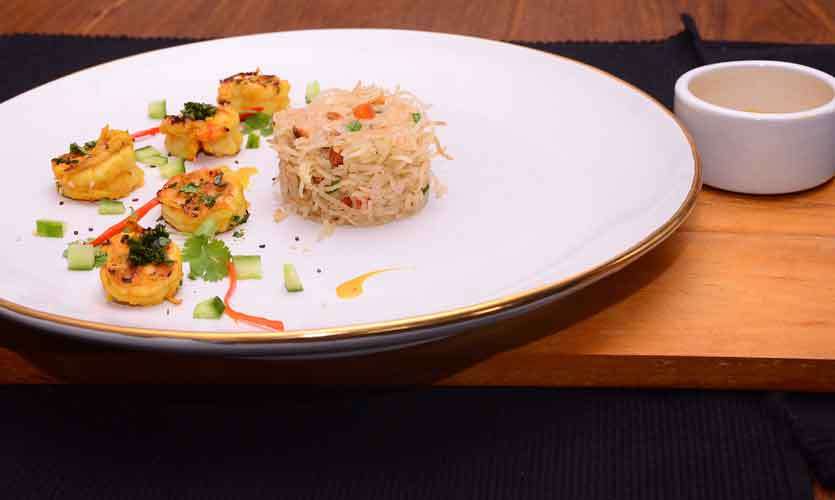 For dessert we tried their Crepe Cake with Coconut Whipped Cream (Rs. 825). The crepe cake is smaller than your palm but heavier than most crepe cakes. Our crepe cake was made with pistachio and arrowroot and held together by thick layers of coconut whipping cream. The dessert had a very thick consistency and wasn't sugary sweet. Despite the tiny portion, the dessert is very rich and is just enough to satisfy the need for something sweet after a meal!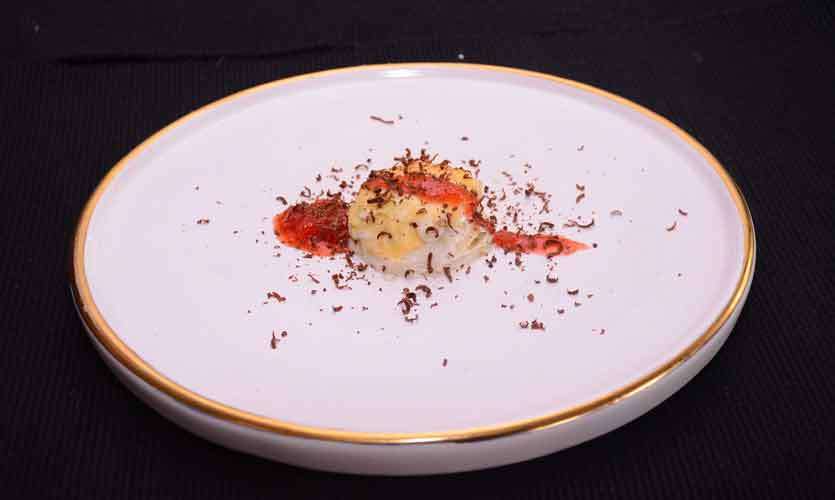 Overall
Lunch at Kemara was a novel experience. As we are so used to eating food rich with all kinds of ingredients that sweeten and spice up our dishes, trying out paleo cuisine was something strange and different that took a fair bit of getting used to. But while it may have been a little difficult for our palates to get used to it, what we liked was the feel – good effect afterwards. So often we'd eat a heavy meal and spend the next couple of hours feeling unhealthy and nauseous but our afternoon lunch at Kemara felt light and refreshing and left us feeling pleasantly full for the next couple of hours.
Kishani is also very hands on at the café and we love that she takes the time to explain the dishes and the ingredients carefully so we know what we are eating. The kitchen at Kemara is run by a team of five women who are super enthusiastic about what they serve.
Tip – For those who want to try out a paleo diet, Kemara has great meal plans and weekly menus that can be customised to your needs. But do book one day in advance!
Pictures by: Waruna Wanniarachchi