Kami Maki sets itself apart from the Japanese cuisine train in Colombo by claiming their food to be 'Japanese Fusion'; a little bit of Japanese and a little bit of our local flavours.
Does it work? Here are our thoughts on Kami Maki.
Ambience
Kami Maki has 2 branches to its name. Their old location at De Vos Avenue, Colombo 4 and their new location that opened just last month at Ward Place. We opted to check out their new location in Ward Place that is located directly in front of the Singer Plus, quaintly sandwiched between two buildings. This Kami Maki has both a ground floor and upper floor dining area and offers guests 5 private dining rooms with BYOB facility. The private dining rooms includes a teppanayaki room, a music lounge with karaoke, a tatami room and even a board room for official lunches or dinners.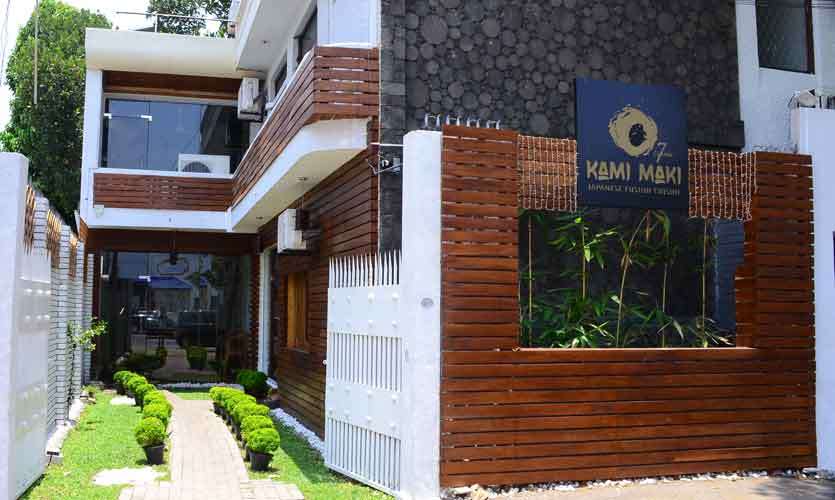 We really liked the layout of Kami Maki. There was plenty of space between tables and diners can opt to be seated at a formal dining table for 2 or 4 persons or a comfy booth at the corner. We (obviously) opted for the comfy booth at the corner and enjoyed the spacious dining space. They also have some beautiful Japanese inspired murals painted on the walls and altogether gave off a very fun, urban vibe that contrasted with the usually formal ambience one gets at a Japanese restaurant.
Drinks
Kami Maki doesn't really offer much in terms of beverages. The choices are between fruit juice, fruit sodas, soft drinks or a speciality tea infusion drink in partnership with Senok. We ordered a Tamarind juice (Rs. 250) and a Strawberry Fruit Soda (Rs.300). While the tamarind juice was quite refreshing not much could be said for the strawberry fruit soda. It was made from a strawberry cordial or syrup and was way too sweet for our liking. But it was cold and fizzy and on a hot afternoon, we didn't fuss too much. On the other hand they do their part for the environment and uses cardboard straws in the drinks and even states that in order to avoid single-use plastic they only offer glass water bottles and we find that action commendable.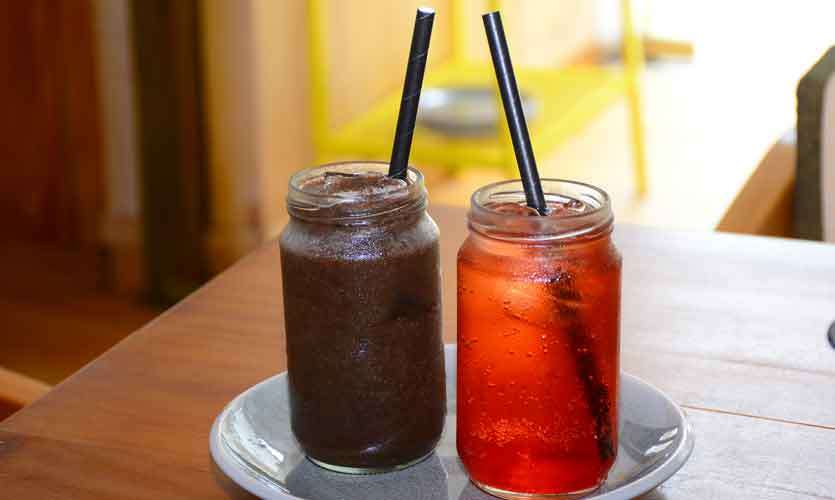 Food 3/5
The Menu at Kami Maki does a decent attempt at giving guests untampered Japanese dishes like sashimi, sushi rolls and soups as well as a mix of Sri Lankan fusion Japanese dishes like their Lankan Fusion Maki's (Seeni Sambol and Avocado or Pol Sambol and Cheese), their sushi donut or their signature rice burgers. From reviews online, guests love this fusion take on Japanese food as it works well for those who prefer to have their seafood cooked and spiced and for those who love a little adventure with their food. We would have loved to try their signature dishes but as we were invited for the review our menu was pre-planned and ready for us.
We started off with Tuna Sashimi (Rs. 980). Sashimi lies at the core of all Japanese cuisine but of course, is a dish only for those who are comfortable eating raw fish. Sashimi is normally served as a first course as it is recommended to be eaten before other strong flavours affect the palate. The Yellowfin Tuna Sashimi has a mild flavour and its firm texture makes it rather perfect for sashimi.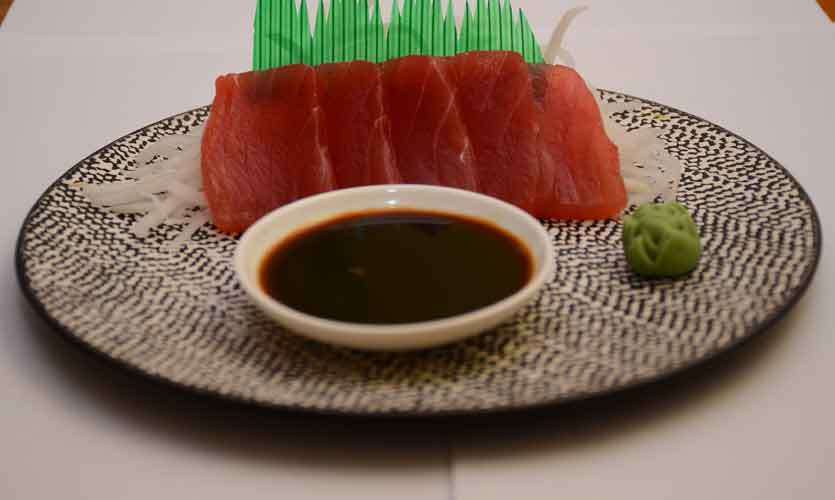 We then had their Yellowfin Tuna Salad Boat (Rs. 1250) which was cooked tuna in salad served on thick slices of salad cucumbers. Personally, we weren't big fans of this dish, it lacked any panache that a dish at a restaurant should have and while we maybe pick it up as a canape at a cocktail, we didn't quite feel like it was a dish we'd order at a restaurant.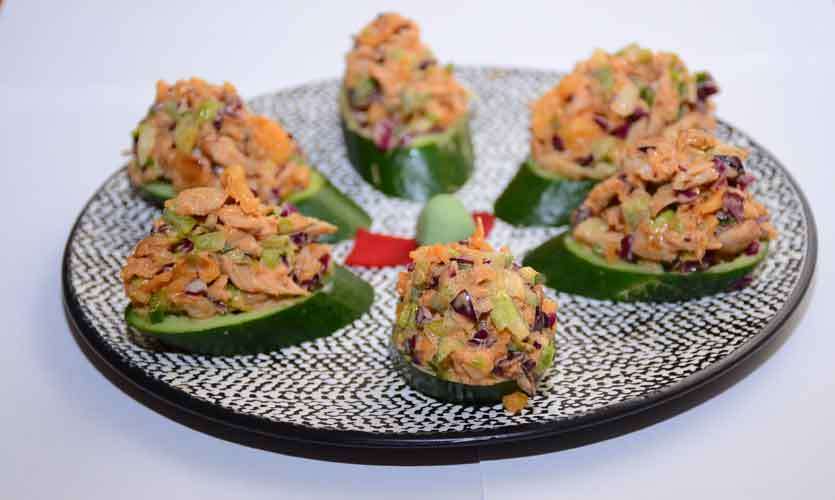 The Teriyaki Chicken (Rs. 820) was something that we really enjoyed. Not much could be said about the presentation but the flavours were all there and that's what matters. The sauce was perfectly balanced and not too sweet and the portion size was great. Pair it up with some sticky rice and you've got a simple dish with great flavours.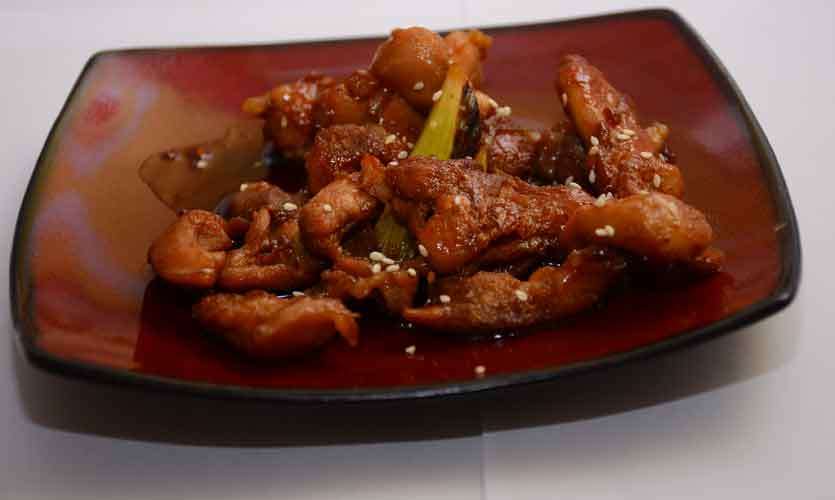 We then tried their Katsu Curry with Rice with Prawns (Rs. 1200). You get to pick your meat, the flavour and the level of spice. The flavours are where the fusion aspect comes into play with options varying from coconut relish to pineapple Honolulu and Colombo katsu. The Katsu curry is somewhat like a stew and very thick with a ton of vegetables and wasn't too appetizing for us. But what saved the dish was that it was served with hot, fresh off the fryer, crispy panko crumbed prawns and the portion size of the prawns was above generous (a gesture most restaurants are reluctant to offer).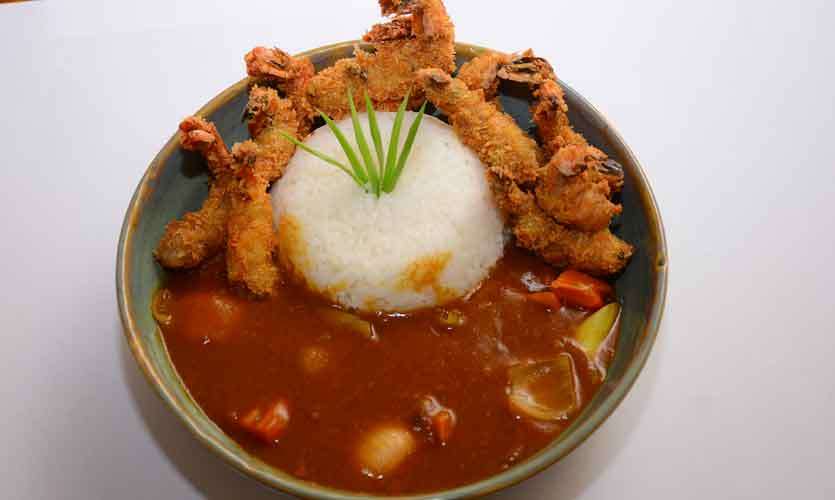 Our favourite dish from our dining experience at Kami Maki was their Volcano Roll (Rs. 1050). The Volcano roll we had included a pyramid of crab meat mixed together with a spicy sauce served on a sticky rice sushi roll. There was a crunch in the crabmeat mixture that we couldn't quite identify exactly as to what it was but we liked nevertheless. It was personally a great dish, not just compared to what is offered at Kami Maki but also in terms of what is offered at Japanese restaurants in Colombo. And with 6 pieces per portion, we thought it was value for money because you simply cannot finish it in one go.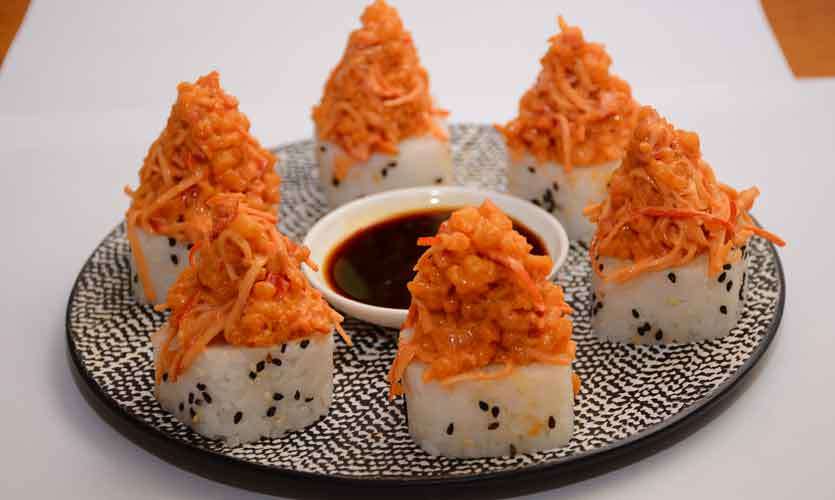 For dessert, we were given their signature Tempura Fried Chocolate Cake with Ice Cream (Rs. 520). We've had tempura ice cream before but tempura cake was a novelty. They do serve 2 massive squares of cake battered in crispy tempura and as it was served straight out of the fryer, we got a gooey inside and a crisp outside and with vanilla ice cream on the side, it was a sweet pairing. The only issue was that the maximum you could eat out of the dessert was 4 – 5 bites as it is very sweet and the tempura only makes the dessert heavier. So, here's a tip, order one and share among yourselves!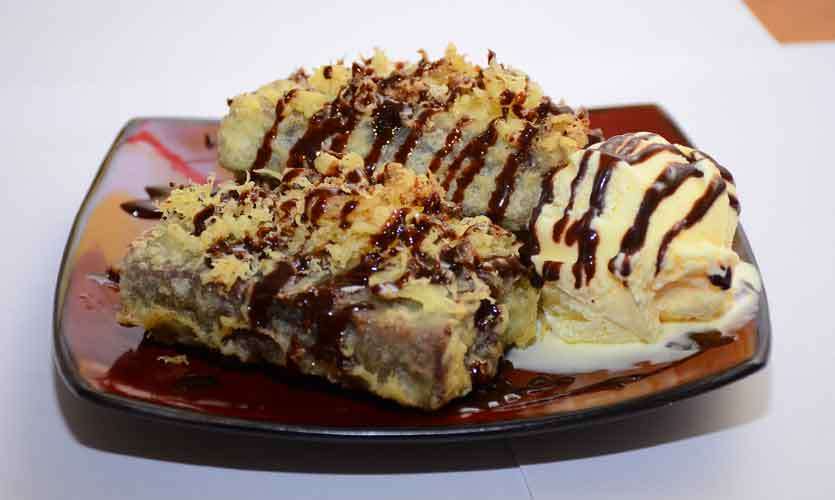 Service
We visited as soon as Kami Maki opened and to our luck, we were the only customers so we were ensured a fast service.
Overall 3/5
Overall Kami Maki isn't authentic Japanese cuisine and it doesn't pretend to be so. For diners opting to come to Kami Maki, they can experience Japanese cuisine with a local context and we thought that it was a unique idea. Our dining experience was somewhat of a hit or miss. We really liked some of the dishes and didn't find others to suit our taste. However, on the whole, we found their prices decent and felt that their dishes were value for money.
Parking Facilities – On the side of the road
Toilets – Available. Clean and Sanitary.
Pictures by: Waruna Wanniarachchi