Offering one of Colombo's best multi-cuisine buffets, the Graze Kitchen at Hilton Colombo is busy and bustling on a Friday afternoon having recently opened the restaurant for buffet dining post-COVID-19 restrictions.
Returning back to Hilton, what we were most impressed with was the strict safety and hygiene measures the hotel has taken in light of COVID-19. Following both WHO and Ministry of Health guidelines along with a few self-imposed restrictions – the Graze Kitchen offers guests a safe environment to dine in by ensuring absolute minimum contact and consciously prepared food.
Atmosphere
Offering both indoor and outdoor dining, Graze Kitchen's interior is modern and sleek. Their al fresco dining area directly overlooks Hilton's iconic pond populated by Koi fish and swans, while their floor to ceiling glass windows allows indoor guests an equally unobstructed view of the scenery.
The seating plans are varied and distanced - cluttered across the space catering to both small and large groups along with private dining rooms and curtained, secluded nooks with plush couches for intimate dining.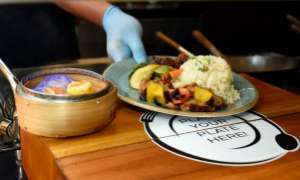 Food
Offering close to 100 dishes in a multi-cuisine setting, the Graze Kitchen buffet is one to be savoured for hours on end. "The Graze Kitchen buffet is international – it's about variety and variance prepared a la minute for our guests," says Sous Chef Haymantha De Silva.
Graze Kitchen also has a set of impressive strict guidelines in place to create a safe dining environment. Upon being seated, a pot of boiling hot water is brought to the table to sanitize and clean your utensils before use and all drink orders are capped by cardboard covering for guests to cover their glasses when they aren't drinking.
The stations themselves have taken extra precautions to minimize contact between servers and guests. Each station has a wooden plank for guests to place their plate on before instructing the servers what they'd like from the menu. The server would then directly place the guest's choice of food onto the plate without any contact and the guest can remove the plate from the plank once served to ensure that it is only the guest that has contact with their plate. As a further step, they've also designed glass panelling at the front of each station for maximum distancing. With 5 different cuisines, an impressive salad and appetizer bar and a range of decadent desserts – we couldn't wait to start our dining experience.
Salads/Appetisers
In line with COVID safety and hygiene measures, all salads and appetizers are now served in individual cups and bowls – securely wrapped in clingfilm for freshness and cleanliness. Guests can choose from a variety of cold cuts, cheeses and ready-made salads.
Japanese
If you are skipping past the bread and the salads (you are missing out!), the Japanese nook is everyone's start to the buffet. Under the supervision of Hilton's in-house Japanese chef, the selections on offer are plenty, with an assortment of freshly prepared sashimi, nigiri and sushi rolls. As big fans of Japanese food, we unsurprisingly found ourselves returning back to the station for seconds of their delicious Tempura Prawn Roll and the Spicy Tuna!
Western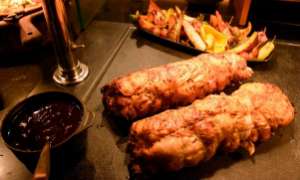 As the first station we saw upon entering Graze Kitchen, we already had our eye on the mouth-watering roast meats that were set up in an almost-too-pretty-to-eat display. The western corner was largely live-action offering a selection of Pasta in different preparations, fresh-off-the-pan Battered Chicken Wings in hot pepper sauce and live carvery. Giving first preference to the roast meats, we tried their Roasted Turkey with Thyme jus and their Pork Knuckle with onion jus. It was love at first bite with the meat roasted to perfection with tender, juicy meat and the most satisfying crispy crackling. We also enjoyed their Pizza Pollo Piccante and Pizza Margherita.
Asian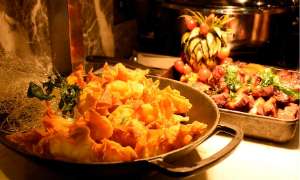 The Asian corner was the most popular station during our visit with diners lining up for what's on offer – Seafood Minestrone, Assorted Dim Sum, Fried Rice and Shanghai Noodles, Live Hanging Char Siew Pork, Seafood Wonton and Thai Fish Red Curry among others. We opted for their Assorted Dim Sum with seafood, chicken and vegetable, their Char Siew Pork and the Seafood Wonton. The preparation of the Char Siew Pork was delicious with a spot of fried rice and the Assorted Dim Sum was a feast of textures and flavours.
Sri Lankan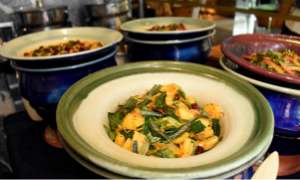 For the rice and curry fan, the Sri Lankan station is absolutely tempting with Black Pork Curry, Chili Crab, Yellow Rice and Dhal alongside condiments like Gotukola Sambal, Fried Bitter Gourd, Pol Sambol, Chutney and Papadam.
Indian

Acutely aware that Indian food would leave us with no room for dessert, we simply couldn't walk away from what was on offer; Hydrabadi Mutton Biriyani, Tandoori Chicken Skewers, Butter Chicken, Fish Tikka, Paneer Jalfrez, Aloo Gobi Matar, Dhal Maharani, Roti and Naan. Torn between Biriyani and Naan, we opted to for both, with a generous serving of Butter Chicken, Tandoori Chicken Skewers and Dhal Maharani. Packed with rich flavours – we were happy to have left Indian for last so we could pig out sans the fear of missing out on the other stations.
Dessert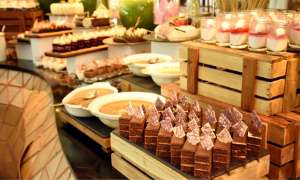 We are never too full for dessert, and we are definitely never too full for the formidable selection of sweets at Graze Kitchen. Offering rows and tiers of desserts with eggless, sugar-free, hot and live-action options – we couldn't wait to dig in. We opted for their Mango Passion Surprise, Coconut Tiramisu, Crème Brûlée and Lemon White Raspberry. Our favourite was the Mango Passion Surprise with a thick chocolate ganache.
Service
Service was excellent. Because of the COVID safety and hygiene measures in place, there's more staff involved in the process of it. From patiently taking us through what's available at each station to ensuring social distancing is maintained in any line-up for food – we were impressed with the personalized service we received at Graze Kitchen.
Overall
This was our first buffet post-COVID-19 restrictions and we were thrilled to find ourselves in a comfortable setting knowing that all safety measures are being taken and followed to the dot. The standard of food at Graze Kitchen has always been consistent and superior, not just with the variety and variance on offer but also in terms of the textures and flavours each dish has. Overall, an excellent lunch!
*. The Graze Kitchen Buffet is open for lunch Monday to Friday at Rs. 3588 nett and for Dinner all week long for Rs. 3988 nett (inclusive of one soft drink). Graze Kitchen also offers an Endless High Tea on Saturdays, Poya days and Mercantile holidays in two seatings.
Pics by Nimalsiri Edirisinghe