When you think of making chocolate brownies you usually think they need to be full of dairy milk chocolate and eggs to get that fudgy flavour, but one clever home cook has developed a range of brownies that are still big on taste and light on unethical ingredients. Meet Tashie Jackson, the creator of Smokeys - The Brownie Bar. A Colombo resident, she has been delivering brownies around the city for the last two and a half years, bringing happiness to vegans and non-vegans alike. What makes these brownies so great is that you don't need to be vegan or have an egg or dairy allergy to enjoy them - anyone can eat them. I spoke to Tashie about the success of her business and why she decided to get into the brownie business.
Why did you decide to start making vegan brownies?
I had been an ovo lacto vegetarian and vegetarian activist for decades and in the process, I came across footage and information about the shocking violence and cruelty that happens in the egg and dairy industries prompting me to take the next step to becoming vegan. However, I loved cake and at the time, there were no vegan cakes or desserts in Sri Lanka so I taught myself to make them for myself.
How successful are your brownies?
Extremely successful. The business all happened by chance. I started making brownies for myself and my husband, brownies which got a lot of good reviews so one day we just thought, what if we try to sell these brownies? The goal was to make a little pocket money and also promote vegan food but from the first week of business on wards, the brownies were a hit and two years on, Smokey's - The Brownie Bar has become a successful business which I run full time. In fact, a good ninety percent of my customers are not vegans.
What flavours do you offer?
I offer Chocolate Glazed, Peanutella, Roasted Cashew Topped, Peanut Butter, Strawberry Topped and many more. I am still experimenting with newer flavours. I also offer cakes and cupcakes with the same flavour combinations.
Do you think veganism is growing in Sri Lanka?
It definitely is. As vegan activists, we have been studying the trends and there is a very steep upward growth in the number of vegans here.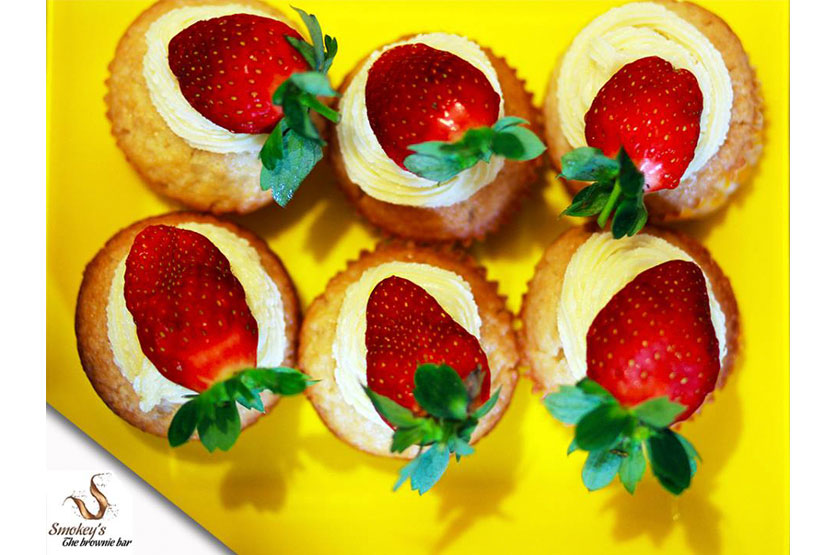 What's your best advice for someone going vegan?
Break away from everything people are telling you and explore your options for yourself. The common belief is that vegans eat grass and that the food we eat is bland and uninteresting but on closer inspection, we notice that most of the food we eat in Sri Lanka, whether we are vegan or carnivore is accidentally vegan anyway so going vegan is not going to change your diet much.
Where can people get your brownies from?
They can order on Smokeys - The Brownie Bar's Facebook page and we will deliver the brownies to their doorstep. They can also pick the brownies up from Dehiwala. Just contact us online. Prices start from Rs. 590.00 for 6 brownies depending on what flavour you decide on.
PHOTOGRAPHS courtesy Smokey's - The Brownie Bar