For Sarita De Fonseka, cooking was something that didn't quite come naturally. In fact, she was considered the one who didn't know how to cook in spite of having fantastic cooks in her family. However, one day she decided she would try her hand at cooking for a few friends and that turned out well.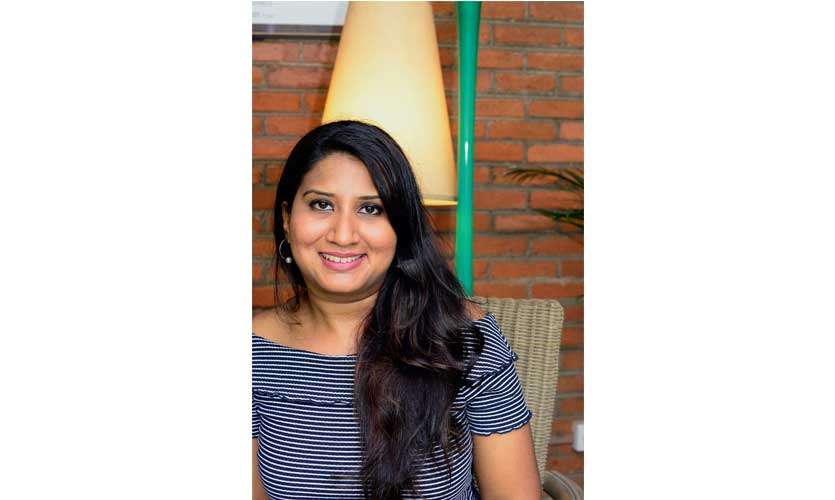 "I have no professional training in cooking, all I have is a partnership with the Lord Jesus Christ," Sarita, a lawyer by profession said adding, "My dad used to call me Dot and that's where the inspiration for the name came from and I told my dad I may want to take on a few catering orders and he said I should. He passed away in January 2014 and I started taking orders by December that year." So along with a multitude of law-related work Sarita takes on orders and we can say, hands down, she creates some delicious home-made food that will leave you and your guests wanting more.
Food – 5 stars
Starters
Our first experience into Dot's delicious food started with her luscious Chicken Liver Pâté (Rs 1,450). This brandy infused pâté had oodles of clarified butter therefore making it quite mind blowing. You won't be able to stop with just one cracker coated with this heavenly treat!
The Spinach, Strawberry and Corn Salad with Cool Mint Dressing (Rs 2,850) is also bound to be a crowd pleaser as it is light, sweet, sour and refreshing. Sarita uses candied cashew nuts in the salad thus giving it a lovely texture.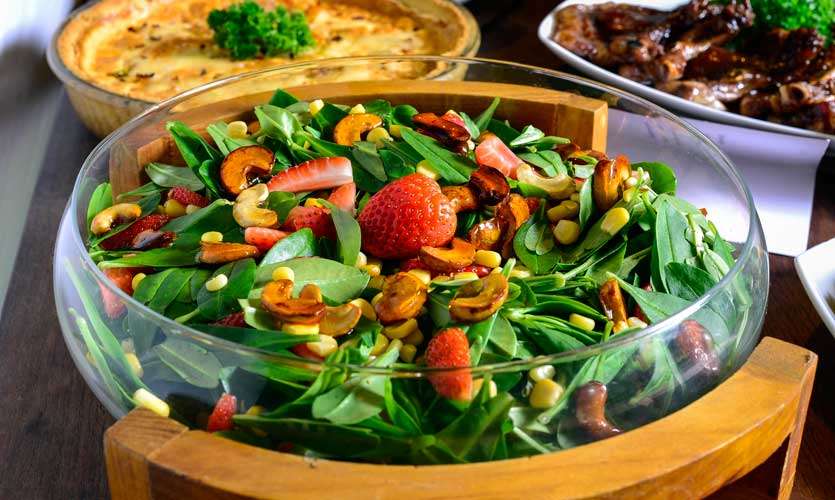 Mains
An absolute must have at your seasonal dinner table is the Prawn and Mushroom Quiche (Rs 2,720 - serves 6 and Rs 3,950 - serves 10). The creamy sauce coupled with the delicious prawns and the buttery base make for such a stunning dish.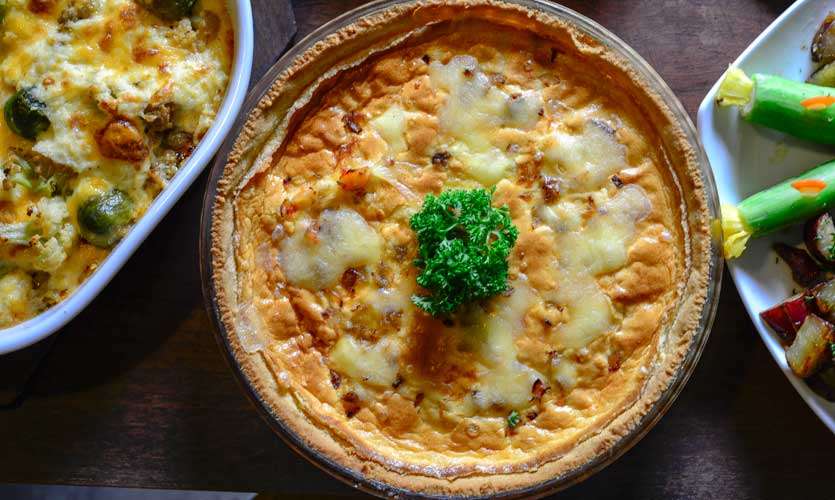 Another warm and fuzzy dish is her Cauliflower and Brussels Sprouts Au Gratin (Rs 2,500 - serves 6 Rs 3,750 - serves 10) – after all there's a lot to love when it comes to the combination of cream and cheese coupled with perfectly cooked Brussels Sprouts and Cauliflower.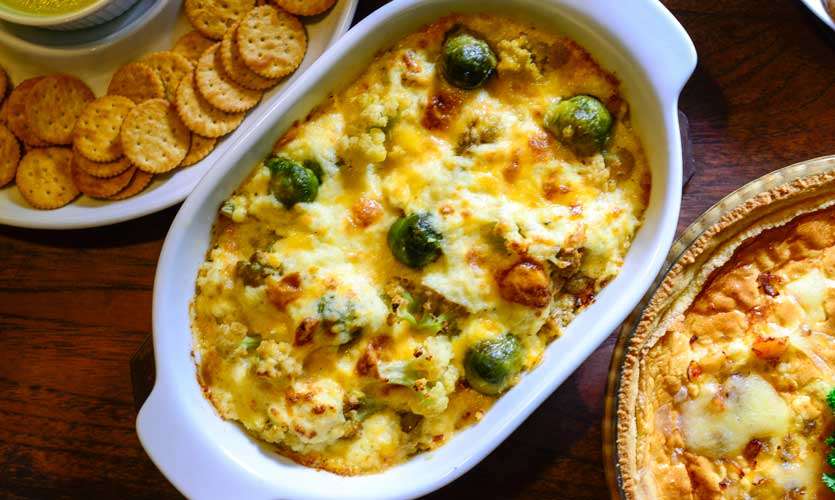 The meaty dishes we had included her succulent Buttery Whole Roast Chicken with Roasted Sweet Potato (Rs 2,450) and Pork Chops in Spiced Wine Reduction (Rs 525 per piece – minimum 6 pieces). The chicken and the buttery sweet potato were simple yet delicious while the spiced wine reduction added a whole new flavour dimension to the juicy fall off the bone pork chops.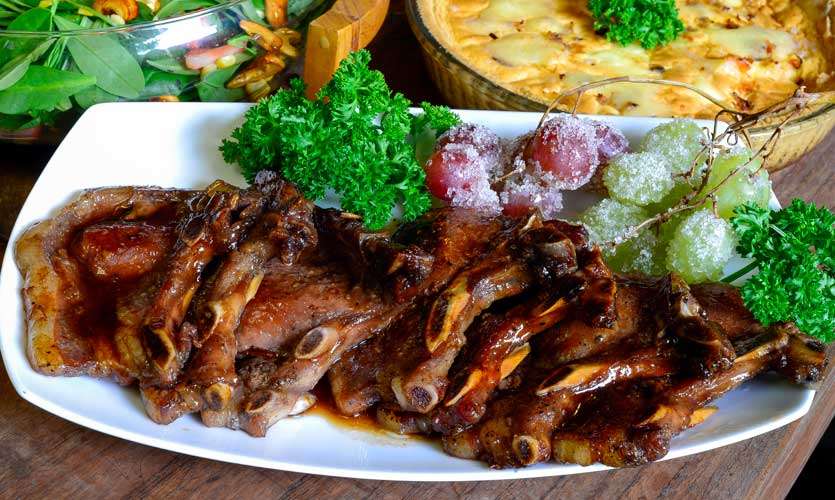 Dessert
The rich food left us stuffed but trust us, a must dig into dish is Sarita's Christmas Spiced Bread and Butter Pudding (Rs 1,925 - serves 6 and Rs 3,000 - serves 10). This is a bread pudding like no other. The caramelised brandy crust on top of the warm buttery bread pudding coupled with a scoop of vanilla ice cream is a devilish treat worth every calorie.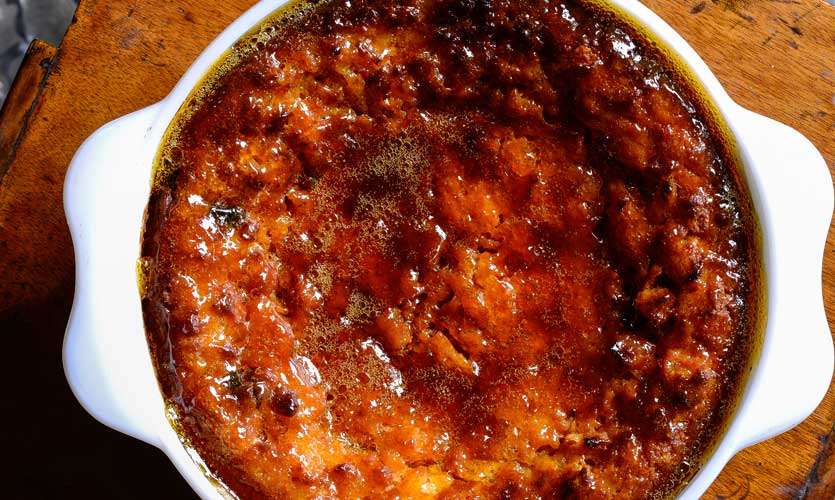 What we recommend: Everything!
Would we order again? Yes

Tips/notes by author: Since this is a home-based operation, Sarita requires 48 hours notice for orders
Pix by: Kanishke Ganewatte