Cafe Kumbuk has come a long way since it first opened in a striking building down Horton Place. Kumbuk just recently relocated to Thambiah Avenue off Independence Avenue and shares its premises with Srilax, a five bedroom BnB that is housed on the upper floor.
Ambience
The current space retains the design aesthetic of its original abode down Horton Place, keeping the decor rustic yet minimal. Colour is incorporated into the space by way of succulents and some photographs adorning the walls. Seating is both indoor and outdoor, with a miscellany of smattering tables and including communal seating. With a generally muted colour palette utilised throughout the space, the cafe is spacious and airy.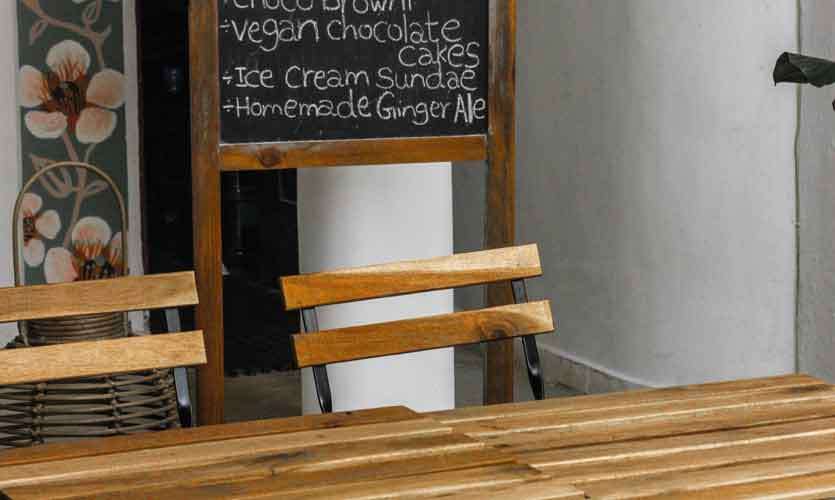 Food & Drink
At Cafe Kumbuk, they have always kept their menu small, relatively unfussy and mostly unpretentious. Possibly their most extensive menu is the All Day Breakfast menu which lists a wide range of items that are both vegetarian and non vegetarian. Their lunch and dinner menu meanwhile is more concise, but has a surprisingly varied offering that will appeal to anyone. They are also quite flexible with their dishes and are willing to accommodate various dietary requirements where possible. The food at Cafe Kumbuk continues to lean towards healthy food to a large extent, save the occasional fried item in a dish. But overall, they shun the use of refined white sugar and artificial flavour enhancers in their food and drinks.
They have quite an inclusive drinks menu with a host of teas, coffees, cold pressed juices, crushes and punches. But the humid weather warranted something chilled and light, so it was almost a no brainer for me to pick the Island Chiller (Rs. 450). Comprising rosemary, frozen watermelon, kithul treacle, lime and coconut water, the drink proved to be a good start to the meal. The ingredients all worked well together and was an excellent thirst quencher.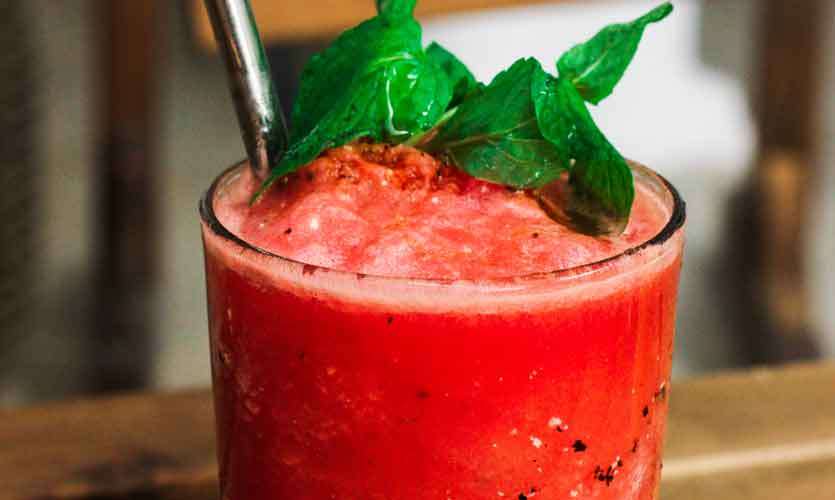 I also sampled the Red Snapper, the Naked Burrito Bowl and the Open Isso Wrap.
The Red Snapper (Rs. 1250), served with fragrant rice and a creamy Thai inspired spicy sauce, was a simple dish that was elevated thanks to its sauce. The Thai red curry inspiration was certainly resonant in the sauce, and paired with fragrant rice, was a good option for lunch.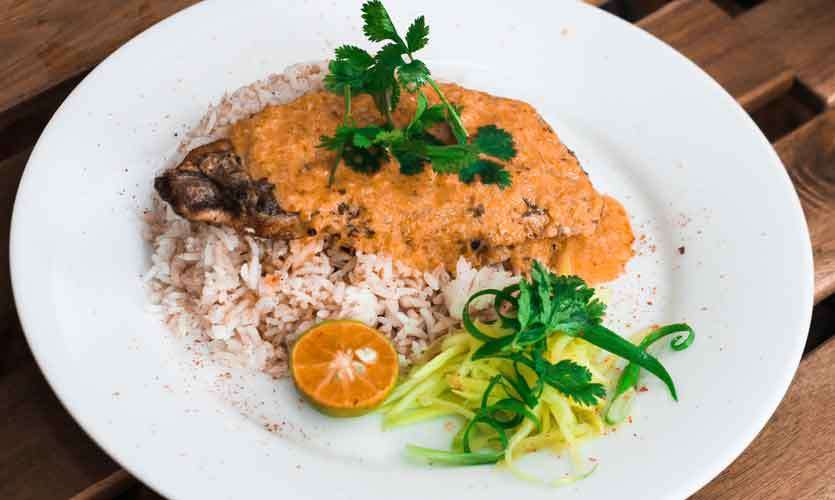 The Naked Burrito Bowl (Rs. 1100) was a riot of colour, flavours and texture. The burrito bowl included spicy rice and kidney beans, guacamole, tomato salsa, buffalo curd, assorted veggies, jalapenos, pickled onion and sriracha sauce. This dish normally includes chicken, but you can opt out of it should you prefer the burrito bowl to be vegetarian. According to the menu, I should have been served pulled chicken in the bowl, but the chicken was cubed. A stickler might find this gripe objectionable, but otherwise, it didn't bother me too much. These contents of the burrito bowl came together to make for quite the flavourful dish, but the chicken could have had more flavour. This was noticeable especially when I tried the chicken by itself, and this minor flaw could have been the difference between a good dish and an excellent one.
I left the best for last, the Open Isso Wrap (Rs. 950), panko crumbed prawns on a bed of assorted veggies served with bell pepper ketchup, kewpie mayo and sriracha sauce was certainly a winner. Scoring high in both the flavour and texture departments, the open isso wrap doesn't make for glamourous eating, but certainly makes the effort worth it should you choose to get your hands dirty. Again, the prawns seemed batter fried rather than panko crumbed, but that's just a minor gripe that is soon forgotten once you taste it. But all in all, a fantastic option that I would gladly have again.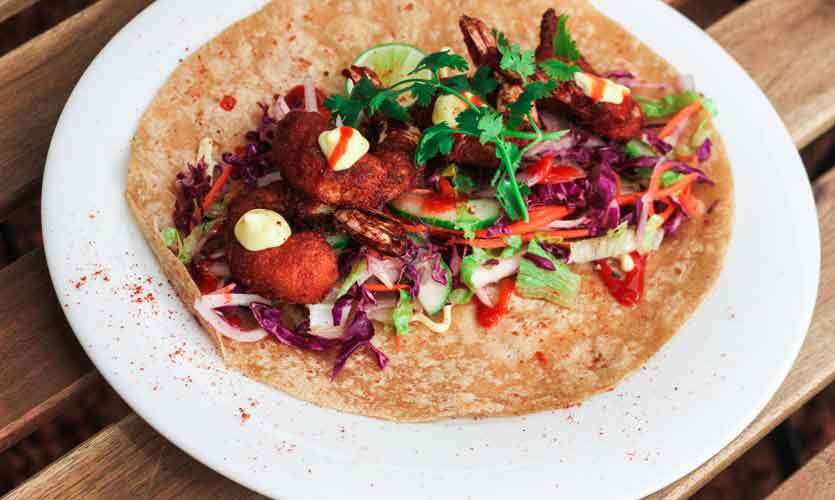 Cafe Kumbuk is ideal for a laid back meal with family, friends or acquaintances that ticks all the right boxes: a menu that won't leave you scratching your head in indecision, healthy yet tasty food, a wide ranging drink offering and a charming ambience. The cafe is also kid friendly and pet friendly, and away from the hustle and bustle of the main road.

What I recommend: Open Isso Wrap
Would I go again? Yes. I love the chilled out and laid back ambience, and I am especially fond of their drink menu.
Notes: 10% service charge will be added. There is no air conditioning here.
Parking: Parking is limited.
Pics: Pradeep Dilrukshana