As a long time vegan, it's always exciting to find out when a regular restaurant starts offering plant based options. It's even more exciting when the venue is in a great location, has beautiful décor and a fun atmosphere. The kind of place that's perfect not only for a group birthday celebration, but also a romantic dinner for two. While it's easy to find vegetarian (and even vegan food to some extent) in Colombo, choices for fine dining are usually limited to restaurants in five star hotels.
While Botanik doesn't outwardly advertise as being vegetarian or vegan friendly, the chef is more than happy to accommodate diners by adapting dishes for those that have dietary preferences. Just let them know when you make a reservation and they will work with you to provide the best options.
Botanik is owned by Cantaloupe & Co, whose portfolio includes hotels such as Cantaloupe Levels, who are also moving into a wellness space with an emphasis on healthy food. So it makes sense that they are taking this direction with their menu at Botanik. With a focus on small portions that are designed to be shared and with minimal carbs, their overall menu draws on local and international inspiration.
To begin, I tried one of their fresh fruit juices, the botany. Blended together was green apple, cucumber, greens and sweetened with kithul. Often, green juices can be too "grassy" but this had the perfect balance of fruit to green ratio. I was impressed to see them using paper straws instead of plastic.
While the vegetarian options aren't marked on the menu, there is plenty to choose from. If you are a strict vegetarian just be aware that cheese usually includes rennet which is a meat by-product. If you are conscious of avoiding rennet, the vegan options will always be suitable.

Starters
Vegetarian: The Sri Lankan buffalo mozzarella with green house tomato and basil (minus optional anchovies).
Vegan: The roasted beetroot with hummus, wild rice and a date dressing. I sampled this dish and the six wedges of beetroot would be the perfect amount to share with someone else. The pairing of hummus and beetroot works especially well with the greens on top giving it a nice little crunch.
Veg/Vegan: The mushroom risotto with parmesan crisp and chives can be made vegan by removing the cheese. The texture of the risotto was lovely, even without cheese, the rice was still soft and creamy with the mushroom flavour not too overpowering. The dish was also garnished with fresh mushrooms and the potion size was quite large for a starter so I would definitely recommend sharing this with someone else.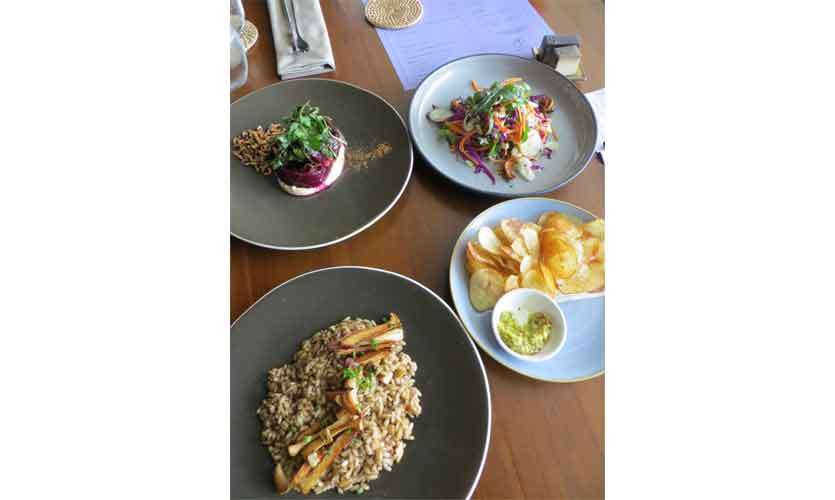 Main
There is only one meat free option for mains. Advertised on the menu as poached chicken salad with Japanese mustard, wombok and cashew, the vegetarian/vegan option is the salad with the chicken removed. As far as salads go, it was enjoyable. The dressing was tangy and the use of cashews gave it a good crunch, salads with different textures are always more interesting. Adding in a plant protein in place of the chicken such as some marinated, sticky tofu would have made the dish more filling, as on its own, it was more a starter than a main.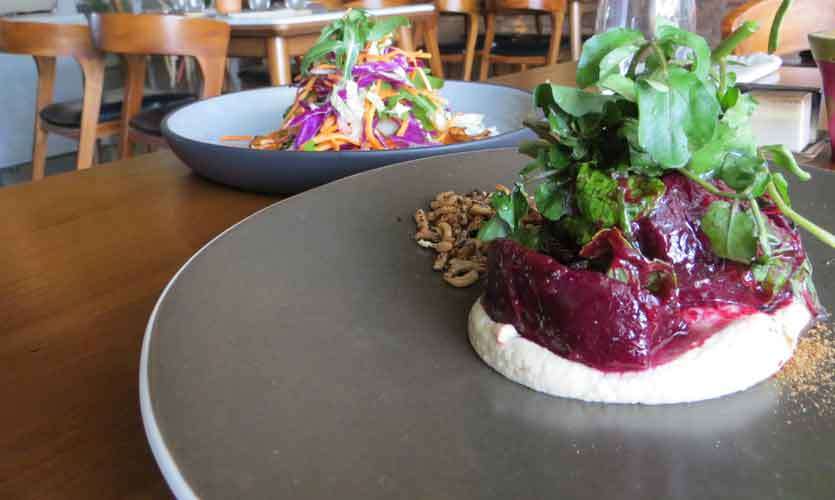 Sides
The sides are all vegetarian but can be modified to be made vegan. While I didn't get to sample any this time, the spiced couscous and grilled eggplant with confit tomatoes, wild rice, pomegranate molasses and sesame both definitely caught my eye for my next visit.
Snacks
On the snack menu were some great options including a vegetarian curry leaf wade (with chickpeas and onion salad), candied cashews and the chips and dips. I enjoyed the tasty little manioc chips with the guacamole and harissa hummus.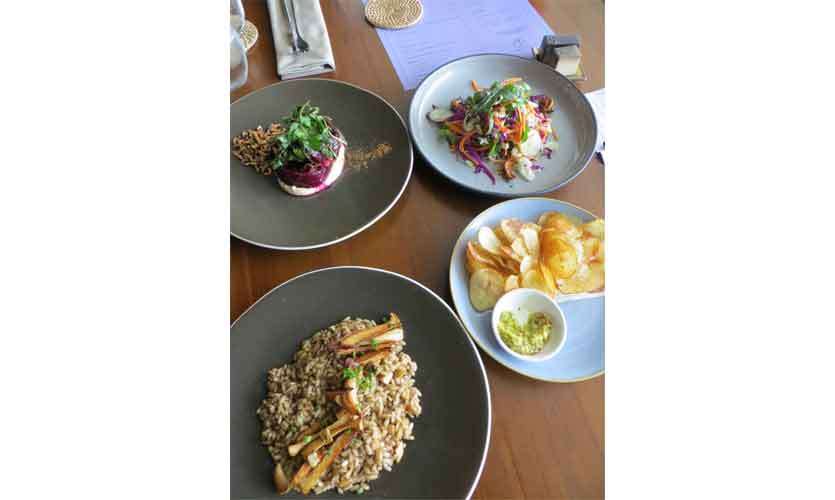 I would easily recommend Botanik for a group dinner such as a work function or party as they make it extremely easy to cater a table with multiple dietary requirements. They also do an executive lunch during the week where the vegetarian/vegan options are also available.
Hopefully Botanik's menu continues to evolve to include more fully plant based options that diners of all eating preferences will find appealing. While being able to amend regular menu items to make them vegetarian/vegan is always appreciated, sometimes removing ingredients can change the desired flavour of the dish.

I will definitely be heading back to Botanik to try any new vegan offerings, the rooftop setting is wonderful and the vegetarian and vegan community are always looking to support establishments that make the effort to offer them a great night out.
By: Catherine Douglas