Baker's Choice has been around for a while now, providing freshly baked artisanal bread to various local cafes, expats and embassies. A venture of love by Laki Ratnayake, who left behind his life as a Finance Director in the UK, Baker's Choice started off by supplying finely crafted, handmade sourdough bread. Supported by Anjinha Gomes, who oversees bakery operations, Baker's Choice is now joined by Chef Nishan Liyanage who brings his experience in the international culinary arena to the Cafe. Made from locally sourced ingredients, the food made here does not contain artificial flavours, colours or preservatives, enabling Baker's Choice to continue to take part as a Good Market vendor. In order to cater to the requirements of their clientele, they recently expanded their menu to include dishes curated by Nishan. Laki, Anjinha and Nishan recently hosted the media to a tasting of their new menu. Here's what we thought.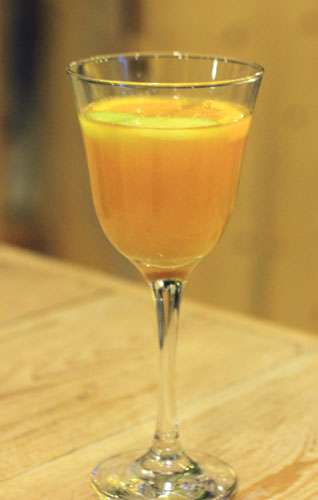 Appetisers
Tomato Basil Bruschetta: Finely chopped greenhouse tomato & fresh basil leaves, parmesan cheese, extra virgin olive oil on toasted sourdough bread with garlic confit. They have an assortment of 85 varieties of bread, all freshly baked. The sourdough in the bruschetta was delightfully fresh, a fact that became apparent on the first bite. The topping was tasty, the parmesan cutting through the acidity of the tomato, resulting in a well balanced flavour.
Roasted chicken wings with naimiris sauce: Oven roasted chicken wings coated with a nai miris scotch bonnet chilli sauce. Devilishly spicy, the chicken wings manage to be flavourful and tasty. I expected the spice to overwhelm everything (yes, it was THAT spicy!), but it surprisingly didn't, which had me going back for more! While I loved it, this may be a little too hot to handle for some people (Nishan had the good sense to warn those in attendance many times) so proceed with caution.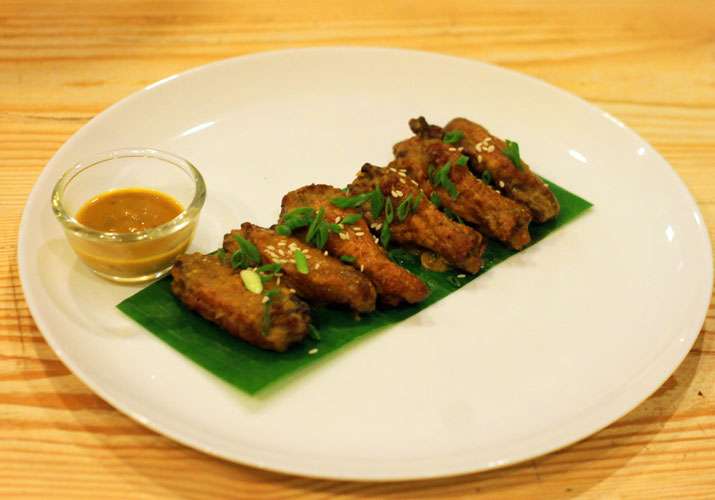 Soup
Chicken and corn chowder: A hearty and creamy soup of chicken, sweet corn, potato, fresh thyme and parsley served with cheese and chilli croutons. Where do I even start with this one? Hearty and feeling like home, this soup was DELICIOUS! So delicious that most of us couldn't stop eating the soup despite being stuffed.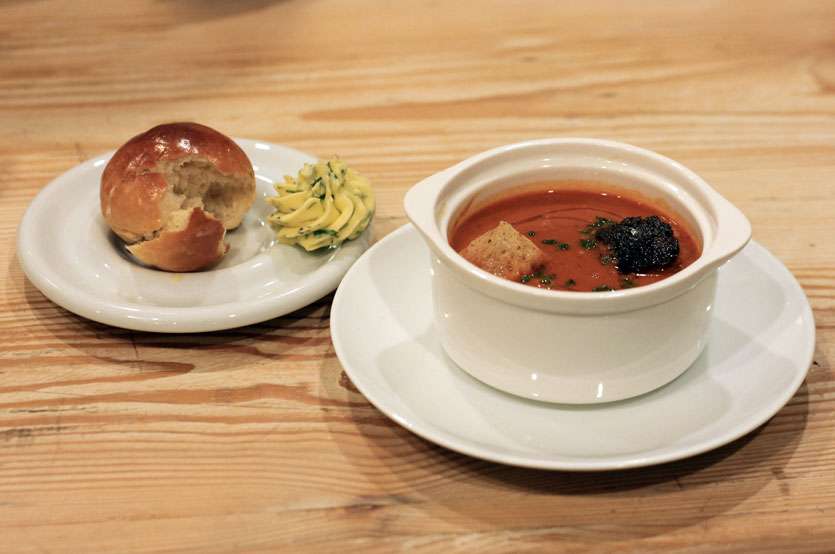 Country style roasted tomato soup: A rustic soup with oven roasted tomatoes, fresh rosemary, garlic, olive oil, served with garlic sourdough croutons. Another fabulous item, especially considering I personally love anything with tomato in it, The country style tomato soup was rustic in flavour and as tasty as the chicken soup.
Mains
Rustic beef stew with stout breads: My sentiments about this locally sourced beef slow cooked with seasonal vegetables and herbs served with rustic sourdough bread could easily be described in one word: WOW. Beef was incredibly tender. So tender, in fact, that I didn't even need a knife to tear it apart. As I was mopping up the last bits of the stew with the stout bread, I was already thinking about when I'd be back to have more.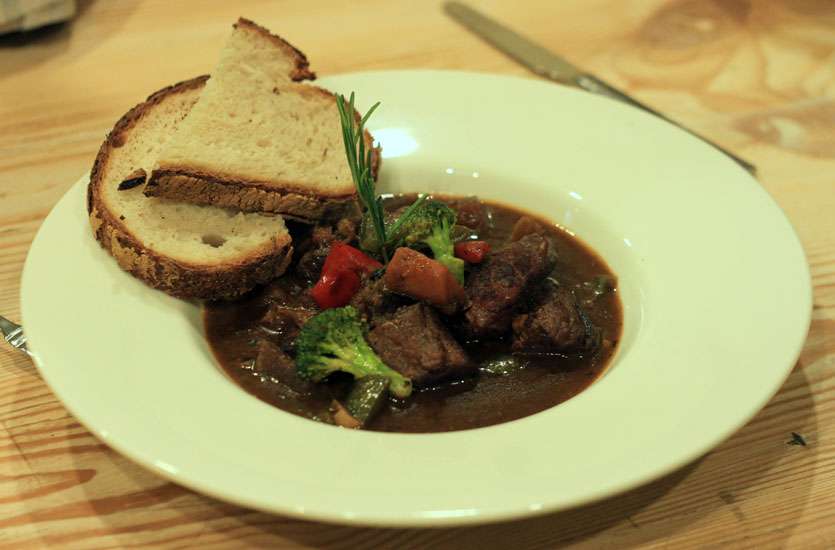 Mini plantburger: A unique vegetarian patty made with aubergine, onion & spice served with locally sourced smoked cheese, lettuce, pickled onion and a blend of tomato aioli with nai miris sauce. Served in a soft charcoal sourdough bun. A unique patty, the platburger appeared to be the contentious entrant on the menu. With opinions ranging from uncertainty to mild amusement, it's certainly worth a try.
Chicken pot pie: A blend of chicken, carrots, potatoes, leeks, onions, fresh thyme, slow cooked in chicken stock and baked inside a pastry. Not many places make chicken pot pie, but Baker's Choice offers up a mean one that makes for perfect comfort food. Delicious and will definitely make you a very happy person.

Dessert
Apple crumble with vanilla custard and Chocolate bread and butter pudding with espresso ice cream. I am typically not a fan of apple pie or apple crumble or such apple based desserts in general, but this Apple crumble made me a believer. The warm apple crumble paired with the vanilla ice cream was a match made in heaven. The chocolate bread and butter pudding was hands down my favourite dessert here.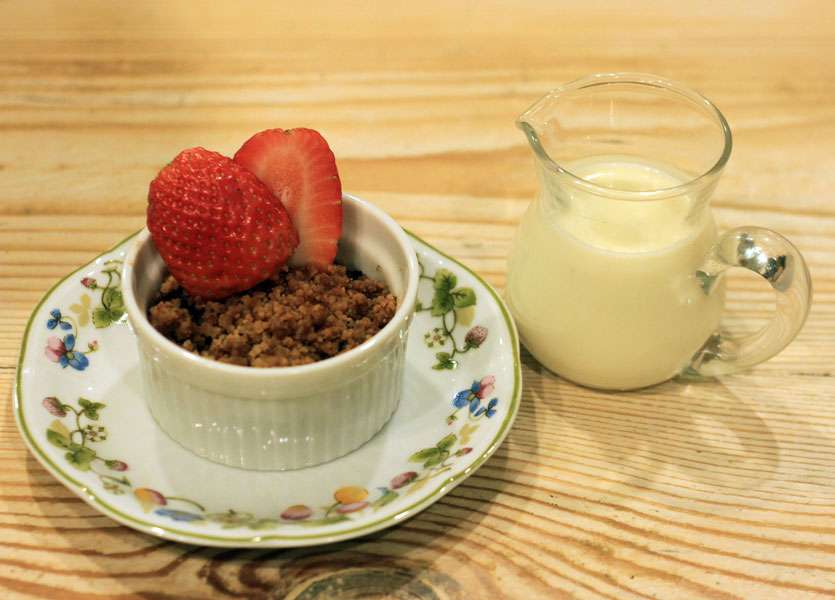 Would I go again: Most certainly. The food is hearty, rustic and full of love.
Notes: They are available on Uber Eats.
Location: 75 A, Kynsey Road, Colombo 7
Contact: 077 774 6654
Pics by Pradeep Dilrukshana