Ward 7 is the newest kid on the rooftop bar scene in Colombo and has great food, great views (try catch a glorious sunset while there) and a chilled out ambience. Jetwing Colombo 7's impressive main restaurant Fifty7 as well as a great experience at their degustation lunch left us with happy tummies, so we returned to check out Ward 7 and weren't disappointed.
At the helm of all restaurants at Jetwing Colombo 7 is chef Indika Bandara with considerable experience in the culinary sphere - having also worked at The Palm in Dubai under a 3 michelin star chef - which definitively translates into his food. A desire to make his food stand out from those available at other eateries in the city resulted in him experimenting with his dishes, mixing and matching local flavours, and creating a fusion menu that will appeal to anyone.

The Drinks
Ward 7 also has its own signature cocktails menu with 8 different varieties of drinks. Upon the recommendation of the bartender we tried their 'Sedatory' cocktail (Rs.1000). The Sedatory is a green based drink that is a mix of Russian vodka, orange liqueur, Kiwi fruit mix, lime juice and green grapes. The drink had a combination of sweet and acidic flavours and we loved the chunks of grapes in the drink that you could chew on.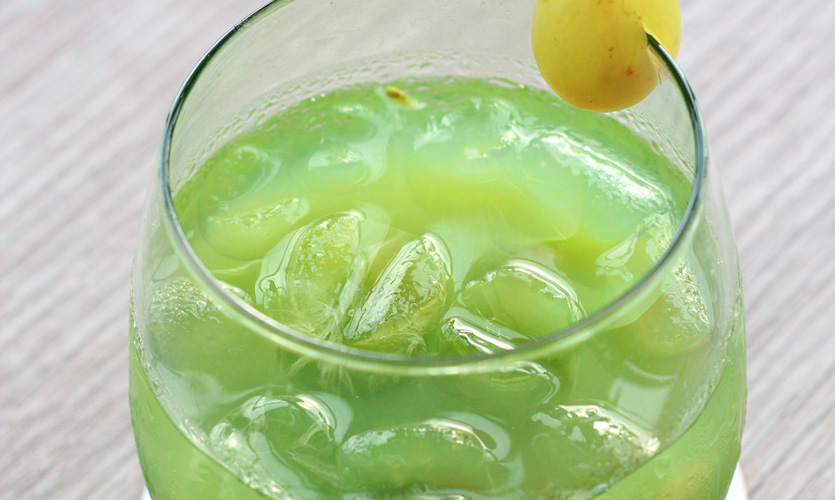 They don't have a mocktail menu, but will whip something up for you off the cocktail menu sans the alcoholic beverage if you ask. We had the plain old Virgin Mojito which was as you'd expect a virgin mojito to taste, albeit a glaring lack of sugar syrup. We were fine with it, but you could just ask them for the sugar syrup if you wanted it.
The Food
Ward 7 has a Sharing Platter Menu that's convenient if you want to try out a variety and they've got some pretty interesting options to pick from, including a vegetarian option that we quite loved. The platter maybe shared among two people or you could just devour it in its entirety since bar food is quite light anyway. The Crispy and Crunchy sharing platter (Rs. 2,200) included cheesy chicken croquettes with tomato sauce and basil, calamari 'alla romana' with spicy tomato aioli, BBQ lamb cooked in puff pastry and polenta chips with guacamole.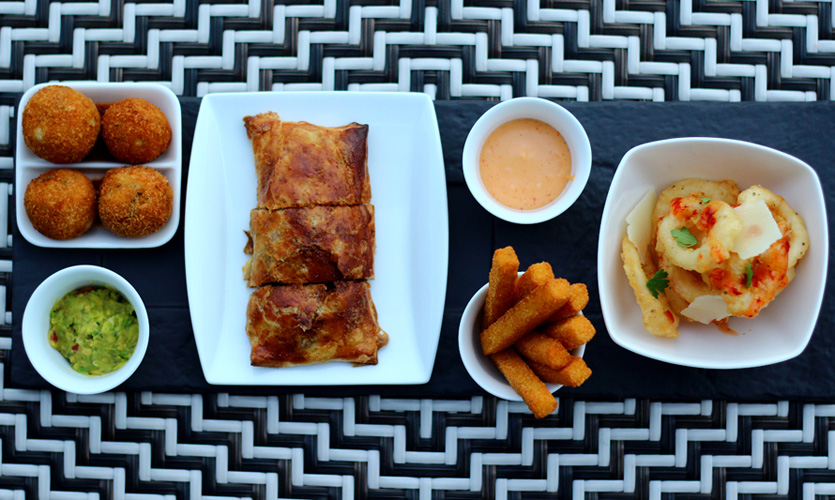 The standout in this platter was, without a doubt, the calamari. Despite encountering a few that were a tad chewy, the majority were perfectly fried in a light batter and drizzled with a sweet chilli sauce. The cheesy chicken croquettes were a close second and we especially appreciated the well flavoured chicken filling. The BBQ lamb tasted quite good, a pity that it was dry as was the pastry, which didn't allow its flavours to shine. We liked that they used polenta chips instead of regular fries. Its subtle flavours worked well with the guacamole and also with the spicy tomato aioli that accompanied the calamari. All in all, this sharing platter was a hearty one that thankfully wasn't dripping in oil, all things considered.
We also tried their vegetarian sharing platter, the Hot and Cold Vegetarian (Rs. 2,000). The platter offers 4 different assortments such as Asparagus cappuccino, Aloe Vera cocktail with honey, crunchy vegetable salad and a Mushroom risotto. The mushroom risotto was perfected with its fluffy, cheesy flavour and while the vegetables weren't really 'crunchy' it was a diverse range of vegetables drizzled generously with a rosemary dressing.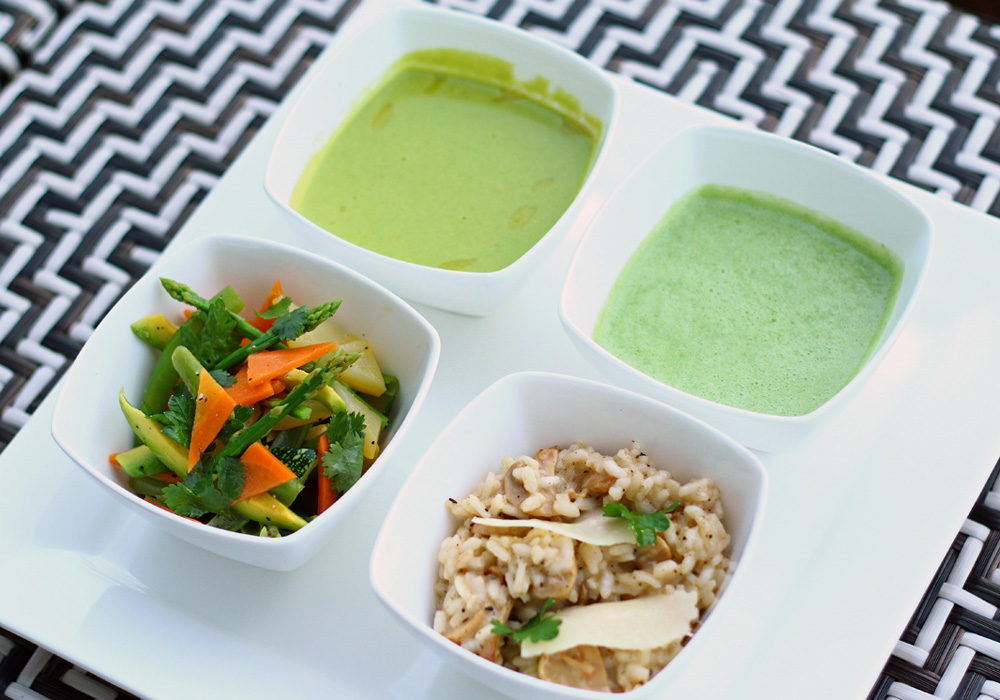 What we were really excited to try (if also slightly hesitant) was the Asparagus cappuccino and the Aloe Vera cocktail. The Asparagus cappuccino looks alot like a Kola Kenda with its thick consistency. We were expecting a slightly bitter taste with the cappuccino but we were quite surprised to find it contrary and were taken back by the flavours in a simple Asparagus cocktail. The real test however, was the Aloe Vera cocktail as while we've used Aloe Vera plenty, we've never quite eaten it! The Aloe Vera is absolutely refreshing and has a green apple flavour and a juice like consistency. We were quite impressed with this vegetarian platter and would recommend even a non-vegetarian to try it out!
Their Signature Chicken Hot Dog (Rs.1400) is made to their own recipe and the sausage is made with 80% meat and a combination of malu miris, chillies, soya sauce, tomato, curry leaves and paprika and you can choose your choice of topping. While the hotdog was nice, we were a little disappointed with the overall meal. For one, we thought the portion was not worth the price because the bun was rather small. Secondly, for us it was just bun, great sausage, some caramelised onion and cheese on top. For a signature dish, we were quite let down on what it had to offer.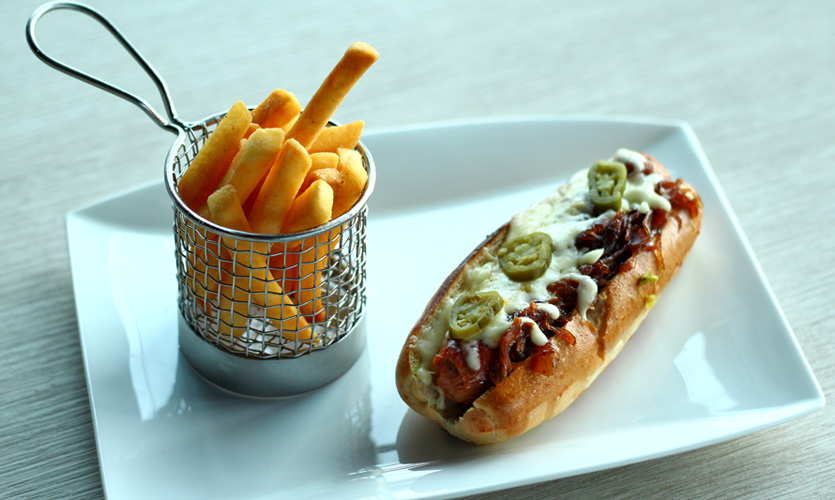 The Tuna Bruschetta (Rs. 1,600) was a pleasant surprise. The bruschetta was served with a roasted tomato salad with asparagus, black olives and parmesan shavings on top. The tuna paste was beautifully done with just the right hint of spice and when you bite into the bruschetta it seeps into the bread and melts in your mouth. It was also well presented.
We also tried their vegetarian Penne Arrabbiata (Rs. 700) with tomato sauce, red bell pepper, red chilli, onion and basil with shaved parmesan on top. Nothing elevates a dish quite like the flavours of bell peppers, and this dish certainly attested to that. The penne was cooked al dente and the sauce was the perfect consistency. The dish is a spicy one, so do keep that in mind when ordering.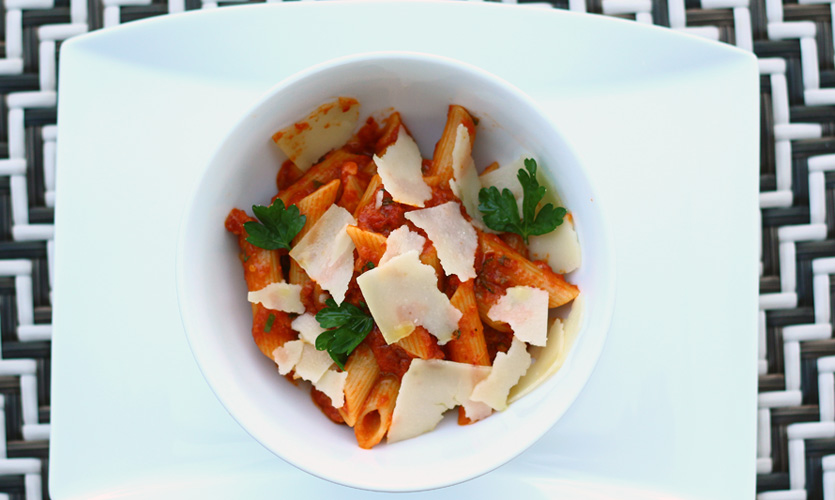 Dessert
Dessert options at Ward 7 also include an interesting array of ice creams and sorbet in addition to their white chocolate creme brulee and exotic fruit salad. We picked the Chocolate and Chilli ice cream which cost Rs. 800. We weren't quite sure what we were expecting in terms of taste, and it certainly was pretty uneventful until it hit us at the back of our throat. Other than that, you will regularly find yourself biting into crushed chillies with every spoonful, any taste momentarily overwhelmed by the chocolate ice cream.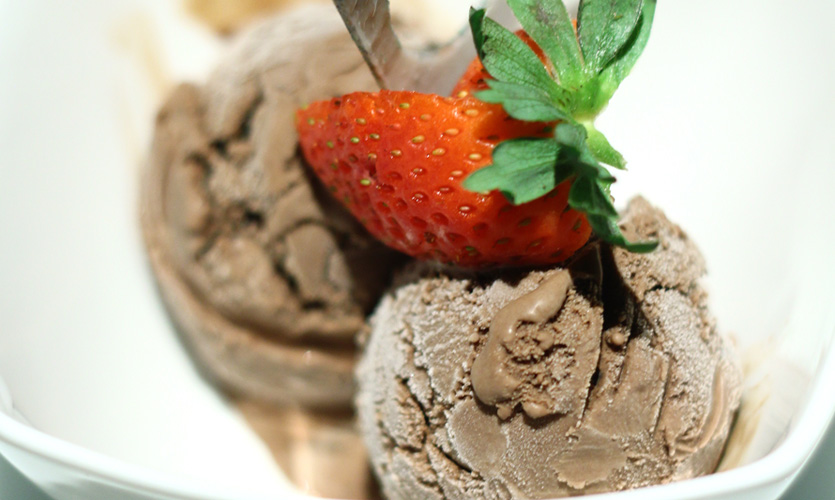 Overall
Ward 7 is an ideal setting for a date night or a chilled out gathering for small groups. Adjoining the bar is the hotel's infinity pool and views here are incredible at sunset. Good views and good food, Ward 7 is certainly worth a visit.

*All prices are subject to 10% service charge and government taxes.
By Rihaab Mowlana & Panchali Illankoon
Pics Damith Wickramasinghe