Hyve opened its doors to Colombo on the 23rd of October 28, 2018 on Thimbirigasyaya Road, Colombo. The three siblings Rukshika, Chanika and Minura have synergized to create a dedicated dessert bar, which highlights a wide variety of ingenious goodies, guaranteed to tickle your taste buds! Simply knowing that it's owned by 3 siblings, with nothing but a passion to share their love for food sets Hyve apart from other major chains and bakeries, while their minimalist, cozy interior and reasonably priced, innovative range of delicacies will definitely whisk you away!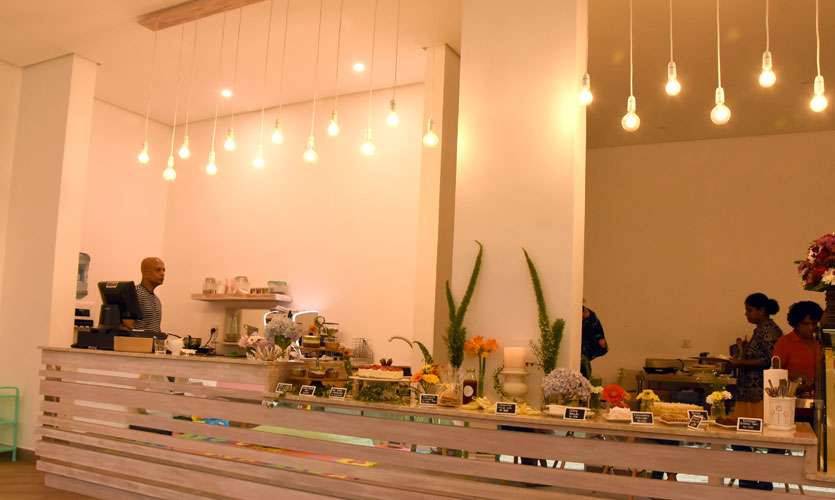 When comparing Chanika's previous venture (Schakasz) with Hyve, the most distinct feature would be that Hyve is physically much bigger. While the larger kitchen allows them to accept more corporate orders, the more spacious parking area and store encourages more customers to dine-in and enjoy the experience. They plan to sign up with Uber Eats, making the delivery option also available in the near future.
The head baker Chanika, having gained experience from her previous venture Schakasz, explained to us how she hatched up the unique desserts they sell. "When I picture it in my head, if I think it will be nice, I try it out. Anything chocolaty I will obviously want to experiment with, rather than non-chocolaty desserts. A lot of people ask me why I don't have a lot of non-chocolate desserts, but what I have noticed is that most people come looking for chocolate desserts."
Speaking with the Daily Mirror Life, Minura explained to us that most of the desserts they sell are "mixed and matched elements from other desserts to create one stand-out dessert". For example their fan favorite burnt butter cake (Rs.450) comprises of sponge cake, white chocolate ganache, chocolate nuts and salted caramel layers.
Ambience: 4/5 stars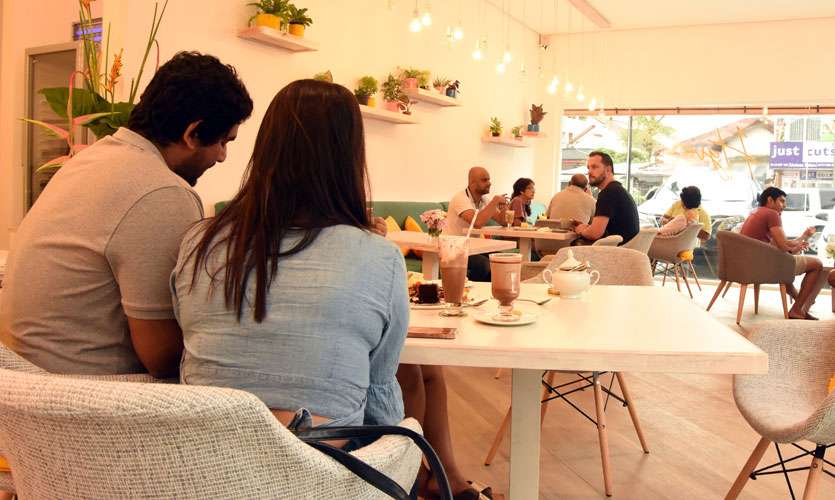 A lot of thought has clearly been put into the interior as all the different elements such as the colour schemes, plants and lighting come together to make Hyve look very minimalistic, relaxing and yet colourful and unique. There is plenty of space to bring a group of friends while the kids play area, equipped with a number of toys, a play table, cushions and a play house, makes Hyve ideal for families to spend their time.
Food: 4/5 stars
They serve a number of classic dishes such as cheesecakes and crème brûlées, but are famous for their unique, new desserts such as the burnt butter cake, raspberry heaven cake and triple layered chocolate mousse cake.
No bake cheesecake (Rs.600)
A classic combination of sweet and light yet creamy cheese on a very crumbly-cakey sort of crust, served with strawberries on top. This definitely does justice to the classic recipe and is perfect if you're looking for something more filling and a little less sweet.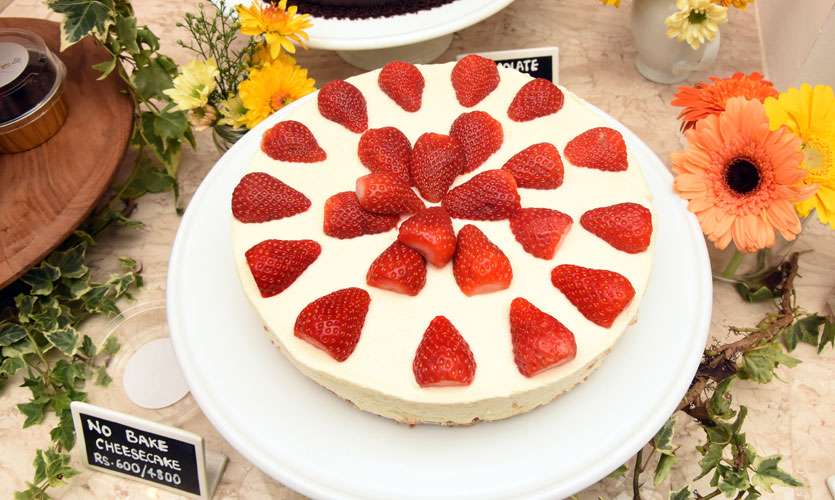 Crème brûlée cheesecake (Rs.500)
While the crème brûlées (Rs.500) are served in their ramekins and torched quite theatrically at the table of dine-in customers', as it is difficult to transport, Hyve serves a more convenient, cheesecake version for takeaway and delivery customers. This combines two of our favourite desserts and makes an absolutely lovely final dish! The crispy top layer of hard caramel combined with the creamy, vanilla centre and crumbly base struck a perfect balance in terms of both texture and flavour.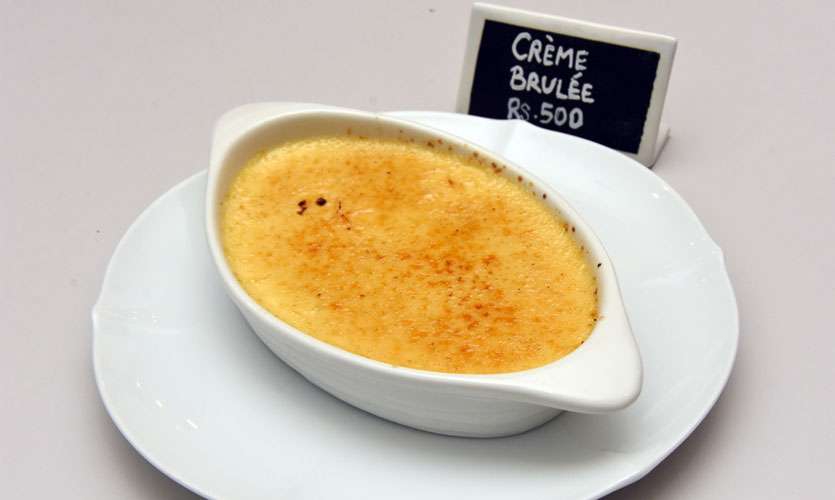 Chocolate caramel tart (Rs.380)
The biscuit crust base, filled with a layer of chocolate ganache and silky caramel, topped with crunchy nuts was absolutely visually appealing. We can safely say you have to look no further if you are looking for a dessert that's both gooey and good!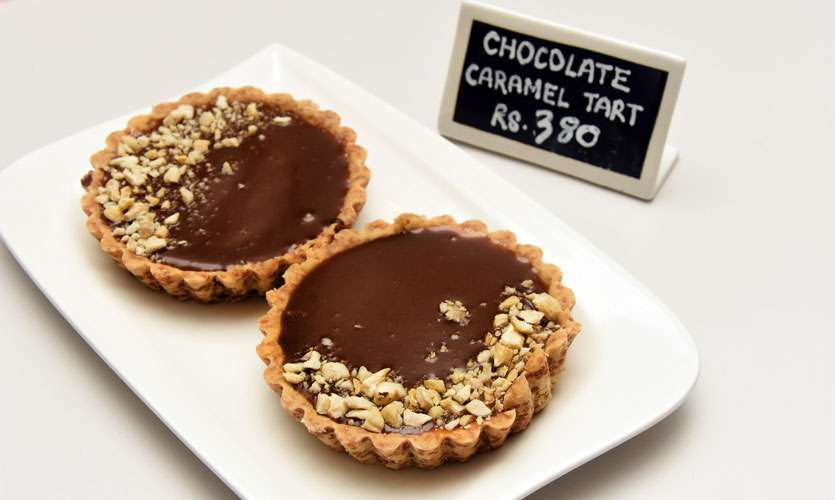 Espresso cheese tart (Rs.400)
The cocoa shell makes the perfect foundation for the decadent cream cheese and espresso flavoured chocolate ganache. This gives just a kick of coffee flavour while balancing it with the richness of the chocolate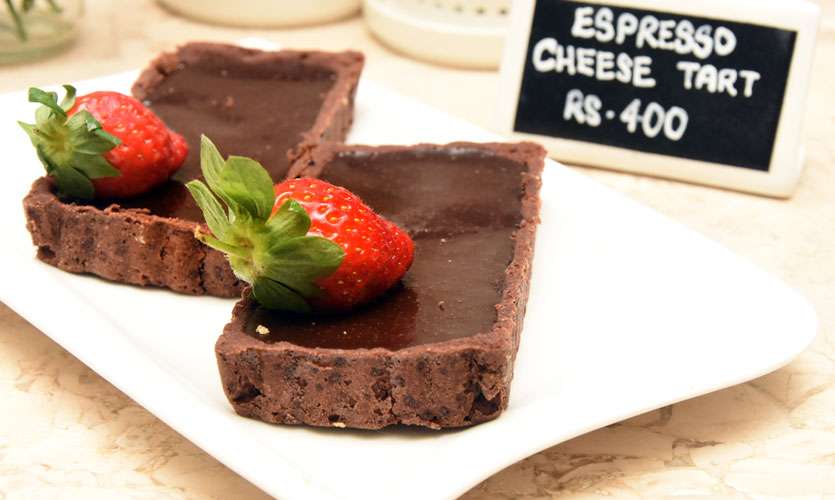 Ganache chocolate cake (Rs.400)
This is a classic, moist chocolate cake with a fudgy dark chocolate frosting. To say this cake is elegant would be an understatement as it is an absolutely underrated and timeless dessert!
Chocolate ganache tart (Rs.380)
The crumbly crusty base, filled with the luxurious and rich chocolate ganache is a perfect dessert for all the chocolate lovers out there! Needless to say, we were definitely more than pleased with the silky and rich ganache.
White & dark chocolate mousse (Rs.450)
The two layers of mousse are served in a stumpy glass jar. The flavours of the bitter dark chocolate and sweet vanilla come together in unison to deliver a light and creamy jar of goodness.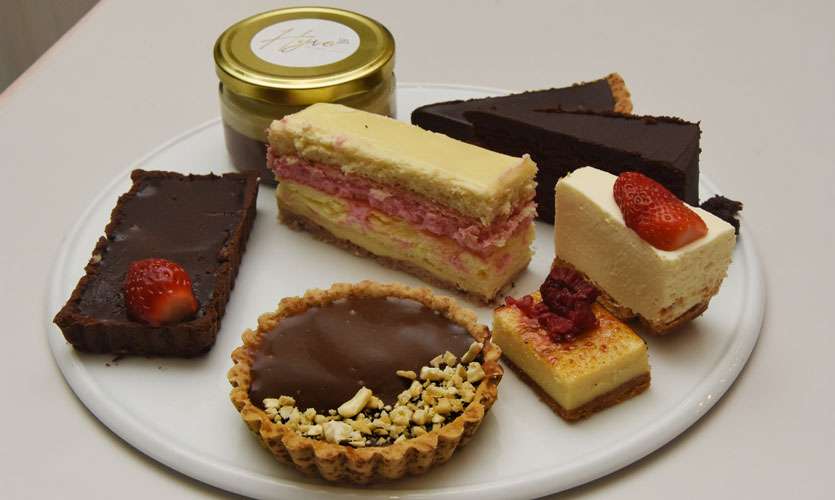 Raspberry Heaven (Rs.450)
This cake consist of layers of sponge cake, white chocolate mousse, raspberry cream, butter cream and is topped off with a layer of white chocolate ganache. This was a stellar combination of a number of fascinating textures and flavours which each elevated the dessert and meshed to create an absolute slice of heaven! We fell in love with this unique dessert naturally making it our favourite!
Drinks: 5/5 stars
Hyve serves a range of drinks including hot chocolate, coffee and tea; iced or hot.
We found the iced tea to be so refreshing it almost stings, while the sweetness of the peach is not too overpowering. Hyve's iced tea bottle is quite large and can even be shared while it guarantees to be the perfect drink for a hot day.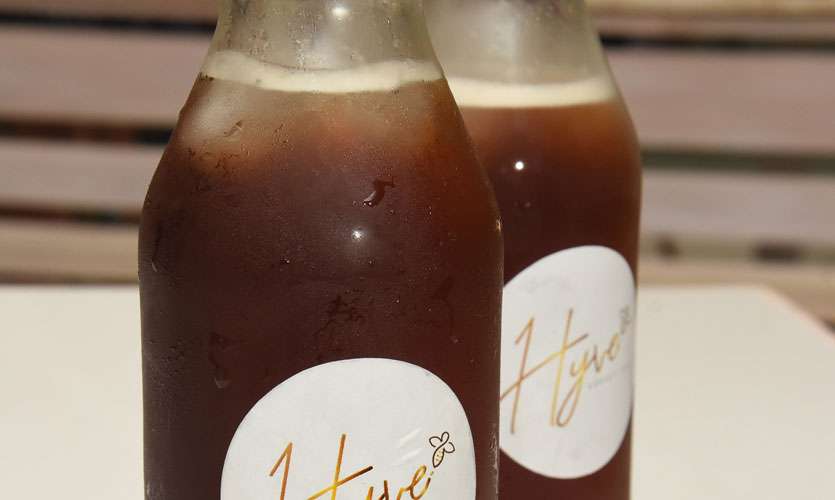 What we recommend: The raspberry heaven cake
As Hyve is a family owned business, you are more than likely to bump into one of the siblings who will definitely ensure you have a delightful experience.
Parking facilities: 3/5 stars
Tips/notes by author:
They also sell whole cakes, but make sure to call and check if they are available just in case.
Pics by: Nimalsiri Edirisinghe