There was a lot of hype set around Monsoon when they opened on November 1, 2017 so much so that it was near impossible to get an appointment for a review. Last week we finally ventured there on a Tuesday evening and it was buzzing.
Ambience: The idea behind the restaurant is to serve South East Asian street food in a restaurant set up.
The theme with its bare brick and tiled walls, coupled with shades of blue and simplistic yet elegant brass lampshades as well as ferns, add an upmarket feel to a relaxed and fun menu which has been curated using dishes from Indonesia, Malaysia, Singapore, Vietnam and Thailand. The name 'Monsoon' came to be because it is the monsoon that connects these countries with Sri Lanka.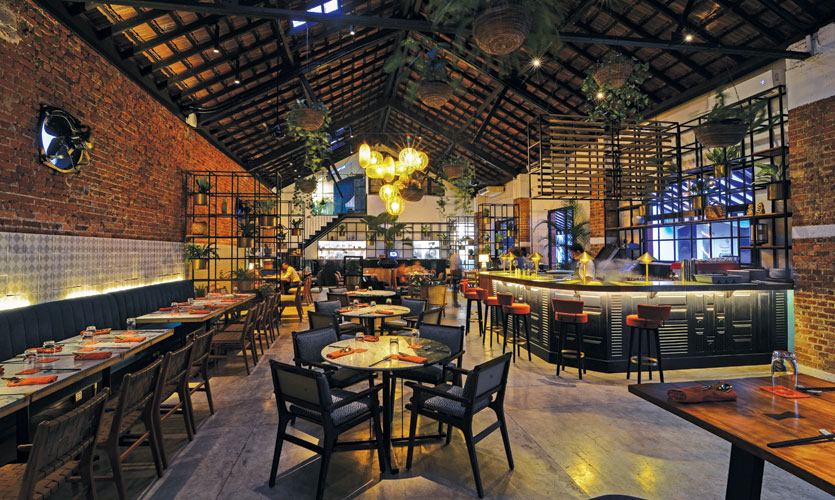 Monsoon is a family-friendly restaurant – there are high chairs so mummy and daddy can have a peaceful evening out. The restaurant has seating capacity for 100 to 115 (which includes the outdoor area) and they have a small private dining room as well.
Drinks (4 stars):
They have quite a large beverage menu and you can bring your own booze. Their Cafe Latte (Rs 450) just like all their coffees are made using single origin, organically grown Ceylonese 100% Arabica. While the Fujian Ball (Rs 800) with its strong sweet and sour notes is one delicious cold drink which contains ginger, passion fruit, fresh lemon, Oolong Tea and soda.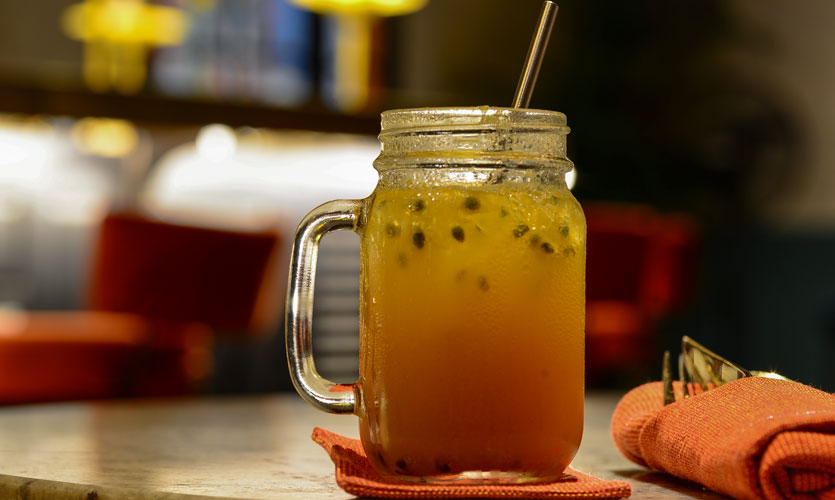 Food (4 stars):
They encourage sharing but you are more than welcome to dig in on your own. We opted to share two Starters or Sharing Plates the Sriracha Chicken Wings (Rs 450) and the Crispy Monsoon Rolls (Rs 550).The chicken wings had a perfect balance of heat and sweetness while the crispy spring rolls stuffed with chicken, prawns and noodles and accompanied with the Monsoon sweet chili sauce was just delectable.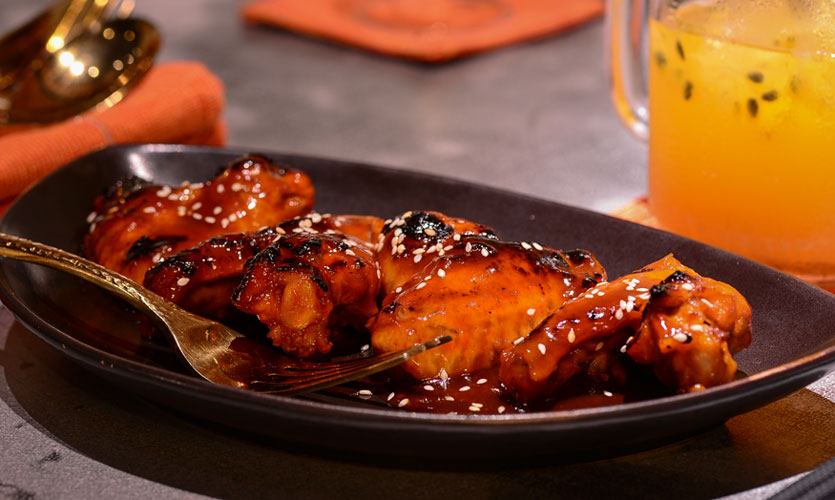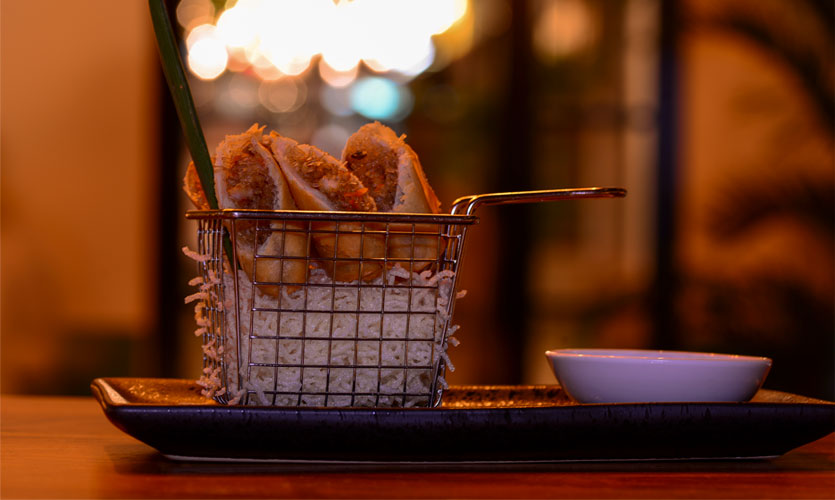 Our next dish was the succulent Daging Goreng Jintan (Rs 1,450) which is a Malaysian stir-fried beef infused with galangal, lime leaves and sweet cumin of which the sweet cumin come through prominently compliments the dish perfectly.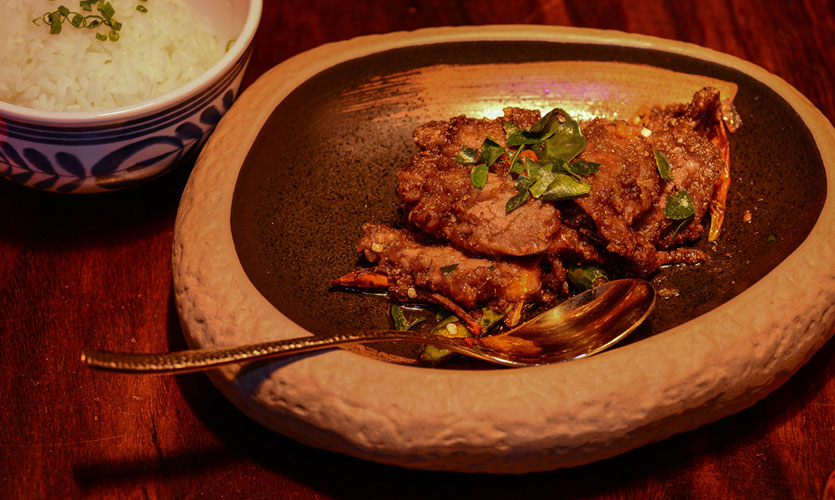 The Hoisin BBQ Ribs (Rs 1,450), although it is sweet and sticky, is also quite sour and is best had with a side of steamed Jasmin Rice (Rs 200). The pork ribs are so soft that they fall off the bone while the crispy garlic adds not just texture but flavour to the dish.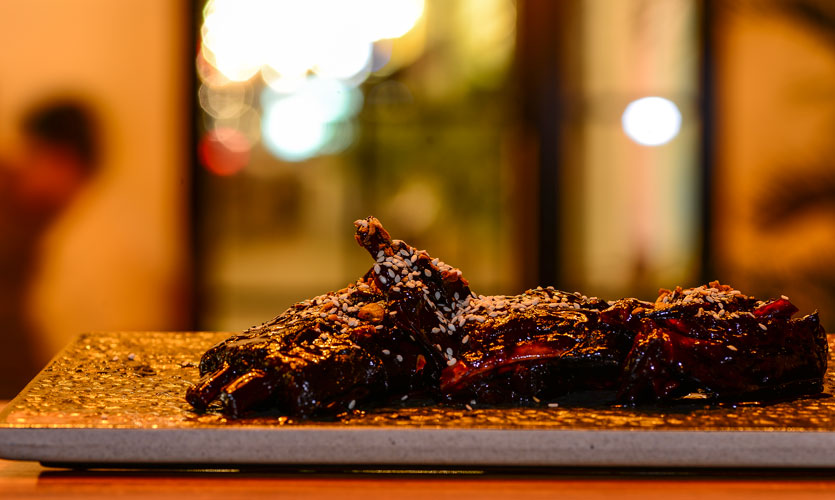 We thoroughly enjoyed the Thai Steamed Barramundi (Rs 950) that of fish fillet in a beautifully tangy broth of lime, garlic, chili, coriander and shallots which worked well with the pandan flavoured Coconut Rice (Rs 300).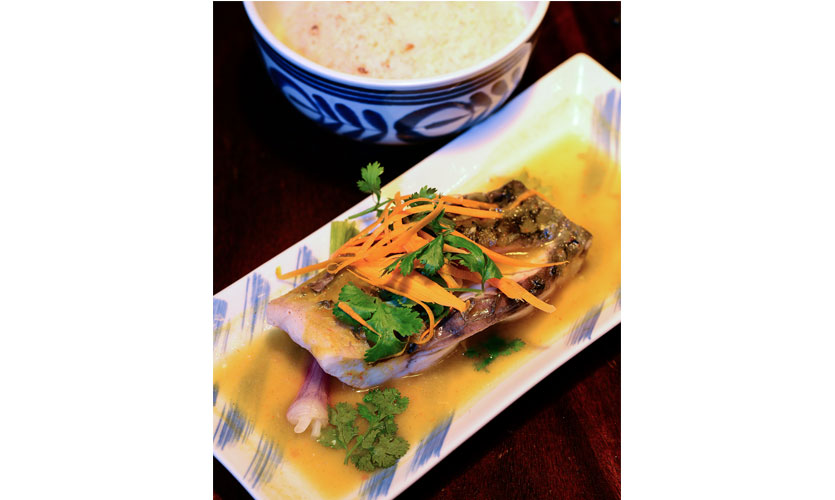 Their Hainan Chicken Rice (Rs 1,050) which is a beautifully delicate and mild dish of ginger-infused poached chicken with rice cooked in chicken stock, served with fresh ginger, chili and dark soya sauce was a super way to end our mains as it was light and just what we needed after all the heavy flavours we dug into.
I wanted to try their Salty Sweet Mango Sticky Rice (Rs 850) but it was not available on the day so we went for the Kukus Bandung Brownies (Rs 850) and the Sweet Spring Roll (Rs 650). The former is a gooey, fudgy, warm brownie served with a tangy raspberry compote while the latter is stuffed with sweet banana and jackfruit and bathed in a creamy coconut caramel sauce.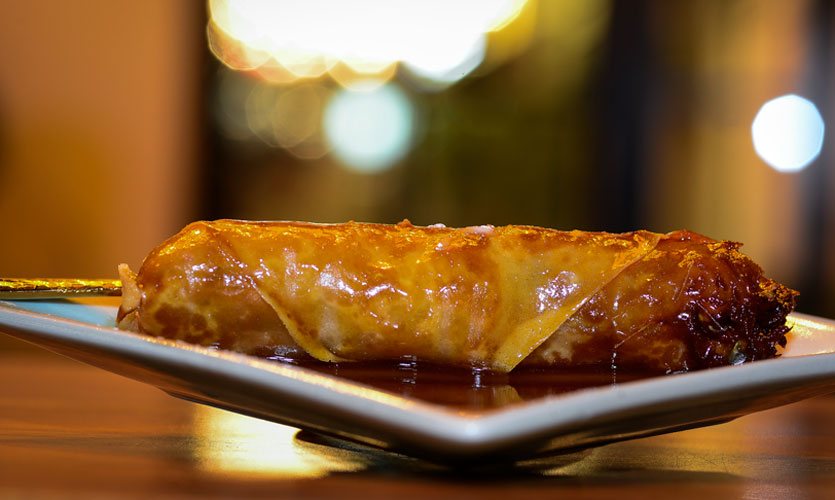 Sweet Spring Roll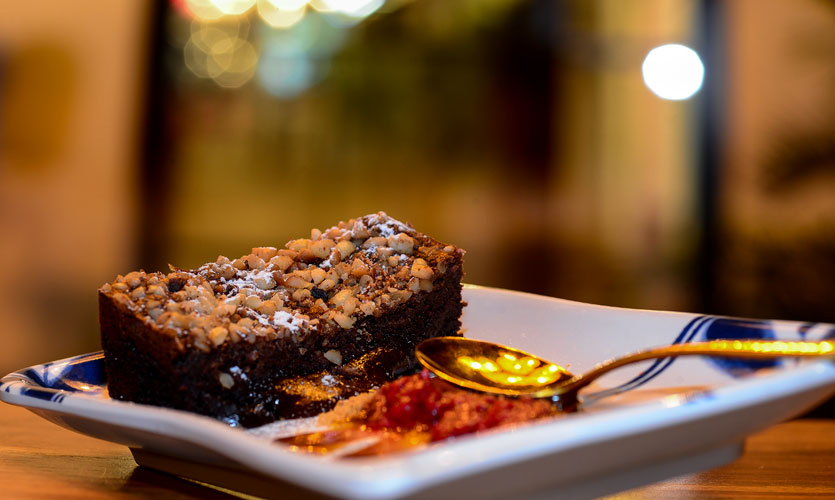 Kukus Bandung Brownie
A must try are their Ice Creams and Sorbets of which the sweet Tamarind Sorbet (Rs 500) was refreshing while the creamy Honey and Cinnamon Ice Cream (Rs 550) is just dreamy.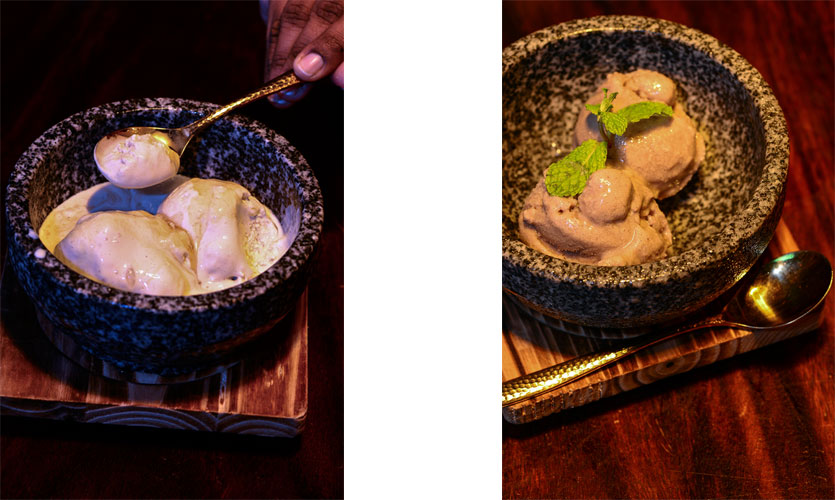 What we recommend: Crispy Monsoon Rolls, Thai Steamed Barramundi and Kukus Bandung Brownies
Service: 4 stars
Parking facilities: 5 stars
Toilets: 5 stars
Would we go again? Yes
Tips/notes by author :
All prices are subject to government taxes and 10% service charge
The lunch menu differs slightly from the dinner menu and offers set menu options
If you order all your dishes in one go they are brought to the table as and when they are prepared irrespective of whether they are starters or mains (so your starters and mains can be served at the same time) therefore it is best to be specific with how you want your dishes served to avoid any confusion
Pix by Kanishke Ganewatte