Café Kumbuk recently introduced a few new items to their menu. As their sister café at Good Market, Kumbuk Kitchen closed recently, Café Kumbuk incorporated the bestselling dishes of Kumbuk Kitchen to their menu. The newly introduced dishes are Thai Style Mango Salad, Jackfruit Sloppy Joe, Teriyaki Chicken Burger, Hummus and Beets Bowl and Rice Bowl. We tasted a few of them and below mentioned is what we think about them.
Ambience
Cafe Kumbuk is a cosy café situated in Horton Place giving that hipster vibe. They are focused on giving a range of healthy dishes and beverages to the urban folk. The place can accommodate around 34 people and they have takeaway options available. They have both indoor and outdoor seating and space can be booked for private functions as well, but they don't take bookings for functions on weekends for the full day.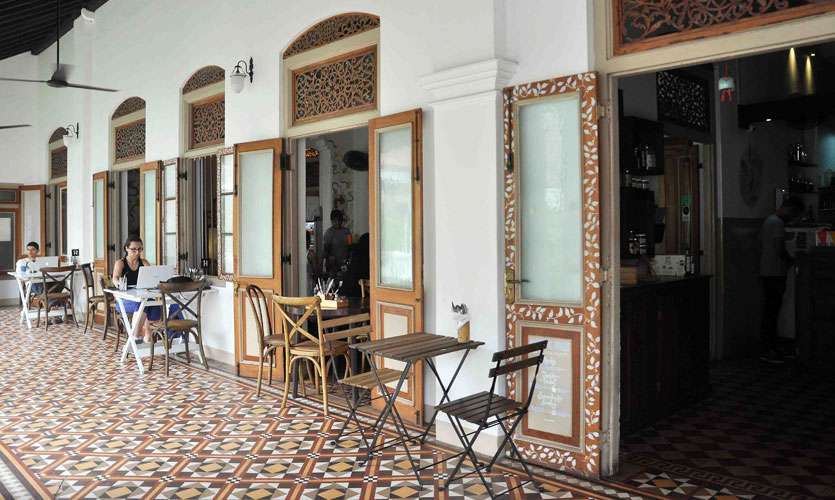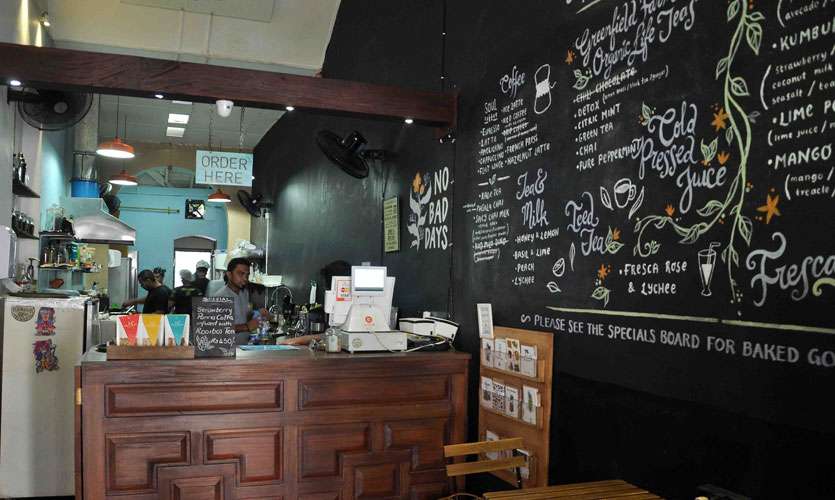 Drinks – 5/5
Fresca Rose and Lychee
The Fresca Rose and Lychee (Rs. 450) is one of the best beverages we have ever tasted. The taste of rose syrup and lychee pairs very well together. The carbonation of soda gives a little hint on the back of the tongue and everything blends together well. On a hot day, it's so refreshing to have.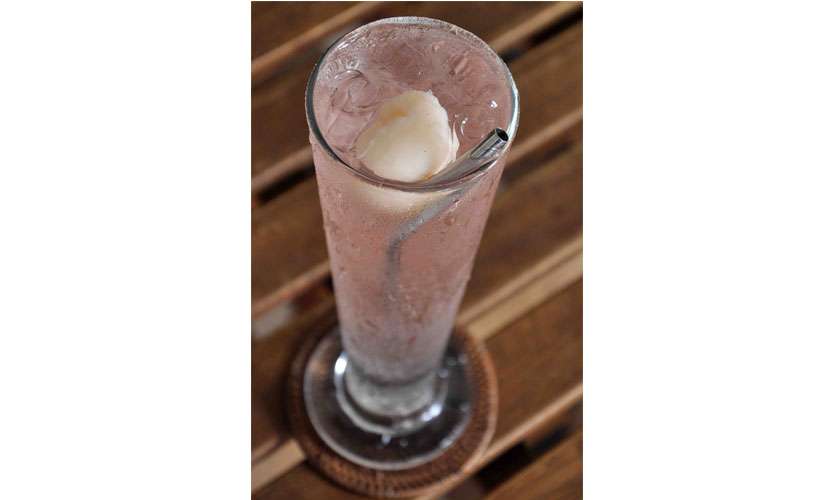 Food – 4/5
Thai Style Mango Salad
The Thai Style Mango Salad (Rs. 700) is a vegan dish with shredded mango and vegetables dressed in Thai style dressing, served with peanuts and fried flatbread. All of the vegetables were fresh and crunchy. The acidity of the dressing cut right through the taste of the vegetables, creating a very refreshing feeling. The crunchiness of the peanuts and the biscuit pieces added another texture to the salad. The salad as a whole had many textures which were like a feast in my mouth. The flatbread was fried and was a little dense, it added a little bit of fat to the salad, which was a nice complement to the dish. This was very filling and a revitalizing experience.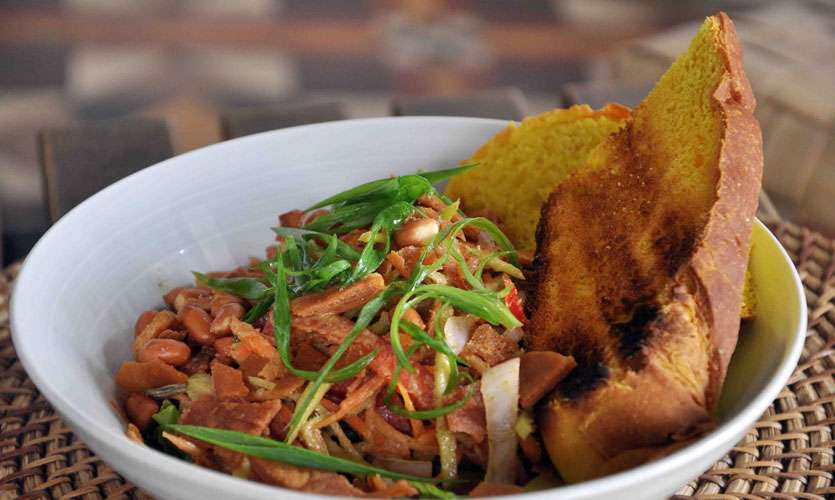 Jackfruit Sloppy Joe
The Jackfruit Sloppy Joe (Rs. 850) is also a vegan dish with pulled BBQ jackfruit with red cabbage and spicy bell pepper sauce and you can get cheese in it if you want to. The jackfruit was seasoned to perfection and the BBQ sauce made it taste amazing. The sauce and the spice made it taste almost like meat. The red cabbage, lettuce, tomatoes and onions added a refreshing taste to it with their different textures and crunchiness. It also had a side of potato wedges, and it was evident that they were fried with little to no oil, which was reassuring. The wedges could have had a little more seasoning but overall this dish was one of the best vegan dishes we have tasted.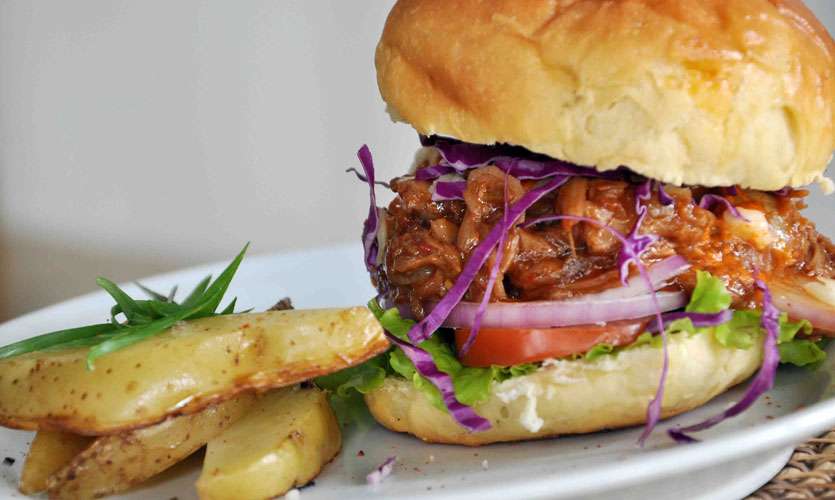 Hummus and Beets Bowl
Hummus and Beets Bowl (Rs. 950) is served with flatbread, pickled beetroot, avocado, cucumber, onions and pomegranate seeds on a bed of hummus. You have the option of getting this with or without chicken and we opted to get it with chicken. The chicken was succulent and fried to leave a small glaze on the outside. The pickled beetroot had a nice earthy flavour and complimented the taste of avocado and hummus. The pomegranate seeds gave a pleasant fruity flavour to go with the rest. The dish as a whole lacked a bit of seasoning and flavour for us. All in all, it was a good dish.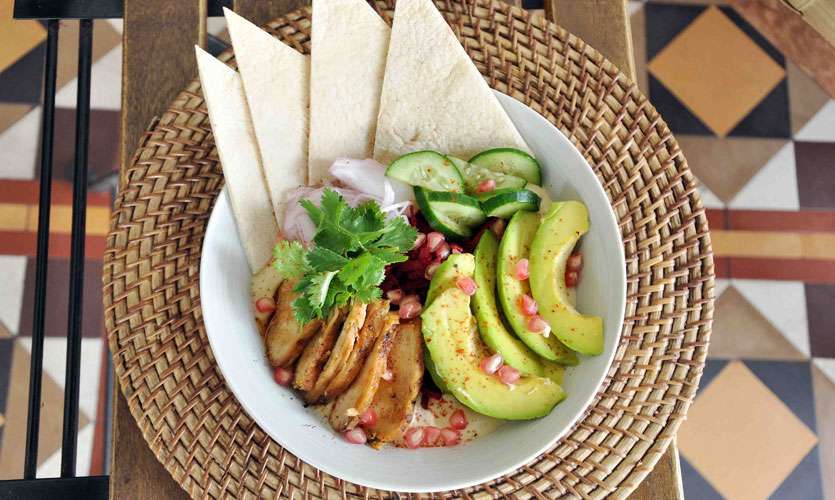 What we recommend: The Fresca and Lychee Rose was our favourite! The Thai Style mango Salad and The Pulled jackfruit Sloppy Joe are great picks as well!
Service: 5/5 Café Kumbuk has the best service and staff I have ever come across. They are very friendly and guide you through anything and everything you want.
Parking Facilities: 4/5 The café has the ability to provide parking for 10 vehicles.
Toilets: 5/5

We will definitely go there again! Café Kumbuk has a range of interesting dishes to try out and we will be definitely going back to try them out!
Tips: If you don't have much of an idea of the dishes ask them to explain and they will recommend dishes which they think are best. There is a service charge of 10% added.
Photographer: Nisal Baduge