Colombo has a horde of rooftop bars boasting fantastic views, delicious cocktails
and
divine finger foods. Kind of like deciding where to eat pizza from, when the options are plenty, the question arises as to which rooftop haunt fits you best. Which rooftop bar works best for a date, which bar works for a girls night out and which bar is best for when you just want to get sloshed?
We made the task a little easy for you and visited every rooftop bar in Colombo and explored their food, their drinks and their ambience. We've picked our best 9 and each spot has something unique that makes it work.
1.

CLOUD CAFÉ - COLOMBO COURT HOTEL AND SPA
Highlight: Relaxing and chilled out and drinks that doesn't skimp out on the alcohol.
Located smack in the middle of the city; facing the busy roads of Colombo you'd expect that the hotel would be filled with the noise of traffic especially in the evenings. To our surprise however, the Cloud Café which is located on their rooftop, is perfectly isolated from the noises of the roads and is quite elevated that it doesn't even feel like you are right in the city. If you are looking for a place to truly wind down and have a conversation, the Cloud Café has the perfect atmosphere with their spacious seating and sparse décor.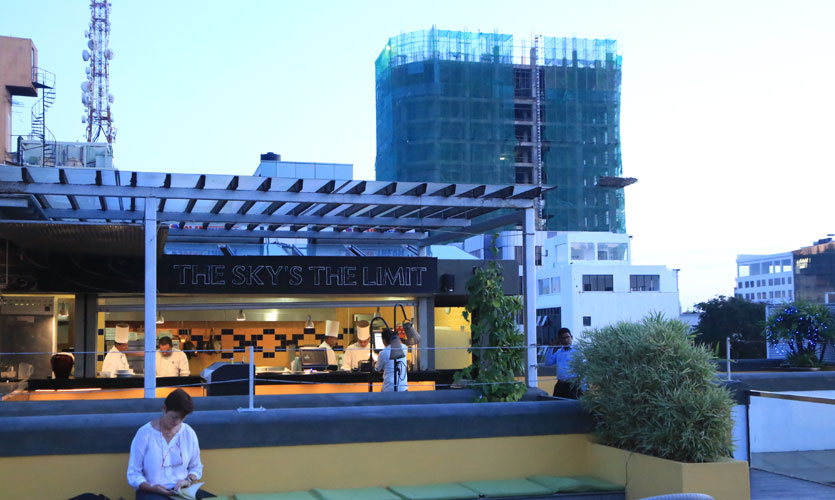 We dropped by on a Thursday to catch the live entertainment they have. The live band plays some soulful acoustics and even takes requests (thank you for the Ed Sheeran song!). With their live music and relaxing ambience we loved what the Cloud Café had to offer.
A bar is only as good as its drinks and Cloud Café has a booklet full of their signature cocktails. The cocktails have some hilarious names like 'Love You Long Time', 'Bite Me', 'One Night in Bangkok' etc and if you are as terrible as I am at picking from a large range of options prepare to settle in for a good 10 minutes deciding which drink you want to pick!
We decided to go with their Mango Arrack Sour (Rs. 950), One Night in Bangkok, Bite Me and because we were told they make a mean Long Island, their Long Island Iced Tea (Rs.1200). The Mango Arrack Sour is a simple mango puree with lemon juice and mango arrack and we loved the tangy taste of it all.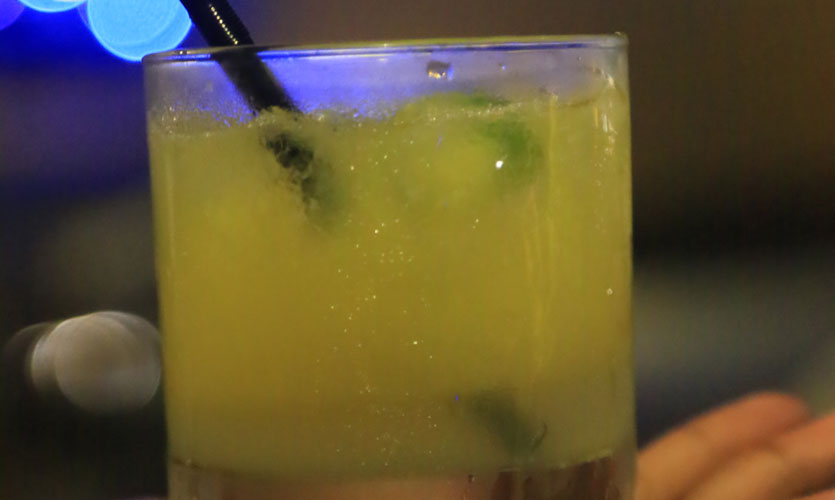 One Night In Bangkok is a more coconut based drink with a bit of chili in it for the kick but if you are looking for something sweet the Bite Me is ideal because it's basically a chocolate drink that's sweet at the first sip but the alcohol works its way in after a second or two. They also weren't joking about their Long Island! While most bars tend to water down their Long Island, the Cloud Café is quite generous with their portions of tequila, vodka, rum and gin and quite sparing with their Coca Cola so we were very pleased with the overall result.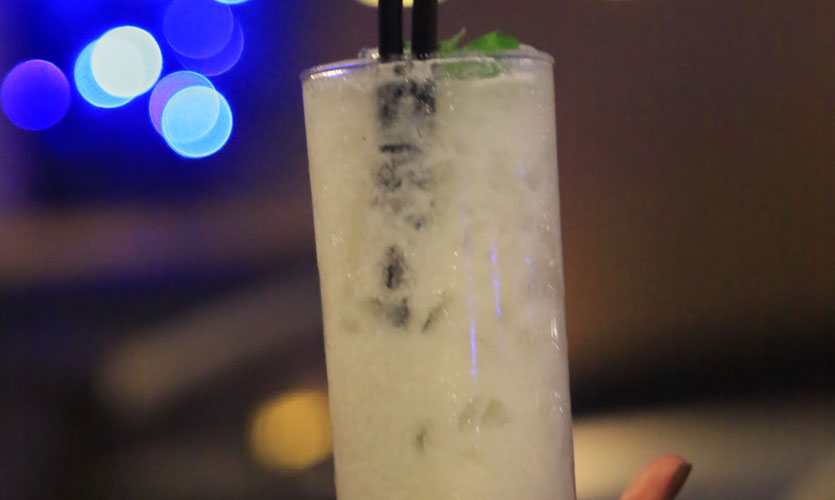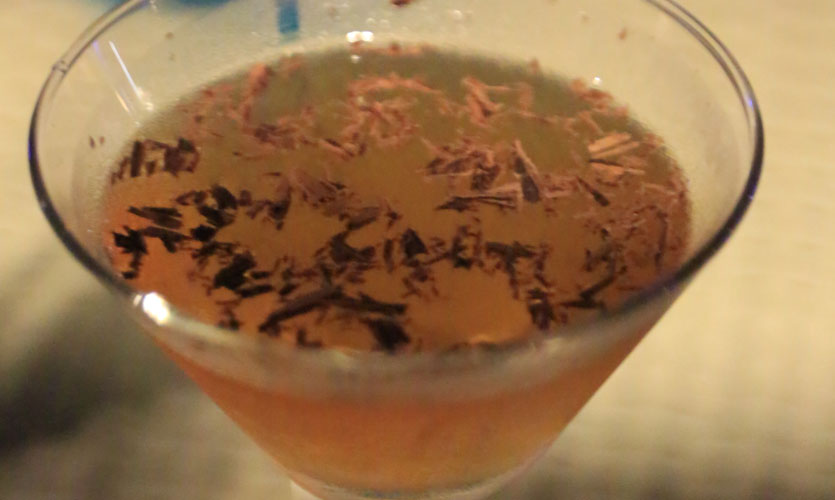 The Cloud Café has a full menu with pizza, sandwiches, salads, wraps and mains so you are spoilt for choice. We decided to go for their Cheese Nachos (Rs. 900) and their Court Hotel Special Pizza (Rs. 1300).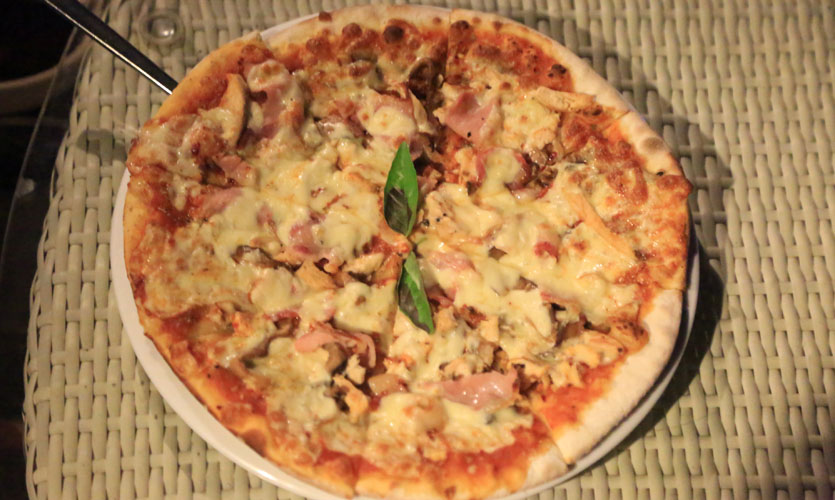 The Cheese Nachos was generously topped off with guacamole, tomato salsa, sour cream and mozzarella cheese and is the perfect snack to have with cocktails. Their signature pizza had roast chicken, bacon and mushroom as the topping and a whole lot of melted cheese on top. The thin crust pizza was perfectly crispy and the toppings were pretty generous.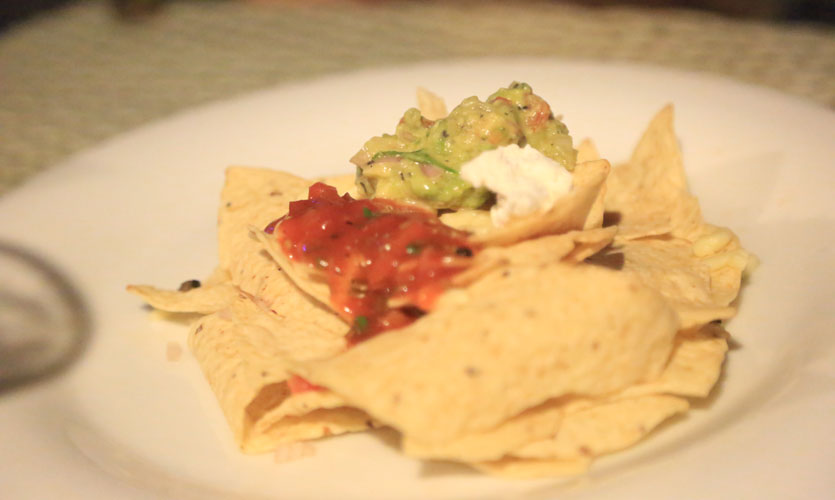 2.

VISTAS – MOVENPICK HOTEL
Highlight: Yummy cocktails and great finger food.
While Movenpick sits at the heart of Colpetty surrounded by tall skyscrapers, their rooftop bar boasts a stunning view of the Indian Ocean. The best time of the day to visit would be during the sunset. You have an unspoilt view as the sun sinks into the waves and then an uncensored view of the clouds changing colour into hues of pink, purple and orange.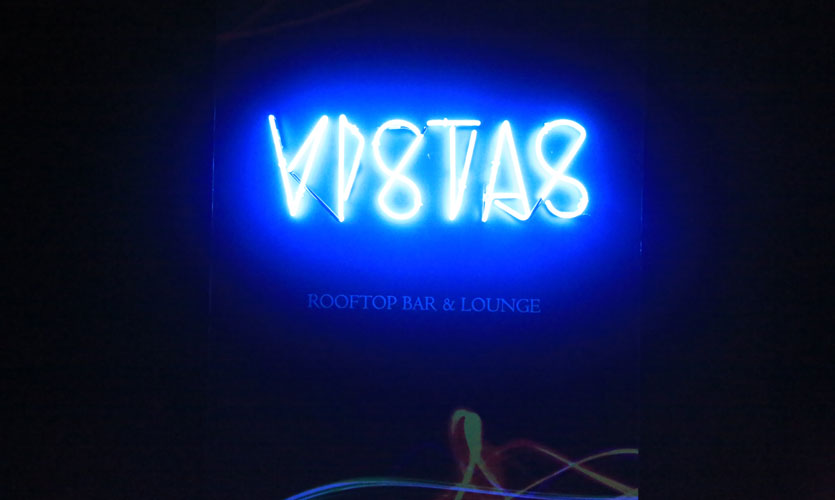 The Drinks menu at Vistas is a glossy magazine full of quirky quotes and tempting pictures. While they have a massive range of beer, imported spirits and wine, their curated cocktails are the real showstoppers.
Their shinning glory (in my biased opinion) is the Achcharu (Rs.990). Tastefully presented in a martini glass this is a cocktail made with achcharu pulp and tequila. We then tried what is dubbed as the 'ladies drink'; the Winking Pinky (Rs.990). True to its name this pink cocktail was a concoction of vodka, pink guava, strawberry liquer and lime juice. Neither sweet nor sour, the drink has struck a perfect balance and we can confidently say that even gents can enjoy this drink too!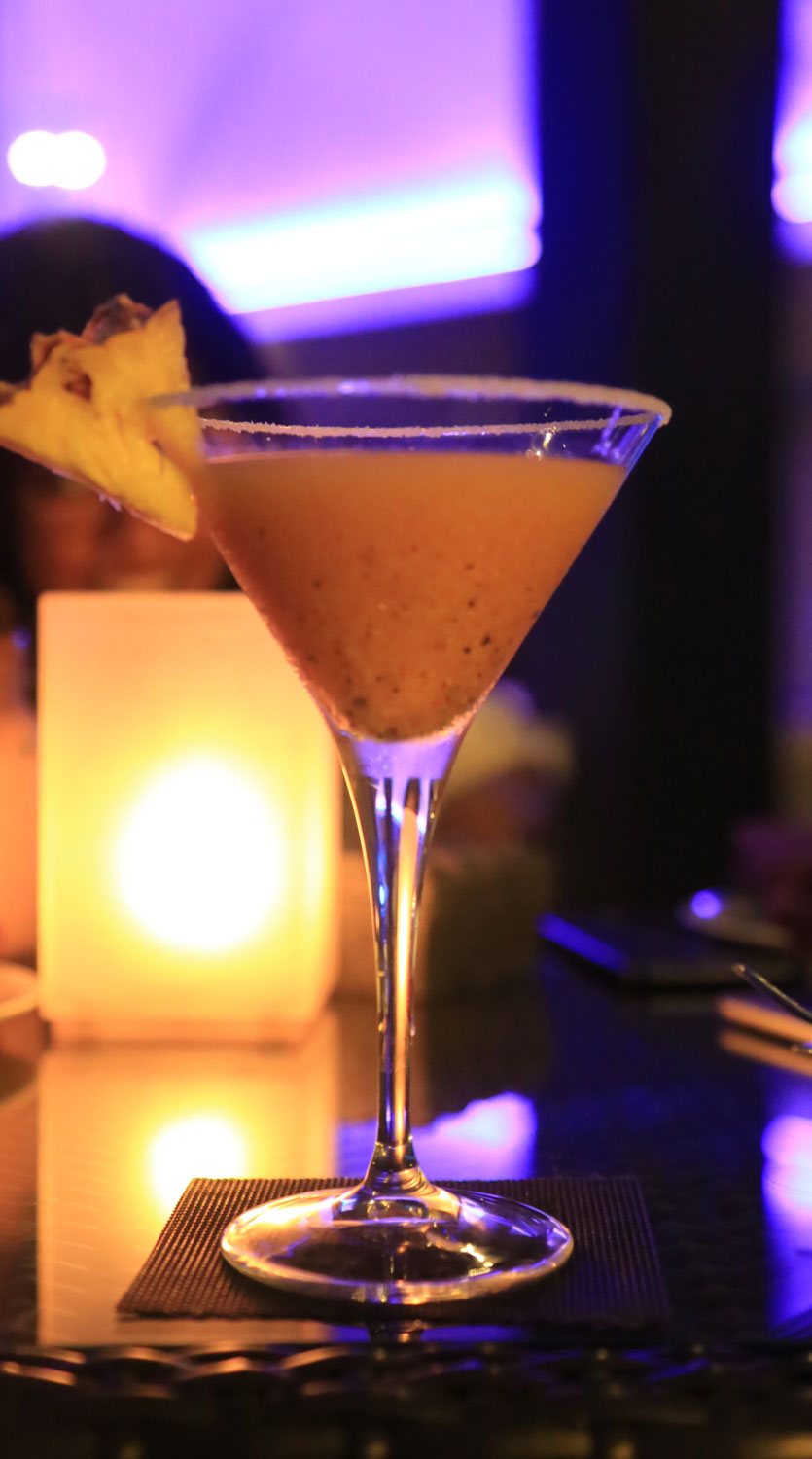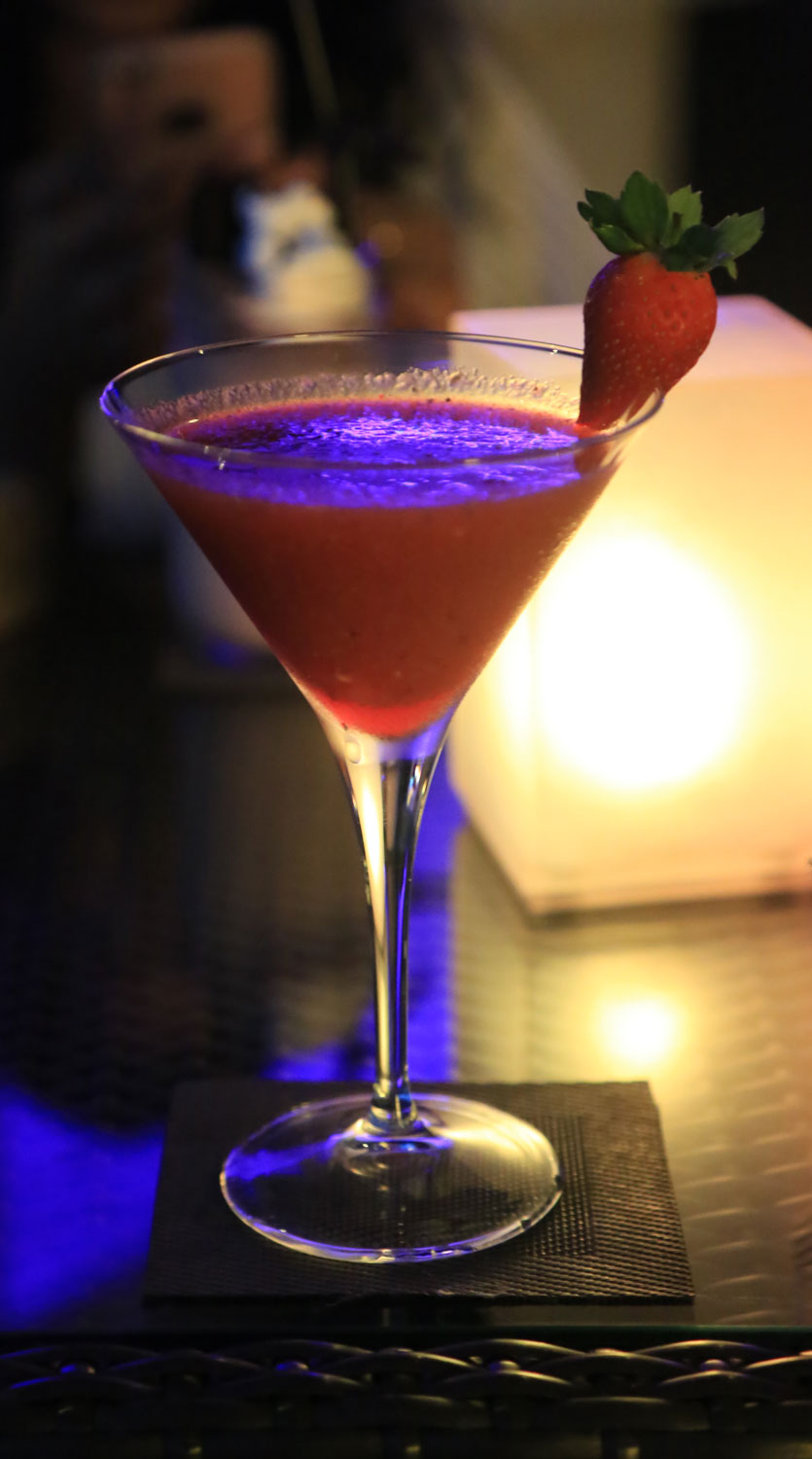 We also tried their Ebony (Rs.1190) which envelopes all things chocolate and sweet. Nutella, Oreo and butterscotch ice cream with a dash of cognac, this cocktail is a complete sugar rush. The drink is very thick and because of the overwhelming taste of the nutella and butterscotch ice cream the taste of cognac is barely there but if you have a sweet tooth we doubt you'd mind!
Their tapas menu has a variety of twenty or so snacks to choose from. A combination of local flavours and international dishes, the menu is an ecclectic assortment of cusine.
At Rs.990 their Hot Butter Cuttlefish is a generous portion of cripsy battered cuttlefish rings tossed in garlic, onion and capsicum. The cuttelfish was perfectly cooked, soft and melting in the mouth.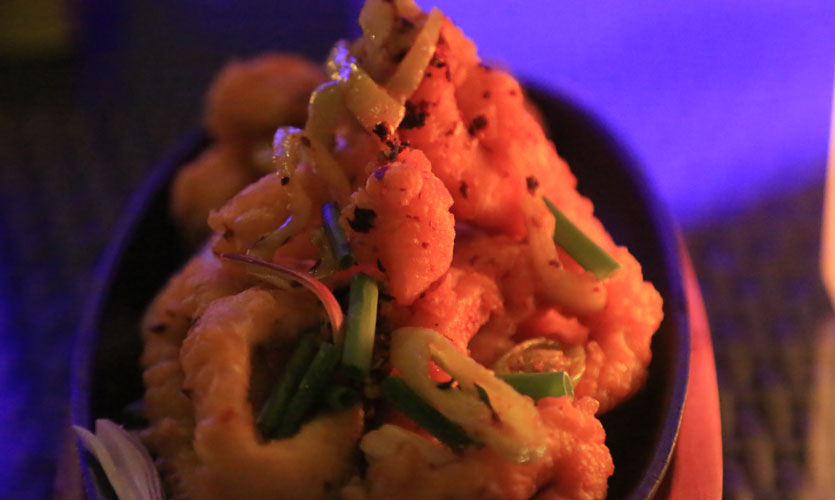 We then tried their Moroccon Style Lamb Wrap (Rs.1150) which is four pockets of soft pita bread stuffed with pulled lamb and chickpea filling. The lamp shoulder is slow cooked for 7 hours so the pockets of lamb were filling and delicious!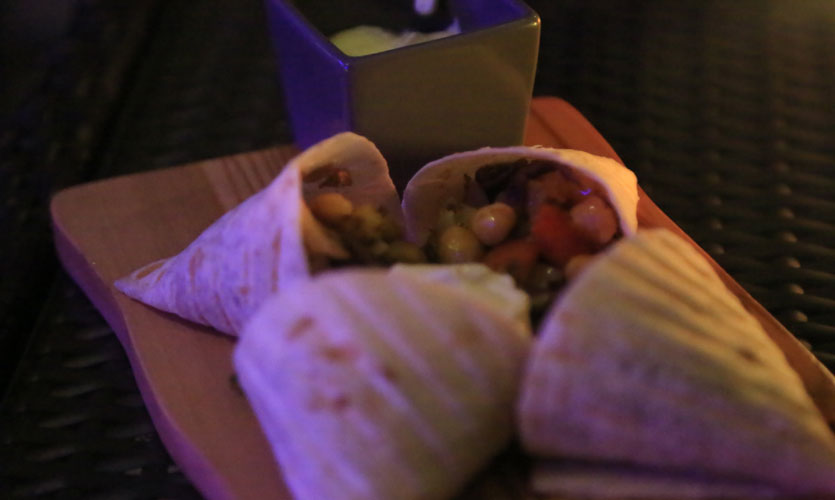 Finally we had their Chicken Sliders (Rs.1150). The chicken slider features three tiny chicken burgers on a platter. These mini burgers each feature a meaty patty, caramalised onions, fresh lettuce and tomatoes. Though small in size they are very stuffy so you do get your money's worth.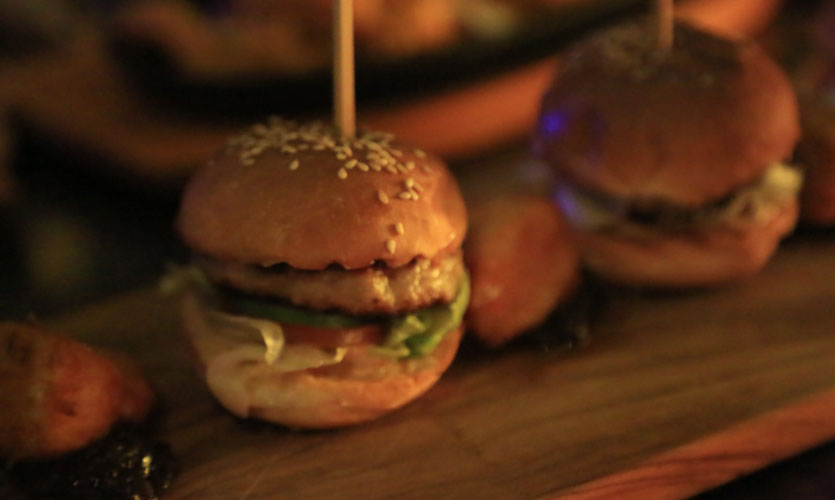 3.

BOTANIC BISTRO AND BAR
Highlight: Stunning interior, magnificent sunsets and aesthetically pleasing drinks!
The Botanic Bistro and Bar has both an indoor and outdoor area. The indoor is more for the bistro while the outdoor rooftop is the bar area complete with a lush lounge. The Botanic Bar is what one would describe in one word as 'chic'. Bringing the tropics into the city, florals take up the bar with their cute interior décor. A long bar occupies the middle of the space and this is where the magic happens as the bartenders shake and stir to make the cocktails.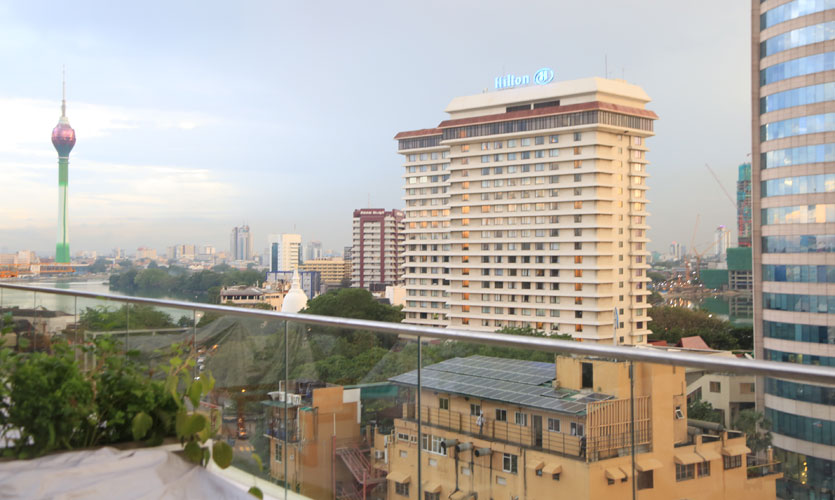 What really gives Botanic an edge is the fantastic view they have. It may not face the ocean but it does have a view of larger than life twin towers that is actually quite a beautiful backdrop. When we visited they had a killer sunset where the sky was just completely bright orange and we just completely fell in love with the view.
While Botanic Bar has all the classic cocktails they have their own signature cocktail menu that's worth stepping out from your comfort zone for. Their most famous cocktail is the Strawberry Vine (Rs. 900) which is a mix of sauvignon blanc, basil, peach, rosso ver mouth and strawberry. It's easy to understand why this drink is their most requested because it is easily one of the prettiest drinks I've seen. The cocktail comes in a massive wine glass and is topped off with slices of strawberry. It's not heavily alcohol based but we didn't mind because the fruity taste of the drink and the presentation of it had us satisfied.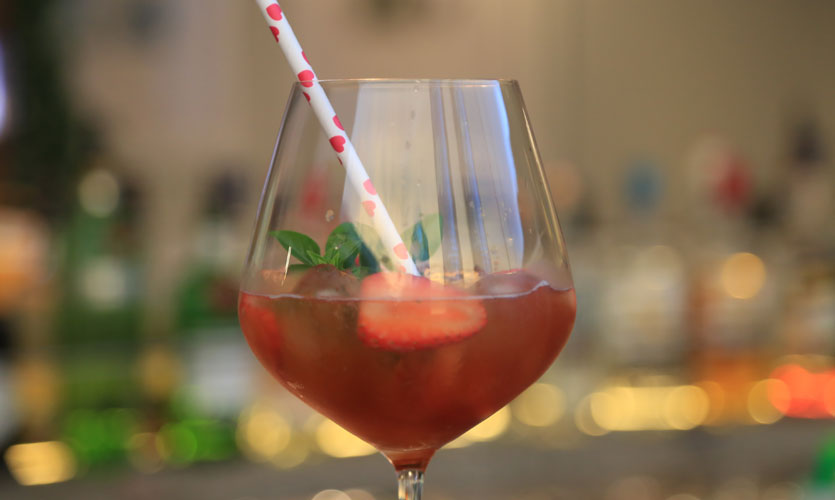 We also tried their We'sa:Bi (Rs. 750) which is a simple vodka, lime, pineapple and wasabi concoction. This drink at first has very heavy flavours of wasabi but gradually reduces to having slight undertones of. It's a slightly bitter drink but if you love your sushi and you can handle a little sour, this is your drink!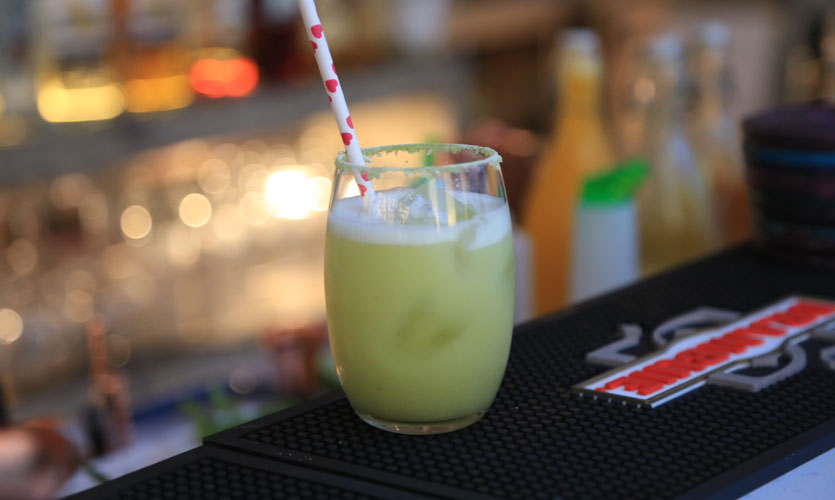 Botanic has also recently just introduced a Gin Club drinks menu with a gin based drinks tailored for day time drinking. From their Gin menu we tried two of their drinks, the Green Gin and the Spicy Gin (Rs. 750). The Green Gin is rather a refreshing cool drink with cucumber, rosemary and tonic whereas the Spicy Gin is on the total opposite side of the spectrum offering a very local curry flavoured drink with their mix of green chili, lemon, curry leaves and tonic. The Spicy Green doesn't feel so spicy at the first sip but when the drink touches the back of the throat the spiciness of the green chili and curry leaves kick in and it's definitely a tasteful experience!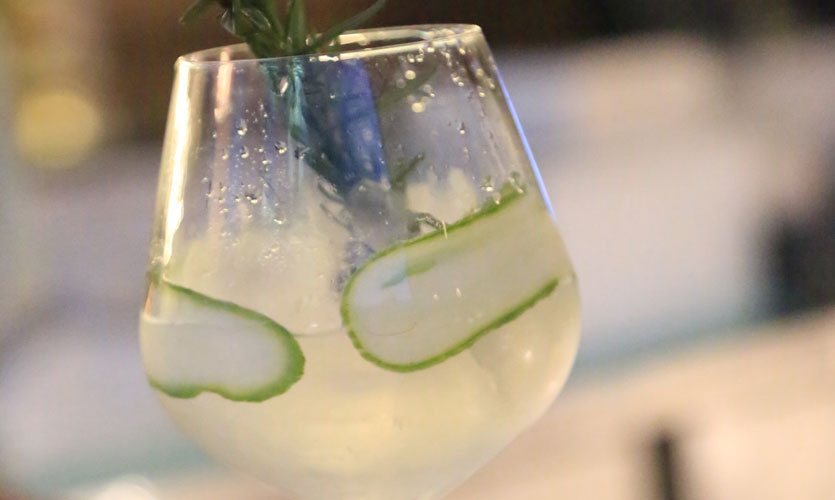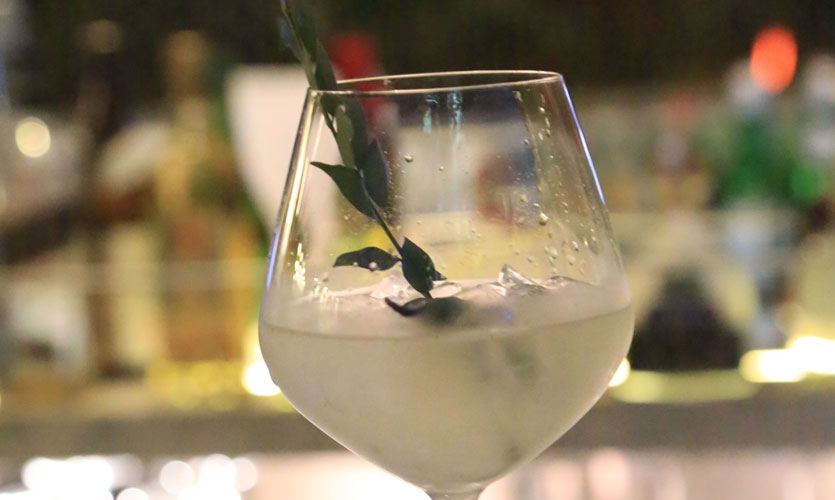 The Botanic menu is quite simple consisting of starters, mains, sides and desserts. We started off with the Salad of Seared Tuna (Rs. 900) which is yellow fin tuna tossed with olives, quail eggs and greens. The yellow fin tuna was served rare with a beautiful spice crust.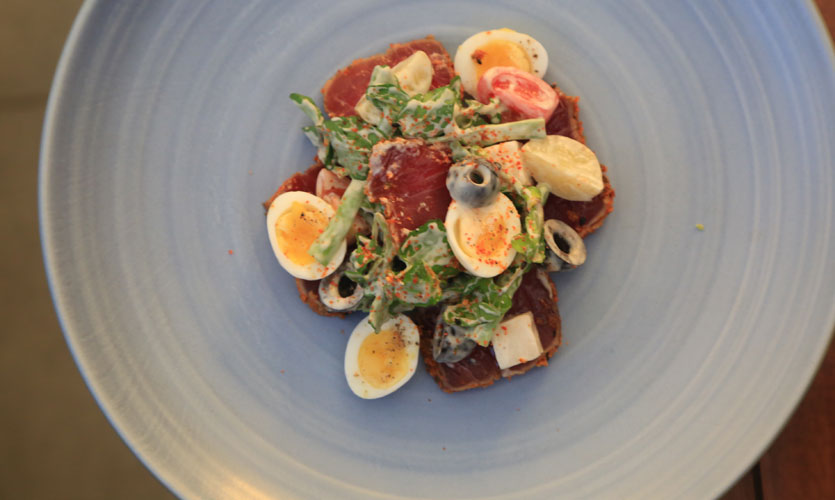 We then had their Chicken Liver Pâté with buttered toasted bread. We are bold enough to say that Botanic has, perhaps, the best pâté in town. Smooth and creamy, this mousse like textured pâté melted in our mouths. Slather a generous amount on the soft brioche and enjoy this rich pâté. We also had their Mini Fried Chicken Sliders made with a homemade chicken patty and bun. The buns had a soft crunch and the patty was packed with flavour.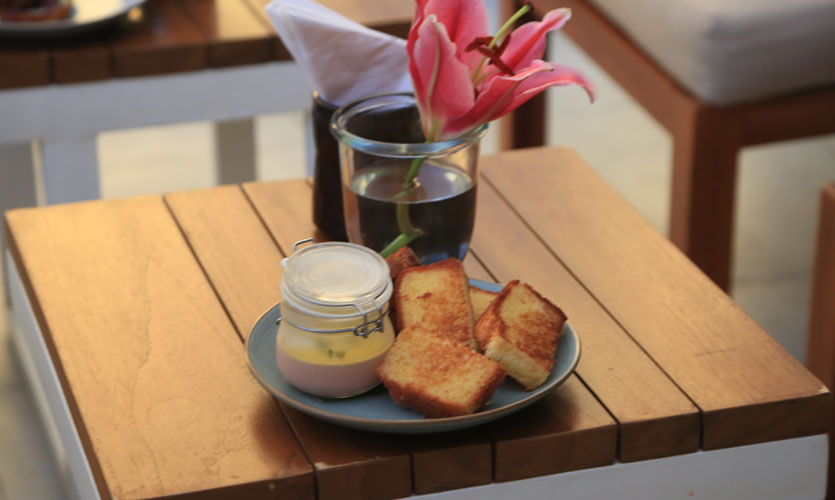 4.

SKY LOUNGE – THE KINGSBURY HOTEL
Highlight: spacious, cool and breezy, good place to unwind. They have a late night happy hour from 11.30 to 12.30!
The Kingsbury Hotel's rooftop bar 'Sky Lounge' is perhaps one of the largest rooftop bars in Colombo with ample seating and a cool view. Even with the port city construction on the way it still has a nice view of the ocean and when night falls, a good view of the city lights.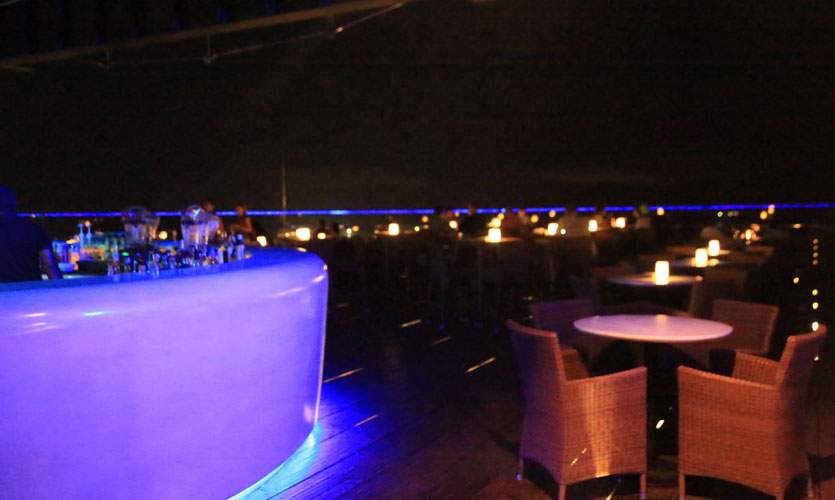 The atmosphere Sky Lounge offers is just a very relaxed vibe. They have a bit of music playing in the background and when we went they even had a live band playing some good tracks.
Their drinks menu has a variety of Beers, vodka, gin, whiskey, rum and tequila and a very limited number of specialty cocktails called 'Sexy Martinis' (very promising!). We ordered their Red Dot Bikini and their Frose (Rs. 1090).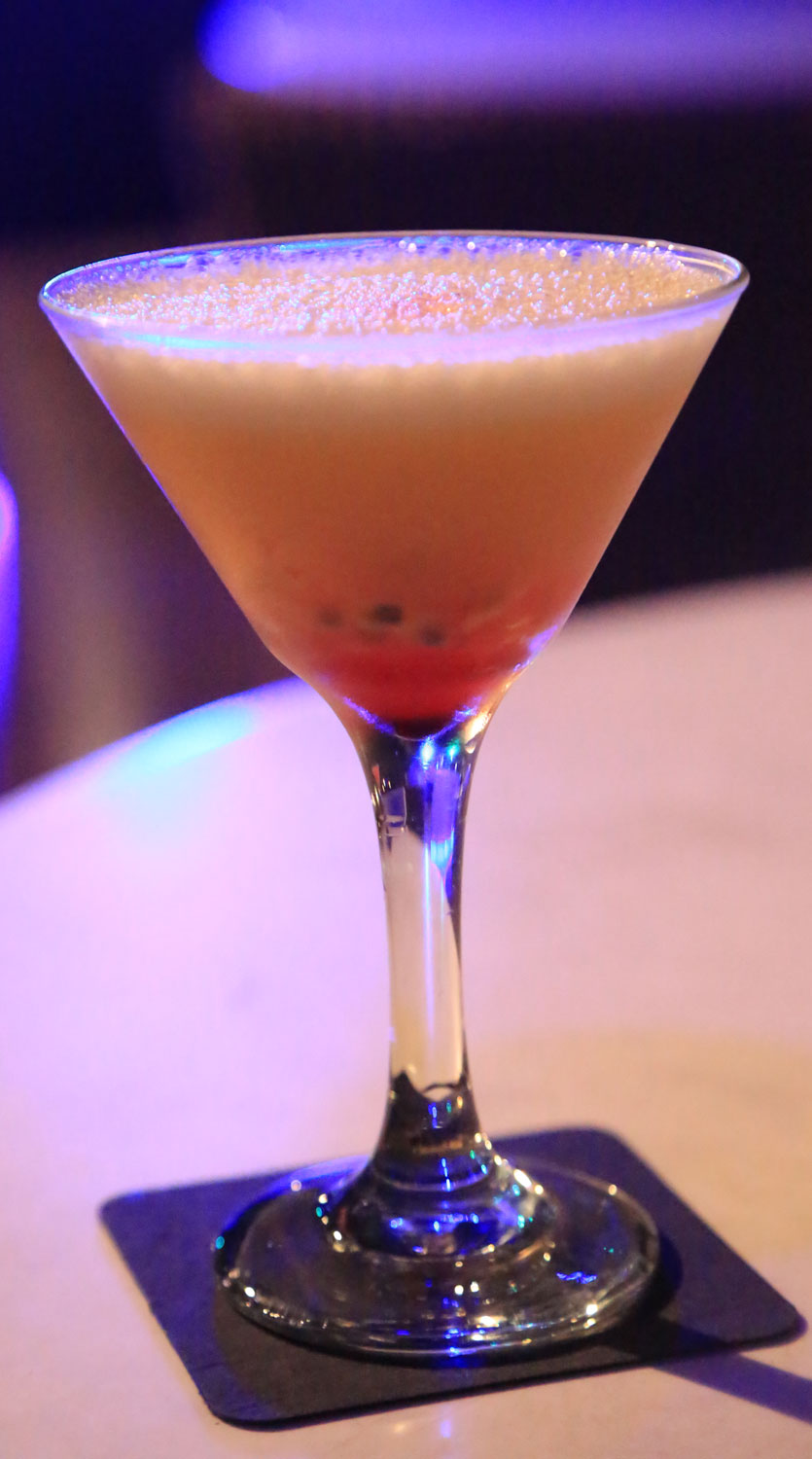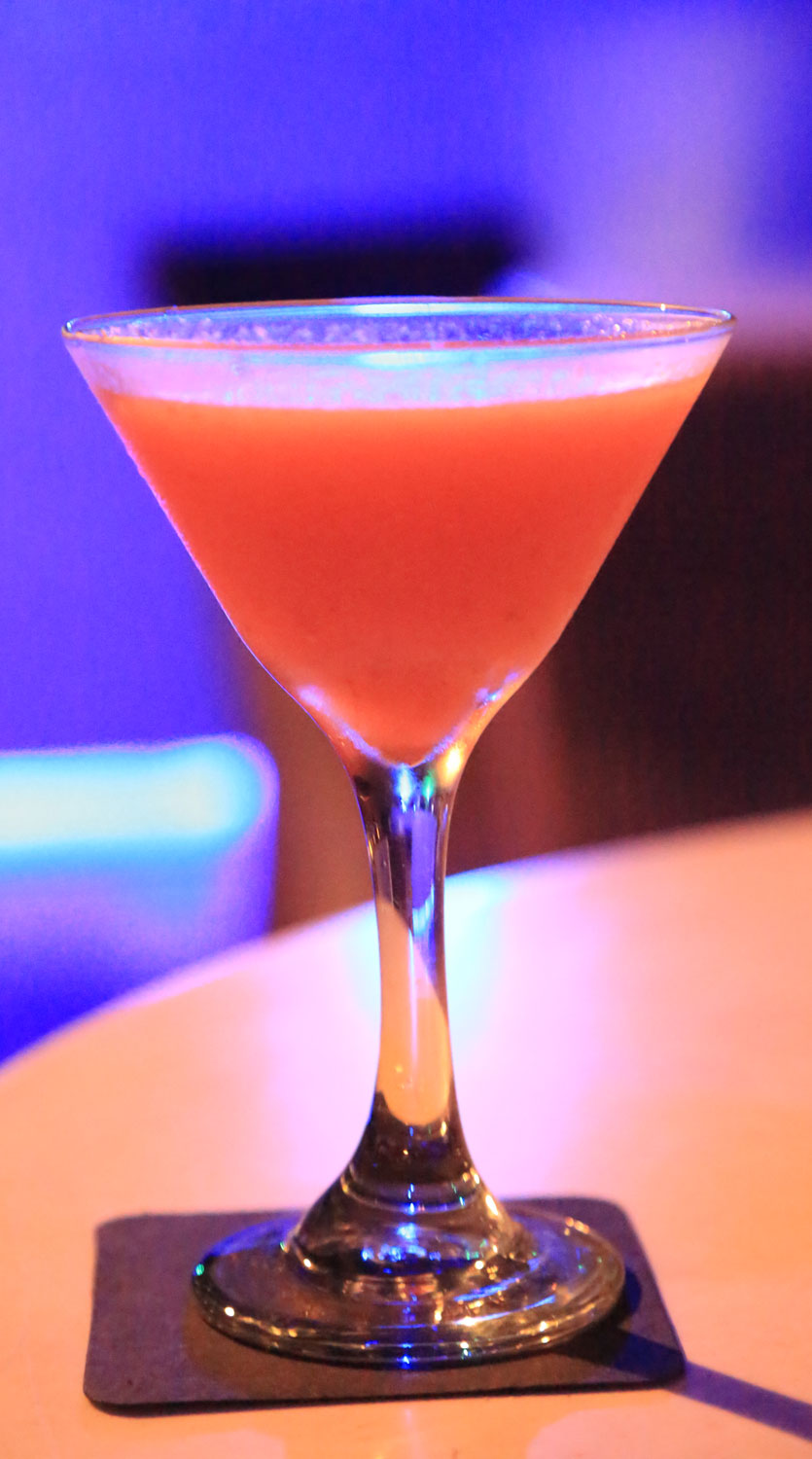 The Red Dot Bikini is a concoction of vodka, peach liqueur, passion fruit mix, passion pulp and grenadine syrup while the Frose was also vodka based with elderflower syrup and a lychee and strawberry fruit mix.
Both the drinks were quite sweet, the Red Dot Bikini more than the other but what we really wanted to highlight was that Sky Lounge does not skimp out on their alcohol! We got a very strong dose of vodka in both drinks so you are getting your money's worth.
Can we just say that Sky Lounge has what was, hands down, the best menu we've ever seen? When we visited we had, in Sri Lankan slang, a godayata magic moment when our menu lit up! You click a button and your menu is immediately lit up and it's so convenient because you don't have to squint in dim lighting to figure out what you want to eat.
When asked what their recommended dish was we were told that their Sri Lankan Bites Platter (Rs.950) was a good option. With prawn wade, tuna cutlets and vegetable samosa's this is a platter for two and a pretty good one! All the components of the dish were crunchy and spicy and served with a homemade yogurt sauce, we really enjoyed it.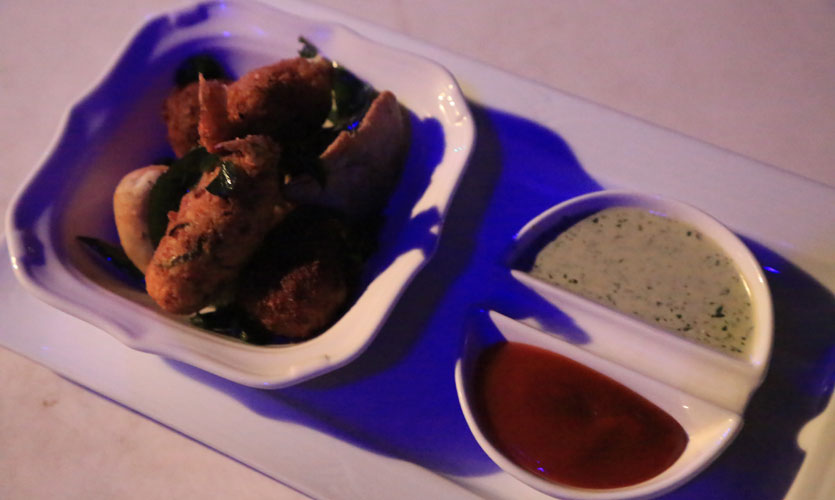 We also ordered their Grilled Meats option which comes on a sizzling platter with a rack of lamp, beef, chicken and a side of mashed potatoes. The meat was perfectly charred and had a lot of flavour and we were very impressed by their mashed potato as most places really can't get it right!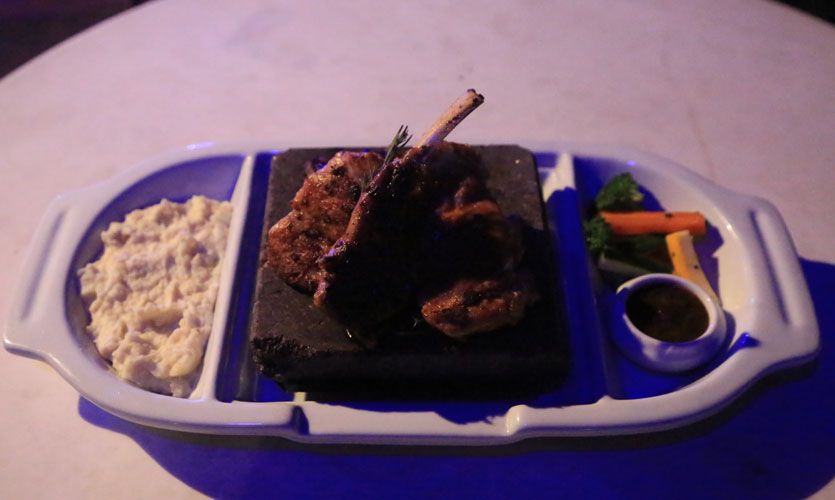 5.

VU RESTRO BAR – BEST WESTERN HOTEL
Highlight: City lights, killer ribs and friendly bartenders!
'Bright lights and a big city' is what the Vu Bar is all about! The Best Western Hotel is located in Kirulapone and doesn't really have a sea view to boast of but what they do have is a killer view of the city lights. Surrounded by buildings of all shapes and heights, we are sure it's a pretty view during the daylight but we know it's a killer view in the night when the city is completely lit up and you get a 360 view from this rooftop bar.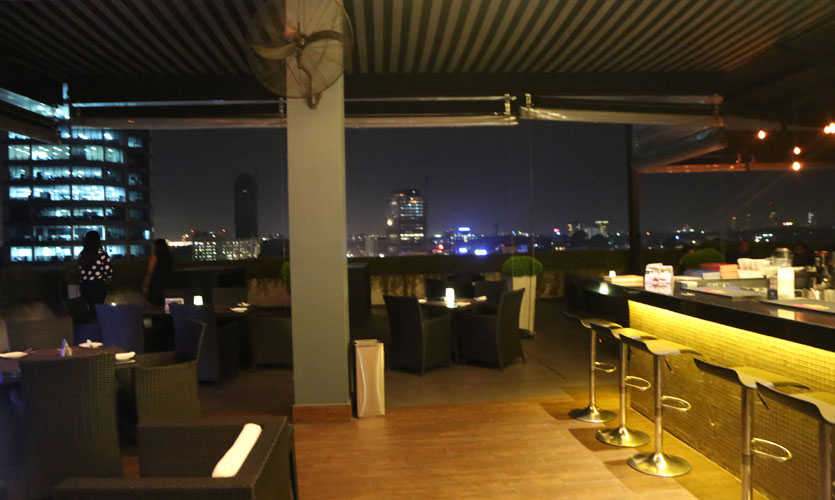 They've got a very relaxed ambience with dim lighting and spacious seating. The staff is super friendly and very accommodating – they even let me shake my own drink!
Vu has a long list of signature cocktails and even a separate menu for their Happy Hour. They have some interesting cocktail names like the 'Tuk Tuk' (a bestseller we hear!), Kill Devil, Mermaid and Meemessa. We had their Mermaid (Rs. 600) which was a concoction of Arrack, Mango juice, Lime juice, Ginger ale and fresh mint and their Long Island (Rs.1600) which was a generous mix of white rum, Smirnoff vodka, Gordons Gin, tequila, triple sec, Cola and lime juice.
Their Mermaid was fruity and sweet and the Long Island is made with just the right amount of alcohol. We thought their prices were also pretty great because most cocktails range from Rs.800 onwards whereas here you get a good cocktail for over just Rs.500.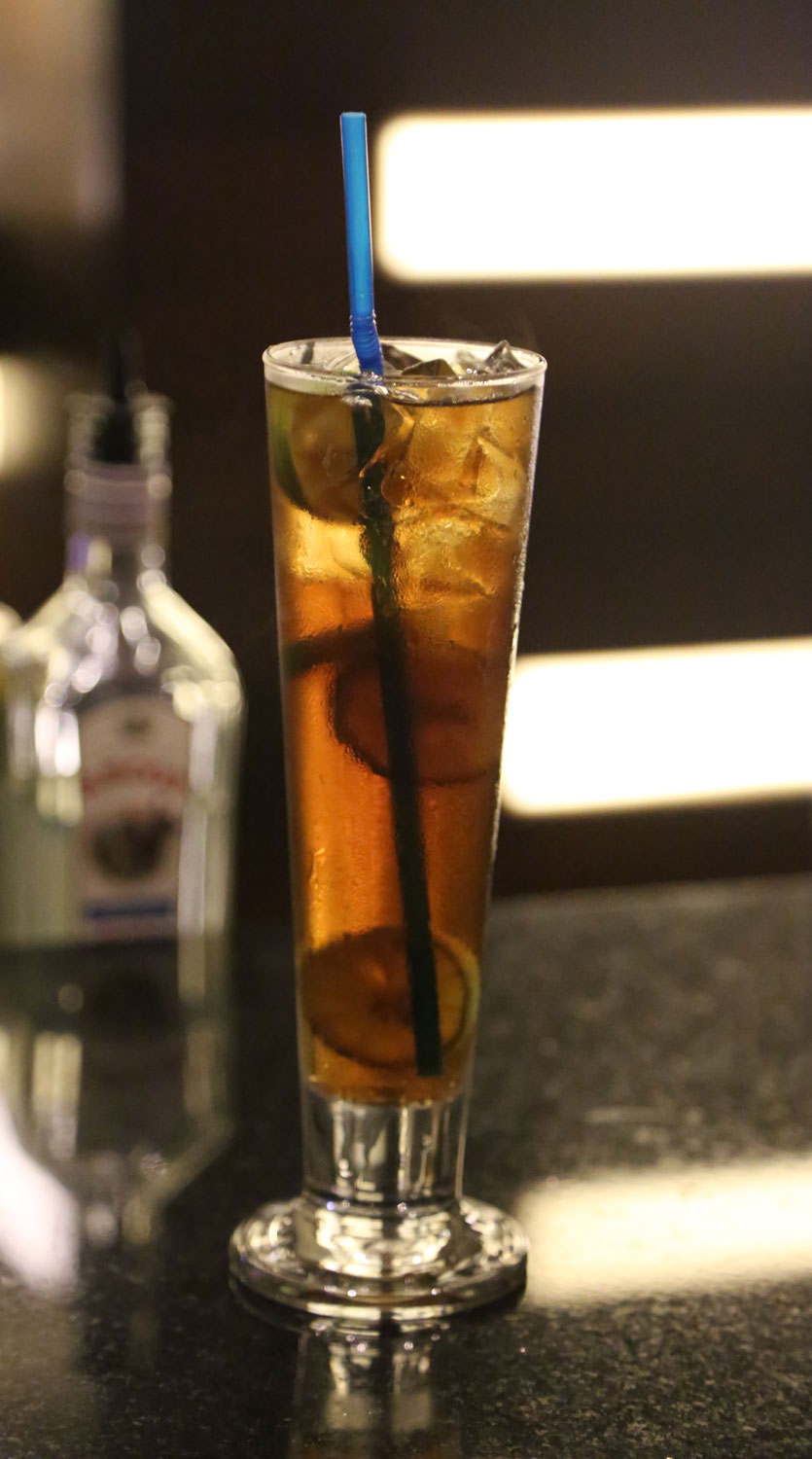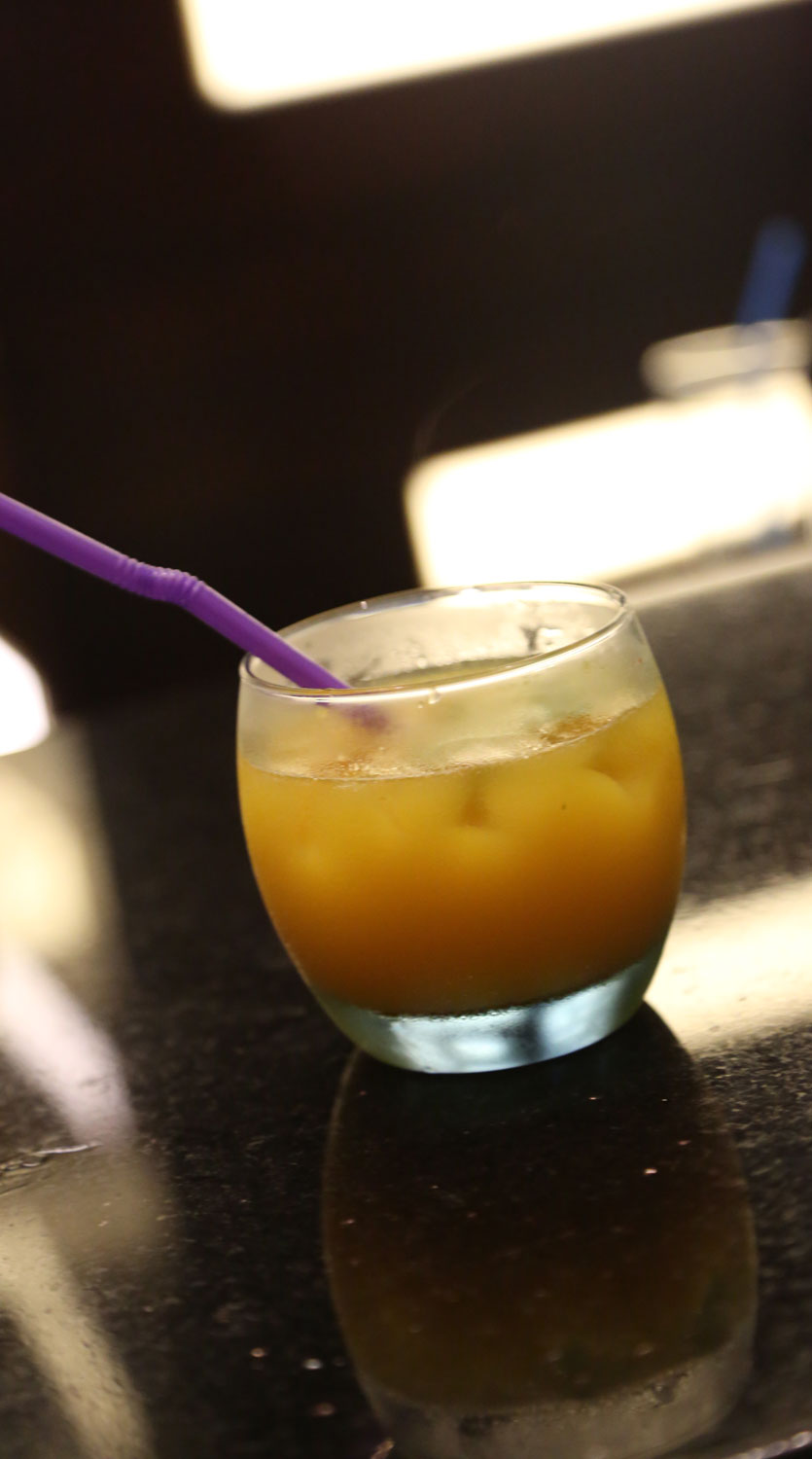 The Vu Bar has such a massive menu that surpasses a mere bar menu and comes close to being a proper restaurant menu. Moreover, the food they offer are exactly the kind of food you'd want to indulge in while you sip on your drink. From cheese toast to fish 'n' chips, HBC, kebabs and grilled meats, the menu made it super hard for us to narrow down what we would want to eat. We almost asked if we could have the entire menu!
After almost half an hour of shifting through the menu we finally decided on a plate of nachos and their ribs. Both dishes can be bought for one or for sharing but we decided we'd take a serving for one of each and we are glad we did because the portions are pretty massive for just one person!
The Nachos (Rs.950) are crispy corn chips served with gauc, tomato salsa and bolognaise topped off with mozzarella. The Jumbo Rib Lovers (Rs. 2,150) was the real star of the show. The jumbo ribs were glazed with char siu and sticky marmalade and served with hot potato wedges and a small salad on the side. Can we just say that the ribs are absolutely massive? To be honest we were fairly sure the ribs came from a dinosaur rather than a pig. The ribs were actually bigger than our faces and had plenty of meat on the bone. The flavours of the ribs were amazing and we completely 'pigged' out on it!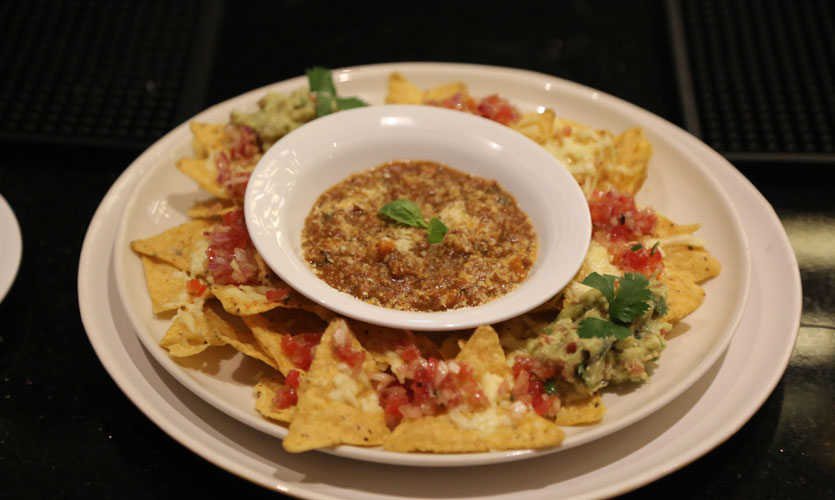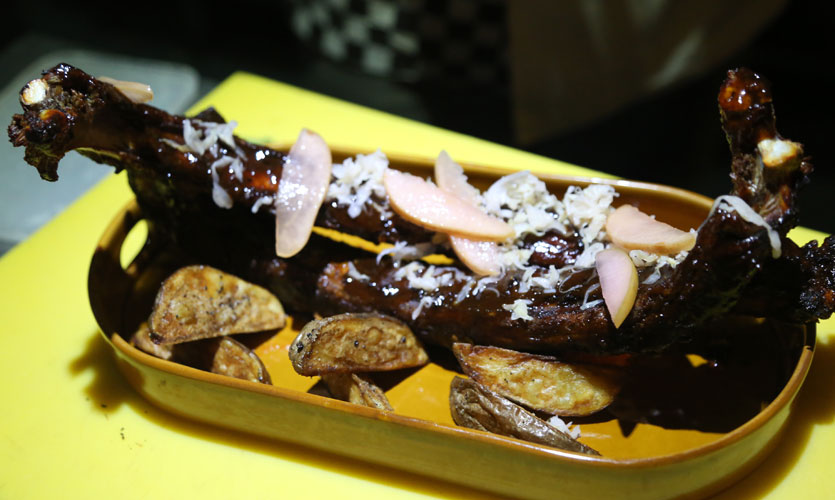 6.

LOVE BAR – FLAMINGO HOUSE
Highlight: beautiful décor, gorgeous drinks and one of the most happening places for a nightout!
The Love Bar at Flamingo House is one of Colombo's hottest night-out spots right now. On Wednesdays and Fridays both the Love Bar and their upstair club, Attic is filled with people by 12am.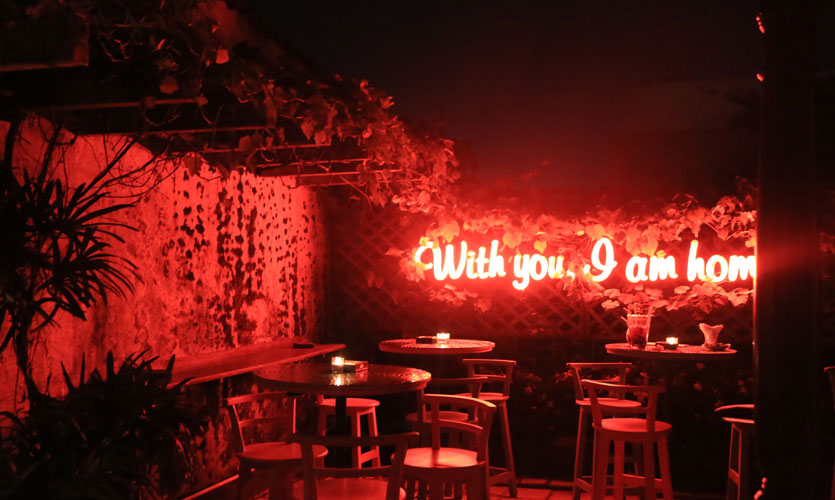 The Love Bar, like the rest of Flamingo House, is lavishly decorated. Vibrant colours and funky décor dominated the room. The bar at first glance looks quite small but it is divided into a few sections; a private area, the bar area and an outdoor area. We chose the outdoor area for some cool air and also because we couldn't resist the cute neon wording 'With You I'm Home' splashed against the backdrop. We dropped by quite early so it was relatively quiet and chilled out so it was just a really relaxed ambience for a chat!
Love Bar has a long cocktails menu filled with their own signature cocktails, the usual like a Bloody Mary and a Cosmopolitan, skinny cocktails under 200 calories, sharing cocktails and even something called love potions.
For starters we got their Flamingo Rosa (Rs.5000) for sharing. It comes in a huge bucket filled with crushed ice and topped off with fresh flowers and is recommended to be shared among 6. The Flamingo Rosa is a combination of vodka, lime, mind and plump raspberries. It had a great balance of flavour and we really couldn't get over how pretty of a drink it was! We tried to finish it between 2 people (failed miserably) so we do recommend that you share the drink!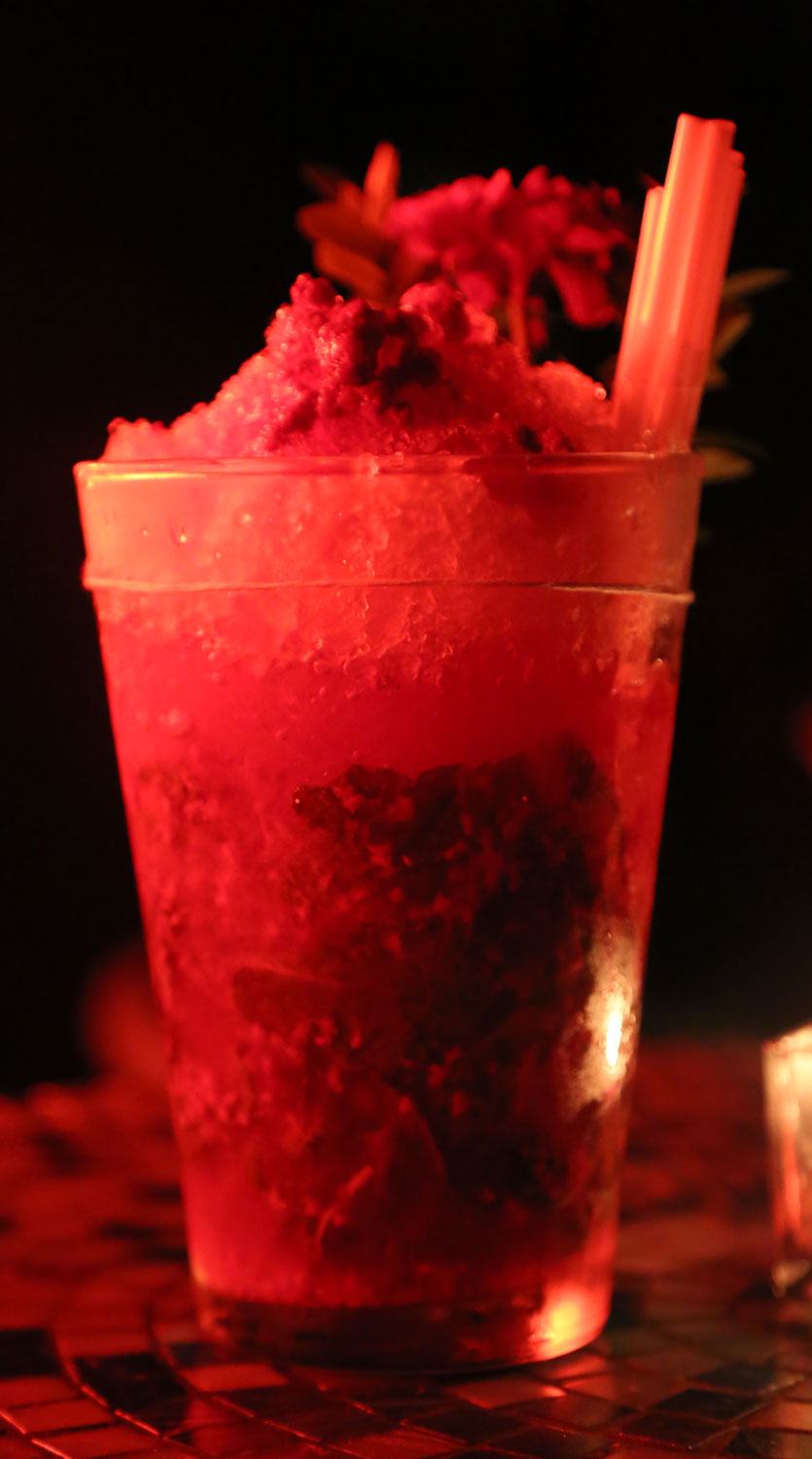 From their signature cocktails we tried their Cinnamon Catarina (Rs.950) which is inspired by the legend of Catarina San Juan who was an Indian noble woman captured by the Portuguese pirates. A blend of fresh pineapple, white rum and cinnamon with French vanilla whipped cream the cocktail was fruity and sweet. The cinnamon gave it a touch of spice which mixed together with the French Vanilla, gave life to a perfect combination.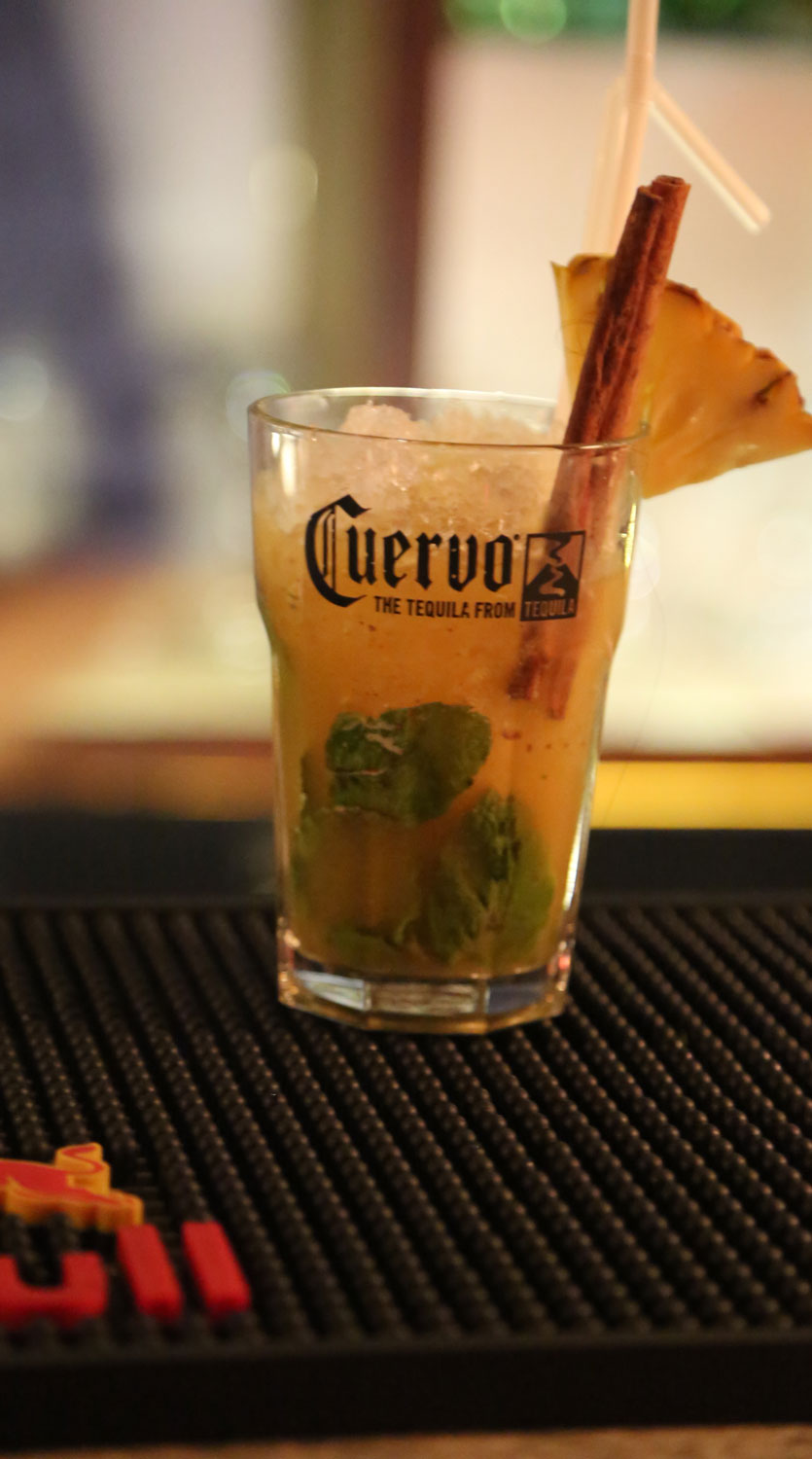 We also tried their Miritilo Mojito (Rs.950) which is also a Portuguese inspired drink with blueberry, white rum, fresh kiwi, mint leaves and lime juice. This drink had quite the presentation as it comes with a carriage like drink holder. The flavour of the drink was largely fruity yet it had a musky taste to it at the same time.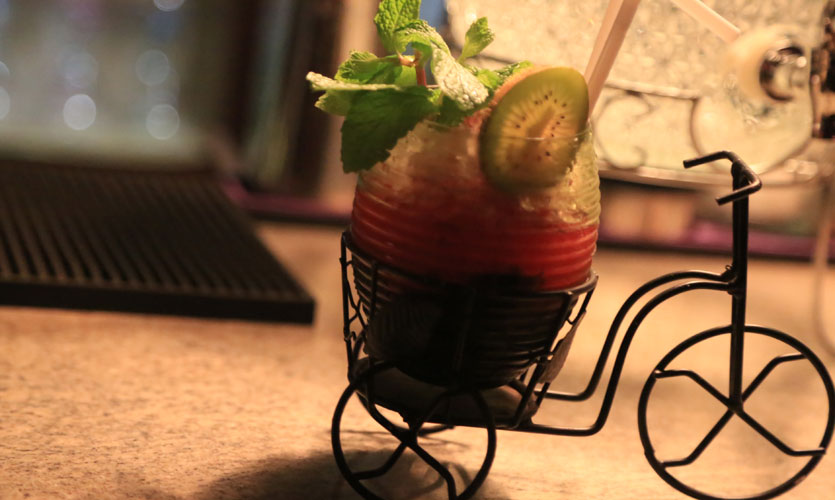 Love Bar has a happy hour from Sunday to Thursday 7-9pm on a buy one; get one free offer on selected cocktails and wines. They also have a Ladies Night on Wednesdays worth checking out!
FOOD
Love Bar has a very small tapas menu with a few signature dishes like satay, potato wedges, isso wade and sliders.
We ordered their Hot Butter Cuttlefish (Rs.600) and their Spicy Shrimp Burger (Rs.1200). The HBC was spicy and hot and perfectly crisp. It was also a generous portion for Rs.600. The shrimp burger was our favourite though. A succulent shrimp patty with a sweet and spicy tartar sauce and cheese served between two warm homemade buns was absolutely scrumptious! The potato wedges served on the side were crispy and lightly spiced and we really loved it.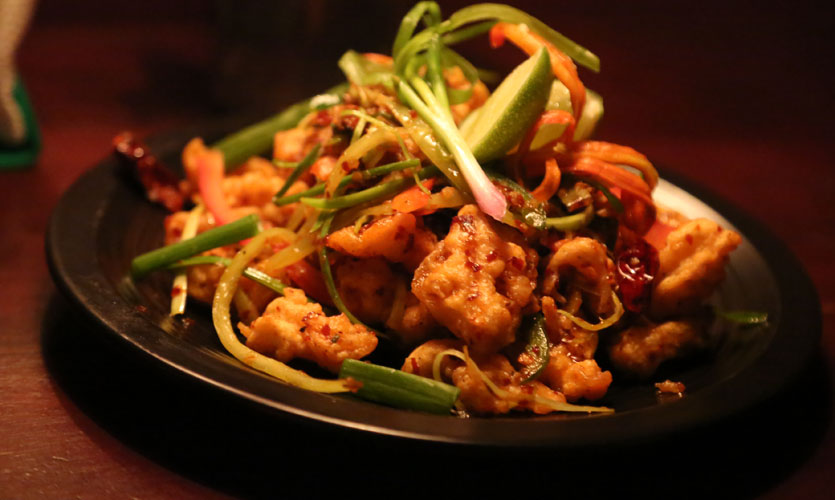 7.

CLOUD RED – CINNAMON RED
Highlight: a large range of cocktails, spacious seating and a good view.
AMBIENCE
Cloud Red at Cinnamon Red has the best of both worlds with an amazing view of the Colombo city on one end and on the opposite end a stunning view of the sea. It's a great place to visit just as the sun is setting because you'll see the sky change colour while at the same time you'll see Colombo start to light up.
Cloud Red occupies the massive rooftop and offers both indoor and outdoor dining options. Obviously, most people prefer the outdoor option with its killer view and cool breeze but the indoor seating area offers a more quiet intimate space with interactive tables you can play games on!
Cloud Red has a good menu with signature mocktails and cocktails as well as rum, whiskey, and wine-based drinks. We got 2 of their cocktail pitchers, the Bullfrog (Rs.4500) and their Cloud Red (Rs.3500). Their Bullfrog was the perfect mix of Rum, Gin, Tequila, Vodka, Blue Curacao and Red Bull. Their Cloud Red signature cocktail pitcher was beautifully presented in a curved glass pitcher stuffed with strawberries. The cocktail is a combo of vodka, crème de Fraise, crème de Cassis and Cranberry juice. We all know that cranberry and vodka is the perfect marriage of flavours and the bartender has achieved a good balance of sweetness in the drink.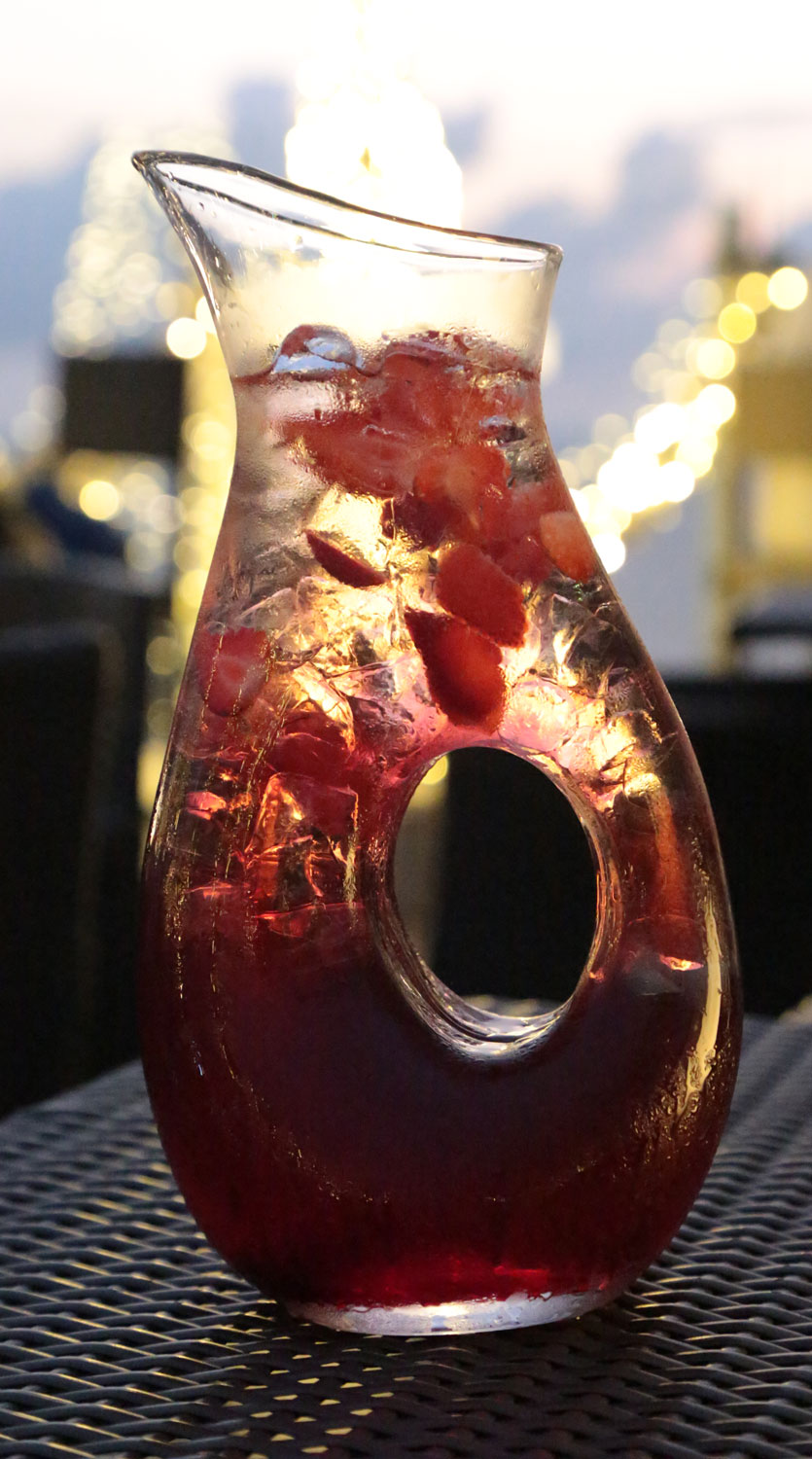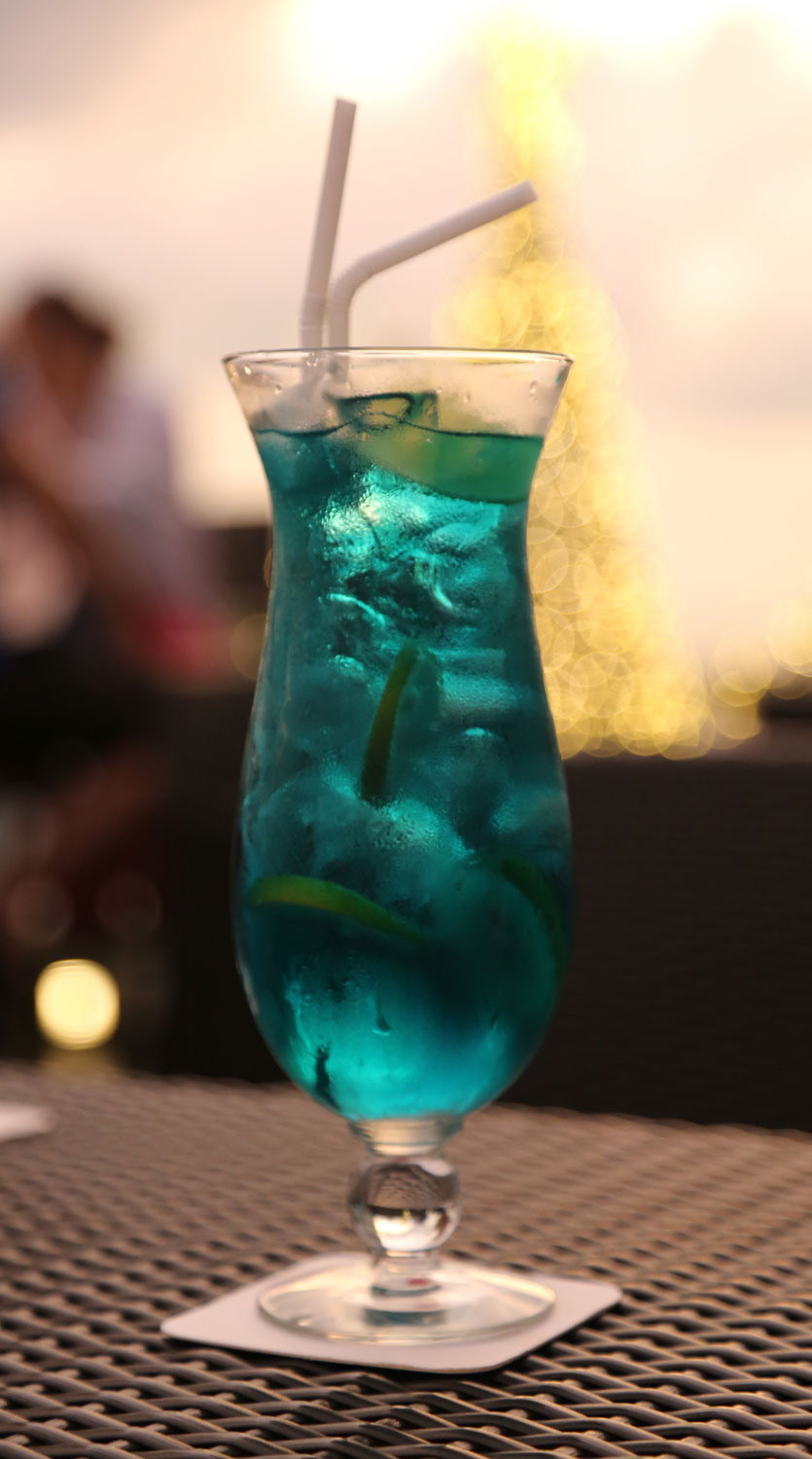 Since it was the season when we visited we tried out their special Christmas cocktails, their Merry Berry and Snow Cap (Rs.950). The Merry Berry is strawberry puree topped off with sparkling wine and the Snow Cap was a mix of whiskey, triple sec and nutmeg.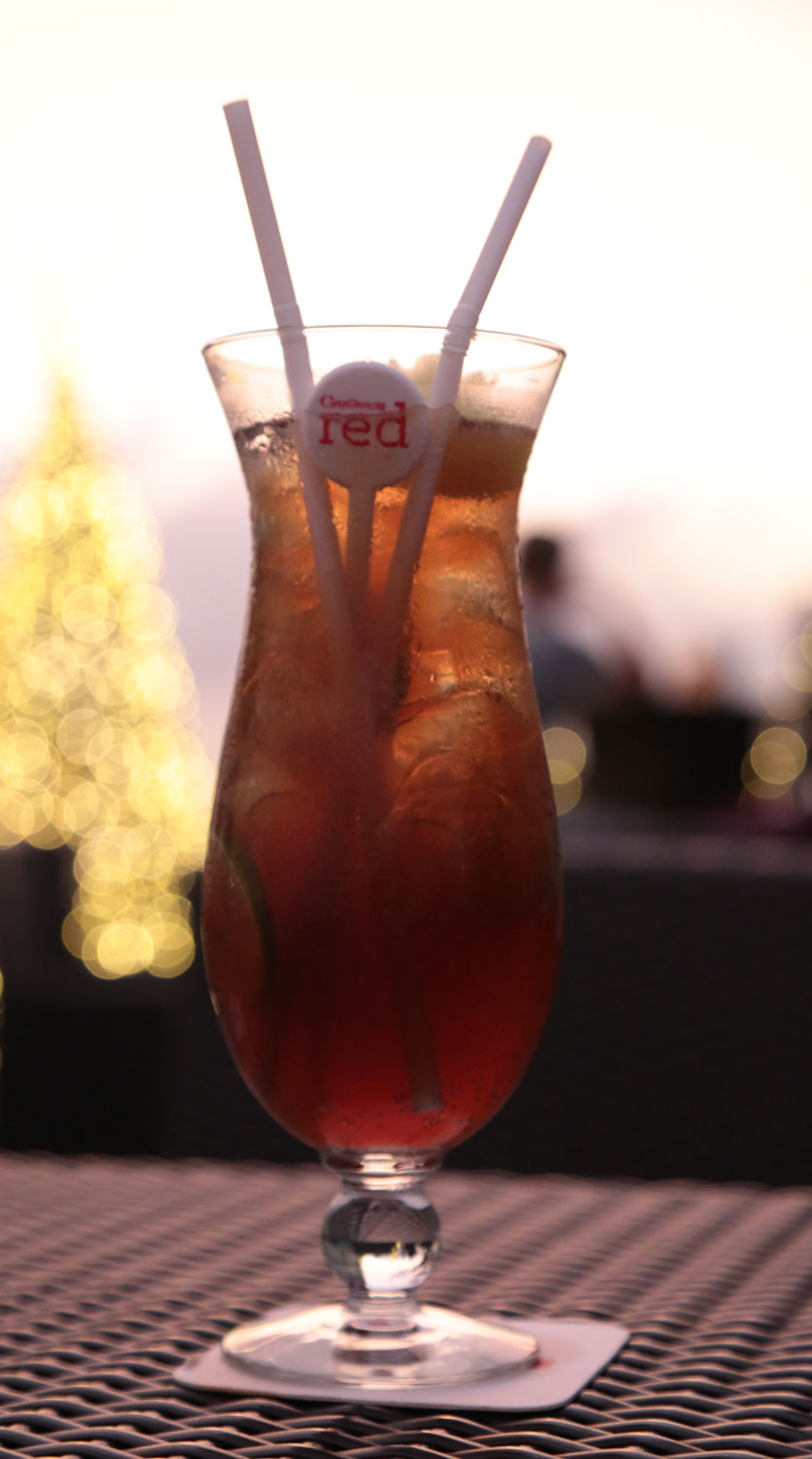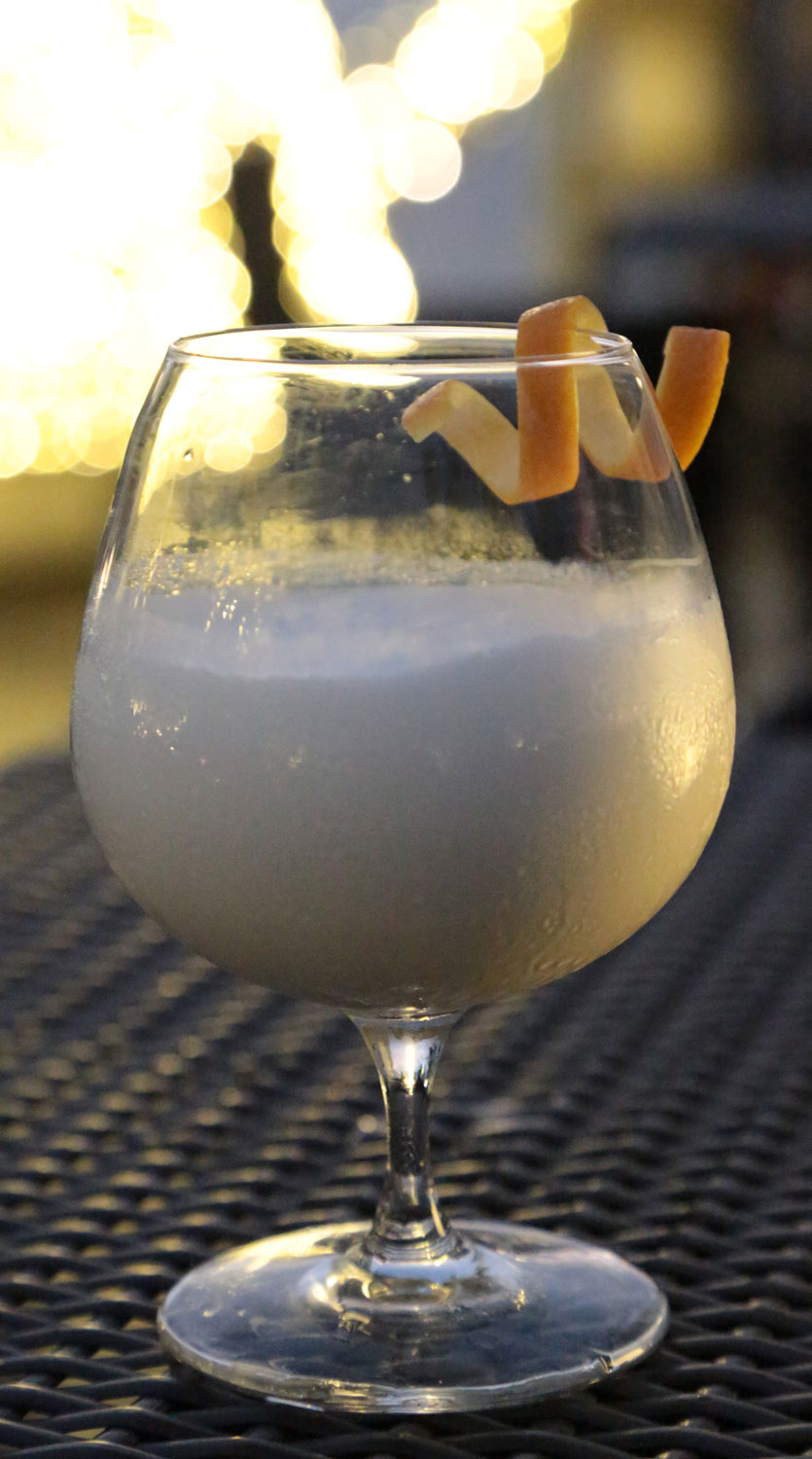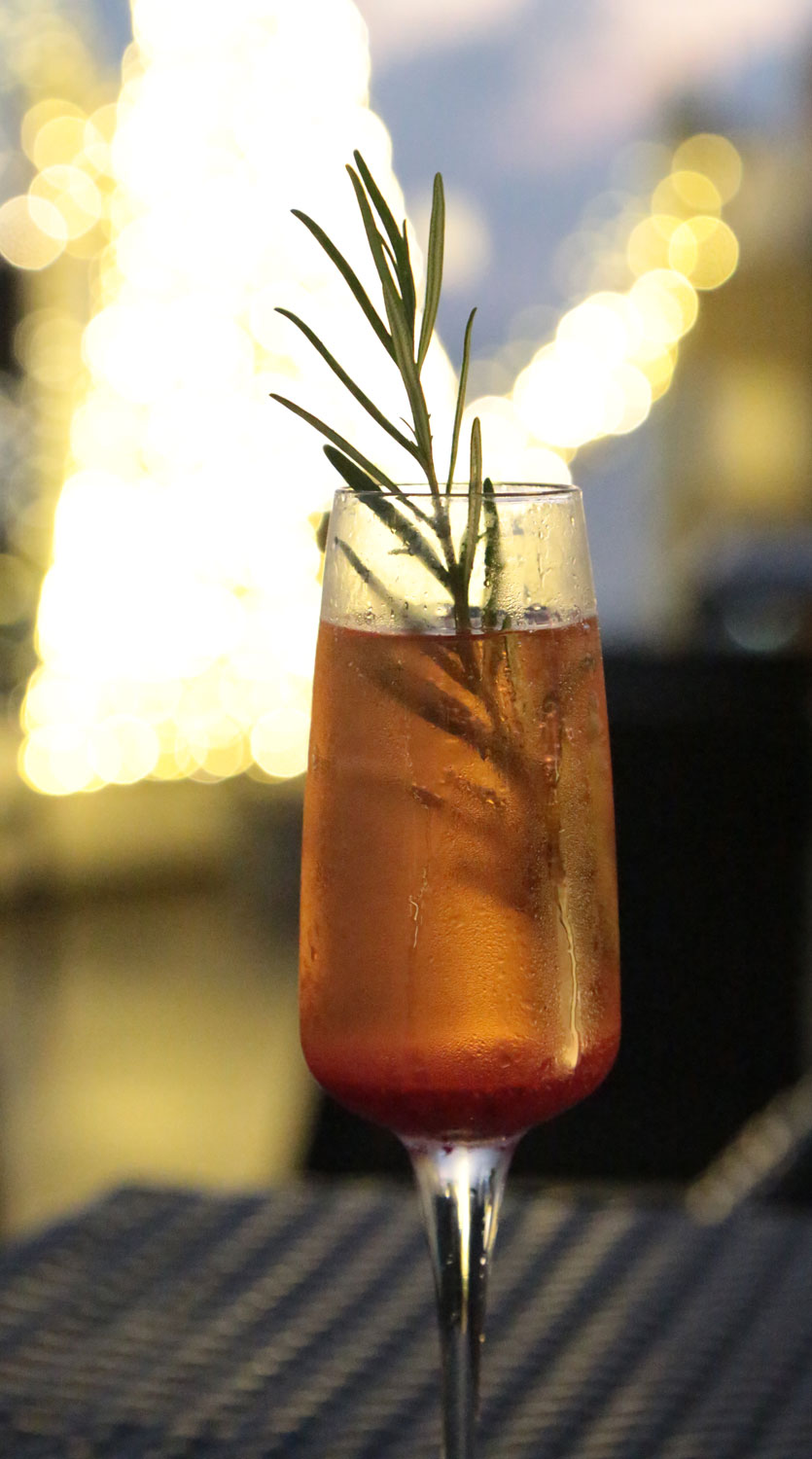 The Cloud Red tapas menu is divided into three; seafood, meat and vegetarian. We got their Prawns wrapped in bacon (Rs.850) which is a platter of 6 succulent prawns wrapped in crisp bacon. We also got their Chicken Wings in hot sauce (Rs.850) which was our favourite. The 6 sticky chicken wings marinated in a hot sauce with sesame seeds on top was really a standout dish from our round. It had a great kick to it and even though it was a messy dish, we couldn't get enough!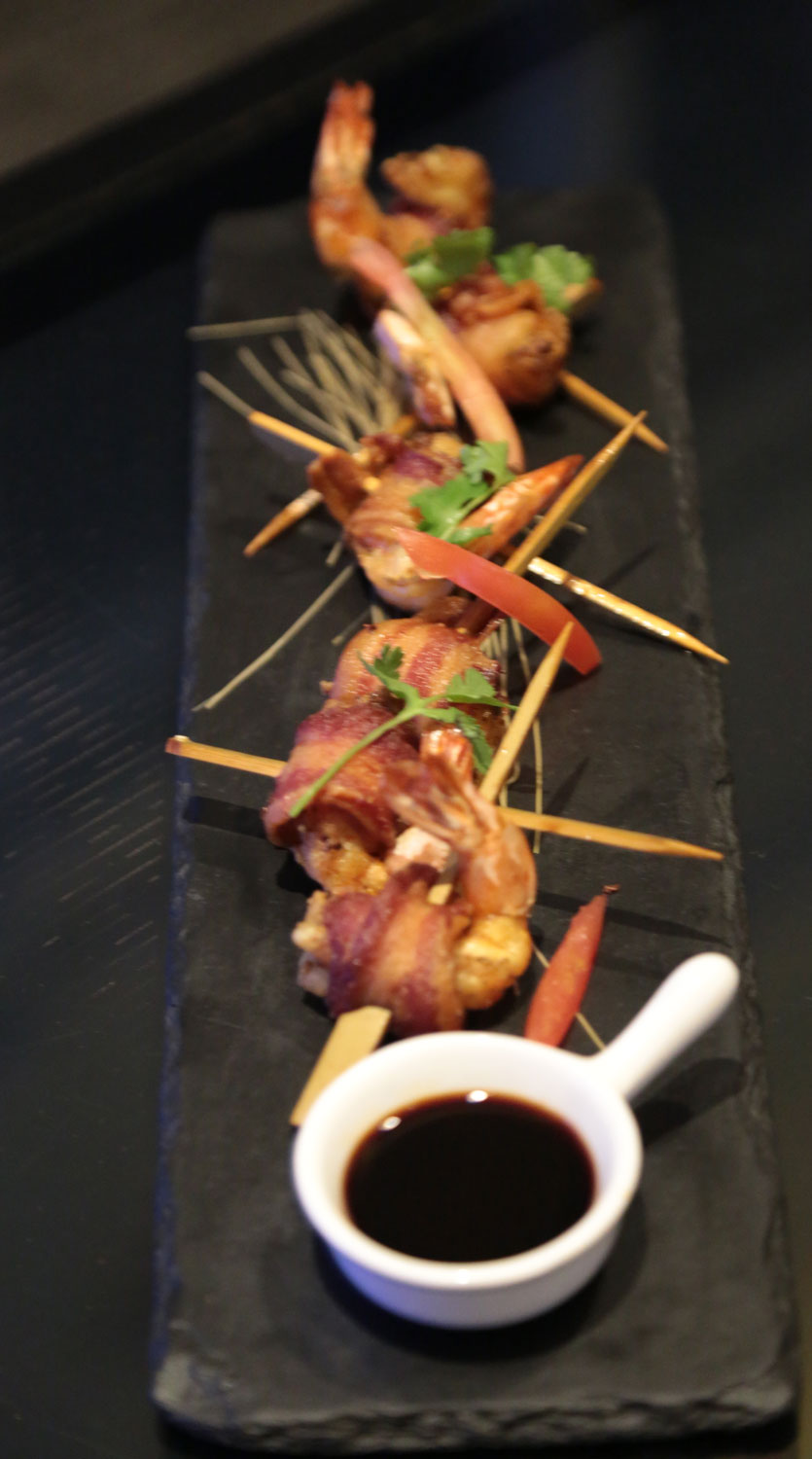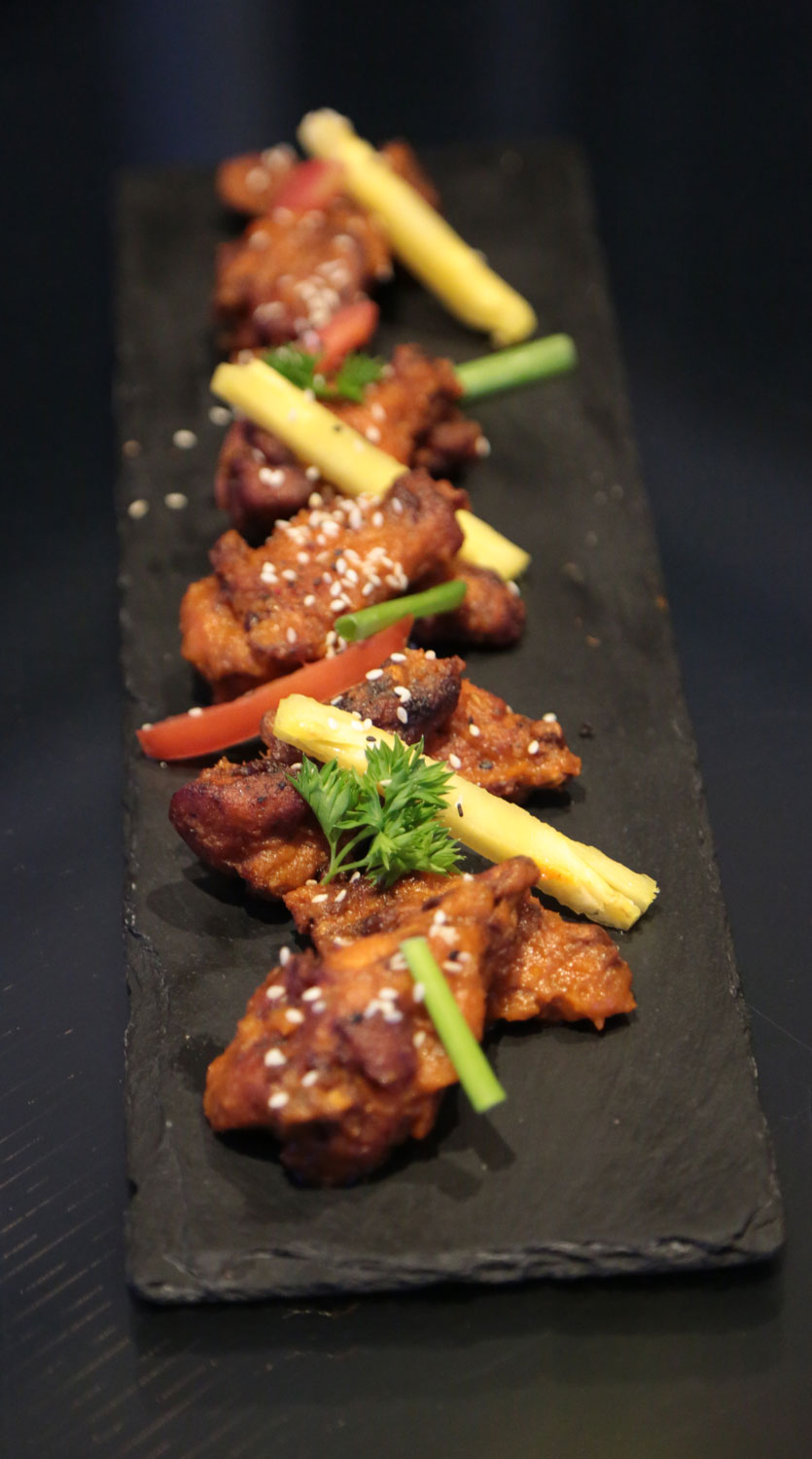 We also tried their Taco Borrego (Rs.900) and the Assorted Sushi Platter (Rs.1000). 3 crunchy tacos filled with different kinds of meat and stuffed with onions, tomatoes and bell peppers made the Taco Borrego and the assorted sushi platter featured 3 different kinds of sushi served with soy sauce and touches of wasabi.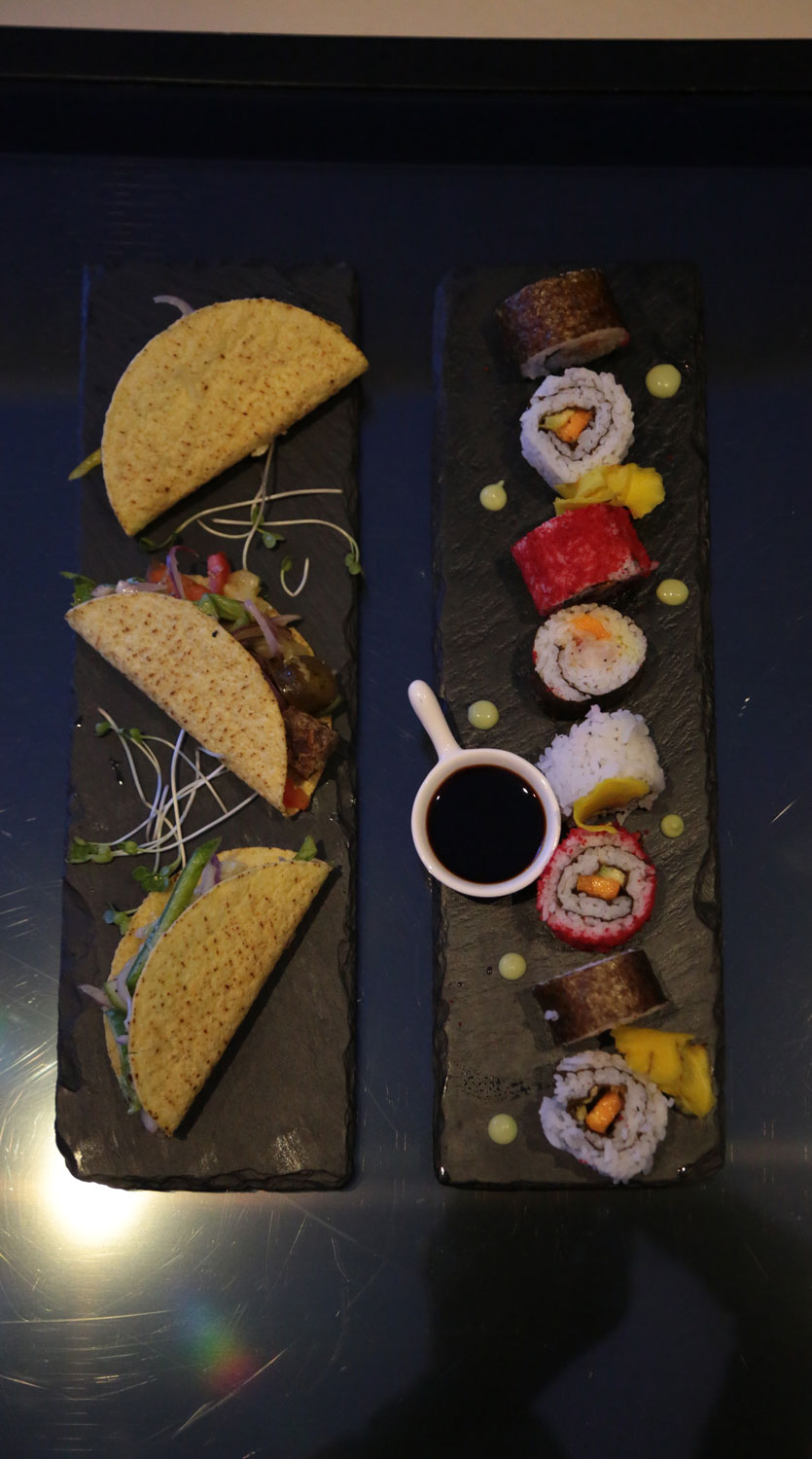 8.

WARD 7 – JETWING COLOMBO 7
Highlight: Gorgeous night view, calm and cool and excellent food.
AMBIENCE
The rooftop at Ward 7 has an atmosphere that's difficult to put into words. Though it's smack in the middle of the Colombo city, the rooftop somewhat transports you to a different space and time away from the city noise. Its spacious layout and chilled out décor makes it the perfect place to wind down. The rooftop bar also boasts a glorious view of the sunset and even in the night it has a spectacular view!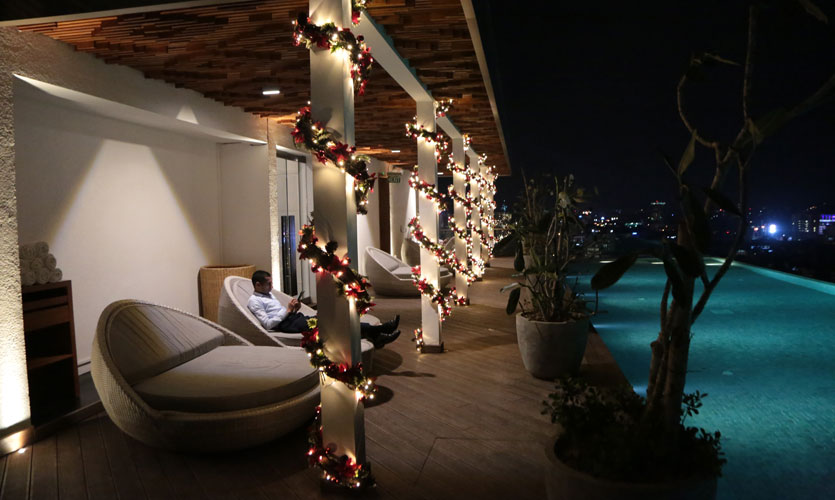 The drinks menu at Ward 7 only has their signature cocktails on print but if you ask the bartender for a regular cocktail they will make it for you. We started off with two of their signature cocktails; the Anesthesia (Rs.1000) and the Jetwing Surf Point. The Anesthesia is tequila mixed with Cointreau orange liquor, blueberry fruit mix, mixed berries and lime juice while the Jetwing Surf Point used Malibu Barcadi as a base with a passion fruit puree and mint leaves. Both drinks were strongly fruity that it overtook the bitterness of the alcohol but the Anesthesia was our favourite in terms of flavour.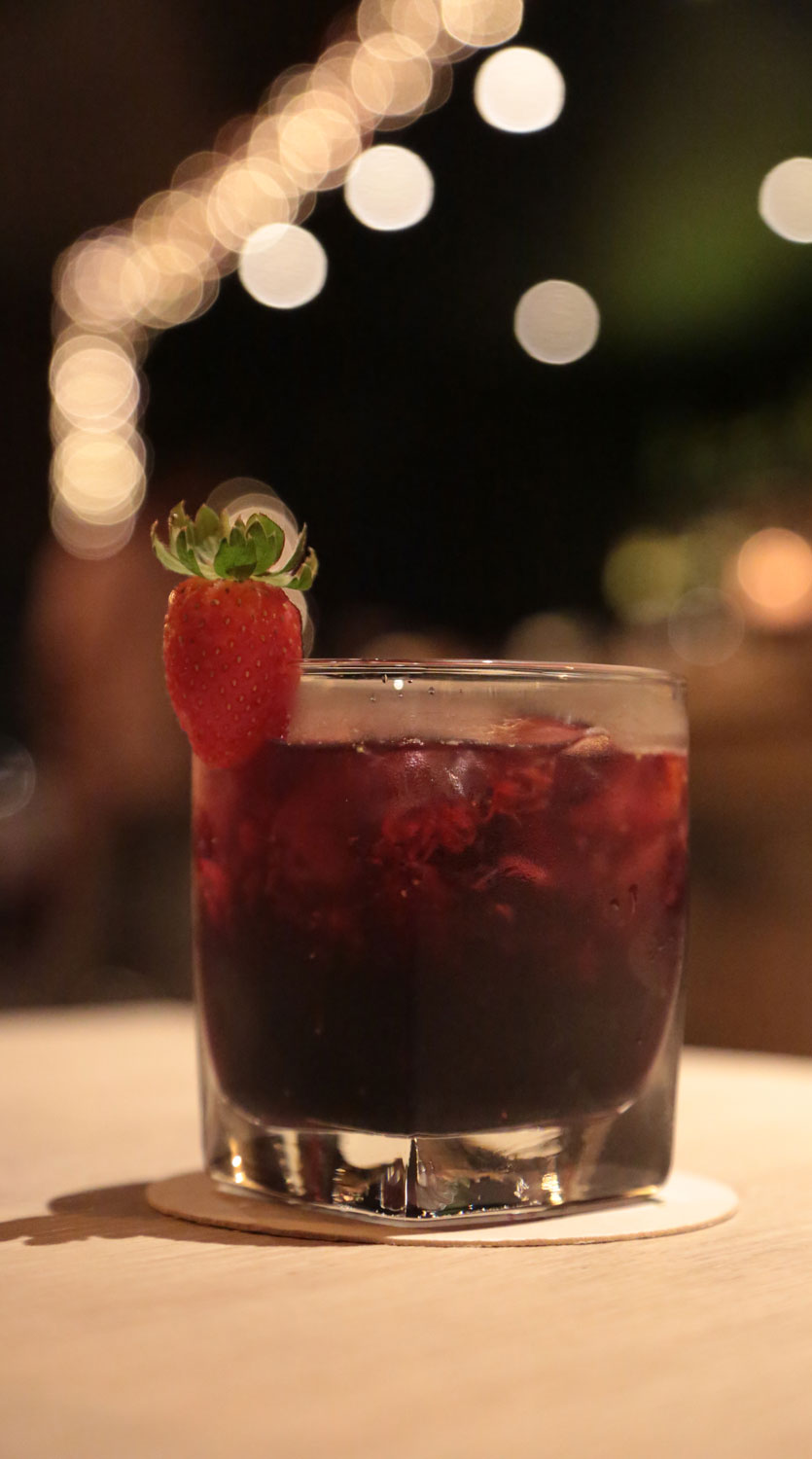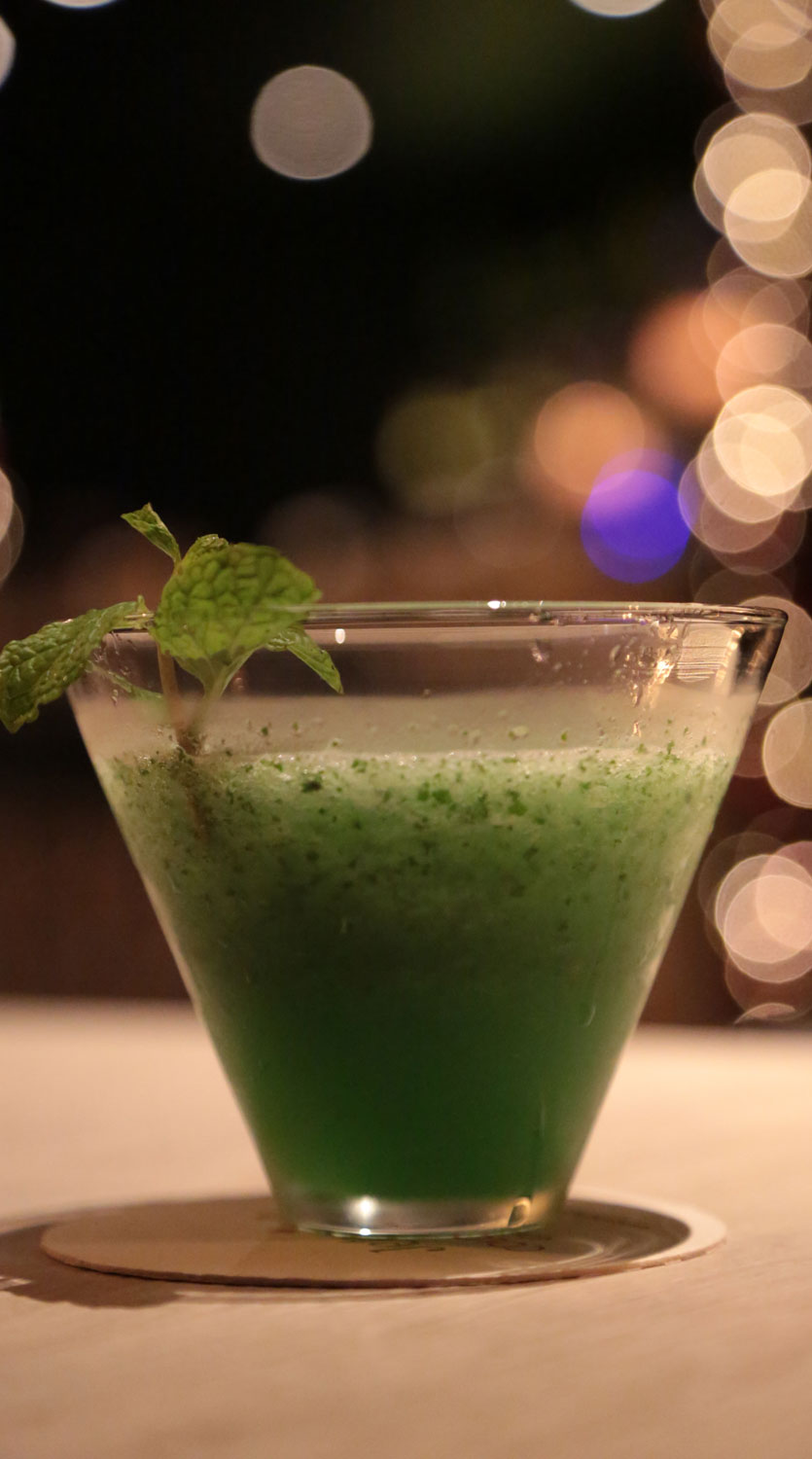 We also tried out something from their Christmas Cocktails menu; the Ultimate Christmas and The Harvest Sparkle (Rs.1000). The Ultimate Christmas was made of amaretto, kalua, cocoa brown, whipped cream, and espresso. The espresso gave the drink a very bitter flavour to it but the cocoa and the whipped cream helped to take the edge off of it. Bourbon, berry cider, sparkling and bees honey made up the Harvest Sparkle and this pink drink was a tasty concoction.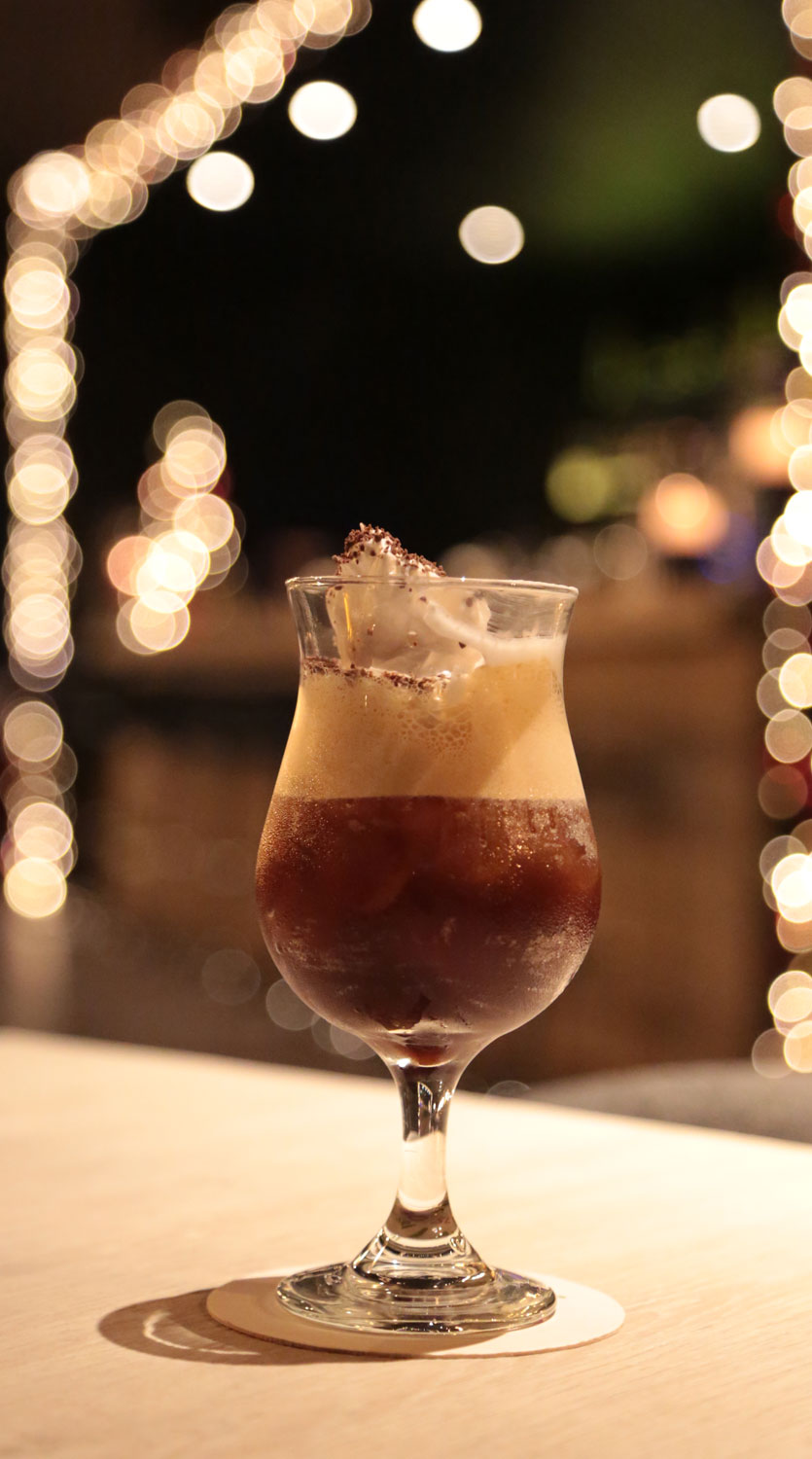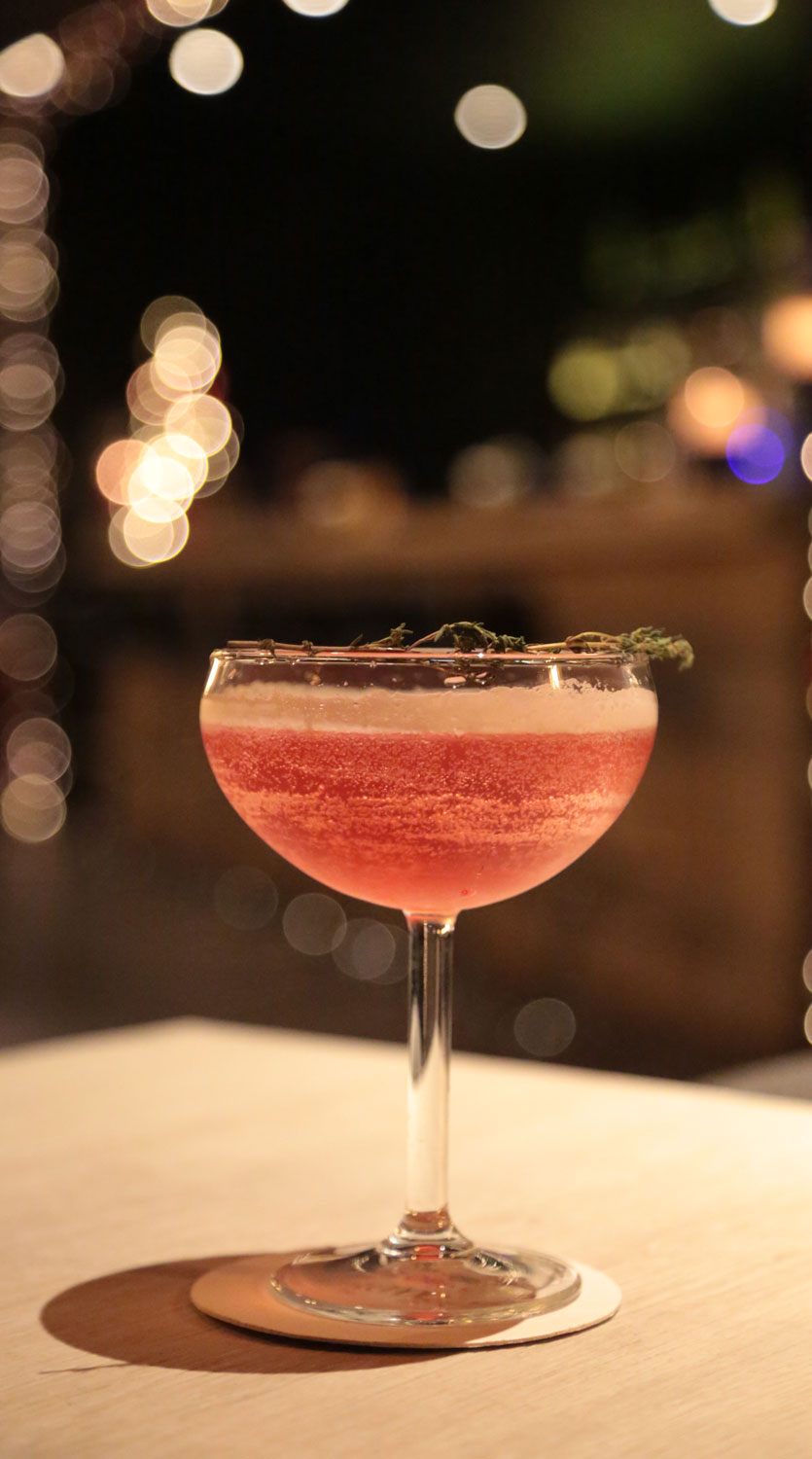 For food, we chose to try the 2 sharing platters Ward 7 has to offer. The Crispy and Crunchy platter (Rs.2,200) had cheesy chicken croquettes, crispy fried calamari rings, BBQ lamb puff pastry and polenta chips with guacamole. Our favourite of the platter was the calamari rings served with a sweet chili sauce but the croquettes were quite great as well.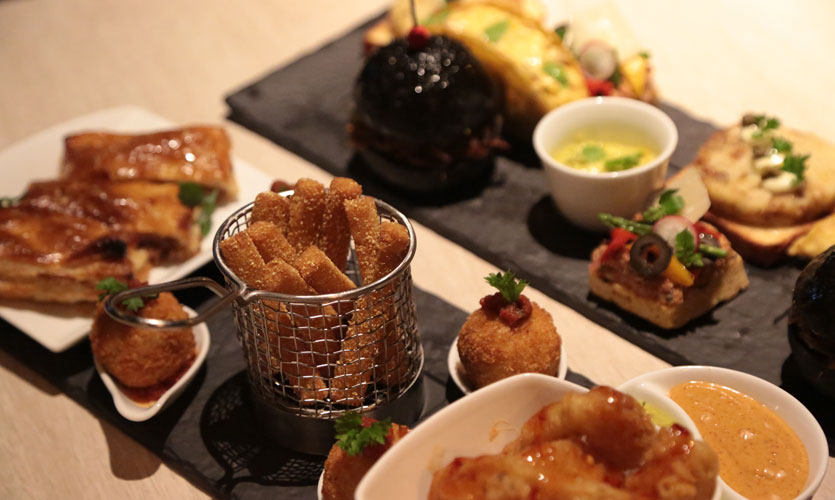 The Crostini and Mini Burger platter (Rs.2,900) had tuna bruschetta, toasted pork taocos, sour crab on toast and squid ink beef burgers. The squid ink beef burgers is the star dish of the hotel's restaurant 57 and the rooftop bar serves mini versions of the famous burger and we loved it! The tuna bruschetta was delicious and the pork tacos were crunchy while the sour crab on toast gave the perfect finish for the meal.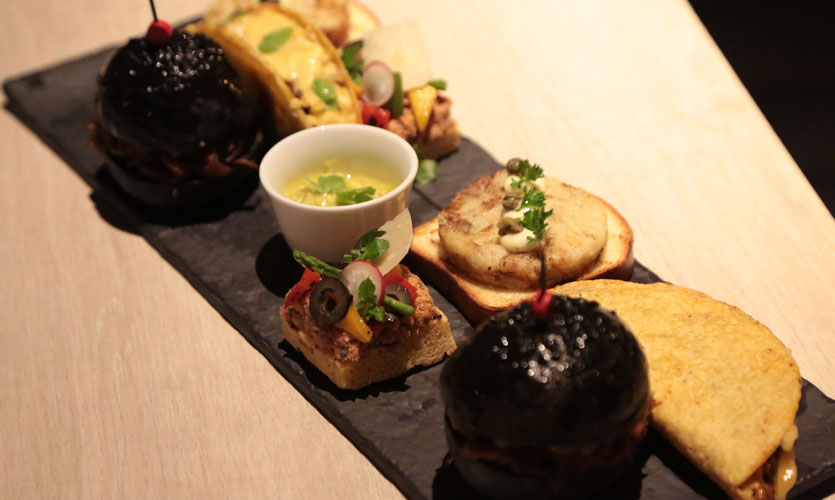 Highlight: exciting cocktails and a great Friday night hangout spot!
AMBIENCE
Rooftop restaurant and bar, 41 Sugar is all about chic, elegance and class. Spacious seating, dim lighting and elegant décor are a few good things about 41 Sugar.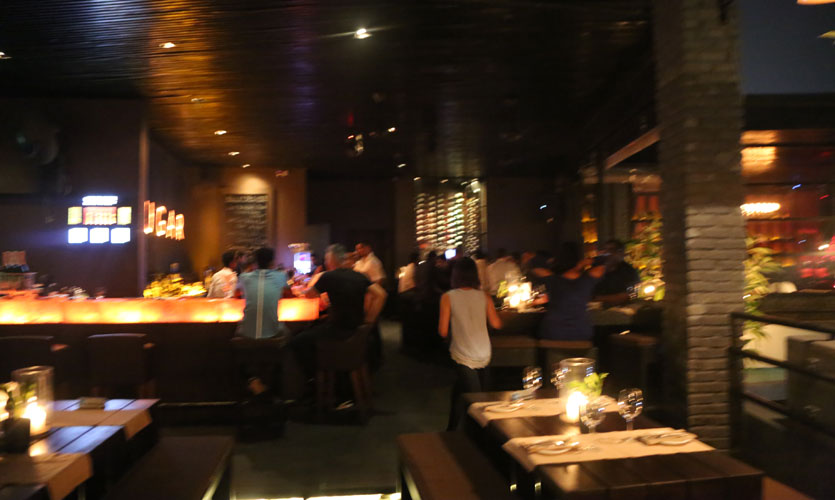 Friday nights usher in a full house. Tables are a little difficult to get without a reservation but the ambiance is such that most of the guests prefer standing, mingling and dancing to the music from the live band.
We loved the balanced atmosphere 41 Sugar had. If you are looking for a place that isn't too quiet and isn't too loud; 41 Sugar is definitely the place to be.
41 Sugar has an impressive bar running the length of the room. They've also got a set of skilled bartenders who make sure to do a few tricks and turns while they make your drink. Their bar menu has cocktails, champagne, wine, spirits and juices. The cocktail menu is divided into Whiskey, Vodka and Rum based drinks.
We started with their whiskey-based cocktail titled 'Old Fashioned' (Rs. 1500) which at first glance feels a little expensive for a cocktail but be assured that it's a theatrical experience. This Old Fashioned is a mix of bourbon and bitters and is smoke infused. The taste of the drink is great but it's the making of the drink that's the real entertainment. We were utterly fascinated with the techniques the barman used to make this drink and the skill and care taken to get just the right hint of smoke into the drink.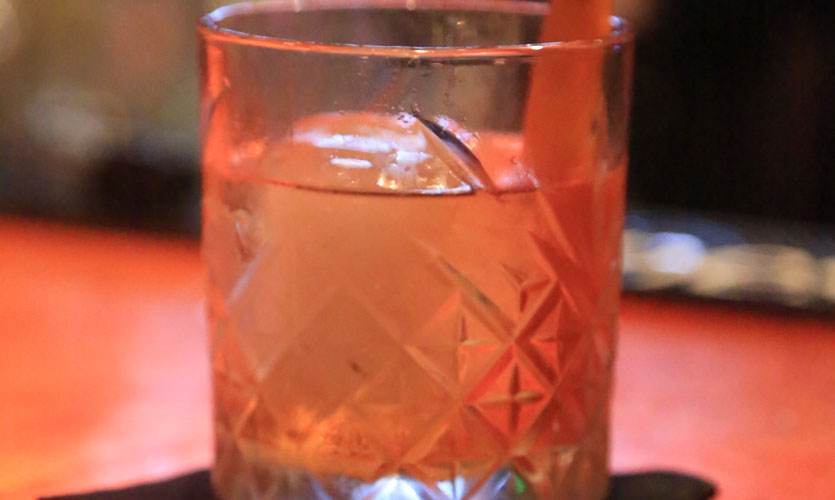 We also tried out their Tom Yum Daiquiri which was a mix of rum, passion puree, lime juice and tobacco. This drink we found was a very spicy one with a kick that only reaches you when the drink hits the back of your throat. So if you are feeling bold and adventurous; this is one to check out!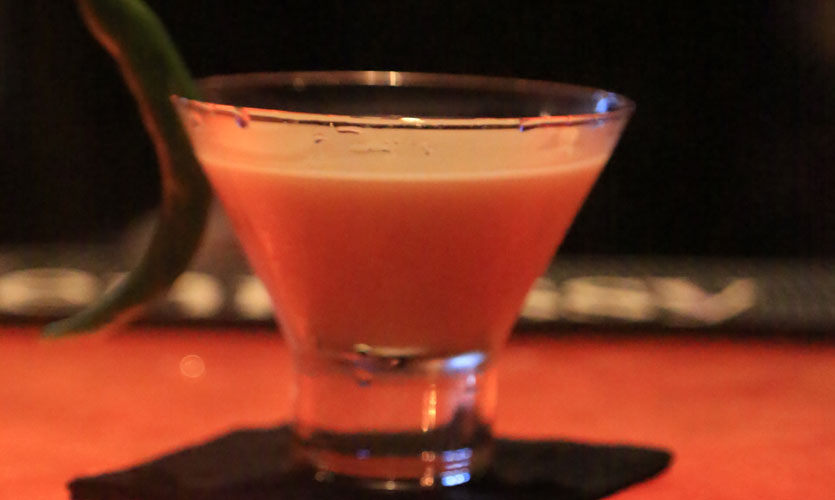 We had a variety of food from their Tapas menu. The platter had a mix of finger foods including their Balinese Chicken Wings, Beetroot and Goat Cheese Bruschetta, Lamb Bolognese Spring Rolls and Crisp Patty's.
We loved the chicken wings that were served with the chili garlic dip and the Bruschetta was divine with a good balance of flavors.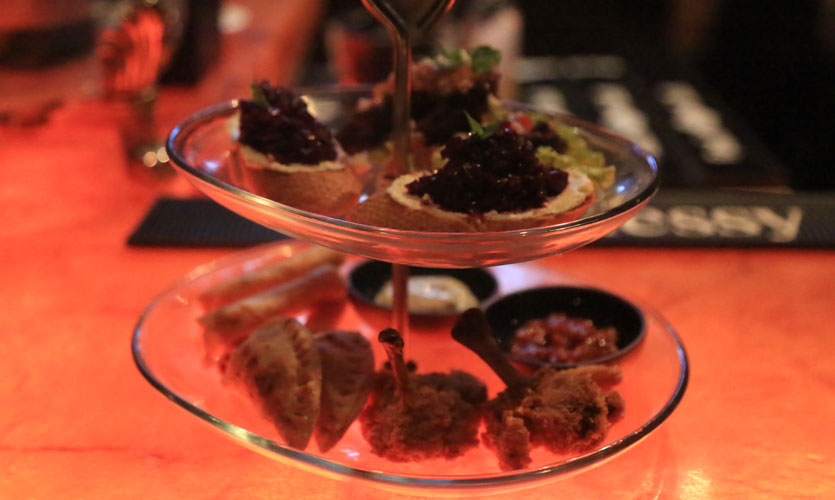 Their Tapas menu also includes Scallops, Tamarind Prawns, Tempura Mussels and many more unique snacks that you are unlikely to find at any other bar.