The Roadhouse is a food truck in Mount Lavinia serving up mouthwatering kottu. Parked on the Hotel Road, next to the ODEL, this little food truck is hard to miss with its constant crowd of customers and funky décor.
Owned by Dilshan Silva, the food truck is managed by a group of young boys since its inception in December. Even though it's a food truck, the Roadhouse doesn't move from one place to another and prefers to stick to one location when they are not catering to parties and functions. They also don't offer any outside seating so it's a pick up and take home to eat kind of an option.
The menu at the Roadhouse is limited with a few options to choose from but we were quite happy with the kind of options they were offering! The day we went they were offering 5 types of kottu; Roast chicken, naimiris, devilled chicken, chilli beef and vegetarian kottu. Their menu tends to change from time to time so it's not the same flavours every time.
We started off with the Nai Miris Chicken Kottu (Rs.430). We've heard great things about this kottu and NaiMiris is one of our all time favourite choices, so we were super excited for it. We were given a steaming kottu straight from the grill and from just a whiff of it we knew it was going to be quite spicy and we weren't wrong! The kottu was packed with naimiris and roast chicken and the flavours were phenomenal! This is not a kottu for the faint hearted though and it is definitely recommended that you have something cold to drink when you eat this.
We then tried their Devilled Chicken Kottu (Rs.450) which is equally spicy but with a sauce like consistency in the kottu. This too was a favourite of ours and we really enjoyed the balance of flavours that it had.
Their Roast Chicken + Cream Cheese Kottu (Rs.480) is their twist to the classic chicken cheese kottu where they've replaced the milked down Happy Cow cheese with a cream cheese sauce in its place. The best part about this kottu is that you don't feel cheated on because you can actually taste the cheese when you dig in.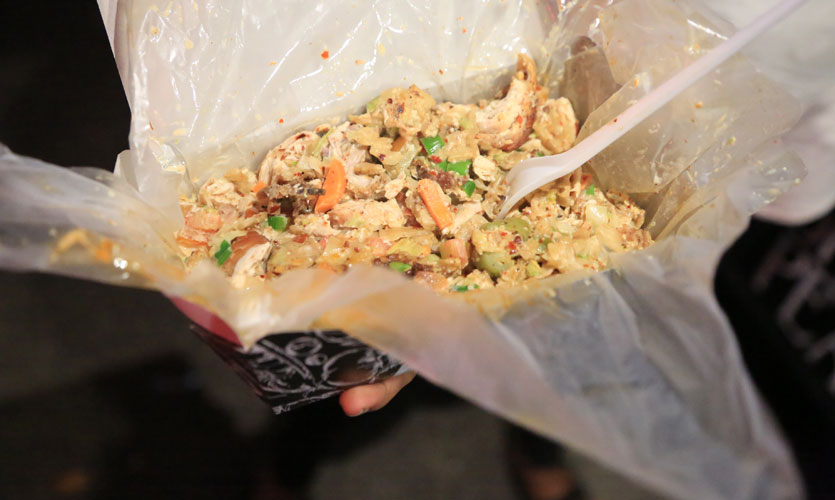 For vegetarians, Roadhouse offers Egg or Veg Kottu with Cream Cheese (Rs.400). We opted to try their Veg Kottu which was kottu mixed with more carrots, leaks and tomatoes than usual. It was a little disappointing because it's nothing special but it is a cleaner vegetarian kottu than the ones you will usually find.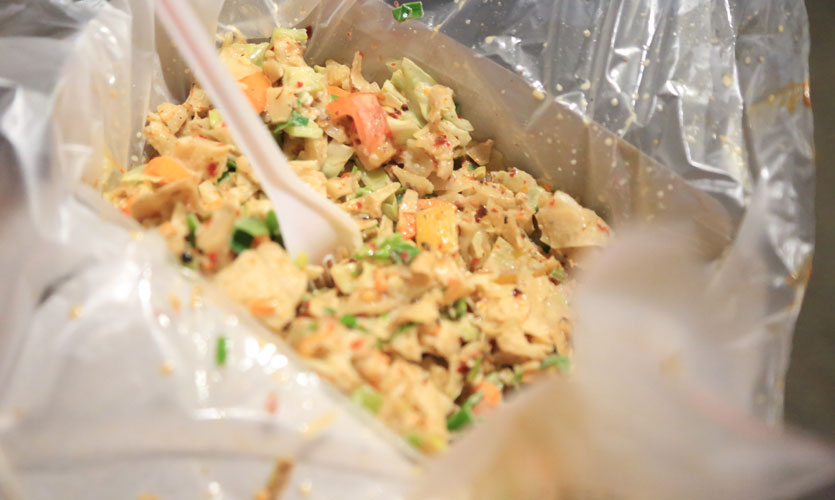 We really enjoyed the Kottu at the Roadhouse. It was clean and uncluttered and that really helped us enjoy our meal because for a change we were munching on rotti and chicken instead of large chunks of leeks and carrots! Their kottu choices, though very little, are well executed. The portions are quite large and each kottu can be shared by 3 people and for that price we definitely think it's a great offer.
Their service is pretty fast. Because they only offer take out, the chef behind the grill works hard and fast to get the kottu done in record time so you won't be kept waiting for long! They operate from Tuesday to Sunday from 6pm onwards so be sure to check them out! These guys have their own twist to kottu and we love it!
Facebook:web.facebook.com/TheRoadHouse.lk
phone: 0774668420
Photos Zeeshan Akram Jabeer