The Trendiest Food Truck In Town!
Snackster is a brand that hatched out of the need for a snack at your work place. It is a brand that came in to existence to fulfill your need for a snack during your long work hours in office. Since its initial stages, they have evolved greatly from an online business model to a mobile food business, through their own snack truck that go from place to place covering many events and visiting their corporate clients to finally finding the best mode to cater to the target market by partnering with corporates as a cafeteria operator which has now become a key focus area for them.
"We are different from your usual cafeteria operator as we bring to you a wide array of products through our partnerships with home bakers, small scale commercial bakers and snack/food companies as we create a physical platform for products that are best suited to our corporates. The idea is to have a good mix of snacks/meals and meal replacements, healthy food, juices etc. and to ensure that you don't have to walk far away from your work place to fulfill your cravings. What we pride ourselves in is the variety we can bring to you with frequent changes in menu to avoid mundane daily menus that can bore the customer easily."
Meet Milinda Gunawardena and Tharushie Senanayake, the force behind Snackster!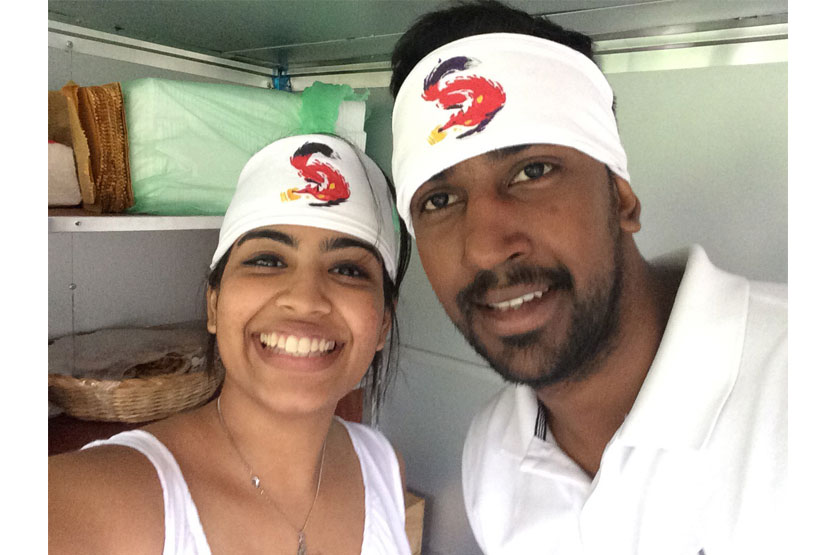 Whose idea was Snackster?
(Tharushie) Mili would get hungry quite often during work and used to tell me how great it would be to have a snack and a snack other than the usually 'short-eats' or biscuits he could get from a corner shop or convenient store.
We started talking about home bakers and how they are being really innovative with their products and wondered how convenient it would be to have all on one platform without having to meet a minimum quantity or to pay crazy delivery charges. We were just curious to see if we could do that for all these talented bakers, partner with them and give them an opportunity to reach a wider clientele. And that's when Snackster came to life.
After months of research and looking at so many different methods and business models we first started off with our snack truck catering to events and taking orders for corporate events, we eventually understood the best way to reach to our clientele is corporate cafeterias and progressed to be a cafeteria operator with a unique proposition.
What makes it different to any other caterer out there?
At work, we get hungry. The constant stress and demanding nature of one's work sometimes makes even meal times impossible. So we seek for snacks/meal replacements or expect your cafeteria to have food as good as your homemade food. Imagine having a physical platform, one which is in your office building and you don't need to step out, expose yourself to the unbearable afternoon heat or the hassle of calling, coordinating, arranging delivery or picking up. We create that physical space to address your need. May be you are looking for a healthy snack, perhaps a fruit juice in the morning or sweets and desserts after lunch or a cookie or homemade biscuits with tea. And we strive to have all that catered to you in your office space.
This is what we do, we identify your need and customize our products and bring in variety to your daily menus at work.
When did you start and what was your first project?

We put our thoughts on paper and started bouncing ideas off each other early last year and our snack truck came about and was ready to hit the streets by October. We had our first event at the premises of one of the telecommunication companies in Sri Lanka and have up to date sent our truck to events organized by corporates, education institutes and societies. We are personally behind the counter of our snack truck and this is an experience that we love and we wish to continue to always personally handle events. Nothing is more satisfying than to see and be able to receive feedback from our customers. Good or bad we welcome it all, the idea is to get better as we move forward.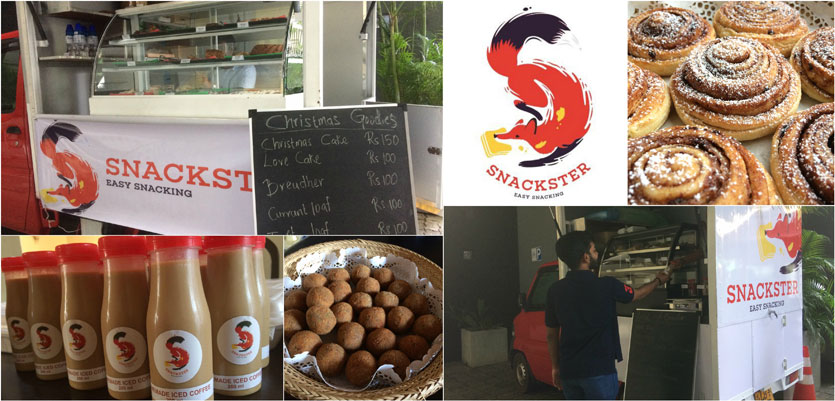 Any fun memorable experiences?
Mili and I (mostly Mili) used to talk a lot about having a healthy snack range and got this brilliant idea to come up with a fruit fusion for our first event. We were so excited that both of us were waiting to put this amazing product out there and having it sold out in no time. We spent quite a lot (trying to be fancy by putting expensive frozen fruit together in a cup) and ended up selling none - except the one we forced on a friend!
We had a hearty laugh, saw where we went wrong, learnt our lesson and made a mental note to never try it again! Whenever we come up with a brilliant idea for a new product, that story never fails to resurface!
What are the services Snackster provides?
As we have now identified our path as a cafeteria operator, we are mainly focused on understanding our target market and best catering to their needs. Therefore, apart from the mobile snack truck, our main focus has become corporate cafeterias. The cafeterias are stocked with Snackster branded products, products of small scale commercial bakers, and of course our own home bakers!
Our long term goal is an outlet housing your best home baked products in town, creating a hangout spot and your "go to" place to buy your snacks.
We are currently the cafeteria operator for a large conglomerate and are in discussion with a few banks and some companies in the apparel sector. All our front end staff are part timers, we encourage part time employment as most who are currently with us enjoy the opportunity to network with corporate customers whilst been exposed to management and customer care skills.
We wish to expand our base of home bakers and are constantly on the lookout for good products. You don't necessarily have to be well known, all we need is a good product and bakers who are willing to grow with us. We are also looking to introduce a few local snacks belonging to us Sri Lankans enhancing livelihoods in the process.
---
Check out their Facebook page for more information and follow them on Instagram. You can also contact them on 0774 938 541 to place your next order!