The Coronavirus and the two-month lockdown haven't been great for a lot of businesses – especially restaurants and cafés relying on hungry customers and diners to make a profit. But turning adversity into opportunity is a special skill we Sri Lankans seemed to have mastered over the years and that is exactly what we've successfully done in times like these. In this series, we talk to people who turned their passion for food and baking into a business idea. Some have been in the market for years and others saw the new opportunity and took it! With dining out now a distant possibility, these businesses are changing the game and have overcome the odds of running a business during quarantine. Here's how they did it.
DESSERT ISLAND
Thisura Goonawardena is a total foodie through and through and his latest venture (thanks to all the ample time curfew has provided!) is chocolate biscuit pudding with a twist. Experimenting and perfecting the recipe at home; Thisura had his product out and selling in no time to curfew bound customers looking to satisfy their sweet tooth.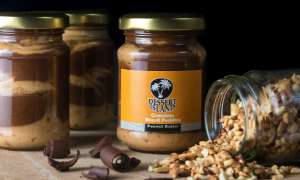 Q WHAT DO YOU OFFER?
Dessert Island specialises in chocolate biscuit pudding. We currently have 2 flavours – the Classic and the Peanut Butter and we offer it in 2 sizes of either a 120g jar or a 400g tub and I use a recipe that has been passed down from a few generations. Dessert Island is all about being a local dessert brand that's made using only local ingredients and aims to show our customers that what we produce with imported brands and ingredients, the same can be done with locally sourced goods. Every ingredient we use is manufactured or processed locally, even the peanut butter. We are also hoping to introduce a white chocolate biscuit pudding which is usually paired well with raspberries but we've decided to switch it up with local strawberries from Nuwara Eliya. instead.
Q WHEN DID YOU START OPERATIONS?
Dessert Island is a new brand and chapter of my life that I launched during curfew. I'm not new to the food industry; I was selling homemade gourmet burgers before but I wanted to serve food that won't be affected by delivery speed so I decided to enter into the dessert market.
Q WHAT WAS IT LIKE RUNNING YOUR OPERATIONS DURING CURFEW?
Honestly, it was exciting! I was glad to find my customers enjoying the little things in life from home. Online purchasing and contactless payment options were adopted well by the public. There was a trend on social media platforms promoting small local businesses, which I thought was a very kind initiative from our own Lankan family.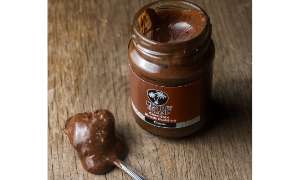 Q WAS IT DIFFICULT TO SOURCE YOUR INGREDIENTS?
Sourcing ingredients weren't too much of an issue since I have been in touch with most of the major food suppliers due to my previous ventures. Also, the fact that we only use local ingredients helped us avoid certain issues, especially relating to the ban on certain imports.
Q HOW ARE YOU ENSURING THE PROPER HYGIENE MEASURES ARE TAKEN?
All our desserts are prepared to order so we are able to serve fresh and quality products each time. None of our products are touched by the human hand from the point of preparation to storage and delivery. Apart from to the basic food safety measures such as hairnets and gloves, due to the prevailing situation, all our staff are required to wear new surgical masks and use sanitising liquids. We have also adopted all newly circulated food delivery regulations such as long pants and covered feet in addition to facemasks and gloves.
Q WHAT WAS THE MOST CHALLENGING PART ABOUT OPERATING DURING CURFEW?
Since all major food ingredient suppliers relied greatly on hotel purchases, as they currently suffer from bad debt and delayed payments, most suppliers have stopped issuing goods on credit basis and demanded cash payments. This meant that I had to introduce more capital than budgeted so that was a bit challenging initially!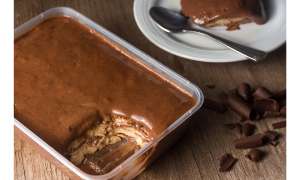 Q HOW DO YOU SEE HOME BAKERS GOING FORWARD POST COVID?
I think it's simply a game of tackling whatever issues that come our way and satisfying the customer's palate. We hope to introduce new flavours to our menu in the coming weeks.
*Orders can be placed via Instagram/Facebook (@dessertisland_ lk) or via www.teeskitchen.lk. Card payments, Mobile wallet payments and bank transfers are the accepted payment methods. Doorstep delivery is available within the Colombo District
BAKED WITH LOVE
Baked with Love is a partnership between aunt and niece Niranjala Nandakumar and Luxmi Wijeyanathan. The brand, born from both boredom and hunger, is described as a 'humanitarian endeavour' to cure cravings of all sorts.
Q WHAT DO YOU OFFER?
We offer all kinds of goodies ranging from creamy choux puffs and pastries, decadent eclairs, cupcakes and cakes to full-on dinner menus. Our teatime boxes and gooey chocolate cakes seem to be the most popular items.
Q WHEN DID YOU START OPERATIONS?
We used to make goodies for our friends and family on and off before curfew but we never really had an established brand. But the crazy amount of time we had in our hands helped us be creative so we decided to create something we typically wouldn't have because of our busy lifestyles.
Q WHAT WAS IT LIKE RUNNING YOUR OPERATIONS DURING CURFEW?
It was quite unique, as we had to source all of our materials online. So, it's a challenge sometimes when the deliveries aren't made on time. But we try to combat this problem by having a little extra material on standby, just so we don't ever run out. Also, we had to find a reliable courier who manages to deliver the products carefully. But other than that, we tried to make the situation work.
Q WAS IT DIFFICULT TO SOURCE YOUR INGREDIENTS?
At first it was a bit difficult to source our ingredients but now we have managed to find quite a few vendors who sell the products we need. Hopefully, this relationship will continue even after curfew.
Q HOW ARE YOU ENSURING THE PROPER HYGIENE MEASURES ARE TAKEN?
We always sanitise the packaging of any deliveries made to us before they are used. Also, we ensure that all of our food is only made in extremely hygienic conditions and thoroughly clean all surfaces before and after use. We also stipulate that the courier wears a mask, gloves, and keeps sanitised while making the deliveries.
Q WHAT WAS THE MOST CHALLENGING PART ABOUT OPERATING DURING CURFEW?
The most difficult part was finding the vendors to source our ingredients. We only use high-quality ingredients so that our food is as delectable as possible. We really didn't want to compromise the quality of our products and so we were patient until we found exactly what we needed.
Q HOW DO YOU SEE HOME BAKERS GOING FORWARD POST COVID?
I think that people have a lot of time to try new types of food these days and I hope they develop a liking to home-baked goodies. I think people can feel the love and hard work we put into baking and will continue to support us home bakers.
*Orders can be placed via Instagram (@bakedwithlove_29) or Facebook (@Bakedwithlov3) or via call on +94(76)7360039. Bank transfers are the only accepted method of payment.