The coronavirus and the two-month lockdown haven't been great for a lot of business – especially restaurants and cafés relying on hungry customers and diners. But turning adversity into opportunity is a special skill we Sri Lankans seemed to have mastered over the years and that is exactly what we've successfully done in times like these. In this series, we talk to people who turned their passion for food and baking into a business idea. Some have been in the market for years and others saw the new opportunity and took it! With dining out now a possibility, these businesses are changing the game and have overcome the odds of running a business during the quarantine. Here's how they did it.
WARM DELIGHTS BY MRS. C
For Kumari Cooray, baking has been a childhood hobby. Being the family designated baker has allowed her to make a shift from being a professional dressmaker to a full-time home baker.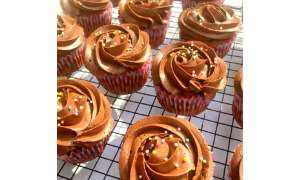 We offer bakery items, short eats, cakes, and desserts. Our signature product is our Savoury packs, where we provide customizable packs ranging from 2-5 pieces per pack, which is mostly requested for private functions.
A few of our best selling items are our sandwiches, especially the fun and colourful 'Rainbow Sandwich' - a triple-layered vegetarian sandwich, our mini pizzas, our pastry items such as the egg and seeni sambol puff pastry is a hit with the adults and for anyone with a sweet tooth our mini eclairs and fudge brownies are a must-try!
Q

When did you start operations?
We started our operations in early 2019 and during the first few weeks of the COVID outbreak in the country, our operations were halted, but as curfew began to relax, we began to adapt accordingly. We had to take in orders much earlier in advance than we were used to because the curfew times were unpredictable and we also had to reduce our minimum order quantity so that we can be flexible to our loyal customers given the situation.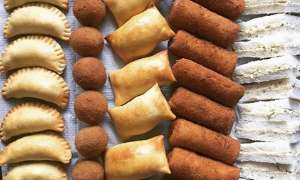 Q

What was it like running your operations during curfew?
Challenging! Because curfew was imposed at the most random of times it was difficult for us to figure out the logistics and source our ingredients and confirm orders.
Q

Was it difficult to source your ingredients?
Yes! We usually get most of our fresh ingredients delivered directly from our suppliers and farmers, but due to curfew, we had to find alternatives like credible supermarkets and grocery stores. Most of the bakery ingredients were also essential items, like milk, butter, eggs among others so they would run out fast, and sometimes the online orders for ingredients would take longer. Because of this, we had to confirm orders in advance and buy the required quantities and prevent buying in excess as everyone was experiencing a shortage of essentials.
Q

How are you ensuring that proper hygiene measures are taken in preparation and delivery?
As an established home baker, hygiene for our team has always been the highest priority from the get-go. We have been using hair nets and disposable gloves in our preparations, and the new addition has been the use of surgical masks. When sourcing ingredients, we only purchase items through credible retailers who are exercising the required standards of health and hygiene and always ensure that all surfaces of the kitchen and all utensils are cleaned and sanitized before and after the preparation of food. In terms of delivery, we have a designated in-house delivery party who has been working with us from the beginning so they are masked, gloved, and maintains a safe distance with our customers.
Q

What was the most challenging part about operating during curfew?
The biggest challenge was sourcing fresh ingredients at a reasonable price. Because of the high demands and unavailability, the prices of most goods increased and our profits lowered drastically. Even so, our motive to serve our customers with fresh and tasty food kept us going because we believe that good food has a way of putting people in a good mood – and we all needed to find something to keep us smiling.
Q

How do you plan on going forward post-COVID?
Food is very personal and intimate to all of us. As home bakers, we are able to put a lot of attention and detail into our products, and it is our authenticity that really sets us apart. These past few months have been a test of patience and perseverance, to say the least, so I believe that if we all carry forward with us the valuable lessons learned, the future will be positive and there will be room for all of us to work together and recover strong as a country.
Orders can be placed via phone or through Facebook (@WarmDelightsbyMrs.C) or Instagram (@warmdelightsby_smrsc) or via email ([email protected]). Cash and online transfers are accepted methods of payment.
DASH OF SALT
A brand inspired by all the free time as a result of COVID – 19, Shanaka Waduge, and Harshani Randeniya are two neighbours coming together to make dinner a culinary affair.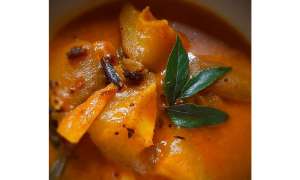 We are offering a dinner with a difference. Portions that are an envy and presentations that bring an immediate 'wow' – all this combined makes Dash of Salt the newest caterer in Colombo.
Q

When did you start operations?
Dash of Salt is a part-time venture that birthed as a result of Covid-19. Shanaka is a busy working mom with a strong passion for cooking and does 'Home Cooking Made Simple' during weekends teaching kids cooking and etiquette as well as teaching easy recipes for kids going off to college. Harshini, as a stay at home mom, loves cooking and opts to make her dishes like the Sri Lankan version of Nigella's kitchen. Because we were confined to our homes during curfew, it made us explore passions that had been pushed aside by busy schedules. It enabled us to get to know our neighbours better and share recipes. And then the birth of the idea to cook up some great meals for people confined to their homes emerged.
Q

What was it like running your operations during curfew?
The thrill of finding a means to be occupied while confined to home was really exciting. The curfews had turned all our lives upside down but it showed a lot of people new avenues. It was such a thrill to order ingredients online from multiple parties who were also starting their own online businesses and hearing our bell go off and running off to get our ingredients.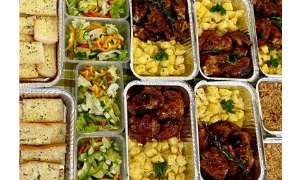 Q

Was it difficult to source your ingredients?
It was only natural that sourcing ingredients would be an issue during a curfew. We had to source from multiple places and that made it challenging. Our online providers were also cooperative and guided us to others when they ran short and our clients were also understanding when we had no choice but to adjust some menu items. COVID-19 situation helped develop a lot of compassion and understanding in people. The silver lining of the unexpected pandemic was the creation of an entrepreneurial ecosystem.
Q

How are you ensuring that proper hygiene measures are taken in preparation and delivery?
As mums and hygiene freaks, we both have spotless kitchens and are super crazy about ensuring cleanliness! We pay special attention to how the meal looks and give portions that's more than value for money. From sourcing our ingredients to our delivery to our clients, we take every precaution for safety and hygiene.
Q

How do you plan on going forward post-COVID?
What took off as a venture to pass time during curfew and tap into our passion for cooking has now even surprised us. We are now juggling with preparing multiple menus and our clients are chipping in with ideas. It's an awesome relationship we have built.
Orders can be placed via Instagram (@dash_ofsalt) or over the phone and requires 2 days notice in advance. Cash on delivery and bank transfers are accepted. Delivery is available in Colombo and suburbs.