Calorie Counter is a cozy restaurant with branches in Ward Place, Havelock Town and Galle. They are pioneers in instilling dedicated healthy restaurants in Sri Lanka. Calorie Counter refurbishes their menu every 6 months to keep up with the new trends and introduces superfoods they come across. They carefully go through the available ingredients and experiment as to how many ingredients they can incorporate into a dish whilst keeping it interesting and delicious. Calorie Counter has introduced quite a few dishes this time around and following are a curated review on each item.
Food
Salads
Hydrating Salad
The Hydrating Salad (Rs. 690) comes with cucumbers, red bell peppers and onions with a red wine vinaigrette dressing and sesame seeds. This was a pretty basic salad and the red wine vinaigrette cut nicely through the veggies balancing the flavour.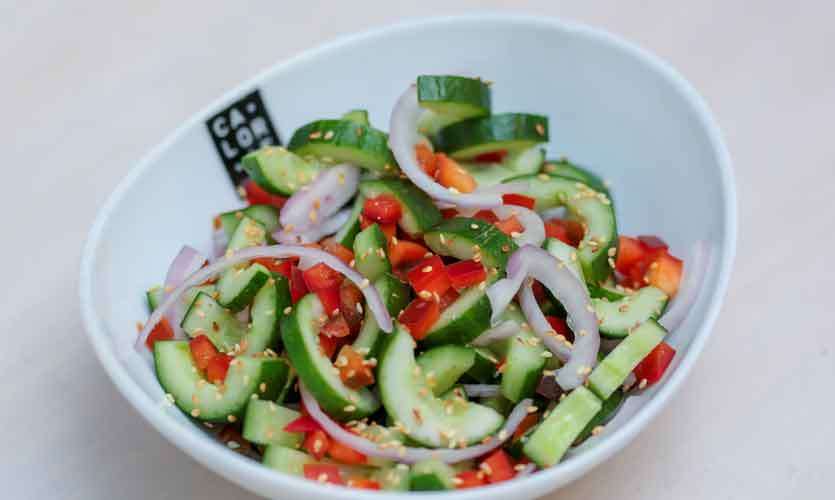 Iron Boosting Salad
Iron Boosting Salad (Rs. 590) comes with spinach, cucumber, avocado, strawberries and cashews with chopped peanuts and a vinaigrette. Unfortunately, the cashews in the presentation didn't make it to tasting, but chopped peanuts were there. The strawberries added a nice sweet component to it, giving it a new depth of flavour.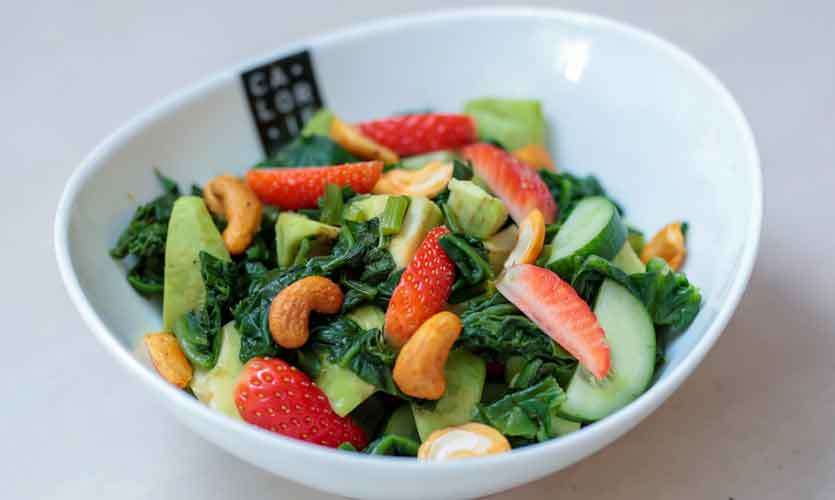 Master Cleanse Greek Salad
The Master Cleanse Greek Salad (Rs. 680) consists of black olives, cucumber, cherry tomatoes topped with feta cheese and couscous. This dish was packed with flavour with the tangy flavour of olives, the slight sweetness of cherry tomatoes, the spice of onions and the cooling flavour of cucumber.
Revitalizing Detox Salad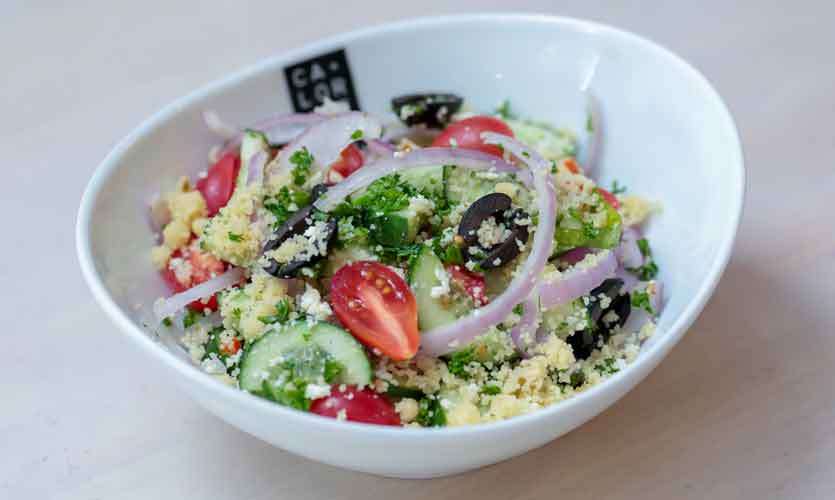 The Revitalizing Detox Salad (Rs. 875) comes with kale, cabbage and onions with chopped cilantro and toasted peanuts topped with an avocado mash and pomegranate. This was a breath of fresh air with the pomegranate seeds and purple cabbage. But much of cilantro couldn't be tasted.
Meat Dishes
Vitamin Rich Coconut Chicken
The Vitamin Rich Coconut Chicken (Rs. 790) comes with healthy baked coconut crumbed chicken with green chilies and a spicy herb puree. The chicken could have been a bit tender, but the combination of coconut crumbs and chicken was mind-blowing. The puree is a dipping sauce consisting of ginger, garlic and turmeric and this gave that zing the chicken needed.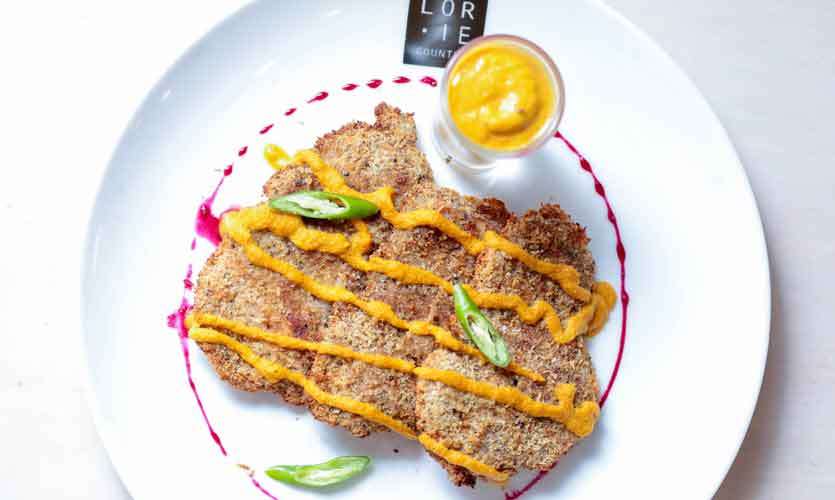 Anti-Oxidizing Chicken
Spicy grilled chicken with mango, bell peppers and onions cooked in the chicken broth is what comes in the Anti-oxidizing Chicken (Rs. 1150). This was by far one of the most unique dishes we have tasted. The warmth and sweet notes of mango go hand in hand with the meaty notes of chicken and the spices gave just the right amount of kick it needs. The broth could be drunk like a soup, it was that good!
Lean Pesto of the Sea
Lean Pesto of the Sea (Rs. 1450) came with baked juicy barramundi fish in basil pesto, peanuts and olive oil. No peanuts were there for tasting and the pesto was a bit too leafy and it didn't have any earthy, nutty, garlicky notes it would generally have. The fish was cooked quite well.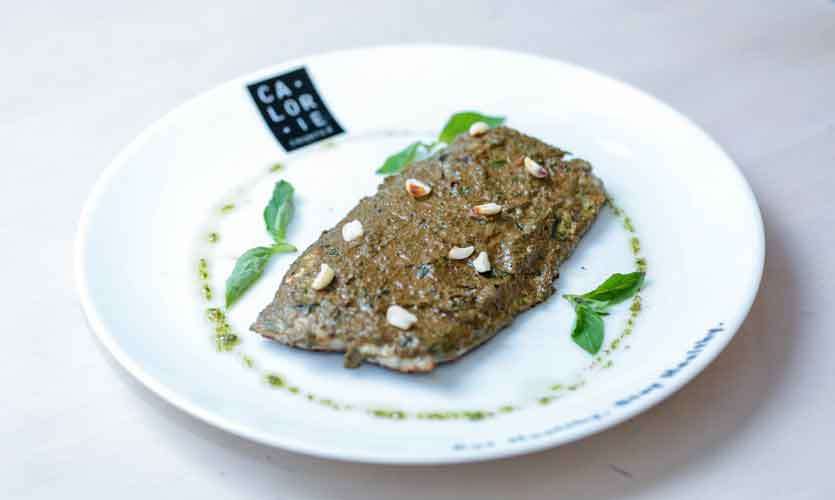 Mixed Grill
The Mixed Grill (Rs. 2458) comes with imported beef steaks, honey mustard chicken, white fish with grilled vegetables, green salad, a bulls-eye omelette and crushed red pepper paste. Unfortunately, we didn't get grilled vegetables, green salad and the bulls-eye for tasting but the rest was quite tasty. The highlight of the dish was the crushed red pepper paste, tasting even better than chili paste. The honey mustard chicken was cooked to perfection, but it seemed like it didn't belong there.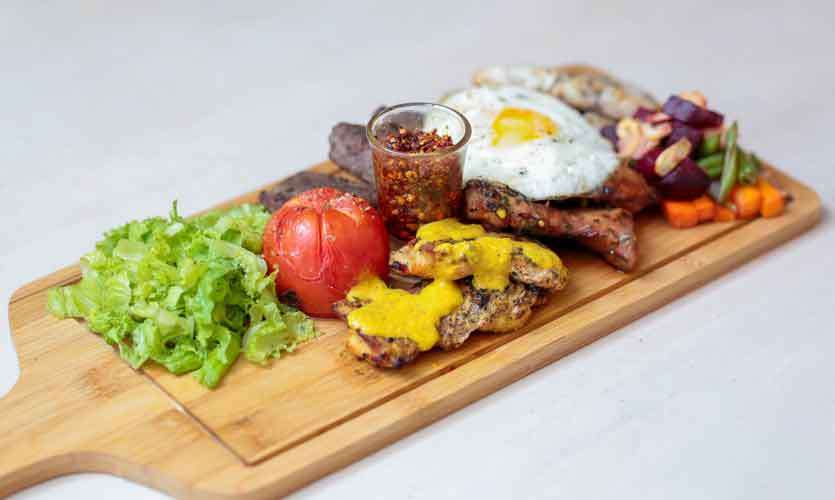 What we recommend: The Anti-oxidizing Chicken and Vitamin Rich Coconut Chicken were our favourites!
Service: 5/5
Parking facilities: 5/5
Toilets: 5/5
Would we go again?
Yes, we definitely would go again. Can't wait to see the fun stuff they'll be whipping up in the future.
Tips/notes by author – All prices are subject to government taxes. Please notify them if you have any food allergies beforehand as they use many ingredients for their dishes.
Photographer -
Damith Wickremasinghe