Discovering Mizu was akin to mistakenly stumbling upon a secret, elusive, word-of-mouth famous spot. We hadn't seen any adverts about it or Facebook posts, a google search proved fruitless, and we had to actually call them up to make sure the place wasn't fictional and actually existed!
Mizu, at Ramada, doesn't actually have its own restaurant space per se. But F&B Manager Dinesh Hettiarachchi informed us that we had the liberty of being able to order off the Mizu menu in any dining space at Ramada, be it at Alhambra, Gardenia or out by the poolside, whatever your desire may be. We thought this idea was pretty convenient, not being limited to a certain space when you can, say, simply enjoy your sushi by the pool!
---
Food
They have quite a sizeable menu that included large photographs of all the items on offer, which can be pretty helpful when deciding on your order. Dinesh helped us pick out items off the menu and Chef Chamila helped explain to us what we were eating.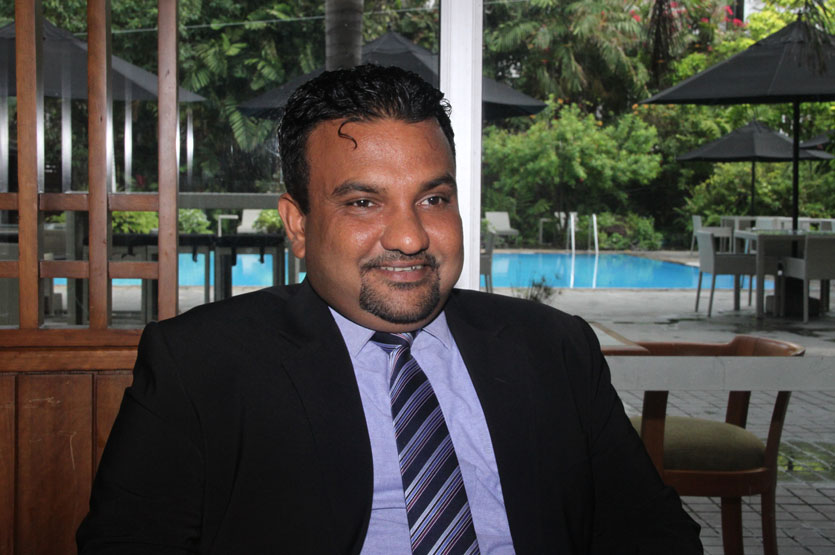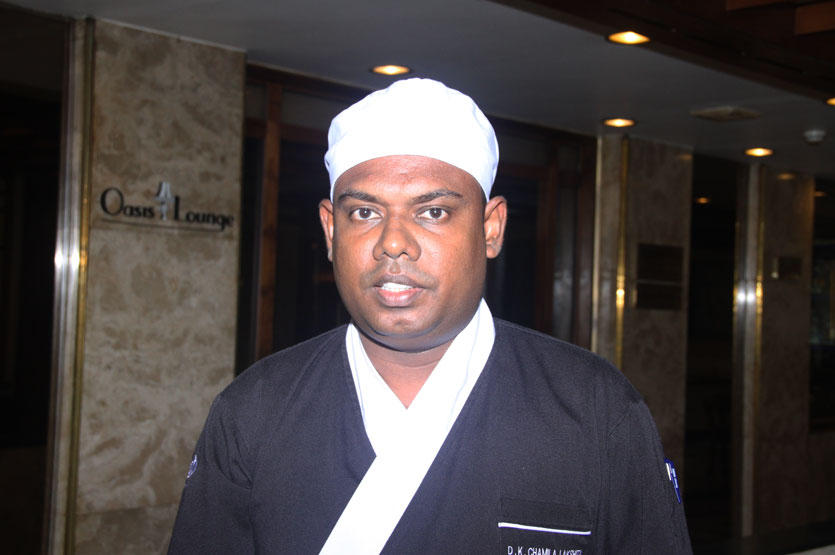 We started off with the Cheese Maki (Rs. 500). The pairing of cream cheese, mango and pineapple worked like a charm and we couldn't get enough of it. We tried it with and without the soya sauce/ wasabi pairing and it worked both ways. The delightful platter also included a small assortment of fresh fruit like grapes, sliced mango and apples. We would recommend this starter to anyone any day!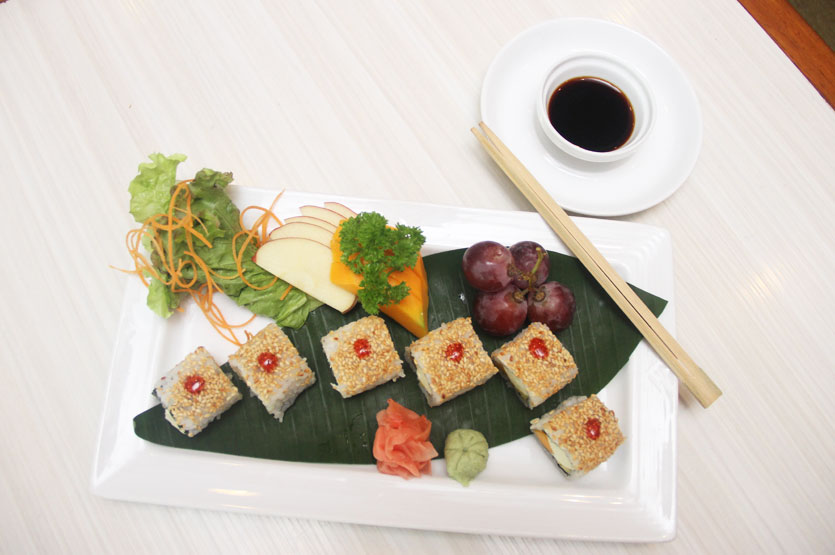 The Miso Soup (Rs. 400) offered a good contrast to the starter and provided a savoury yet salty element. The soup, made of dry fish stock, included eggplant and spinach. Thankfully, the fish stock added extra flavour without overpowering the soup. Chef Chamila informed us that the Miso soup can be made especially for vegetarians, if you so required, with a vegetarian substitute for the fish stock.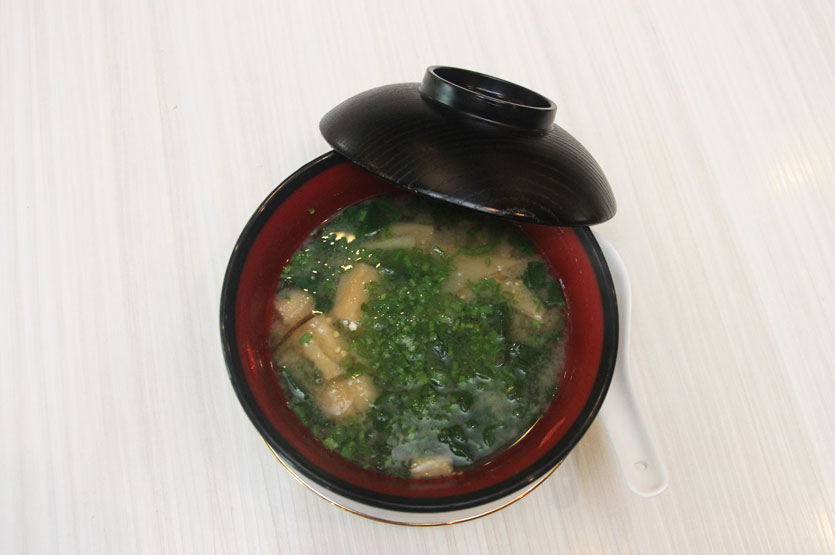 We then tried the Chicken Katsu Curry (Rs. 850) that comprised chicken coated with Japanese breadcrumbs and deep fried then slathered generously with a Japanese traditional sauce. This came with steamed rice, veggies and pickle. The dish provided plenty of texture from the crispy chicken to the vegetables, and the thick onion sauce tied the flavours together beautifully.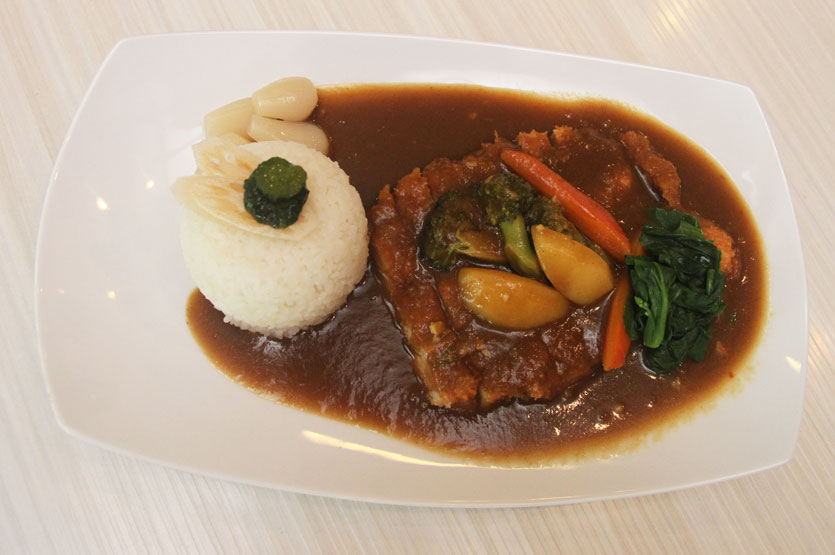 Finally, we tried the Mizu Bento Box (Rs. 1200) which has a good selection of Tuna and Salmon Sashimi, Papaya Mango Salad, Tofu and vegetables, tempura and seafood japanese fried rice. There's also usually Miso soup included, but since we already had it, it was left out. The sashimi tasted extremely fresh and was prepared perfectly. The papaya mango salad had an interesting zing and was packed with flavour. We also loved the tofu and veggie stir fry which tasted great. The fried rice was very fluffy and very tasty - each mouthful had plenty of seafood in it. The tempura included seafood and vegetable and was perfectly fried and crispy and worked well with the sweet tempura sauce. Without a doubt, the bento box is a wonderful mix of flavour and texture and is worth ordering, if you like variety.
All the dishes were well presented and were fairly large portion sizes. The food tasted great!
---
Service
The staff are all very friendly and helpful. In case you have questions about the items on the menu they are unable to answer, they will direct you to someone who could help you out. They also made it a point to let us know if any dish would take long and were happy to offer suggestions off the menu.
Mizu deserves to be plucked from relative obscurity because they provide good Japanese fare that's cheaper than those available in most other establishments. So do head over to Ramada for your dose of tasty Japanese food. Mizu is open from 11AM - 11PM daily.
Photographs by Pradeep Dilrukshana