My relationship with Laki Ratnayake, Anjinha Gomes and their dedicated team dates back to when we first walked into their bakery in Piliyandala, past 8pm in late December of 2016. The first review was all about the delicious European breads that they baked while the second was about the café that they had just opened up
This time we tried out their delicious lunch and dinner options and as always, the delightful dishes left us stuffed and speechless. Nishan Liyanage, Hot Range Chef, Baker's Choice and Dillon Fernando, Pastry Chef, Baker's Choice, will ensure that your tastebuds will get nothingless than an amazing experience all round.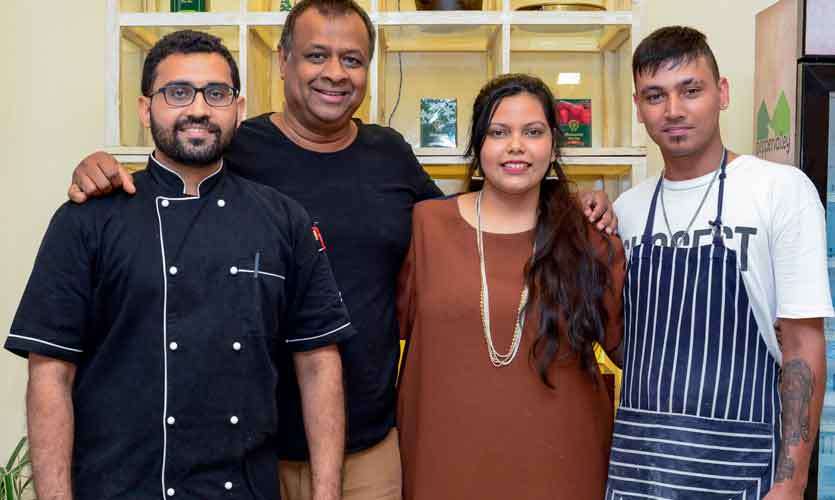 Ambience
The cute, chic café is the ideal place for a casual breakfast, lunch or dinner. The food is freshand delicious while the staff are super friendly.
Food
Drinks – 5 stars
They have a delicious range of Coffees, Teas and Cold Beverages (between Rs 100 to Rs 550).
Food – 5 stars
The menu for lunch and dinner are more or less the same however their sandwiches and fresh pasta are only served for lunch and dinner, respectively.
One thing they have maintained with all their dishes is that the portions are filling so that you don't leave Baker's Choice hungry and we started off with their simple Bruschetta (Rs 650) while their Mediterranean White Bean and Tomato Soup (Rs 650) is a delightfully filling treat. This Mediterranean-style soup is served with delicious blue-cheese croutons.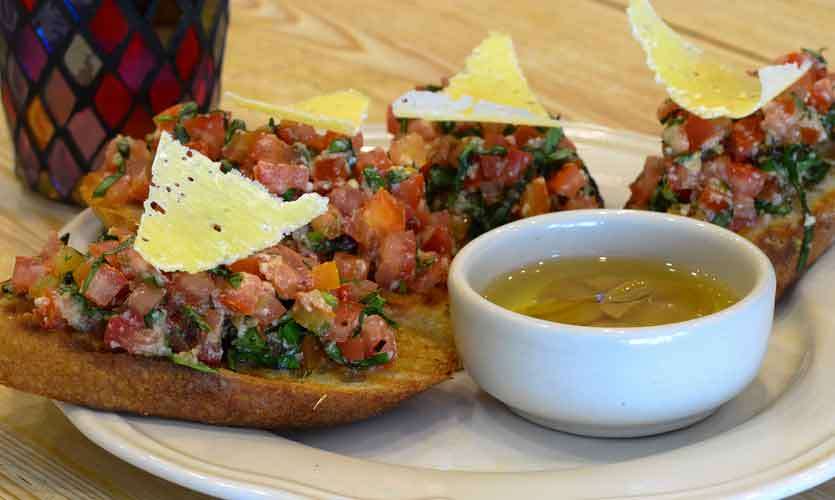 For meat lovers, an absolute must is the Rustic Beef Stew (Rs 1,050). This slow-cooked meal consists of soft chunks of beef along with a fine blend of bell peppers, root vegetables and red wine and served with fresh B.C Signature Bread ie, their bitter-sweet Stout Bread which is the perfect accompaniment to this hearty stew.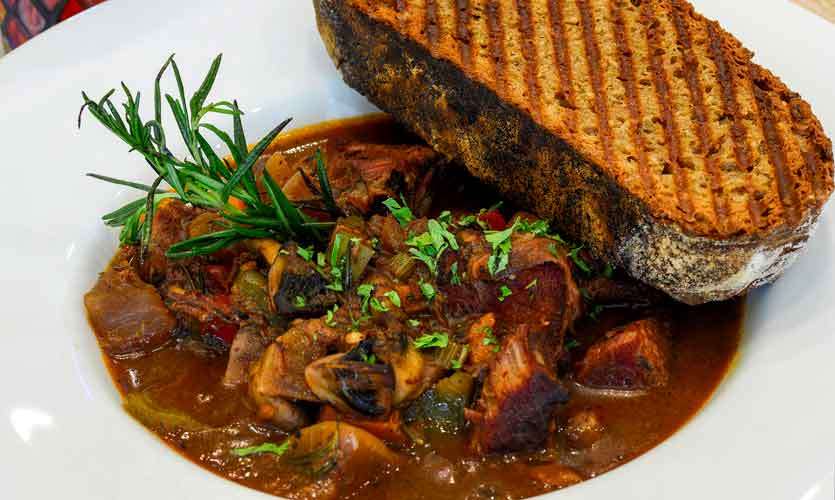 Sandwiches are the ideal lunch option so you must have their Slow-roasted Pork with Mustard Sandwich (Rs 550). The soft and flavourful pork is marinated in Mustard, Rosemary and Coffee and then slow roasted. It is then thinly sliced and sandwichedin between a Sourdough Ciabatta with lettuce, pickled onion, fresh tomato and a garlic, chillie and tomato sauce.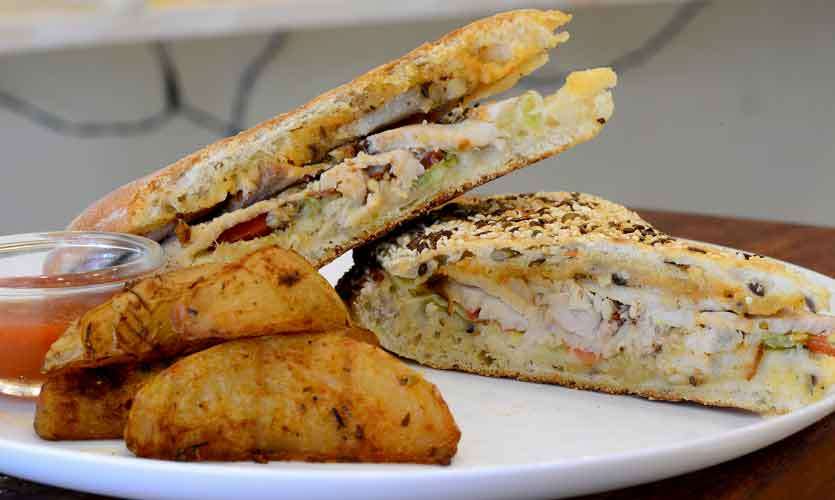 The Pie Meals are also value for money. Their artisanal pies are served with a house salad, creamy mash and gravy and you can choose from Chicken and Mushroom Pie (Rs 850), Spicy Chicken Pie (Rs 850), Steak and Stout Pie (Rs 950), Steak and Kidney Pie (Rs 950) Fish Pie with Peas and Carrots (Rs 950), Sweet and Spicy Pork Pie (Rs 950) or Cauliflower, broccoli and Potato with Cream and Cheese (Rs 900).
What stands out in their pies is the buttery pastry while the fillings are packed with flavour. If you don't want to go for a meal, you can always opt to have just the pies (priced between Rs 250 to Rs 300).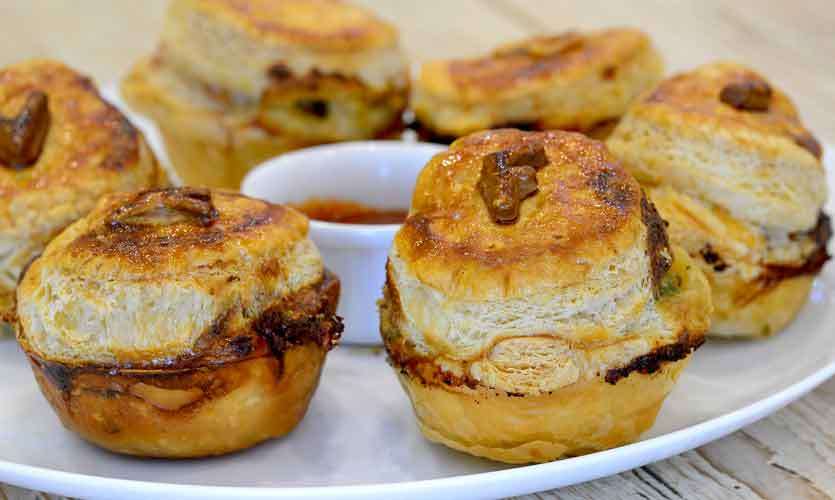 Their juicy burgers made with brioche buns and a side of potato wedges are also a must try. We tasted both the Baker's Choice Beef Burger (Rs 950) and the Baker's Choice Chicken Burger (Rs 900). The former consists of a minced beef patty with fresh herbs, smoked mozzarella, lettuce, tomato, onion, pickled gherkin while the latter consists of minced chicken seasoned with garlic and chillie, smoked mozzarella, lettuce, tomato and a spicy, sweet and zesty pineapple salsa.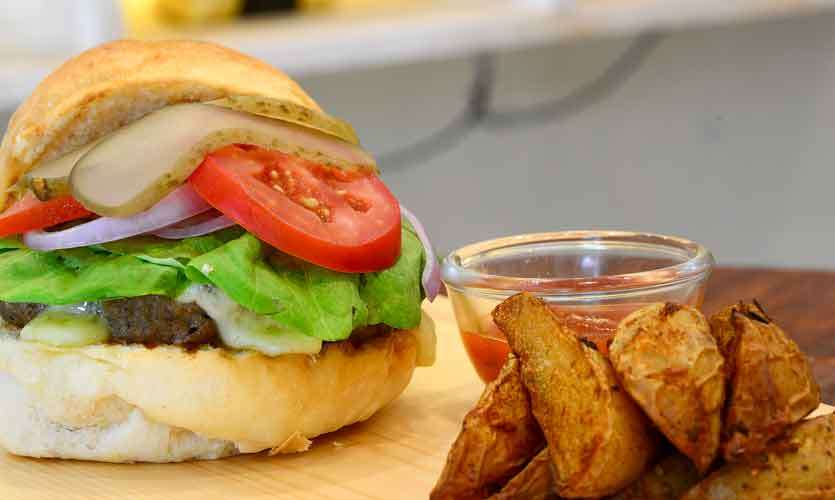 Baker's Choice also dishes out artisanal style thin crust pizza for lunch and dinner with our pick being the Bacon, Fig and Blue Cheese Pizza (Rs 1,650).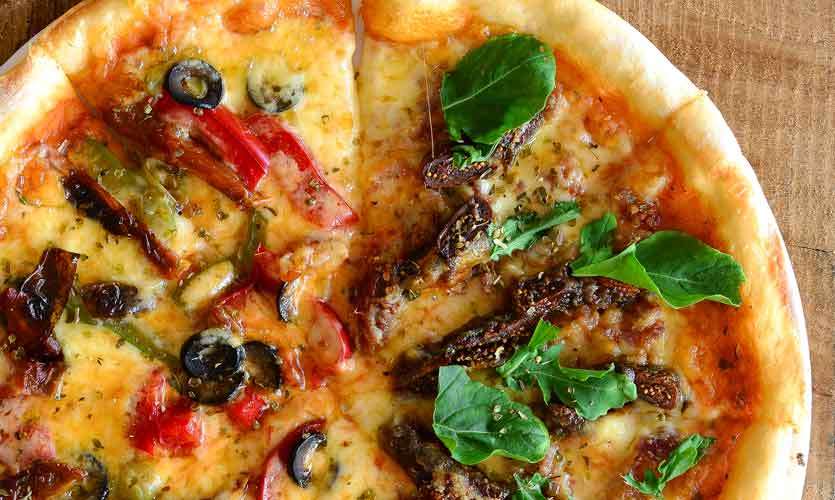 If you prefer something spicy then opt for the Spicy Sausage Pizza (Rs 1,650) topped with fresh arugala while the slightly mellow yet flavour packed Olives, Bell Pepper and Sundried Tomato Pizza (Rs 1,150) is also a delicious treat.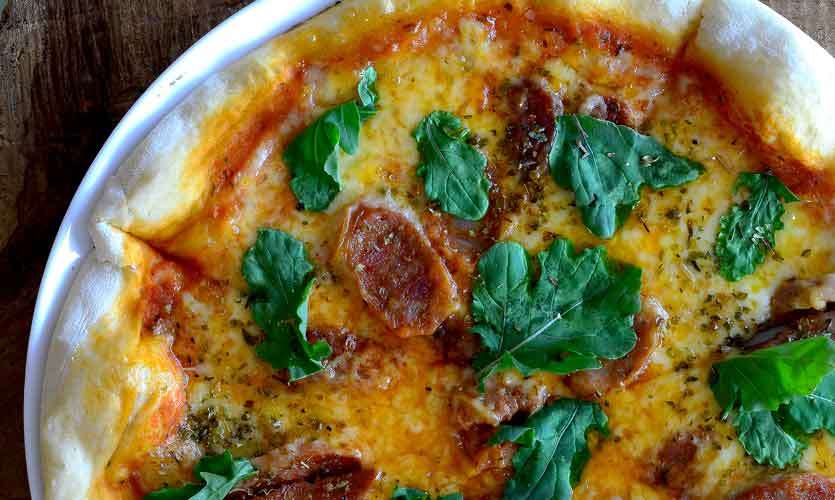 Once you taste fresh pasta, chances are you won't opt for the packeted stuff willingly and what Baker's Choice offers for dinner is fresh pasta. We had their Seafood Pasta (Rs 1,800) which came with shrimp, calamari and catch-of-the-day fish bathed in a garlic, chillie, capers and tomato sauce.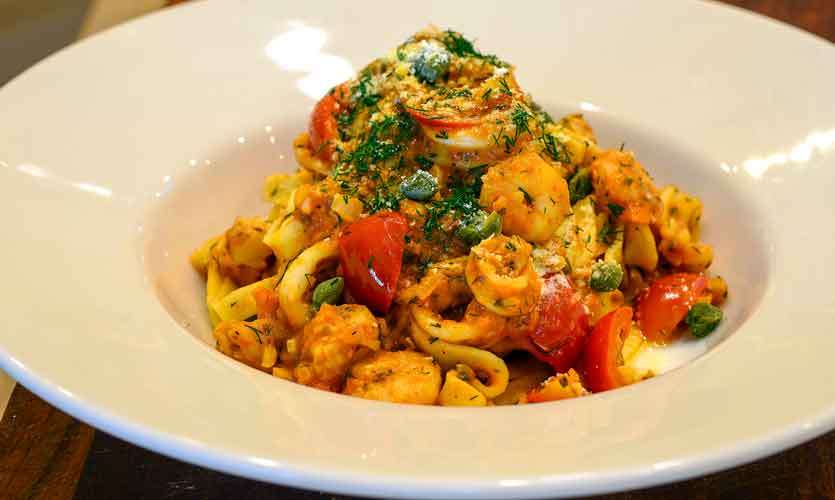 They also whipped up their mouth-watering Spicy Pork Ragu Pasta (Rs 1,500) for us. The dish comes fresh parpadelle pasta dressed in slow-cooked minced pork, chillie, garlic and fresh herbs.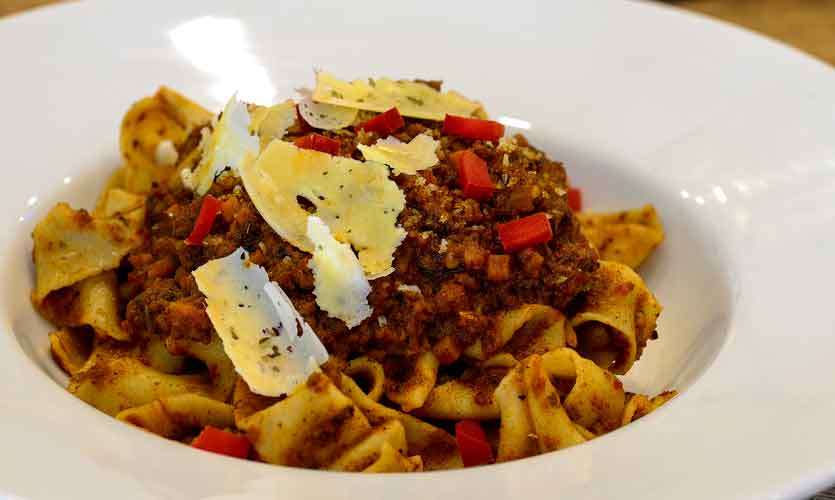 They have a number of sweet pastries and desserts to choose from, which alternate throughout the week. The day we visited we got to try out their Chocolate Pot, Citrus Pie and Eclairs as well as some of their buttery sweet pastries.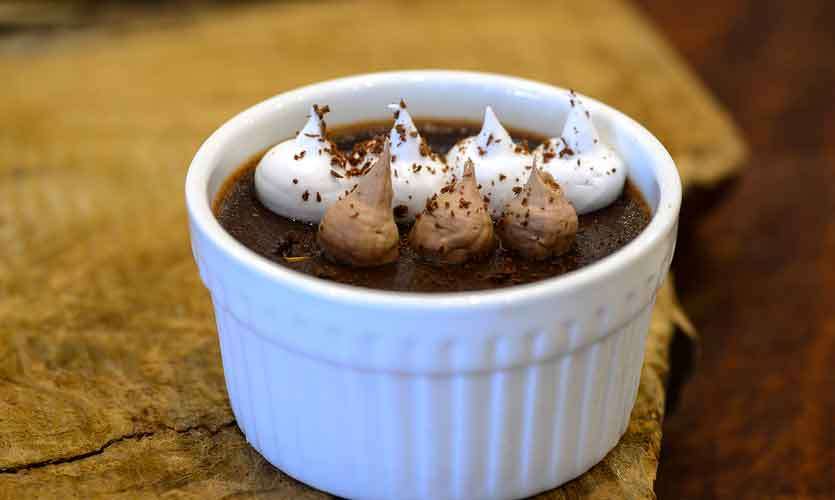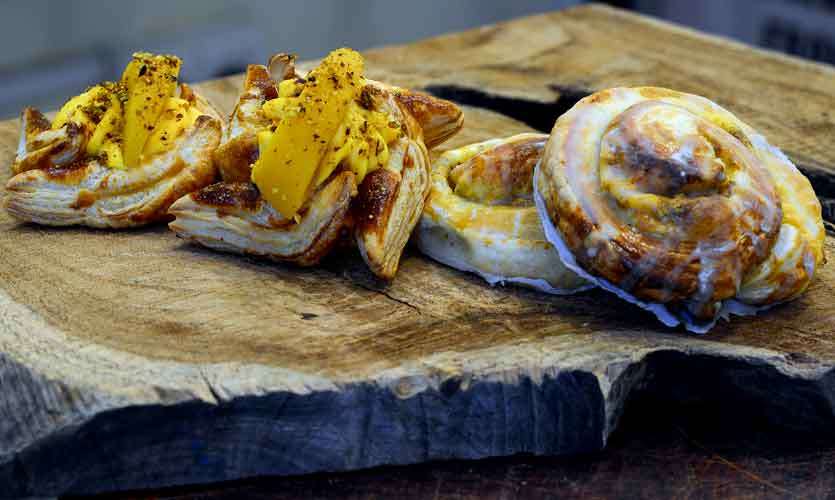 What we recommend: Everything we had was delicious so it was tough to decide which ones we liked best.
Service: 5 stars
Parking facilities: 5 stars
Toilets: 5 stars
Would we go again? Yes!
Tips/notes by author: Prices are inclusive of taxes and all charges
Pix by: Kanishke Ganewatte