Meaning chrysanthemum in Japanese, Kiku Colombo which is a sister branch of Shirohana, was opened to give the urban folk of Colombo a taste of Japanese cuisine fused with European dishes we all love with a touch of flora. It is a space where anyone can come and chill or work as well as host events or parties. It is a modern space that feels like you're being kissed by the sun and graced by the fragrances of baked goods whilst feeling warm by their amazing companionship.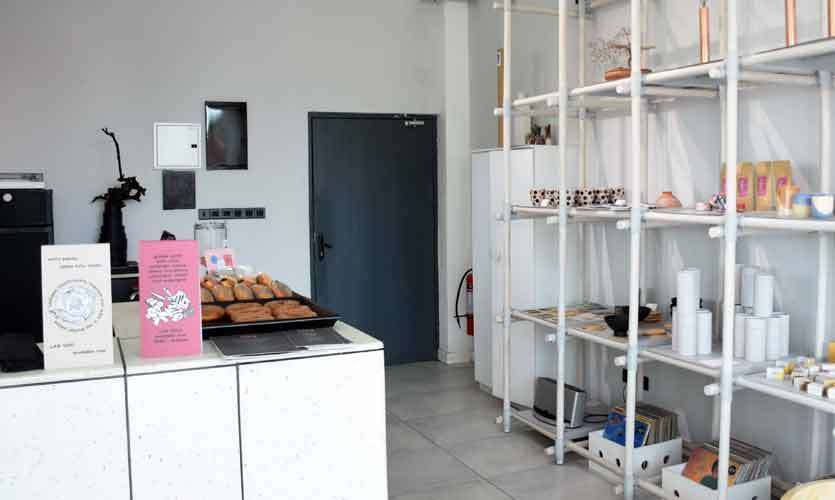 Food
Drinks- 4/5
Flat White
Not many places serve flat whites here in Colombo but the Flat White (Rs. 550) from Kiku Colombo was spot on with the perfect ratio of milk to coffee. They serve premium arabica coffee and it was amazingly portrayed via this.
Beetroot Latte
Kiku Colombo has done some amazing work in bringing unique flavours to life with most of their food and beverages and their Beetroot Latte (Rs. 550) is a testament to that. Inherently being a sweet vegetable, it blends well with the taste of milk, although I would have liked to have a bit more beetroot flavour.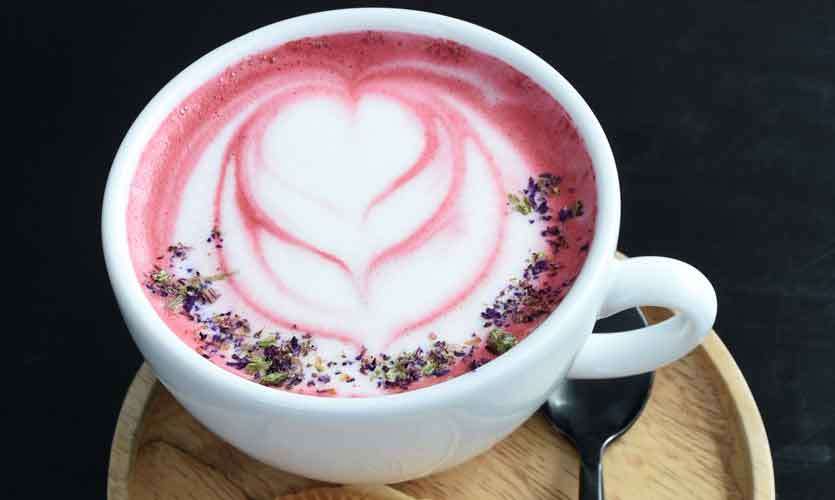 Matcha Latte
They serve Matcha Latte (Rs. 550) in both cold and hot forms and we opted for the cold matcha latte. Personally, matcha is something I love and I look for that balance of sweetness, creaminess with the bitterness of matcha. To me it was slightly too bitter and was a little watery, in the sense that it could use a bit more milk. But still I liked it.
Orange and Carrot Cold Pressed Juice
They have a range of cold pressed juices and their Orange and Carrot Cold Pressed Juice (Rs. 500) was simply sublime. How the pungent citrusy notes of orange blended with the earthy tones of carrot was just amazing to us.
Elderflower and Rosemary Garden Soda
I couldn't help but fall in love with her. If Spring would come in a glass, I'd imagine it would be something like this. It was a bold move for them to use rosemary which is a herb in a sweet drink, but it definitely works with their Elderflower and Rosemary Garden Soda (Rs. 450). The sweet flowery tones of elderflower plays wonderfully with spicy pungent notes of rosemary, and it is lovely.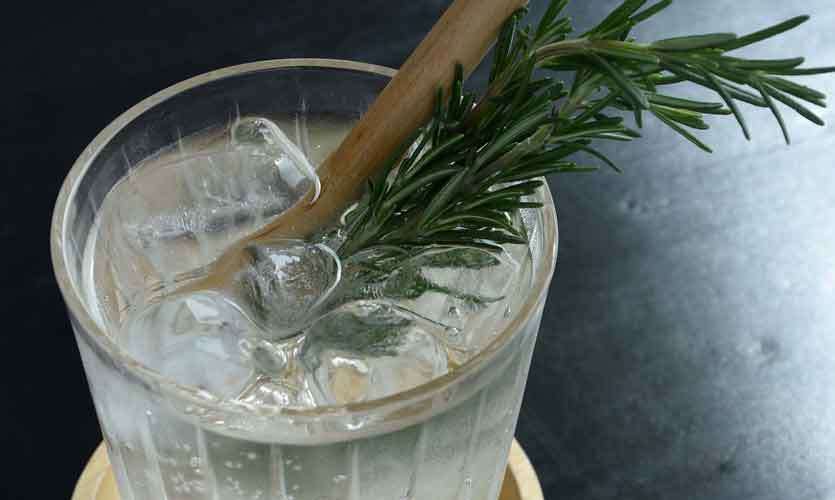 Food – 5/5
Wafu Pasta
Wafu Pasta (Rs. 1200) with silken tofu steak, shiitake mushrooms, toasted nori and soy butter sauce, was our absolute favourite out of all the mains tasted because the umami flavour in it was astounding. I honestly felt like I was eating soba noodles and not pasta, it was that good! To the toasted seaweed to the tofu to the shitake mushrooms to the pasta, everything tasted scrumptious and the soy butter sauce brought everything together so well.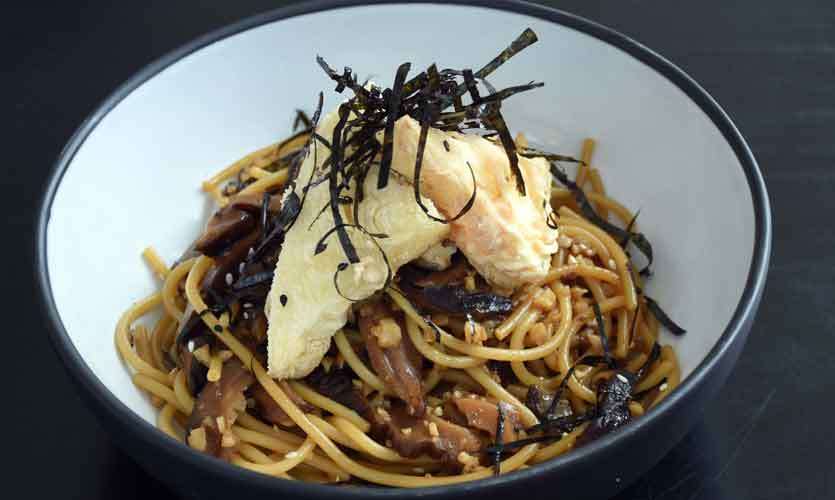 Sasebo Burger
The Sasebo Burger (Rs. 1800) comes with Australian beef patty inside a brioche bun with caramelised onions, shiitake mushrooms, fried egg and their special Sasebo sauce. If you are looking for a hearty burger packed with flavour and lots of meat, this is the perfect burger for you! The beef patty is amazing and cooked to perfection and the shiitake mushrooms along with the Sasebo sauce gives it a nice zing.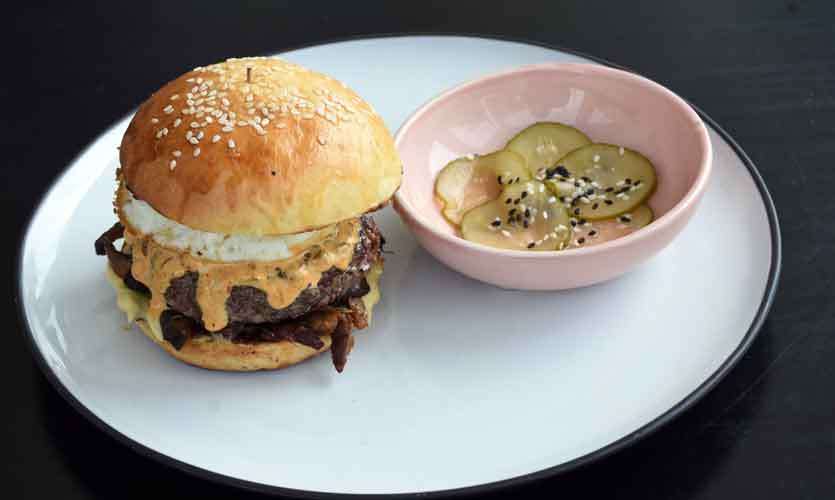 Salmon Onigiri
The Salmon Onigiri (Rs. 1800) comes with grilled salmon fillet, poached egg and wasabi hollandaise on furikake rice. The salmon was cooked remarkably, retaining the moisture and bursting with flavour. The pink meat would break off seamlessly by just touching it. The onigiri was a bit too dry for me, but the furikake gave the dish a nice spice and the poached egg blended everything so nicely.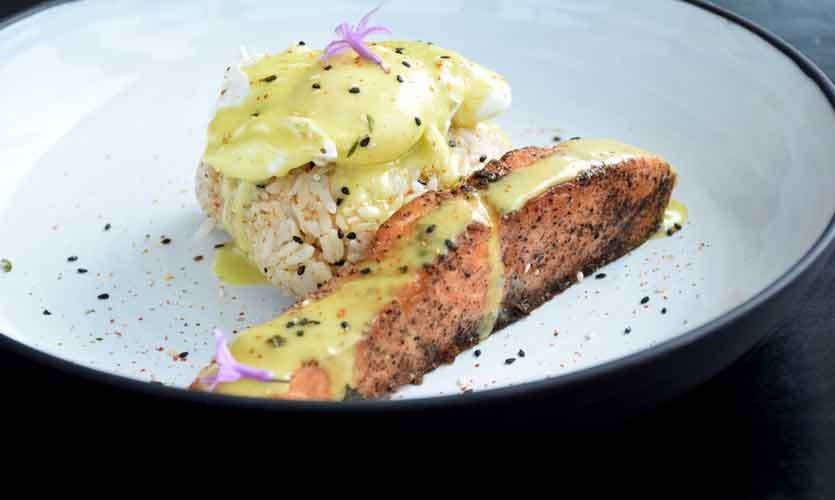 Dessert
Poached Pear
The Poached Pear (Rs. 850) is cooked in yuzu and turmeric and served with ginger bread on a bed of white chocolate mousse. The pear was poached oh so perfectly with the spicy notes of turmeric and tangy notes of yuzu coming through and the ginger bread was made in a way that the ginger didn't overpower everything that it just would give a small zing to the whole dish preserving all the other flavours. The white chocolate mousse was just the cherry on top combining everything together.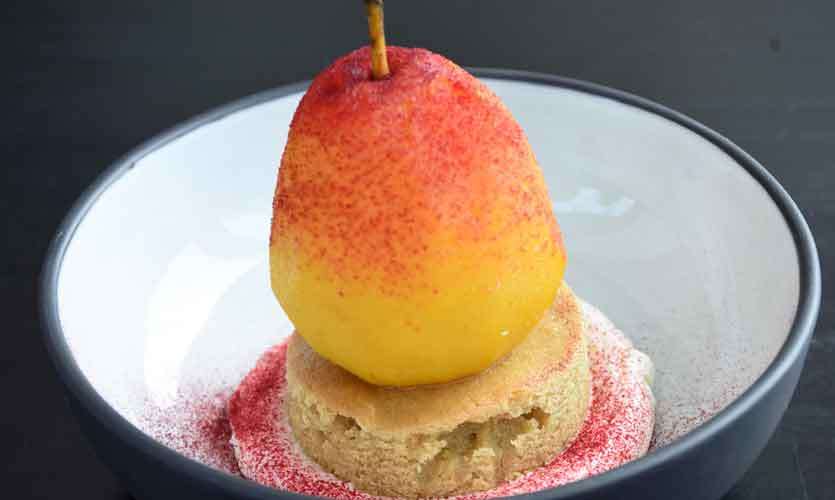 What we recommend: We highly recommend the Wafu Pasta, Elderflower and Rosemary Garden Soda and the Poached Pear.
Service: 5/5 They are extremely friendly and want to build a personal connection and get to know everyone who visits there so that they feel at home and not a restaurant.
Parking facilities: 4/5
Toilets: 5/5
Would we go again?
Yes! We would definitely go again because we want to see what interesting dishes they will be concocting next.

Tips/notes by author – All prices are subjected to a 10% service charge and current government taxes.

Photographer: Kushan Pathiraja