Kaffeine is a cozy all-day hangout café located just behind the Dutch Hospital Shopping Complex. Taking over the ground level bar area of Re.pub.lk, the café opened in January 2020 fulfilling a gap for a coffee shop around the area.
"We wanted to introduce a café in the area where people can enjoy a freshly brewed cup of coffee or indulge in breakfast even in the middle of the afternoon all the while keeping it local and offering them a comfortable place to spend a couple of hours meeting friends or getting some work done" said co-owner Rukshan Meegahage.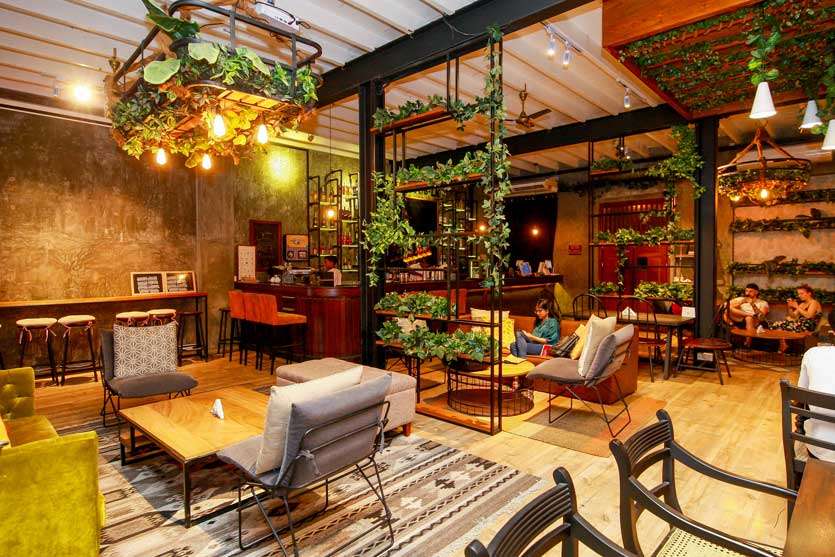 Ambience
Kaffeine exudes a modern rustic outdoor vibe with a statement brick wall dating back to 1924, indoor greenery and slight splashes of colour. The décor adopts a very metallic but minimalistic theme and with its low lighting, earthy tones and spacious seating; Kaffeine offers a chic and cozy ambience perfect for unwinding.
Drinks
Living up to its name 'Kaffeine', the café serves largely coffee based drinks along with a few options of fresh juices and tea. Firm believers of using local suppliers, Kaffeine sources its coffee from 'Tusker Coffee', a Sri Lankan brand producing quality arabica coffee.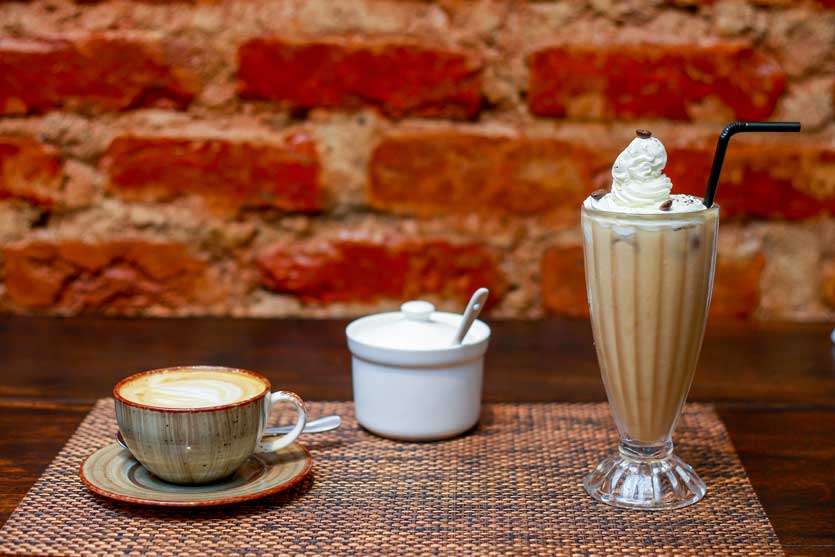 We opted to have their Cappuccino (Rs. 425) and their Iced Coffee (Rs.500) for a mix of hot and cold drinks. The Cappuccino had the perfect milk to espresso to foam ratio while the Iced Coffee had the perfect combination of rich, strong espresso and milky goodness.
Food
Kaffeine offers guests all day breakfast and lunch options as well as a few entrés that we couldn't get enough of. Their Tacos comes in 3's with three different fillings to choose from; pulled jack fruit, slow cooked beef and chicken tonkatsu. We opted for the Chicken Tonkatsu Tacos (Rs. 600) which is a soft-shelled taco with panko crumbed chicken strips on a bed of a homemade cooked salad, topped off with a dash of whipped sour cream, corn and jalapenos. Our favourite entre was their Assorted Chips Platter (Rs. 750) which was perfect for sharing among friends as it offers a range of chips fashioned from carrots, eggplant, sweet potato and tapioca. They also offer Momos, sweet potato fries, chili cheese toast and hot butter cuttlefish.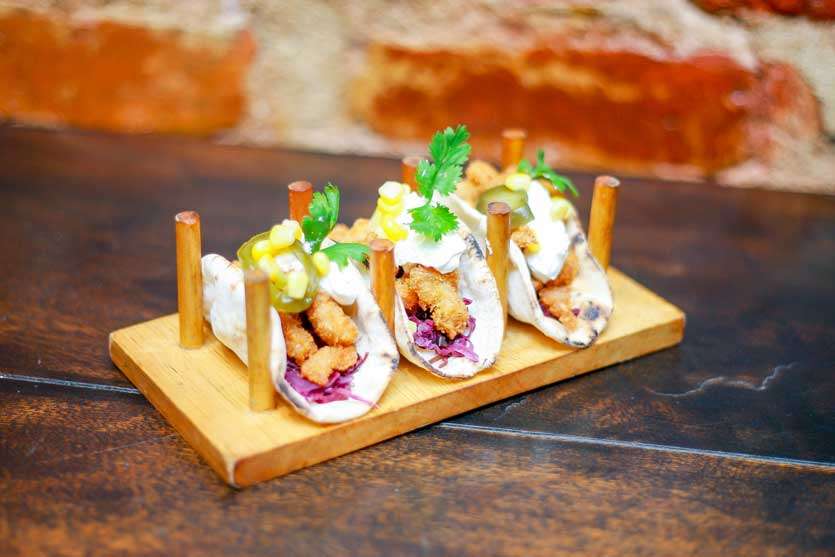 Their all-day breakfast options were something we were excited to try out. We started off with their Traditional Sri Lankan Breakfast (Rs. 900) where you can choose a curry of your choice (chicken/prawn/potato) along with a carb of your choice (roast paan/rotti/milk rice). Our traditional breakfast was hot pol rotti with a spicy prawn curry accompanied by free condiments that included dhal curry, lunumiris and seeni sambol.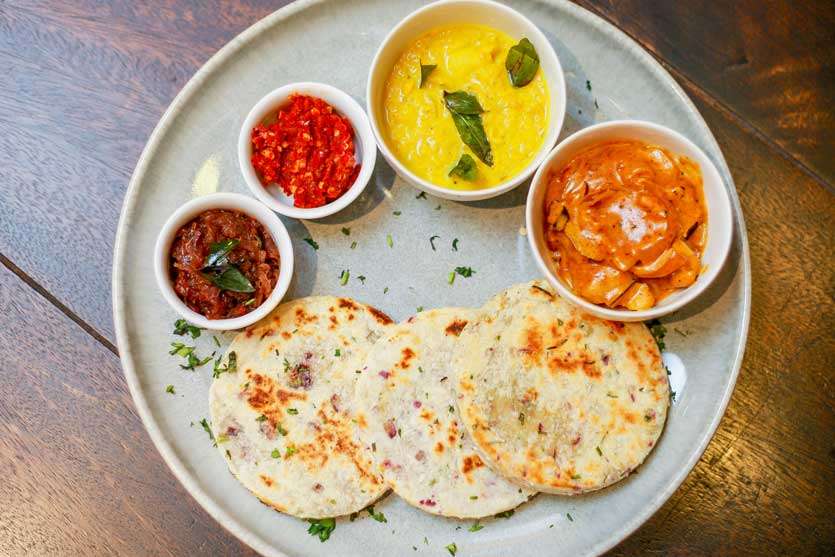 Their Eggs Benedict (Rs. 1100) was equally great with a choice of chicken ham of smoked salmon and is a guest favourite. We got ours with smoked salmon on a crispy toasted brioche with a runny poached egg and slathered with a creamy hollandaise sauce. The benedict was also served with a side of apple pickle that added a surprising sweet element which brought all the flavours together.
From their lunch options we tried out their Chicken Nasi Goreng (Rs. 900). Our dish was served steaming hot with a fried egg on top along with a peanut sauce and chicken skewers. Despite the dish being rather minimal, the flavours were anything but. The rice was packed with meaty chunks of chicken and the chicken skewers were coated in spice and added a heaty element that we loved.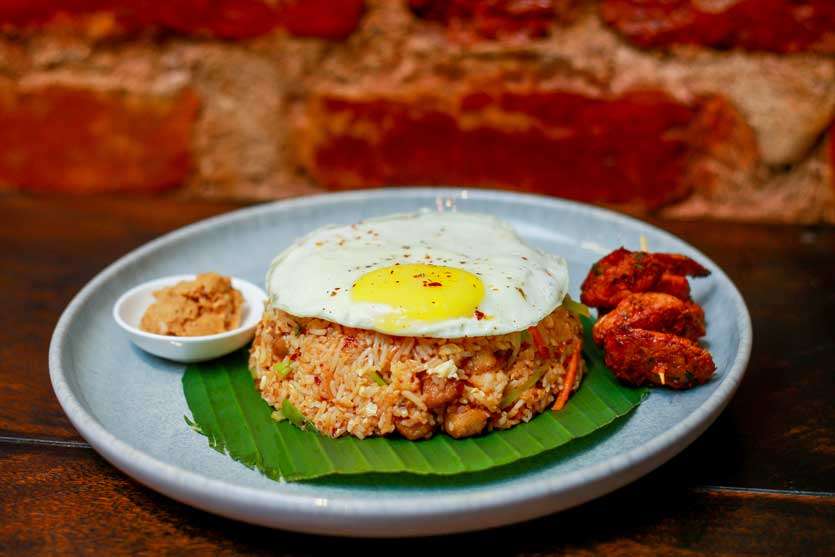 For a sweet ending we opted to try their Butter Milk Pancakes (Rs. 950) with a berry compote with honey roasted nuts, Nutella, maple syrup and cream cheese with whipped cream.
The menu also includes other options like a few varieties of pizza and pasta as well as a signature gourmet burger that's worth checking out.
Service
Since we ordered quite a large quantity of food, our dishes took a while to come to the table which was only natural. The staff at Kaffeine was extremely courteous and pleasant and checked in for feedback on the dishes every once in a while, to ensure we were happy with what we got.
Overall
While the Dutch Hospital area has a lot of great restaurants to dine at, there was always a need for a comfortable coffee shop to relax at and Kaffeine just filled that gap. The menu is diverse, the prices are reasonable and the food was simple and flavorful. We also loved the ambience of the café and had no problem lazily spending a couple of hours there.
Parking Facilities – Available
Toilets – Available. Clean and Sanitary.
Our Favourites/Recommendations - try their assorted chips and their nasi goreng.
Opening hours: Weekdays ( 9am – 8pm)
Saturday (11am – 8pm)
Sunday (11am – 11pm)
Address: 57 Hospital St, Colombo
Features: Dine in
Price range: $$
Payments- Cash/Card
Contact for Reservations -0117 446 654
Social Media - https://www.facebook.com/kaffeinesl/