Fat Guy BBQ was created with the sole purpose of giving those who have a love for damn-good-barbecue an option of picking up some damn-good-barbecue. Owned and operated by Suchetha Wijenayake this should be your go-to option when it comes to picking up delicious hams, bacon, roasts and pulled pork – and these are not just barbecued but smoked, the right way.
Suchetha's love for barbecue started in southern United States in Oklahoma to be precise, where barbecue is tantamount to religion.
"So this was where I learned to barbecue beef and pork,"
Suchetha said adding,
"In 1999 I came back to Sri Lanka until slowly, but surely the craving for those American barbecues started hitting."
Since he couldn't find decent barbecue anywhere he thought, he needs to do it on his own and that's how Fat Guy BBQ came about.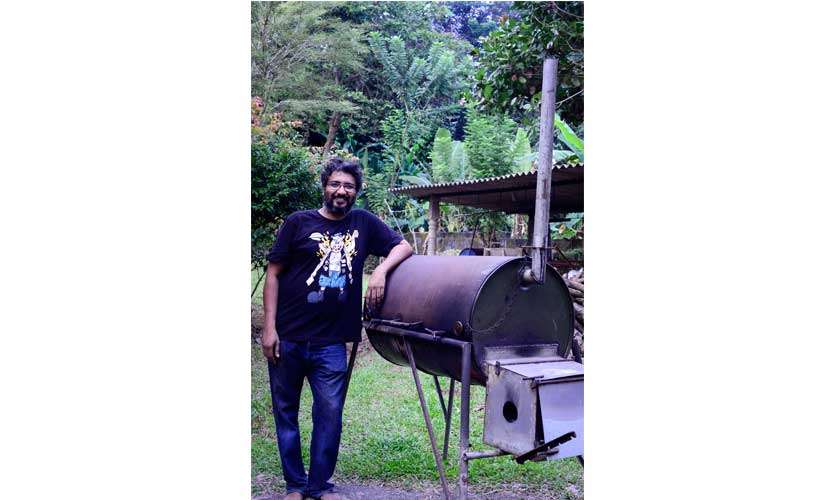 Food – 5 stars
Chances are you won't quite go back to having the store-bought, processed hams and bacons after you try out what Fat Guy BBQ has to offer. Take note, he has some Christmas specials this season too.

We had his usual offering of Ham (Rs 1,800 - 400g) and Bacon (Rs 1,800 - 500g). The former is left in a brine for a week and then cooked in the barbecue for six to 12 hours. This delicious cut of meat is then glazed with marmalade. So when you dig into it, there are these perfectly balanced elements of saltiness and sweetness that will take your senses on a wild ride. The bacon has a thick cut of fat, like bacon should, and takes four to six hours to make. This too has that ideal balance of saltiness coupled with a hint of sweetness while the fried fat, adds a whole other element to it. Also take note, that once you fry it, the bacon does not shrink. This is because no water is added to it when it is being prepared, unlike the industrial stuff.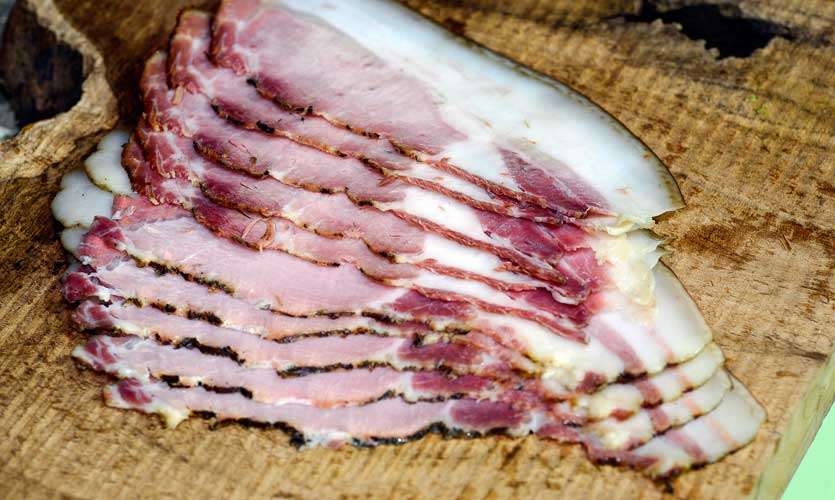 The meats Suchetha makes tends to be straight up real stuff with no frills. So when you dig into it, there is a sense of nostalgia, especially if you have eaten the good stuff before.
An absolute must have at your Christmas Table is Suchetha's Christmas Ham (Rs 4,800 per kilo - bone-in/Rs 5,000 per kilo - de-boned). This leg of ham is cured in Fat Guy's special Christmas Brine, smoke roasted and glazed in Honey and Marmalade. With that first bite, all those spices hit your senses along with the sweet glaze while the strong smokey elements make it splendid.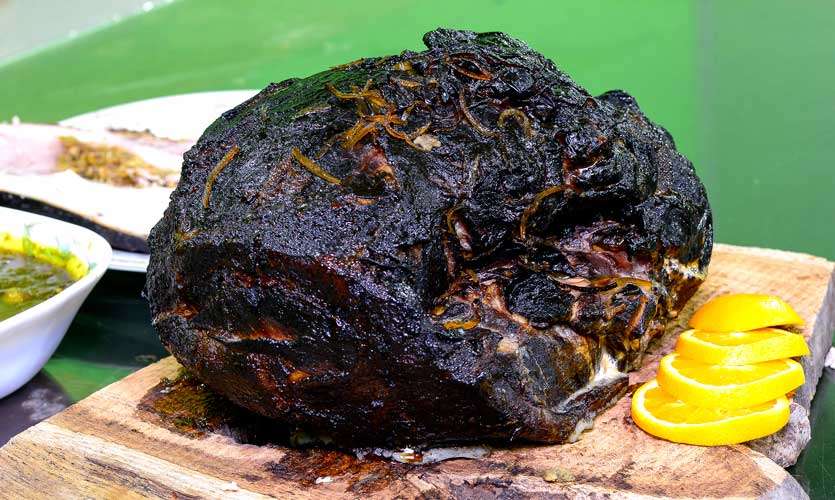 Another option for the season is Fat Guy's mouth-watering Christmas Roast (Rs 6,000 per kilo). The leg of pork we tried was stuffed with caramelised onions, dates and spices and smoke roasted but Suchetha will be altering the stuffing to non-caramelised onions, apples and oranges. A bite into this along with the famous 'Fat Guy Sauce' and you won't quite know how to stop.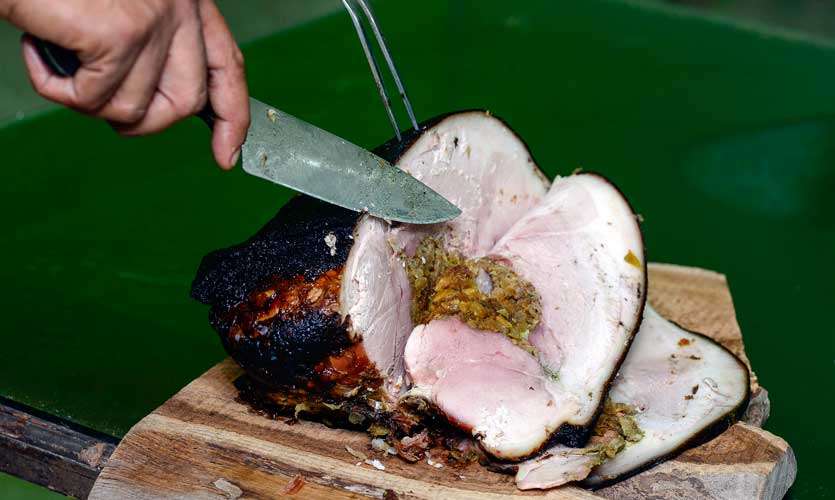 What we recommend: Everything!
Would we order again? Yes
Tips/notes by author: The meats can be refrigerated for up to a week but is best frozen afterwards
-Leg of Christmas Ham – Must buy whole leg and minimum order is 2kg (10 days notice required)
-Christmas Roast – Must buy whole leg and minimum order 3kg (5 days notice required)
-Other meats – 3 days notice
Pix by: Kanishke Ganewatte