Epi Q Express Gourmet is the latest cafe to pop up in the Thimbirigasyaya area and is situated opposite Java Lounge on Jawatte Road. The venture is the brainchild of sisters Shazmin and Shaheen, whose journey began when they posted pictures on a Facebook group of food they'd made. Before long and with loads of encouragement, they started out on Eat Street before taking a leap of faith and opening their very own cafe.
Ambience
Epi Q is quite cosy, but the thoughtful layout of the seating and the natural light seeping in through the windows make the space feel larger than it is. The space has a warm colour theme with dark brown chairs, and framing the counter where you order the food is a brick wall and blackboard above it featuring a mix of art and a few items on the menu. Seating is both indoor and outdoor.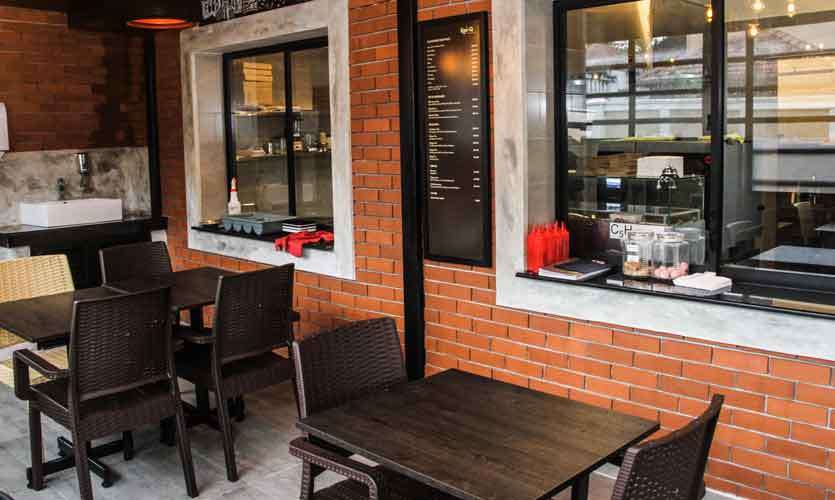 Food & Drink
Concise menus make me truly happy for many reasons. One, it makes picking food easier and saves loads of time. Two, and most important, a limited menu means that you can most probably be assured that the food you're served is good, considering they only have a few key items to perfect. Epi Q's menu was thankfully small, comprising an assortment of Kathi Rolls, Pizzas, as well as both sweet and savoury Waffles and Crepes. They also have Flavoured Snow Ice, a range of Mojitos, Coffee and Epi Q Chai. Unsurprisingly, this made the process of picking food so much easier, but best of all, the food was just as amazing as we hoped and expected!
I walked in soaked thanks to the unrelenting downpour and I was immediately drawn to the Masala Chai (Rs. 250), a hot signature milk tea with secret masala. The piping hot aromatic tea felt like a warm embrace on that cold day, its zesty flavour adding a kick to the sweetness of the milk.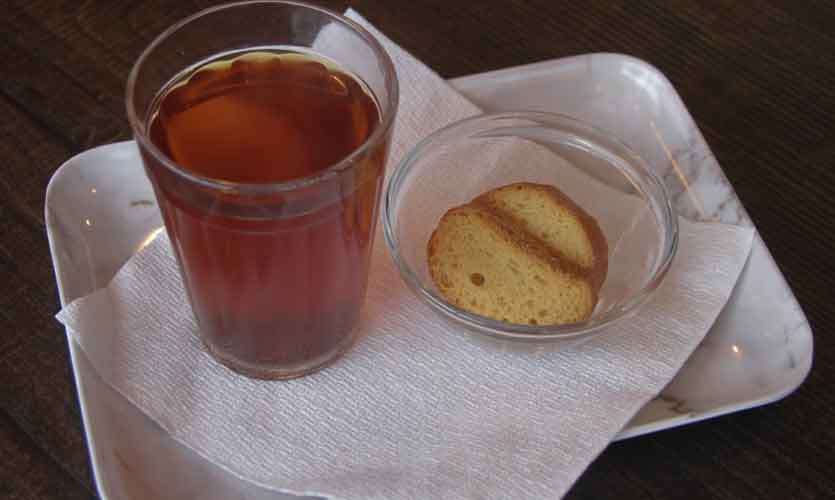 The Kathi Rolls came recommended, so I tried both the Tandoor Chicken (Rs. 350) and Pepper Beef (Rs. 380) Kathi Rolls and was glad I did. Kathi rolls are a popular Indian street dish originally from Kolkata comprising meat wrapped in parata, and the popularity of the kathi roll has resulted in various iterations of the original. Both kathi rolls I picked included mint chutney, egg, onion and coriander, but taste wise, both were certainly distinctive. Enveloped by the lightly crispy paratha, both rolls were full of succulent and well flavoured meat that were perfectly cooked. Most often than not, I tend to avoid beef based dishes considering how badly they are prepared, unless of course I want to work out my facial muscles thanks to the excessive chomping and chewing required. The beef here was simply fantastic, and cooked just right so that it wasn't tedious to eat. The chicken was also succulent and juicy. I love the flavour of coriander and I thought it was a brilliant addition to the rolls, along with the mint chutney.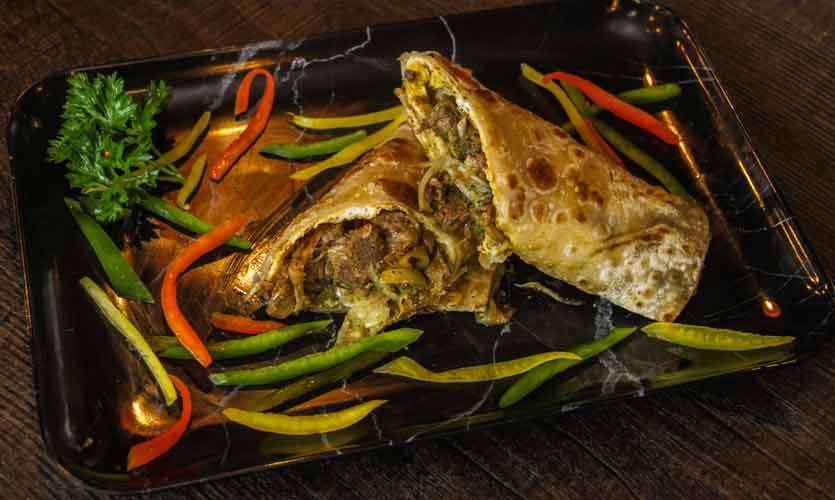 I like savoury waffles and I love pizza, so I was drawn to their Waffle Pizza. They only have two varieties as of now, the Tandoori chicken and Chilli chicken. Considering I already tried the Tandoori chicken in the kathi roll, I picked the Chilli Chicken Waffle Pizza (Rs. 550). It's easy to forget the base is waffle and not pizza dough, but that's because the waffle pizza gives you the best of both worlds. The waffle was light and crispy, making an excellent base that doesn't overshadow the topping. The topping was incredibly tasty and positively smothered with cheese! A win win no matter which way you look at it.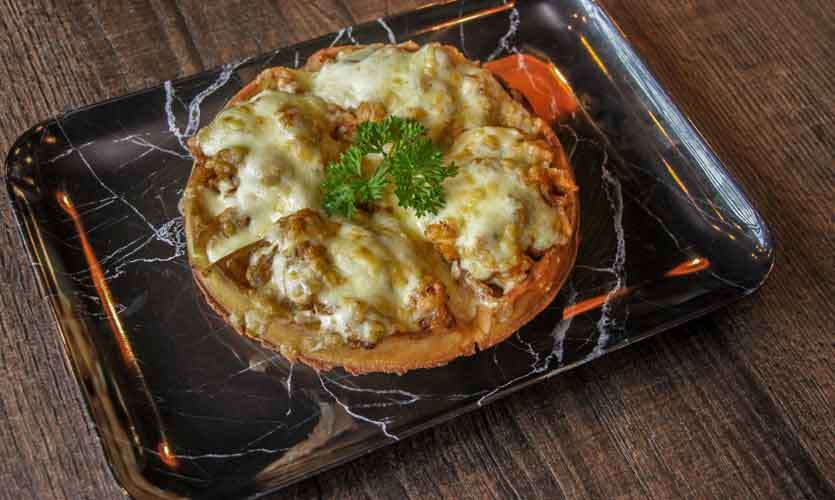 For a dose of sweetness, I had the Choc On The Go (Rs. 700) crispy crepe with nutella. The giant crepe had a generous spread of nutella and was served warm, making it more luscious and appealing. Tastewise, it reminded me largely of the chocolate Ferrero Rocher. I'm not usually the biggest fan of sweets, but I loved this and would happily have it again.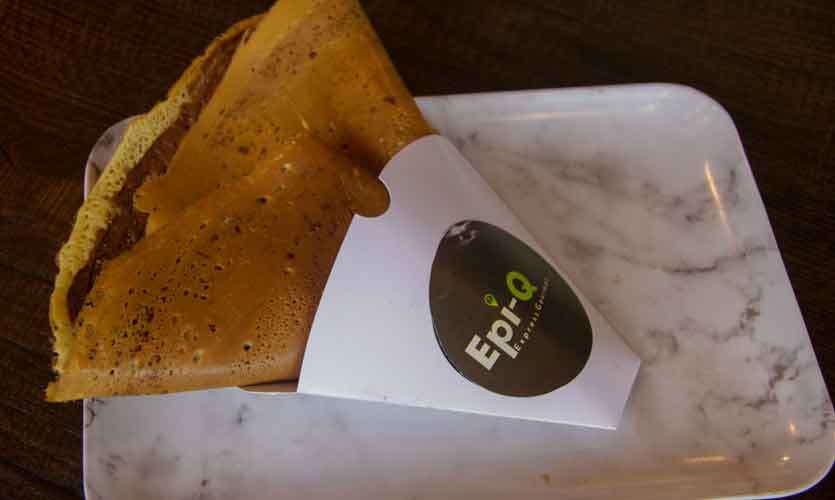 Overall
Epi Q was a little over a week old when I dropped by and they didn't appear to have any teething problems. The food was served in a fairly short amount of time - 10 minutes, give or take. Service was great and the two sisters are warm and inviting, ensuring everything goes well. You can also catch a glimpse of their kitchen area and it appeared to be super clean. Epi Q is ideal for sudden hunger pangs, considering food comes out quite fast, but is also perfect for chilled out meetups. Fantastic food and good service, Epi Q is likely to be one of those places you find yourself going back to.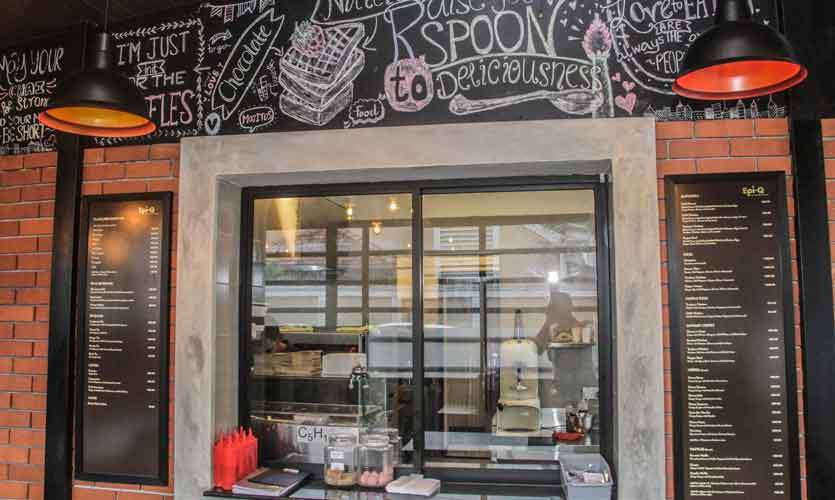 What I recommend: I loved everything I tried and would gladly recommend them all.
Would I go again? Definitely
Parking: Available on property as well as in the adjoining road
Pics: Pradeep Dilrukshana