At some point in our lives, most of us have had to decide between getting someone cupcakes or a bouquet of flowers. It's never an easy decision, considering they both are pretty amazing. Putting an end to that gifting conundrum is Surani Jayaweera Jayamaha, whose new venture Blooming Cupcakes and Bouquets will mean you can now bid adieu to the predicament. The edible floral bouquets by Blooming Cupcakes and Bouquets offer the best of both worlds - stunning flowers that taste as good as they look. I had the opportunity to taste the edible bouquet, and besides being way too pretty to eat, the cupcakes were moist and the icing was yummy! Definitely a delicious gift worth the money. I caught up with Surani to learn more about her and her venture.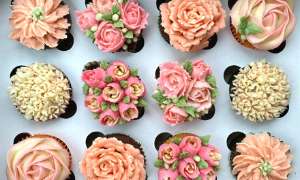 Are you someone who generally likes to cook and bake?
Cooking yes. I often prepare meals for the family and also when entertaining a small gathering of friends. We all love Thai and red curry chicken, batter-fried prawns, hot butter cuttlefish, prawn Aglio, and baked lobster, and these are what I specialize in as they are our family favorites. As for baking, I have indulged in it from my school days, and join my mother to bake cakes for parties at home and occasionally when executing orders. Cakes, puddings, and pies have been part of our lives & I use all the family recipes which have been coming down from generation to generation with my own twist and they are the best! I also do a few pastries for home consumption. Who knows one day I may get an idea to do this on a small commercial scale.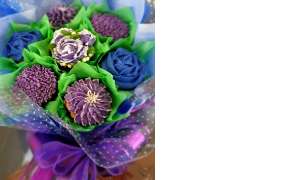 Why did you decide to start this business?
Cupcakes of course I have made for a long time for family occasions and home consumption because everybody loves it. I also was in the habit of gifting cupcakes to my circle of friends and the recollection of their beaming faces was an inspiration to start this business. Specifically, the scarcity of flowers during the COVID-19 pandemic situation was a catalyst to introduce the cupcake bouquet concept. Of course, fresh flowers are nice and I love them. But I thought to give value for money for the giver and for the recipient to have a twofold satisfaction that is something pleasing to the eyes as well as to the taste buds, the best option was to launch a cupcake bouquet concept to the society. This is also an addition to the gifts concept.
Were there challenges you faced when starting up?
I am aware that a cupcake is not a new product, but it is an item that is liked by everybody. I am also aware that it has been in the market for a long time, which was an assurance for the sustainability of the product. There are many established players, which did not discourage me. My sole idea and the challenge was to introduce a novelty with a range that was affordable and emphasis on quality and attraction to suit all segments.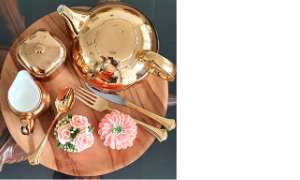 You mentioned that you use different icing types? Can you tell me more about it.
I use buttercream icing for the flowers made to a special recipe so that the flowers will hold its shape. It has only butter, icing sugar, and vanilla or almond flavoring. No additives or preservatives are used.
What is your target clientele?
My strategy is to cater to all walks of life be it individuals or corporates. I wanted to make it affordable to everyone, that was my main aim. Saying that, I love to be able to offer something unusual at a reasonable price and when a customer tells me that their gift, my product, was the talking point and the center of attention at the function, that is what I love to hear!!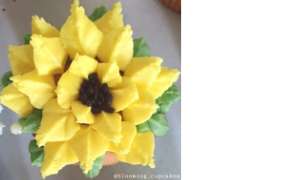 What is the difference between Popular, Executive, and Premium Cupcake bouquet packages?
The whole idea in introducing the Popular, Executive, and Premium categories revolved around in my market strategy of making cupcake bouquets affordable to all. The "Popular" bouquet comes with assorted single petal flowers wrapped in normal papers. The "Executive" Bouquet has mixed flowers wrapped in better quality papers. The "Premium" cupcake bouquet is a collection of Roses wrapped in quality papers and in a transparent box. It is ideal for corporates who normally gift flowers and cakes which I have packaged in one, which will help to cut down on costs at a time like this.
Will you do any customizations if customers have requests? And will you also make cakes if required?
Yes, I like to take up challenges. I am in the habit of making cakes for a long time. I have made cakes to match the cupcakes for parties and also for yet another birthday I did lemon cupcakes with passion curd filling matching them with their colour scheme which was a hit. I do bake some family favorites such as love cake, Christmas cake, cheesecake, date, and sponge cake. Also, I am trying out from very old recipes giving them my own twist. Still, I have not given a thought about introducing them to the public, since I just launched the Cupcake Bouquet venture.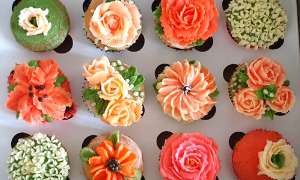 What next for you? Will you be expanding?
I am experimenting with new items to add to my venture. Before winding up I wish to emphasize that quality and freshness are guaranteed because all cakes & cupcakes are freshly baked and made to order.
Surani requires a minimum of 24 hours prior notice for all orders. Free delivery for orders above Rs. 5000 (Colombo 1-15, Wattala, and Kandana). Instagram: @blooming_cupcakes . To place orders, call 0774773888.
Photo credit: Blooming Cupcakes & Bouquets