Berlin Sky Lounge is a rooftop bar/lounge in the heart of Colombo serving up some hearty food, great drinks and even better views. Welcoming guests post lockdown, the lounge now takes every precaution and follows strict hygiene and safety protocols to ensure guests can enjoy a safe dining experience. Changing up their setting, the tables and chairs have been moved a good distance away from each other and all staff members wear gloves and masks at all times. The tables are set up only once the guests are seated and all cutlery has been sanitized and sealed in paper bags that are opened and touched by guests when dining.
AMBIENCE
Perched on the rooftop of the Goldblock building – the Berlin Sky Lounge boasts a spectacular view of Colombo's city lights, busy roads and ombre horizons. Split into 2 levels, one with an outdoor balcony area and bar deck and the other occupying the full length of the building's rooftop – the Berlin Sky Lounge was easily one of our favourite spots to come wind down after a taxing workday. Despite being located at the very heart of busy Colombo, the lounge is happily tucked away in a quiet corner offering majestic views and killer sunsets with the promise of privacy and stillness.
DRINKS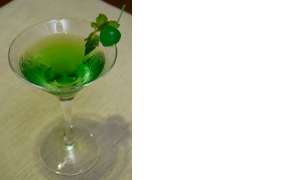 Image: Daiquiri
Berlin Sky Lounge offers an extensive bar menu offering cocktails, beers, wines, spirits, juices and sodas. We left our drink orders in the expert hands of the bartender and was served a (virgin) Cosmopolitan and Daiquiri (Rs. 1,190). The Cosmo with cranberry and lime juice was the perfect combination of sweet and sour while the Daiquiri with syrup and lime leaned more towards the sweeter side. We loved the presentation and the sharp colours of our drinks and enjoyed sipping it off our martini glasses as we basked in the city lights.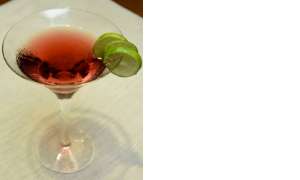 Image: Cosmo
FOOD
Named after Germany's capital, the Berlin Sky Lounge fittingly offers traditional German cuisine in its food menu. German cuisine is deeply meat-based and the cuisine in itself is very rich and heavy which makes it a solid accompaniment with drinks (because drinking on an empty stomach is never fun!).
Pork Frankfurters Sausages (Rs. 820)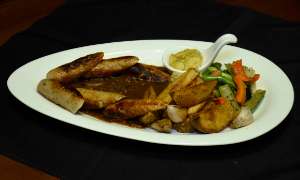 Germany has a long tradition of sausage making and has an assortment that crosses over 1,500 types of sausages. Berlin Sky Lounge has a sausage specialities variety that includes Brockwurst, Currywurst, Bratwurst and many more. We opted for the Frankfurters which are thin sausages made with pure pork and cooked through low-temperature smoking. Our sausages were served with baked potatoes, roasted garlic pods, boiled and seasoned vegetables, mustard paste and a thick gravy. This kind of dish would go perfectly well with a cool beer as the special technique of smoking gives the sausages a smoked aftertaste and light crunchy texture.
Schnitzel Viennese Art (Rs. 1020)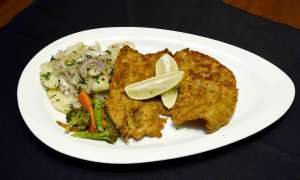 Schnitzel is often referred to as a 'breaded cutlet' as it is boneless meat pounded thin, coated in bread crumbs and deep-fried. The Viennese cutlet is the more popular and original style of Schnitzel. The tenderized meat was hot off the frying pan and was steaming hot and crispy. Served with a side of roasted vegetables and herb potatoes, the dish was slightly bland for our tastes since the schnitzel nor its accompaniments offered a contrasting flavour to cut through the mild textures and flavours.
Grilled Pork Chop with Pepper (Rs. 1300)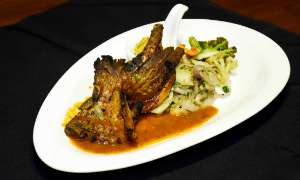 This was a dish that was done so well by Berlin Sky Lounge (we are drooling in reminiscence as we write this). The grilled pork chop was roasted to perfection with the meat easily falling off the bone and the skin crispy and crackling. The meat inside was tender and juicy and has absorbed all the rich spice marinate and was one of the most satisfying pork dishes we've had in a while. The pork chop was served with a pepper sauce, herb potatoes, vegetables and mustard paste.
Cheese Cake (Rs. 225)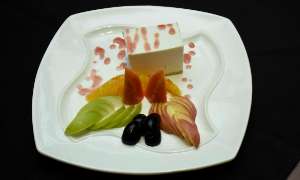 For dessert, we had their Cheesecake which was served with fresh fruit. While the fresh fruit was a nice palate cleanser after our greasy German food pig-out, we weren't big fans of the cheesecake. Opt for their Ice Cream Layer Cake or Chocolate Mousse.
SERVICE
The staff was great. Trying to understand the different German dishes was a difficult task so we were grateful for the staff that offered explanations on each dish and recommending customer favourites and dishes we'd enjoy based on our preferences.
OVERALL
All in all, it was a fantastic evening for us at the Berlin Sky Lounge. Alternating between sipping our mocktails and pigging out on our German dishes, we loved having the brightly lit Colombo as our backdrop.
Parking Facilities – Available
Toilets – Available. Clean and Sanitary.
Opening hours: 6 – 11pm
Address: Rooftop, The Goldblock, 101/11, Hunupitiya Lake Road, Colombo 02
Reservations - 077 570 6447
Features: Dine in
Price range: $$
Payments- Cash/Card
Pictures by Nimalsiri Edirisinghe