Cinnamon Grand's Italian restaurant 'Echo' recently launched its new menu under the vision of their new Head Chef Rino Serra.
Hailing from the northern region of Italy, Chef Rino, 49, began his culinary journey at the ripe age of fifteen. The Trentino Alto Adige region which he called home was famous for their hospitality industry and going into the industry was 'just something everyone did', said Chef Rino. Having received his culinary training in Italy, he has spent over 30 years mastering his craft while cooking up a storm in restaurants and hotels around the world in countries like London, Bangkok, China, Thailand, Australia and has worked in cruise ships that travel to more than 425 ports of call. Before joining Cinnamon Grand, Chef Rino spent 11 years as Chef De Cuisine in Hotel Al Bustan in Lebanon.
Chef Rino joined Cinnamon Grand in January 2019 and since then, he has worked on creating a brand-new menu that encompasses what it truly means to dine Italian. "I want to show people that Italian food is not just about pasta and pizza. The Italian kitchen has more to offer especially with our seafood and our meat. This is what we want to give to our customers with the new menu – to rediscover authentic Italian cuisine."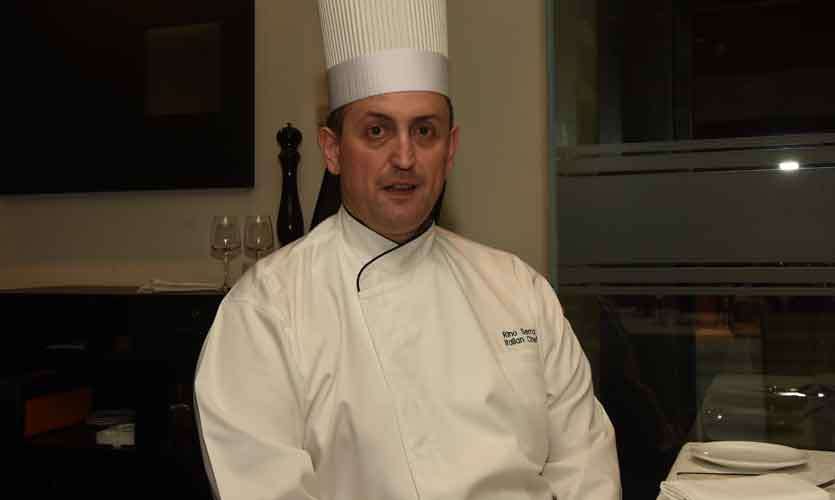 We dropped by at Echo this week to try their new menu and here is our take on it;
Ambience
Echo is located in the Angsana Spa premises and is quite isolated from the more crowded areas of the hotel which works perfectly for the very intimate ambience Echo resonates. The restaurant has two dining areas; a large open dining space for groups (though they do have a few window seats that are ideal for a date) and a private room for those that want a quiet place for food and conversation. The restaurant's opulent décor offer guests a formal dining experience.
Food
Chef Rino's vision for Echo has produced an a la carte menu that at first glance is completely overwhelming; firstly, because there are a lot of Italian words and secondly because of the staggering number of options the menu offers! The menu covers every nook and corner of Italian cuisine with a range of signature starters, soups, pizzas, pastas, meats and seafood. It's a menu is filled with dishes that sounds absolutely divine so be ready to take time in deciding what to choose.
For starters, we tried there Burrata E Verourine Alla Griglia (Rs. 1400) which is fresh burrata cheese served with grilled marinated vegetables with pesto sauce. The star of the dish was the beautiful knob of burrata cheese drizzled with olive oil and pesto sauce. The grilled vegetables were just the perfect accompaniment. Burrata is a fresh Italian cheese in which the outer shell is made of solid mozzarella yet the inside is a creamy emulsion of cheese and cream. It's a cheese best served fresh and has a soft texture that makes it perfect for appetizers. While Echo imports some of their cheese, most of the cheese, especially the fresh ones, are sourced locally from a Sri Lankan based cheese producer specializing in European quality cheeses.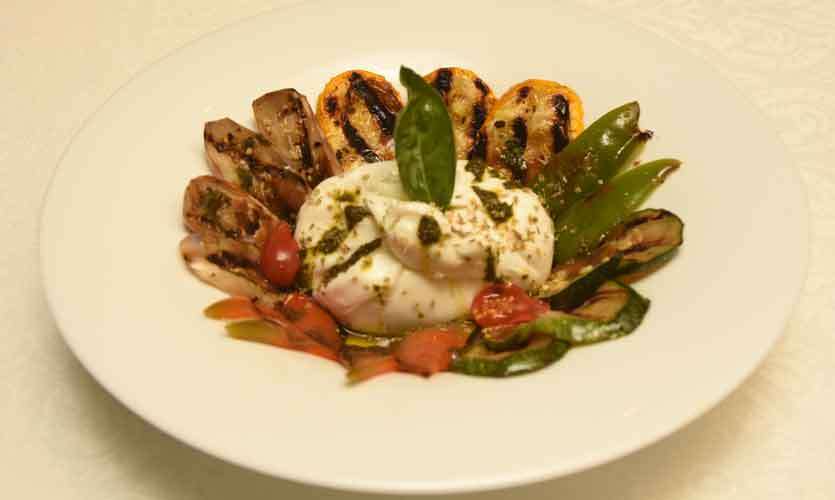 From their first courses, we started off with their Rotolo Di Ricotta E Spinaci Aurora (Rs. 1700) which is homemade baked spinach and ricotta rolls with a tomato cream sauce. There is no doubt that spinach and ricotta are a perfect match with ricotta's creamy mild flavour balancing out the slight bitterness of the spinach. Chef Rino has creatively spun the popular spinach and ricotta rolls made with puff pastry by substituting the crunchy pastry for more softer pasta dough that helps enjoy the flavours of the spinach and ricotta more. The tomato cream sauce was a neat bow on top of an already great dish.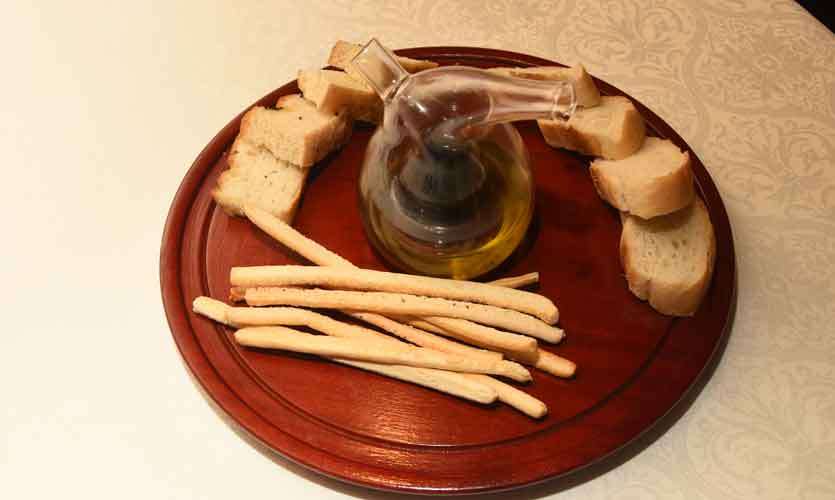 Echo brings its seafood daily from the local market to ensure freshness in their dishes. Chef Rino spoke highly of his seafood dishes so we were very excited to try them. We had their Guazzetto Di Moscardini Riviera (Rs. 1200) which is stewed baby octopus in tomato sauce served with garlic bread and their Dentice Alla Casalinga (Rs. 2200) which is roasted whole baby red snapper served with a white wine sauce. The baby octopus is braised in the tomato sauce with fish stock and stewed until the toughness of the octopus meat is reduced. The octopus tasted very similar to cuttlefish and we loved the slightly smoky flavours of the dish.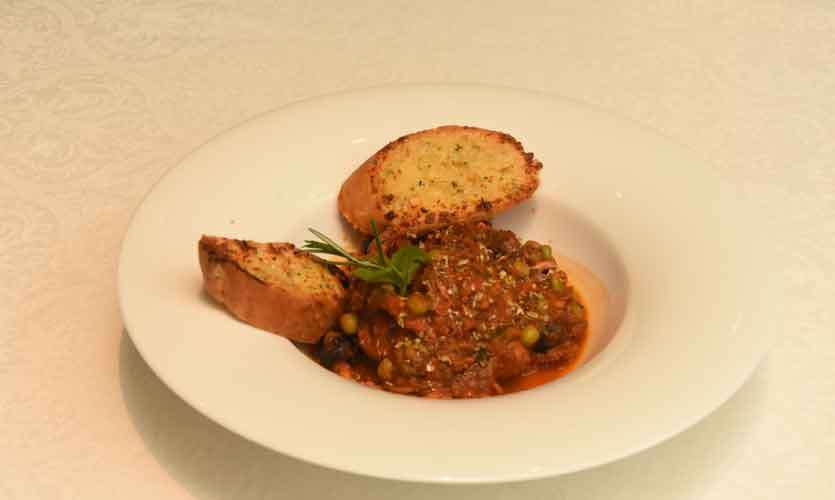 The red snapper was stuffed with rosemary, garlic and lemon and baked to perfection in white wine and served with a buttery white wine sauce.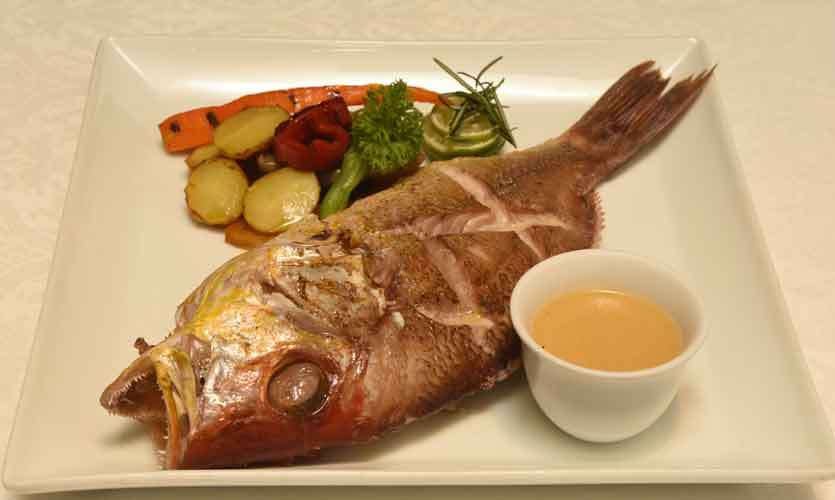 The last dish of our meal was their Guancia Di Manzo Stracotta (Rs. 2300) which is braised beef cheek in red wine and herbs. The beef cheek is braised in red wine, vegetables and herbs and slow cooked for 3 -4 hours and the results of this is tender meat that just melts in the mouth. The cheek was stringy and juicy and has absorbed all the flavours of the red wine and herbs.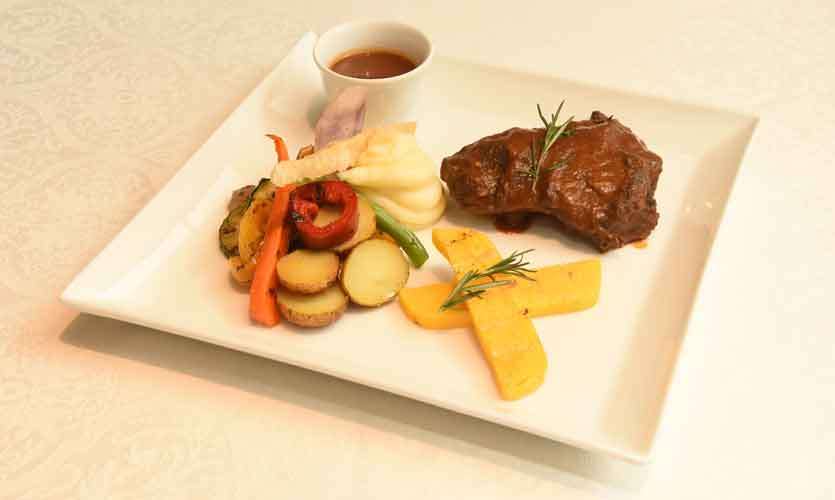 For dessert, we had their Grappamisu (Rs. 950) which Chef Rino laughingly shares with us as his 'own take on the Tiramisu' as his dessert is made with the Italian liquor Grappa. We fell head over heels for the Grappamisu as it was simply the best tiramisu we've tasted. The Grappamisu was light and airy with just the right amount of sweetness and was the perfect end for our meal.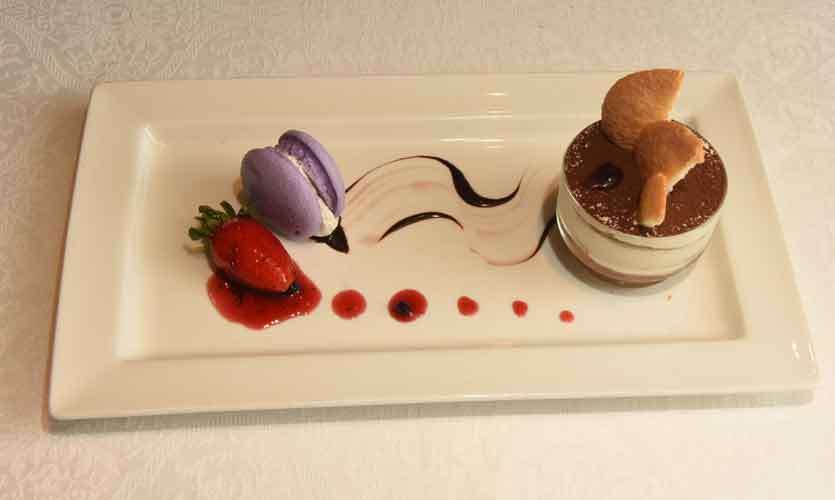 The new menu at Echo is promising and Chef Rino's passion for his cuisine shows from the dishes he brings to the table. Despite being in an Italian restaurant our meal had neither pasta nor pizza and this allowed us to explore some of Italy's meat and seafood dishes which we would usually pass over for the safety net of eating dishes we know can't steer us wrong. While the new menu at Echo also has over fifteen options for pizza and over ten pasta dishes – they also have other dishes made with all kinds of seafood, meat and vegetables that are equally (if not more) amazing!
Pictures by: Nimalsiri Edirisinghe