Let me first address my title. The café is a solar-powered cart. The seating area around it is its parking space. This justifies it as being the smallest café in the world!
We dropped by at Wheelys on a (really) rainy night for some dinner. Since they serve BBQ items, It was perfect. Although the rain did kill the fire in the BBQ grill, Jayantha (the owner) somehow got it to work.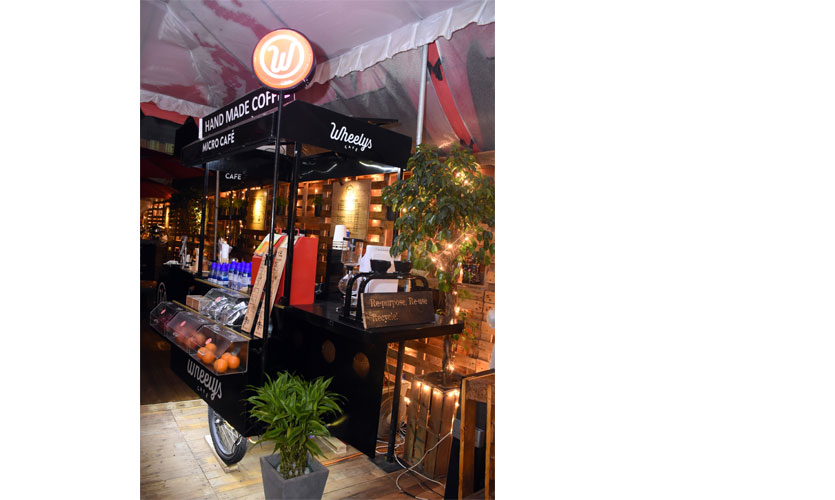 The atmosphere around this small café is cosy. Fairy lights, plenty potted plants and wooden furniture. Their seating area is made out of shipping palettes that they've polished to comfort. Since they refuse to print on paper, their menu and signs are printed on wood.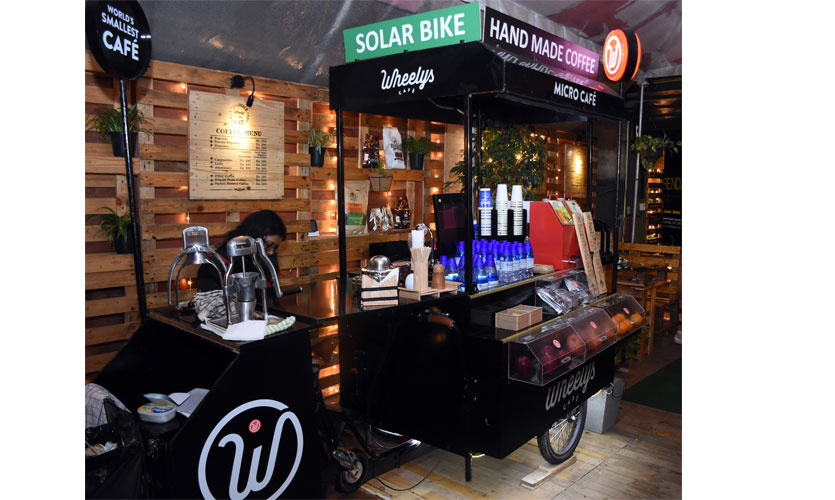 This environmentally conscious café is a unique concept that Jayantha fought for. His cart wasn't allowed to be pushed around town so he built a parking for it. 10 points for out of the box thinking!
Let's move on to the food, shall we?
For drinks, we tried their iced coffee and cappuccino. Their iced coffee (Rs.300) is splendid and was my favourite. It didn't taste like a generic machine-made drink.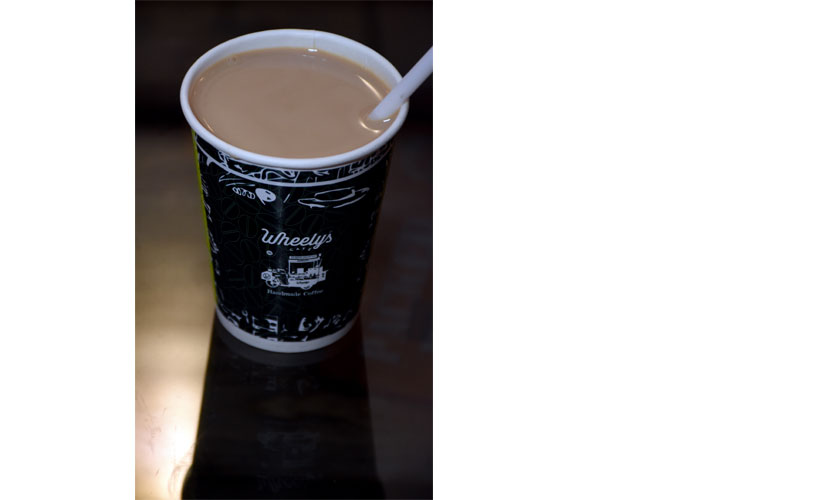 The cappuccino (Rs.440) was quite the usual. There really isn't much to say about it.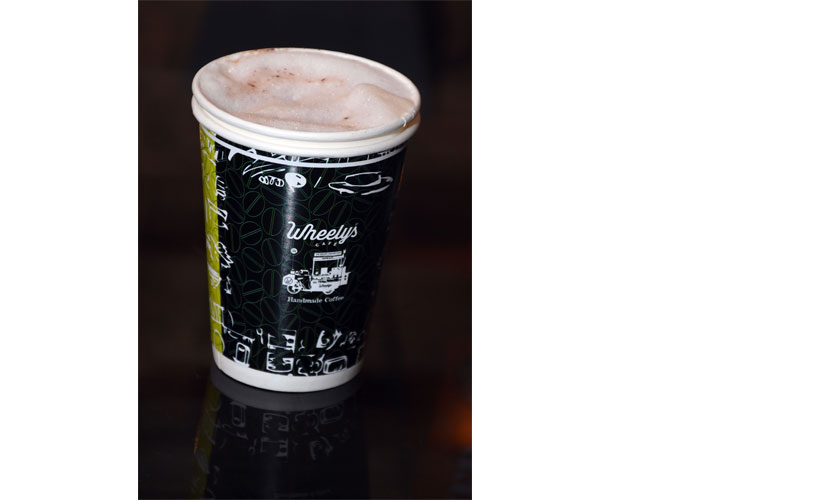 Apart from their drinks menu, they serve barbeque for lunch and dinner.
For our mains, we had the baked cinnamon rice, jacket potato and a chicken thigh. The second choice of meat was the cheese & garlic sausage with air fried potatoes. These were served with a side of sautéed vegetables.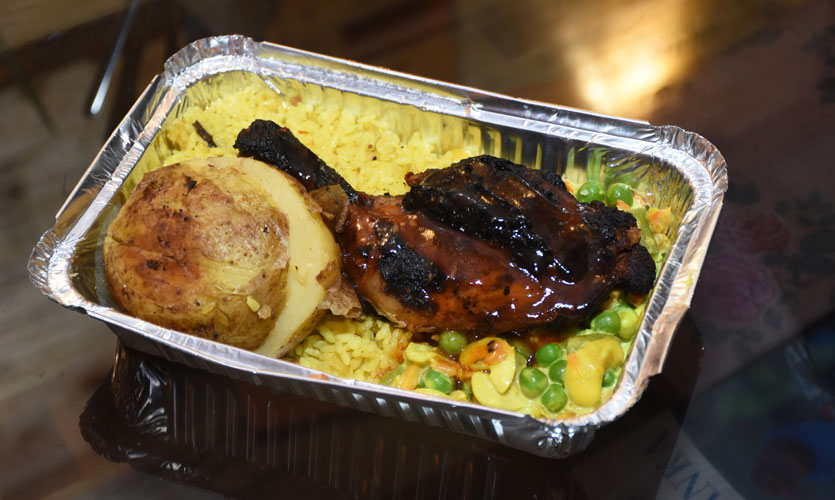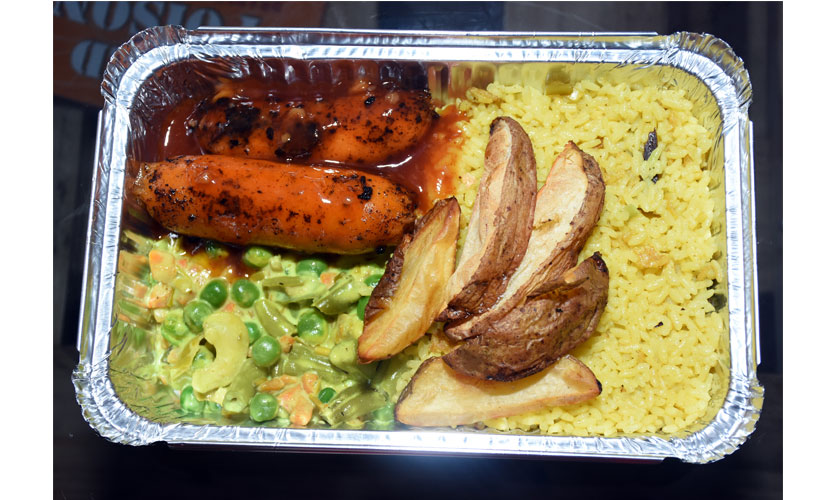 So here is the drill. You pick two carbs, a vegetable side and then your meat item. The price of the final meal is what is next to the meat.
The barbequed meat should be eaten right when it is served. No one likes cold BBQ. From the sausages and the thigh, the latter was our favourite. All the meats are served with Sato's sweet sauce. A secret recipe made by one of the owner's close friend. We would recommend them serving more of the delicious sauce!
The rice and vegetables were quite good as well. The sautéed vegetables resembled a 'kaju curry'. As for the potatoes, we preferred the air fried potatoes as the jacket potatoes were a bit tough to eat.
You can also buy the barbeque items separately without the carbs and vegetables. The prices for this menu are different.
Their idea is to serve food that they really believe in and they want to do so in a health-conscious manner.
Our chicken thigh BBQ cost Rs. 750 while the sausages cost Rs.650.
Wheelys Café is open from 11am to 11pm.
Address: No.100 Jawatte Road, Colombo 00500.
Facebook: https://www.facebook.com/wheelys.colombo/