Anyone who loves Japanese cuisine will most certainly know of Ginza on the Edge. This is the successor of Hilton's Ginza Hohsen that was established in 1987. Being one of the oldest Japanese restaurants in Colombo, they sure do know how to get the intricacies and delicacies right. You are guaranteed an authentic- no fusion meal here at Ginza.
As we aren't newbies to this restaurant, we know for a fact that their ambience and setting is no match for a lot of other Japanese places here in Colombo. Now that they have an indoor airconditioned teppanyaki area, you can enjoy more!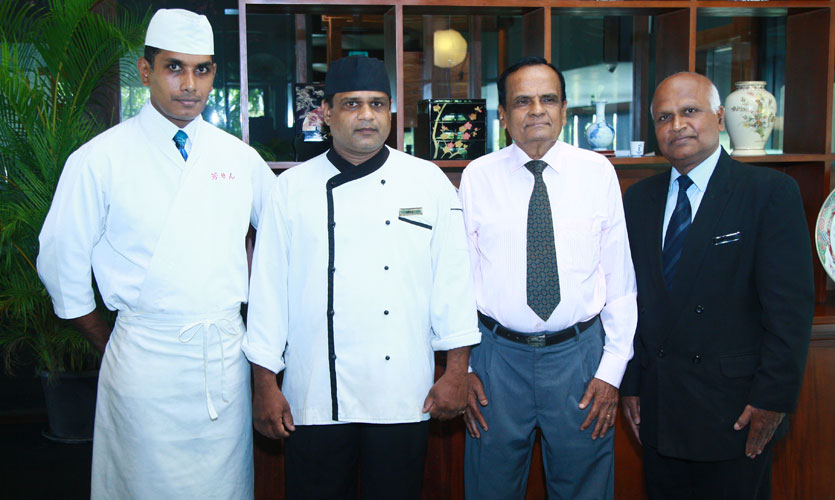 From the 250 items in their menu, we finally simmered our list to a few of their best. Just to remind you, they have a range of tempura, sukiyaki, gyoza, noodles items and more.
High tea every last Saturday of the month - 2900/- prior booking - 3-6 pm
Ladies lunch - 2300/- pre-book
Food rating: 5/5
Our first item was the assorted sushi-sashimi platter. I would have to be biased because Ginza sushi is to die for. If you are a hardcore sushi devotee, you would know the difference between good and bad sushi sashimi. You can see the variety of items they have on this platter. If you think you need to be rewarded with food, this is what you need to order.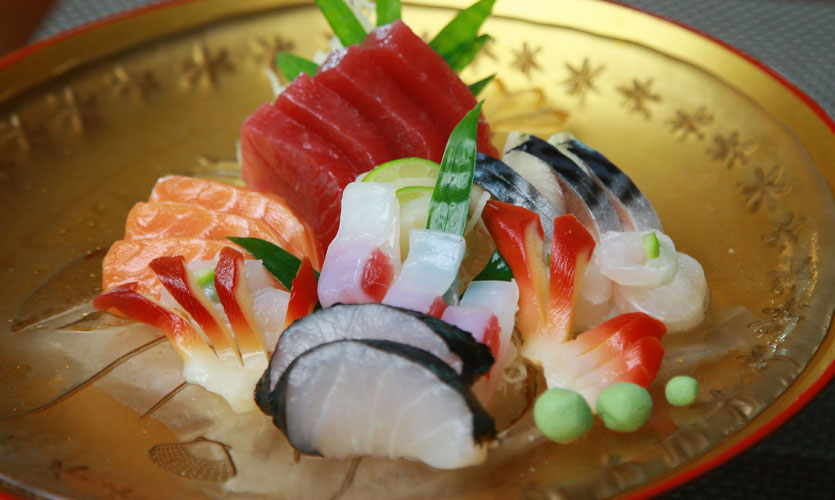 Our next item was the Hiyashi Chuka- Japanese cold noodles. I recommend this to anyone who wants to try something different to Ramen noodles. Here is a small how-to: mix all the vegetables with the noodles and pour the Hiyashi Chuka sauce over it. Make good use of the mustard paste. PS. The noodles are underneath all the veges and meat.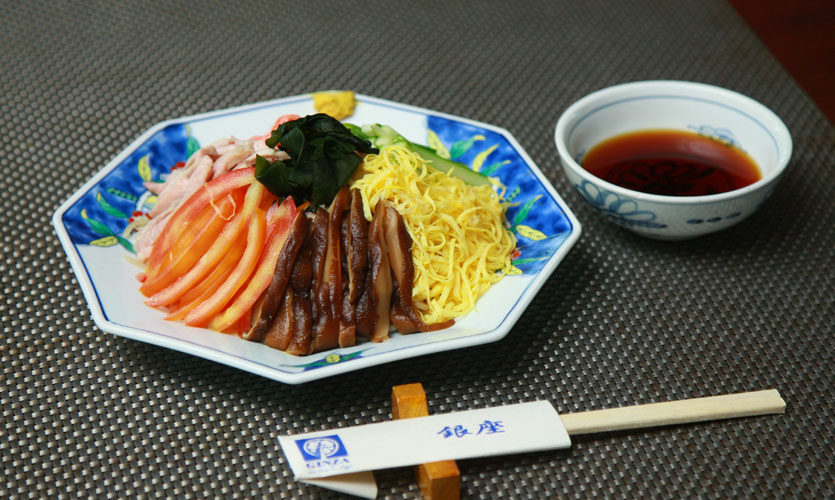 This has a good balance of vegetables and meat and the tangy flavour of the sauce is my favourite. I am craving this as I write it.
We tried two popular meat items as well. The Yaki Niku and Buta Kakuni. The former is a beef dish that is thinly sliced. It has one of the best flavours. It isn't a spicy dish and has undertones of sweetness in each bite. This is best paired with fluffy steamed rice.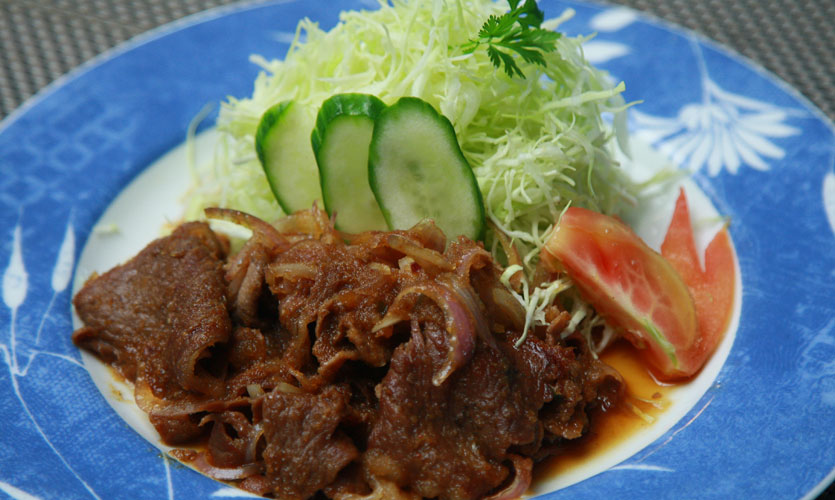 Yaki Niku
Same goes for the pork dish (Buta Kakuni). The belly fat is flavoured intensely. We recommend that you make good use of the julienned ginger and mustard paste. This enhances the taste of the pork belly. Both these dishes have sweet undertones that you can't miss! Also, the Buta Kakuni is a dish that is in high demand.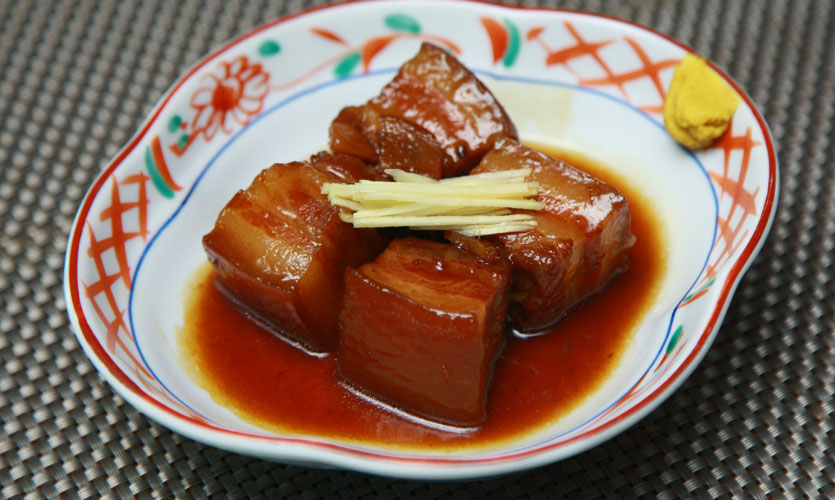 Buta Kakuni
We usually avoid any fatty meat items, but damn, this was splendid.
You would think that with all this food we were full. We were, but we just had to try their teppanyaki. This is Sri Lanka's only airconditioned teppanyaki, by the way.
We had the Mai Course- A.K.A seafood!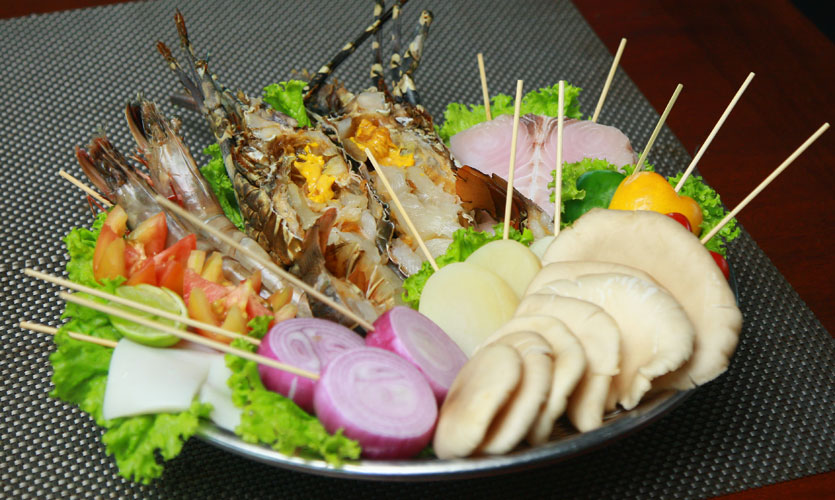 The platter had jumbo prawns, a lobster, fish and a few vegetables. The teppan chef will cook each item in front of your eyes and the flavours, you won't believe, are the simplest of ingredients in your kitchen.
The vegetables are cookies before the meat. If you watch carefully (which you will) the chef uses such precision and technique in cooking these items. They present you with 2 sauces, one for the seafood and one for the vegetables.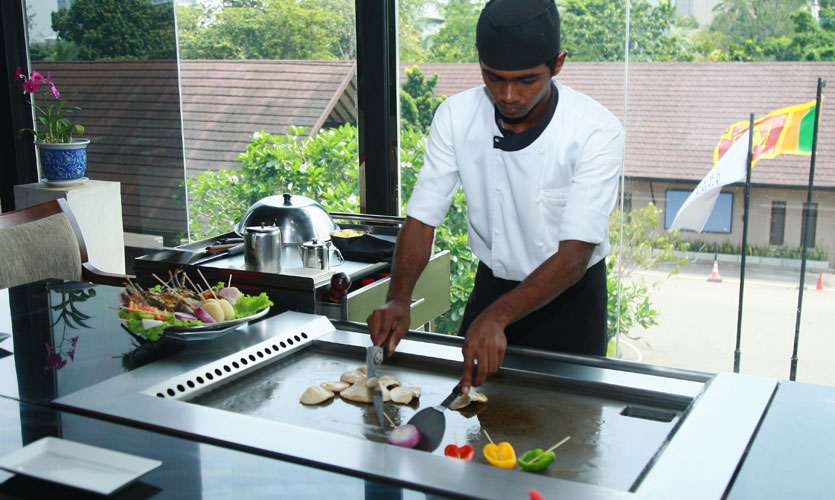 The prices for Teppan dishes start from 5000 LKR and can be shared by 2. If you aren't a fan of seafood, they have other options as well. Their most popular is the Utage course.
What we recommend: the Hiyashi Chuka, Sushi-Sashimi and any other meat items. Sorry, can't pick!
Service:4/5
Parking: the waters edge parking lot is available
Toilets: 4/5
Would we go again? Hai! (yes in Japanese)
Tips/notes– Ginza is always so full during their lunch hour so reservations are the best way to go. Although their dishes are on the expensive side, it is still affordable if you pick smartly.
Pictures by Damith Wickremasinghe