After seeing some amazing teaser videos and an awesome Instagram feed our taste buds were curious and our foodie sensors were tingling, so we decided to go and check the new kid on the block and decided to "Ask For Fern"
Ambience
All we can say is get ready for a surprise! As soon as that door opens from the cute little flower shop at the entrance to the magical mirrors at the stairs, the table that you will dine in and even the powder room there is something that will catch your eye! These guys have covered all the bases from interior to lighting to display. We would say that there are three different levels at Fern. You have the option of enjoying a nice sit-down dinner with some amazing food and drinks in a very intimate cosy setting or you can chill with your friends at the restaurant bar or the outdoor balcony lounge area away from the music and have a good long chat. Keep in mind that every corner at Fern is Instagram friendly so get ready with those hashtags.
First of all, we loved how they had presented the menu and it was hard for us to decide on which dish to get. If you are someone who loves a good mixture of flavours, then this is the menu for you! From the Samabal hopper, the cauliflower tacos and Nam Prik Lamb, the menu has some amazing combos and flavours.
After going back and forth we finally decided on the Spinach and Crab Soup and then moved on to the Pulled Beef Redang Bao and Mizo glazed Salmon.
Spinach and Crab Soup (Rs.600)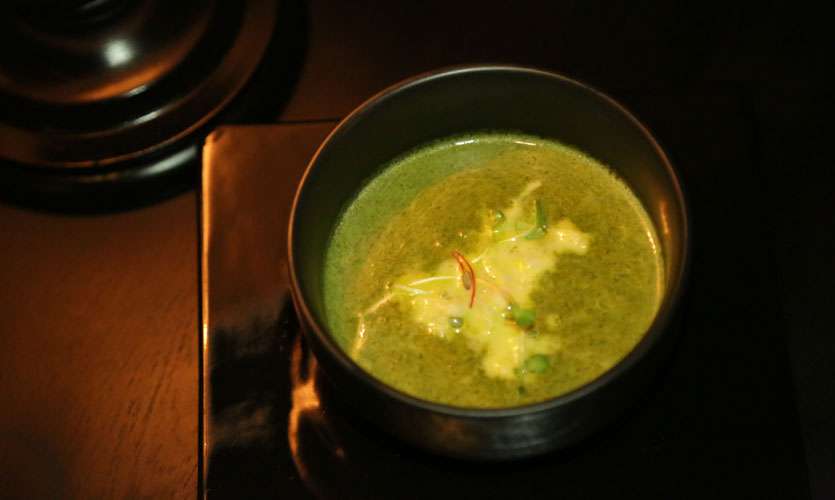 This was neatly presented to us and we must mention that the food arrived on time as promised. We thought that considering crab was used in the soup it would empower the flavour of the spinach but it was well balanced. Even though crab was added, the consistency of the salt was balanced to our liking as well and the soup was smooth and not too thick to consume.
Pulled Beef Redang Bao (Rs.950)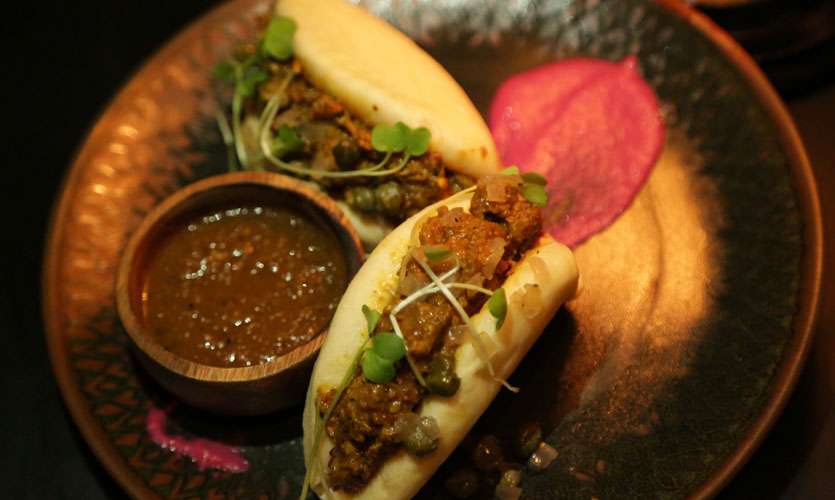 Now if you are someone who enjoys your herbs and spices cooked on a slow fire that ensures all yumminess, this dish is for you! In keeping with the popular Indonesian style, this beef Redang comes in a steamed Bao Bun and is served with a local twist of homemade green chilli sambal. The bread was soft and fresh and the beef had all the right flavours. When cooking meat that is the trick, you need to make sure all those flavours get absorbed and that is exactly what this was. If you are someone who finds it hard to handle your spicy we suggest you avoid the sauce cause that just heats things up a little.
Mizo glazed Salmon (Rs.1600)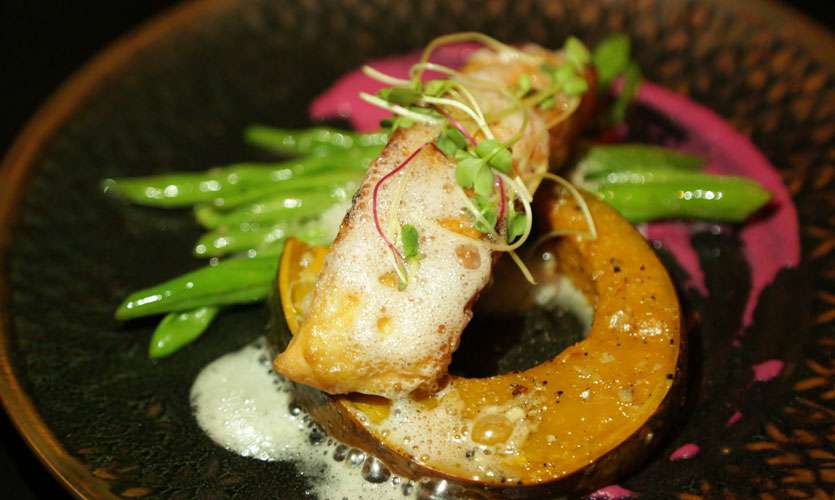 This got us at hello! From the plating to the colours and was served with garlic green beans and pumpkin. We felt that the pumpkin was boiled and then maybe grilled with herbs. Whatever it was, it did the trick and gave out some amazing flavours and not to forget the coconut foam! Yes, they used coconut foam which adds so much more flavour to the salmon and everything on the plate!
Service: 5/5
Parking facilities: 5/5
If you want to enjoy a good evening with the best in food, drink and ambience this is the place to be!
Would we go again?
Again and again!
Notes by author
We also love the fact that they don't use plastic straws and try to remain as eco-friendly as possible!