How do our food experts cook and eat? This week, Sri Lankan Masterchef Australia contestant Dee takes our Q&A! Dhayanie (Dee) Williams made every Sri Lankan proud when she emerged among the Top 24 Finalists of Masterchef Australia 2019 and her winning crab curry caused quite a stir having received glowing compliments from the judges. Following Masterchef, she appeared on SupremeChef as a judge and mentor in 2020. Today, she talks to us about Masterchef Australia and gives us a glimpse into her personal food journey.
Your first memory of cooking?
I was about 11-12years old and learning how to make Pol Sambol the traditional way using the Miris Gala from my Mum. I still can remember after using all those chillies in the coconut sambol, I was complaining about how my hands were burning!
What was your favourite childhood meal?
I grew up in a boarding school in Kandy. Every Friday we get rice, dhal curry, mallum and pappadams. This combo was my all-time favourite. Dhal is just a comfort food for me and they make it well in the boarding school.
Make a meal with Rs. 500?
Let me see what I can include in my Rs. 500 meal….it will be a piece of fish marinated with Sri Lankan roasted curry powder, tamarind, and turmeric. Then deep fried with a small portion of steamed Samba rice, coconut sambol and dhal curry. It is my all-time favourite combination. Hope it fits the Rs. 500 budget!
A cooking habit?
Clean as you go, and prep everything before cooking. I also don't like to have anyone in the kitchen while I am cooking.
As a judge, what do you look for?
When judging a competition, I would like to see how the contestant balances the flavour profile of the dish (taste) and how they have utilised the ingredients (minimum wastage). Presentation is one of the important aspects as we will be looking at the dish before we taste it, so it needs to be appealing to the eyes and the taste buds. I do not like to see a lot of wastage in cooking and I also do not like it if someone is displaying poor hygiene when handling food.
Your last day on earth, where are you and what are you eating?
I would love to be in Sri Lanka with my family and want my Mum to cook me a Yellow Rice Combo with Beans Curry, Dhal, Lamb Curry, Fried Fish, Tempered Potatoes, Fish Cutlets, Pineapple salad and papadums. For dessert, my mum's Watalappam!
Your favourite Sri Lankan comfort food?
Pol Roti, Pol Sambol, Dhal Curry and Chicken Curry
Are you a picky eater?
Not at all! I love to taste all kinds of food and flavours to get a better understanding of the different types of cuisine and dishes.
An easy meal to impress someone?
A quick and easy 3-course meal with fresh and locally available ingredients. Entrée –Ceylon Arrack cured Kingfish. Main - Slow-cooked Lamb with Middle Eastern Spices with ancient grain salad and for Dessert - Coconut Pavlova with tropical fruits.
Your thoughts on modernising traditional food?
I think some dishes need to be elevated from the traditional way of presenting the dish, but the flavours should be kept as authentic as possible. When it comes to serving it up to a global audience there are several elements that need to be taken into consideration. While I was preparing to get on to Master Chef Australia 2019, I experimented and tried several different elements to serve up Watalappam to the judges. I looked at it from a consumer perspective, how to keep the original flavours of the Watalappam while adding a modern twist and having the wow factor to the dessert. I wanted the Watalappam to sit in a fine dining experience and I was privileged enough to showcase the Wattalappam in MasterChef history for the 1st time in 2019!
What's does the restaurant of your dreams look like?
I have 2 completely different ideas for the Restaurant. One is to have a fine dining set up serving Sri Lankan dishes in a modern restaurant set up. Would love to bring in some authentic dishes as well as some of my creations too .I would like to have Jazz music playing in the background which creates a warm and relaxing atmosphere. The dishes will be similar to the 2 Pop up Dinners I had in Jetwing Colombo 7, Sri Lanka and Gaja by Sashi Adelaide, Australia with dishes like; Ceylon Arrack Cured King Fish, Jaffna Style Goat Curry, Tropical Delight Panna Cotta. The other restaurant, I would love to keep it as a casual dining set up serving up South-East Asian Region "Street Food". The set up will be more fun with a fast-food kind of atmosphere, serving up dishes like Kothu Rotti, Masala Dosa, Karage Chicken and with music like Sri Lankan Baila, Techno, Pop Rock.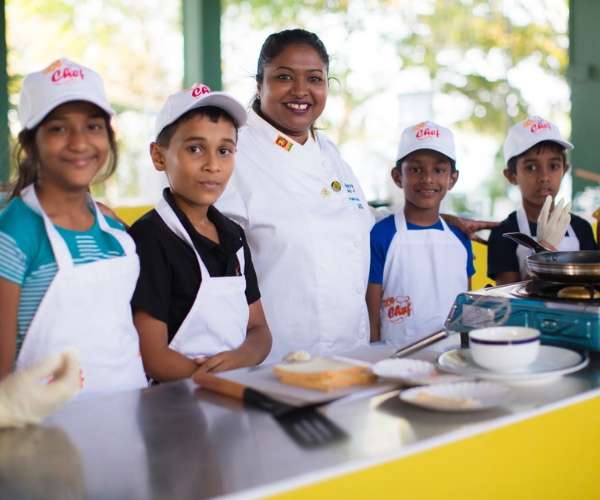 What's one thing you wish you knew when you entered MasterChef?
How to work with limited ingredients would have been handy with the mystery box challenge. I'm used to working with lots of different ingredients in the kitchen, as many of us do. Also, perfecting the tampering chocolate would have been extremely helpful with my elimination challenge!
Your favourite odd food pairing?
It would have to be using coffee, bacon and banana to make a dessert, surprisingly these ingredients work well together in a dessert. I had the opportunity to use these ingredients in a MasterChef challenge and I made a Coffee Parfait with Bacon crumbs and Brulee bananas.
What's a dish you'd love to relive for the first time?
I would love to re-live the first time I ate the Opera Cake, by looking at the cake I didn't think it would have an amazing taste.
The most adventurous food you've eaten?
Kangaroo Steak at my mother-in-law's place! Kangaroo is a gamey meat, it is so delicious and tastes like strong flavoured beef. It is lean and is very tough when cooked well done, but when it is cooked right it is better than steak in my opinion.
The oldest and the most used items in your kitchen?
I have plenty! My coconut scraper because I always love to use fresh coconut instead of desiccated coconut for all my Sri Lankan and Indian dishes and my Sri Lankan clay pots for when I make Black Pork Curry, Goat, Lamb Curries and Ambul Thial. I love to use them for the flavour and for the authenticity.