Movenpick Hotel Colombo's all day dining restaurant AYU hosts theme nights for each day of the week; on Thursday's it's their Seafood Buffet. Priced at Rs. 3350 nett, here's all you need to know about it.
Ambience
AYU exudes a laid back, unfussy vibe, despite its upscale interiors. There are quite a few seating options and tables are placed a comfortable distance from each other, so you don't feel like you're imposing on someone's space or conversation. On one side of the room there are floor to ceiling glass panes affording city views. The food stations are all laid out throughout the room, so there's almost never a frenzied throng of people disrupting the flow.
The Buffet
AYU doesn't fall into the trap that most buffets do, and instead, ditches quantity for quality. You'll find the usual stations - the assorted breads, the cheese boards and cold cuts share the island with the salad counter. In another part of the room the live action station where the grill and the pasta station are located. In a counter adjacent to it, you will find an extended selection of food. And of course, there's the dessert.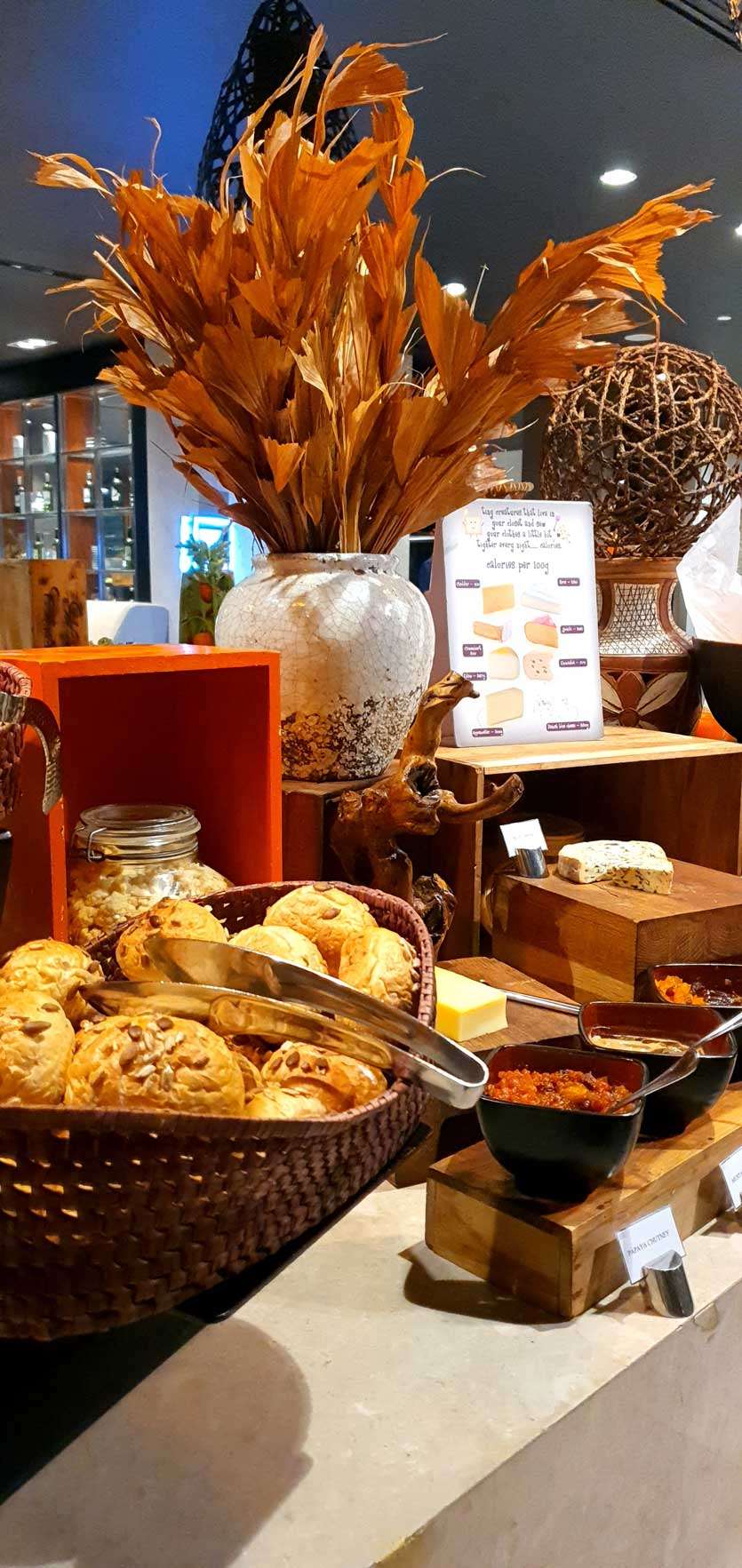 While you may not consider it, the Movenpick hotel has a lineup of inspired cocktails and virgintails - the non alcoholic versions - that are worth a try. I had my "Movenpick usual", that is, the Berry Breezer virgintail which comprised a concoction of berries that was absolutely delicious. If you'd like a more localised version, I'd recommend their Achcharu drink, which is spicy, yet so good! Do note, however, that the drinks are not included in the price.
The salad bar included a nice variety of vegetarian and non vegetarian options, including the yummy pasta salad and chicken salad. One thing I wasn't too fond of was the hummus, which was a little too salty. The Dinner Rolls also were a little disappointing, being a tad dry. The rest of the items off the salad bar were a lot tastier.
Considering Thursday is Seafood night, you will find a plethora of seafood laid atop a bed of ice. You'll find quite a variety of seafood, including Garoupa, Red mullet, Gray mullet, Paraw fish, Parrot fish, Seer fish, Crab, Calamari and Prawns. You can then hand them over to the chefs at the grill who will do the needful and send the grilled seafood to your table. It could take a while before the seafood gets to your table, especially if there's a crowd, so I recommend that you hand your seafood over to the chef and head over to the next counter and pick whatever you want to eat in the meantime. When I received the seafood, I found it to be well grilled and charred perfectly, topped with a sauce. I would have liked to have more options in terms of how the seafood was prepared - batter fried, for instance - but I'm guessing the options are limited in order to allow the chefs to focus on preparing the seafood to perfection.
While I waited for my seafood, I managed to sample the Vegetable fried noodles, Tomato smoked rice, Beef lasagna, Roasted chicken, and Cajun potato wedges with sour cream. I was surprised to find myself enjoying every single one of these dishes. The tomato rice and the beef lasagna were especially delicious! I didn't get to try their Sri Lankan food or the pasta because when you're at a buffet, the food can get overwhelming. But I did taste their rotis which were soft and their tandoori chicken which I loved.
Desserts at the Movenpick are quite delicious and I am a fan of their crème brulee, which has always been good. You will truly be spoilt for choice with their desserts as they have something for everyone. They even have ice cream, but unfortunately, it's not the Movenpick ice cream.
Service
Service at AYU was actually very good. Chalani, who was overseeing the area I was seated in was fabulous - she was very attentive and ensured everything was okay. The rest of the staff too were quite efficient despite attending to a large crowd. My plates were cleared almost immediately and it was never hard to get their attention during my meal.
Address: 24, Dharmapala Mawatha, Colombo 07
Contact number: (011) 7450450
Hours: Dinner 7pm-11pm
Facebook: www.facebook.com/Movenpickcmb
What I recommend: Seafood, tomato smoked rice, beef lasagna
Parking: Available, including valet services