Santai Colombo is the newest restaurant on the block and is dedicated to serving authentic Malaysian cuisine. This is pretty great news for those of us who love Malaysian fare, considering we have never really had a proper restaurant focusing primarily on this cuisine. And at a time when Chinese and Thai restaurants keep popping up around town at great speed, Santai is certainly a welcome addition.
Ambience
At first glance, Santai exudes a very homely vibe, but once inside, I notice that the interior is a lot more sprightly, while being warm and welcoming. Tables are mercifully spread out - something I appreciated, owing to the fact that many restaurants tend to cram as many tables into a space, making it seem very claustrophobic. There's also a very striking mural by a Sri Lankan artist serving as a backdrop, which makes it one of the most instagrammable areas of the restaurant. Diners can choose to sit at the tables or at the bar style counter.
Drink & Starter
When restaurants focus on a particular cuisine, it's always nice when their menu isn't ridiculously long spanning multiple pages. The smaller the menu, the better the quality of food, I've found. Signalling good things to come, the menu here at Santai is perfect - having just enough variety to not leave anyone with extreme indecision, while also catering to those who like a bit of variety in offerings. As you peruse the menu, you will notice that Santai serves no alcohol, nor any beef or pork.
I picked the Lychee drink (Rs. 500) because I wanted something light to kick off my lunch. It proved to be the perfect drink that didn't have me stuffed before the food came. The drink also comprised whole lychees at the bottom. Best of all was that they used a paper straw.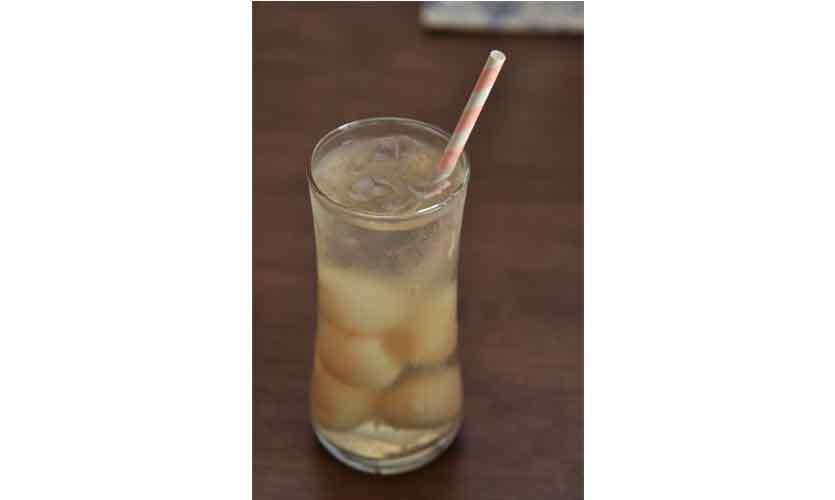 From the few starters on their menu were some well known items like the satays and ever so popular roti canai. I decided to forego those and try the Cucur Udang (Rs. 600 for 5 pcs), which was new to me. Essentially prawn fritters, this was a 'deep fried snack made from shredded vegetables and shrimp coated in crispy batter served with homemade sweet chilli sauce'. The significantly large fritters proved to be quite light, despite its appearance, just perfectly crisp and yummy. Make sure to eat it with the sauce though, because without it, the fritters are (thankfully) lightly salted and to some may seem a little bland in the salt department.
Mains
For mains, I sampled the Mamak Mee Goreng (Rs. 850) and the Nasi Goreng Kampung (Rs. 1050). The Mee Goreng, 'Indian muslim style stir fried spicy sweet noodles with homemade onion fritters, coconut fritters, tau foo, egg and vegetables' was an instant hit! Without a doubt a hearty dish with many elements coming together beautifully to make a flavour rich dish that will leave you content.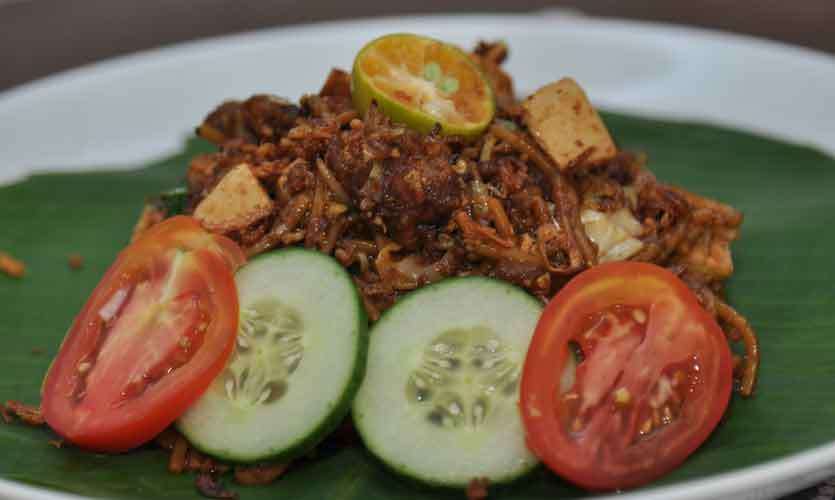 The Nasi Goreng too was another great dish made in an authentic style. Many Sri Lankans might find themselves a little shocked as the plate of rice is placed in front of them, especially for not looking like what we have come to expect a 'nasi' to look like - a saucy rice with even more sweet chilli sauce and chilli paste added to it. No, what you will be served is a 'classic Malay fried rice served with kerepok (crackers), fried chicken, fried egg and salad'. The rice comprised sprats, which added not only texture, but also flavour to the rice. The salad was actually vegetables tossed in a sauce akin to a sweet chilli sauce. The flavours and textures off the many components of the dish complemented each other very well. Special mention must be made of the fried chicken, however. Generally, I avoid fried chicken and dishes that include it like the plague. Safe to say I don't particularly enjoy the chewy, overcooked meat that is often produced under the guise of fried chicken. This one though was, to put it simply, excellent! The chicken was super succulent, well flavoured and lightly crisp outside. I kept dissecting the chicken, convinced that inside, I'd find raw meat because it's tough to achieve that level of perfection without it being raw in the middle. Had I accidentally stumbled upon my favourite fried chicken ever? Possibly! And that's saying a lot.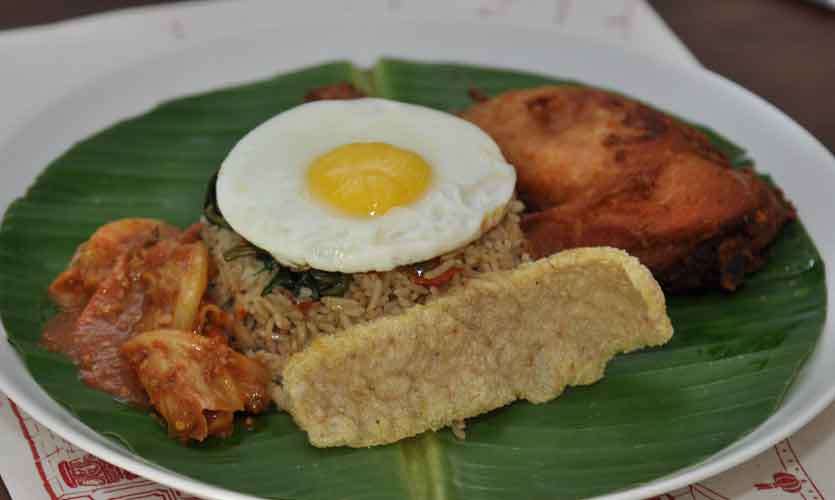 Dessert
I was given an additional menu and told they were expanding a few sections to include a bit more variety, and this included dessert. I tried the Burnt Cheesecake (Rs. 700), a 'rich and creamy Basque style cheesecake' and the Teh Tarik Tres Leches (Rs. 550), 'teh tarik cake soaked in three kinds of the tarik flavoured milk'. The cheesecake was an absolute delight, not too sweet.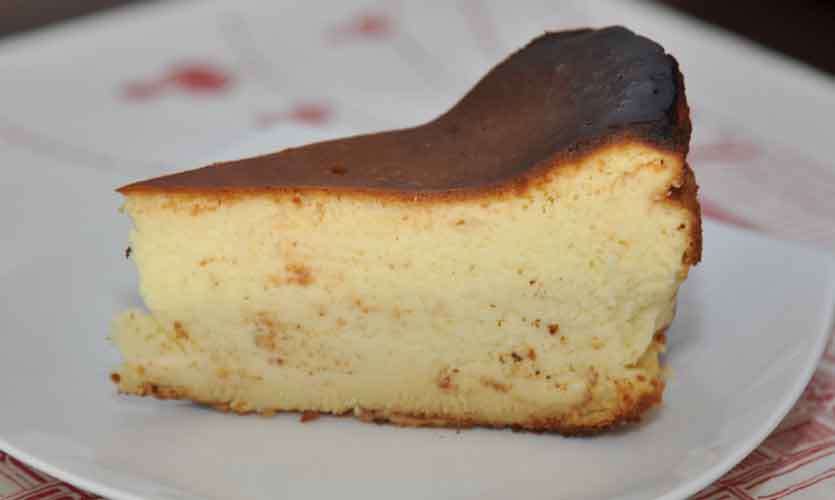 The tres leches, with the Malaysian spin, was another great dessert reminiscent of bread soaked in tea, a Sri Lankan habit. The tres leches were served with a soup spoon in addition to a dessert spoon, which is pretty useful, making soaking the top layers of the cake easier.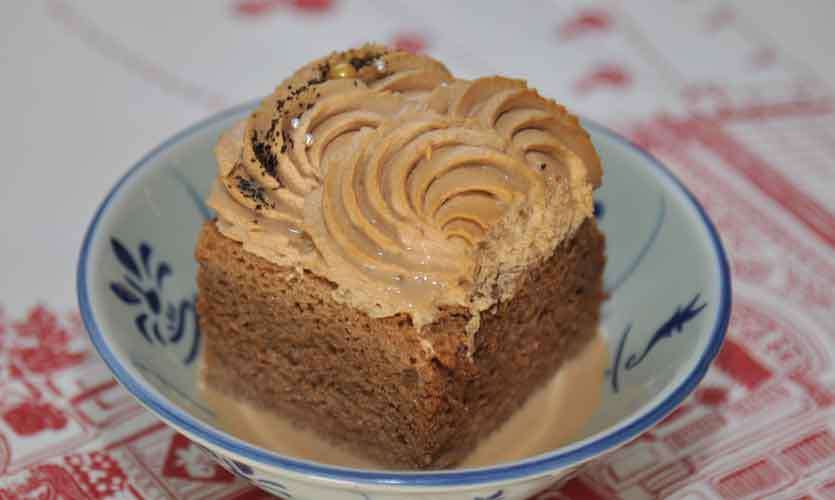 The food is prepared with heart, soul and ingredients imported from Malaysia - evident from the very first bite. I found myself pleasantly surprised at how tasty and hearty the food was and I will happily recommend it to anyone. I also feel like I may have upped the ante - and most certainly the pressure - for Santai to ensure their fried chicken is upto mark at all times, owing to the glowing verdict, but I hope they will continue to maintain standards. The staff were super friendly and helpful, around if you needed them without being overbearing. They always answered with a smile and patience.
Parking: Street and parking lot
What I recommend: Mee Goreng & Nasi Goreng
Would we go again? Most definitely!
Notes: 10% service charge and government taxes applicable
Pics: Nisal Baduge