Ambience: Ocean by O! is located in the rooftop of the hotel, Ocean Colombo, which is located in Marine Drive, Bambalapitiya. It is a rooftop bar that opens up to the western coast of Sri Lanka. This place can accommodate up to 80 people and they want to give a unique sophisticated and more chilled out experience to the customers. They have a bar, indoor seating area and an outdoor lounge area as well.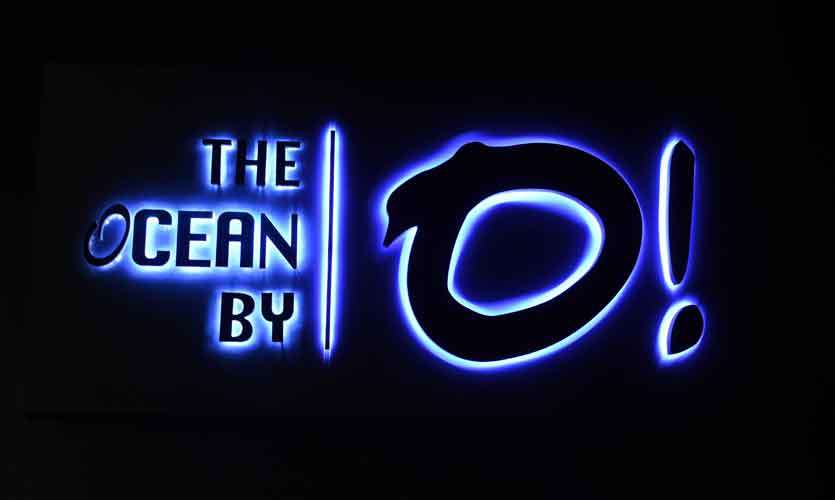 Drinks- 3/5
Virgin Strawberry Mojito
The Virgin Mojito (Rs. 250) comes in passionfruit and strawberry. We went with the strawberry option. The mojito came with a lot of strawberries and mint leaves. The flavor was well balanced with aerated lemonade. This is extremely worth for the price!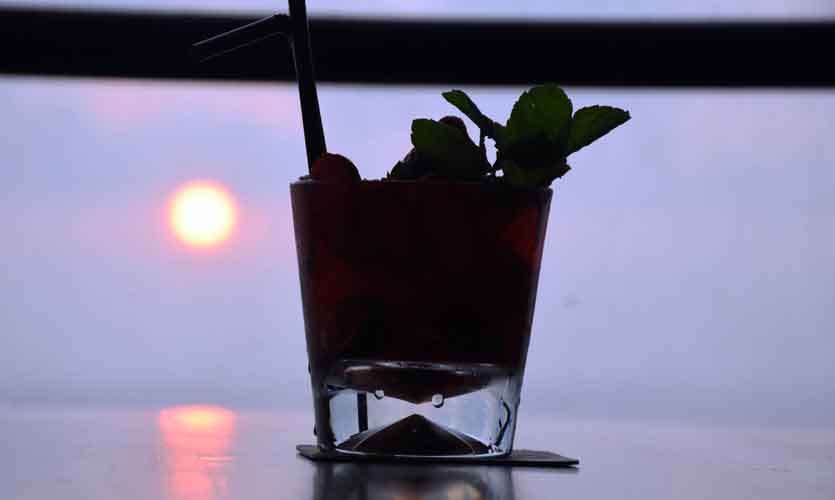 Frozen Margherita
I'm not quite sure what the flavor was in this, but it tasted quite diluted to me. A frozen margherita should taste like a slushy, but this didn't.
Shirley Temple
Shirley Temple (Rs. 250) is generally made with grenadine syrup, but this was made with strawberry syrup, which is an acquired taste. The flavor of the aerated beverage was quite apparent, rather than the strawberry syrup. This drink was okay, but we didn't like it much.
Food – 3/5
Starters
Prawn Tempura
The Prawn Tempura (Rs. 1200) came with a huge plate of batter fried prawns, which were delightful. The prawns were so fresh and juicy inside and the batter was crunchy on the outside. This is one of the best Tempura Prawns we've had so far!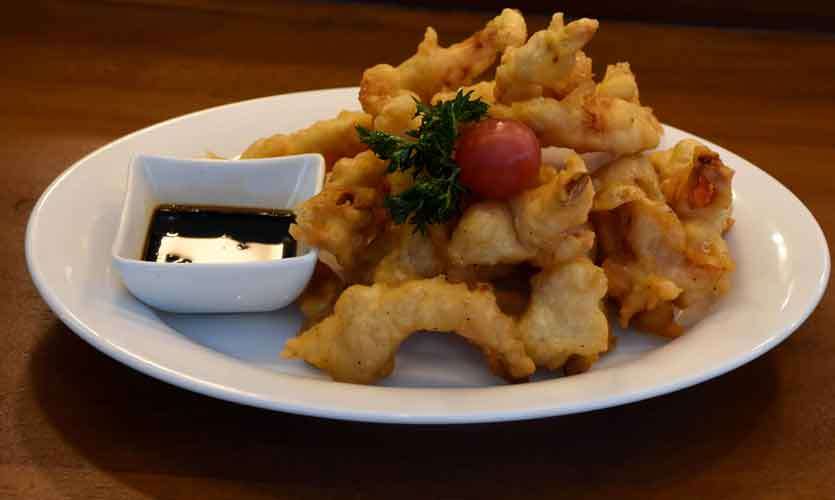 Main course
Fish and Chips
Fish and Chips (Rs. 925) come with crumb fired sail fish served with French fries, salad and homemade tartar sauce. The fish was sliced a little too thin, which made a significant portion fry and harden, leaving almost no succulent meat inside. So, it was a bit hard to bite into and had lost the flavor a bit. The chips were fresh and crispy which paired nicely with the tartar sauce.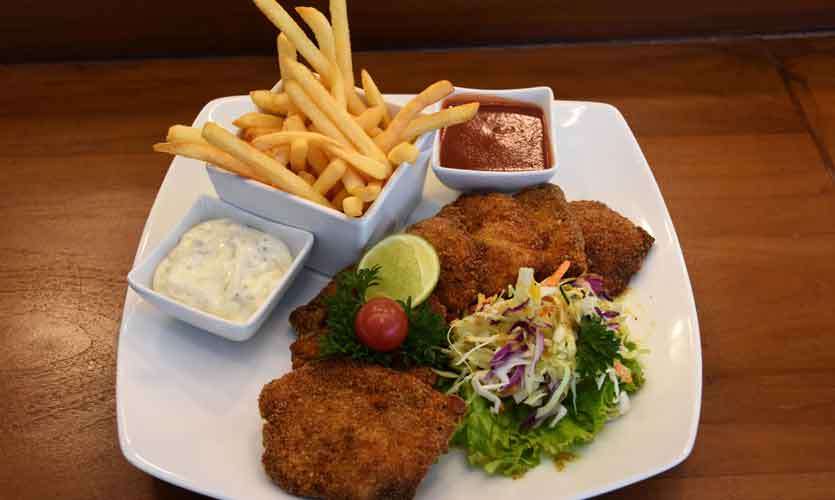 Nasi Goreng
The Nasi Goreng (Rs. 950) comes with seafood fried rice served with peanut glazed chicken satay, fried egg, chili paste and prawn crackers. The chicken had subtle flavor of peanut not overpowering the chicken and the egg was fried to perfection and when cut into the yolk, it oozed out beautifully. The rice was filled with seafood and the flavours were bursting. This is well worth for the price.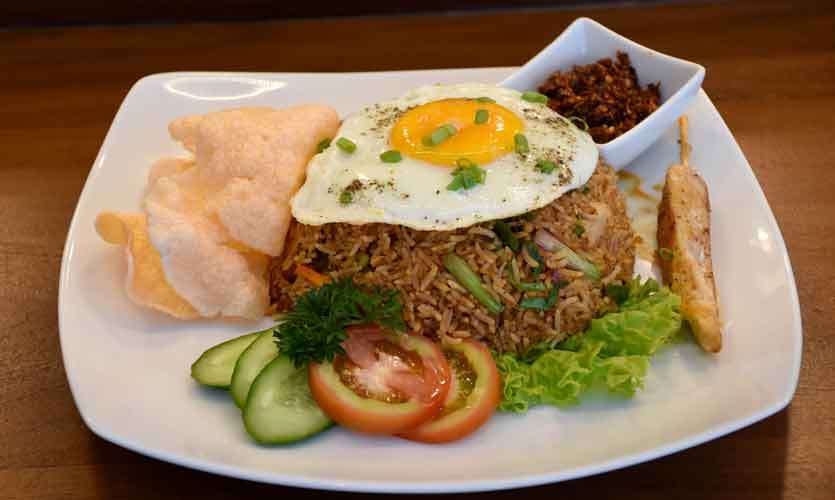 Chicken Burger
The Chicken Burger (Rs. 750) comes with layers of tomato, cucumber, onion, chicken patty, cheese and fried egg in homemade sesame bun, served with coleslaw and French fries. The burger was so filling but lacked flavor. The chicken patty could use a bit more seasoning. What was on the plate was a far cry from coleslaw, it didn't have any salad dressing in it but was just cut up vegetables. The fries were fresh and crispy, and it was the best thing in the dish.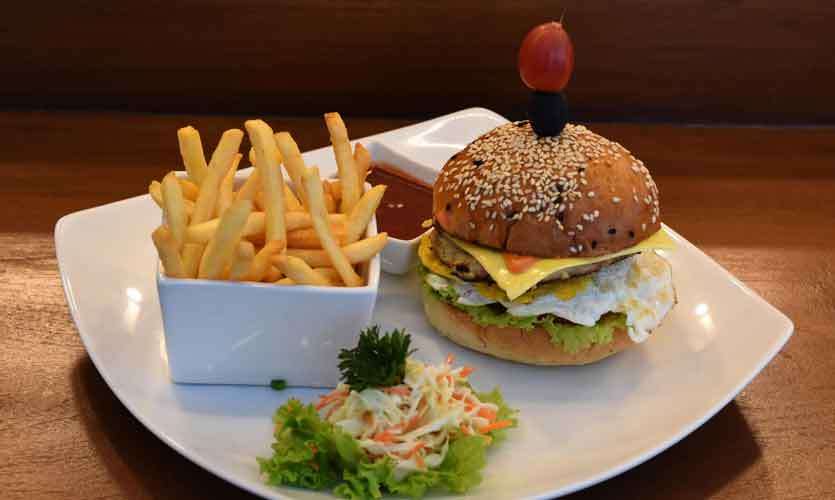 Desserts
Brownie Bottomed Cheesecake
The Brownie Bottomed Cheesecake (Rs. 550) comes with layers of chocolate brownie and rich creamy cheesecake topped with chocolate sauce. There was only a very thin slice of cheesecake, which didn't taste that baked. The brownie layer was huge, but I didn't really enjoy it as it was quite dry and cakey. And the two flavors didn't really blend nicely in the mouth, it was quite off-putting.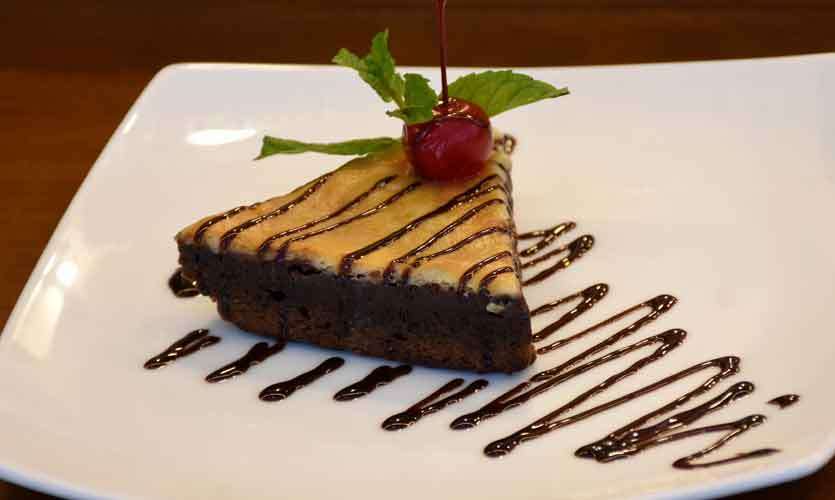 What we recommend: I highly recommend the Prawn Tempura and Nasi Goreng.
Service: 5/5
Parking facilities: 4/5
Toilets: 5/5
Would we go again? As they are still very new to the business, we would like to see what they come up with in the future. So we will definitely check them out in the future.

Tips/notes by author – There are service charge of 10% and government taxes included.
Photographer: Kushan Pathiraja