Life Online dropped by Park Street Mews to check out the recently opened restaurant Kuuraku Colombo, which serves authentic Japanese cuisine. Kuuraku is a Japanese franchise operating 33 restaurants globally. Their restaurants are located in Ginza - a prestigious area of Tokyo, Montreal, Toronto, Jakarta, and in a couple of cities in India and also China. This is the first one in Sri Lanka.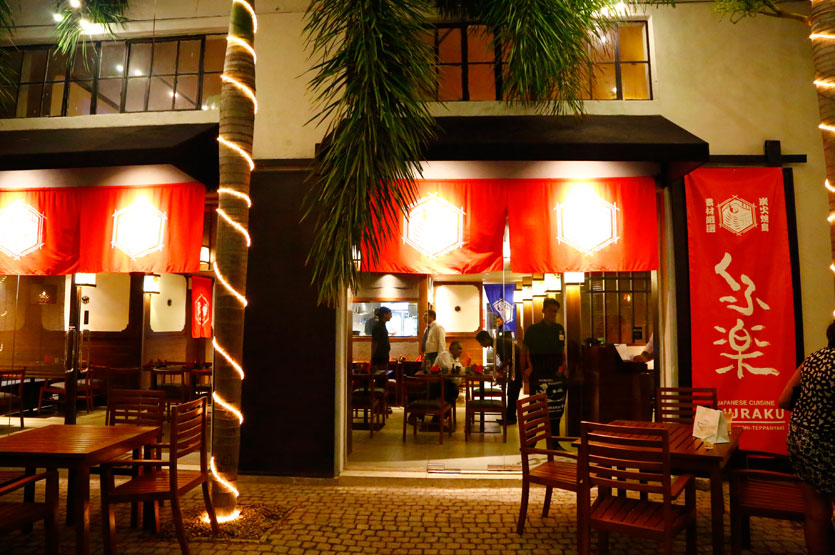 Something unique to the Kuuraku chain is the infusion of Japanese culture to the staff where ever they operate. When a staff member makes a mistake the Japanese trainers call it an experience and they don't reprimand anyone but encourage them to improve from that experience.
Vijay from Nepal who has been with the chain for the past nine years, speaks Japanese, works like the Japanese and he is the main man in the kitchen. They have this custom where, when a customer walks in and when they leave, the whole staff shouts out a greeting.
---
Ambience
The tastefully decorated inside is very cosy and made to look like a typical Japanese restaurant. As you walk in there are a few tables in the centre and on either side there are little half cubicles separated from each other by dainty bamboo tats which give you the option of privacy if that is what you like. There is also an upstair area for dining. If you like to sit out in the open air and dine, that could also be done.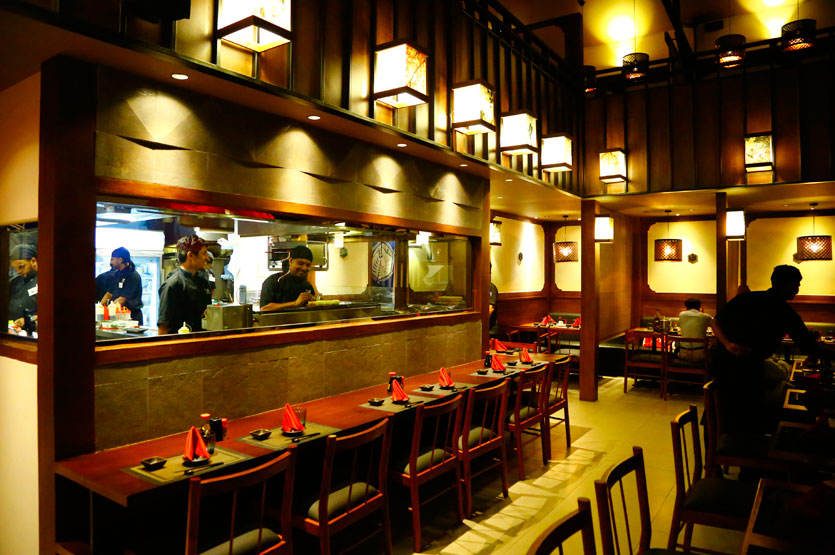 ---
Food
They have an open kitchen concept and different areas for their preparations of Sushi, Yakitori, Thepanyaki and Tempura.
Chef Vijaya offered us quite a number of preparations to taste. Their Salmon Sashimi (Rs. 1180) was just perfect and absolutely mouthwatering.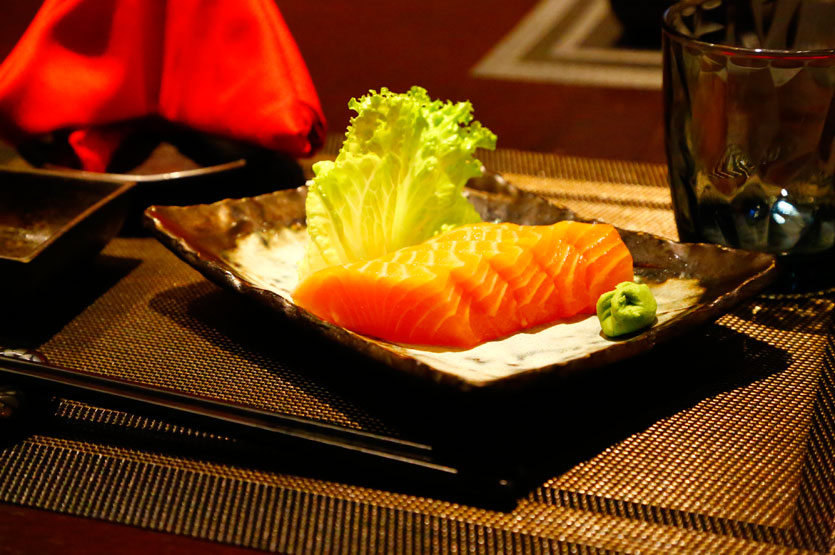 Then we tried out the Buta-no-Kakuni (Rs. 880), a plate of boiled pork with Japanese spices.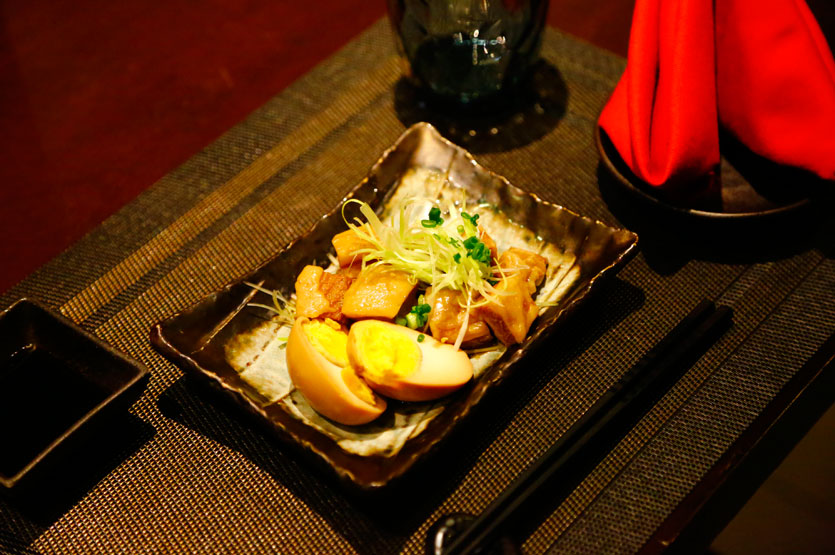 Their Spicy Tuna Rolls (Rs. 980) were also super.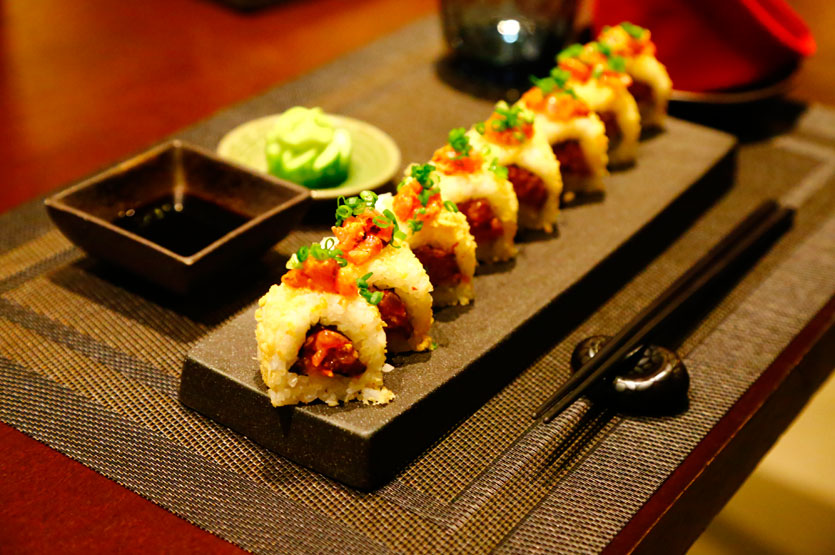 The Tori Kushi Course (Rs. 760) which is a plate of skewered parts of chicken and the Tsukune Kushi Course (Rs. 860) which had meatballs on skewers, both of which had different toppings were well seasoned and quite filling.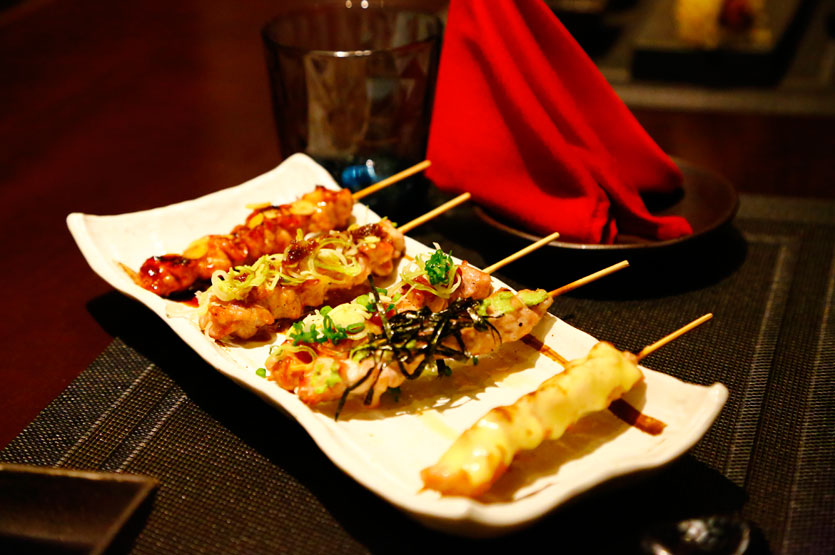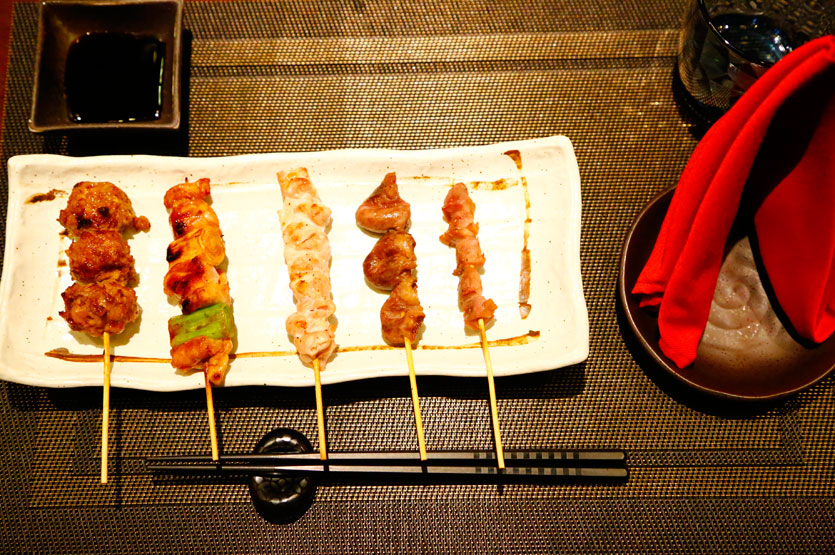 Then we tried out the Teppan Goyza (Rs. 1280) that was grilled chicken dumplings and then the Aburi Salmon Cheese Rolls (Rs. 1280) which had in it - salmon, cheese, cucumber, avocado and lettuce. Both dishes were really yummy.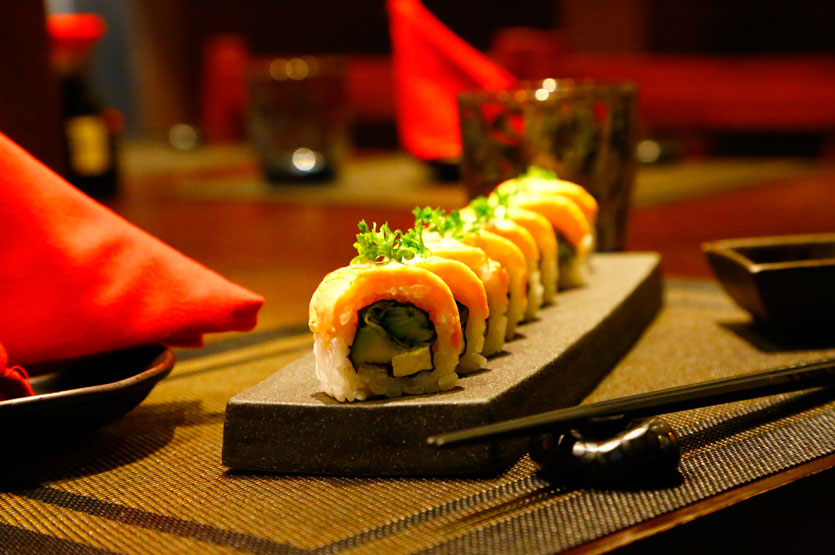 We also tried out the Japanese Omelette.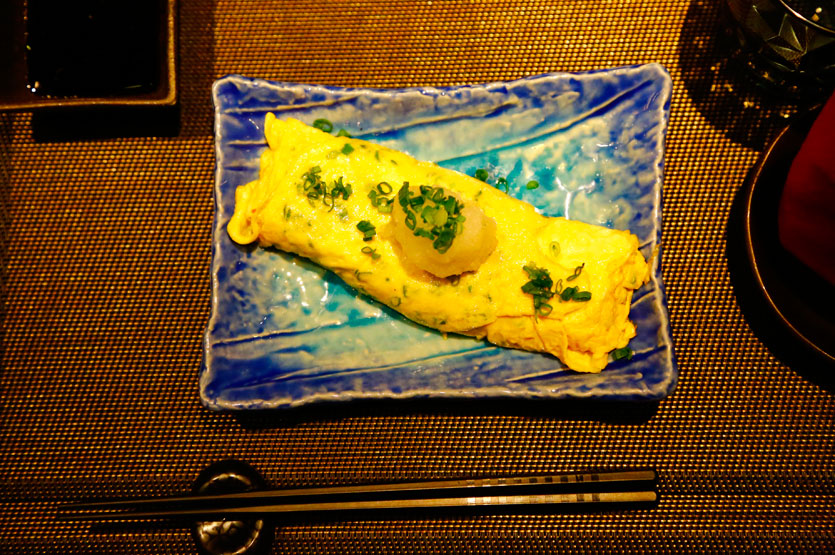 Then there was this Onion Flower (Rs. 480), a beautiful creation. It was an onion cut and opened up in the shape of a flower. It was covered in a tasty batter and was nice and crispy.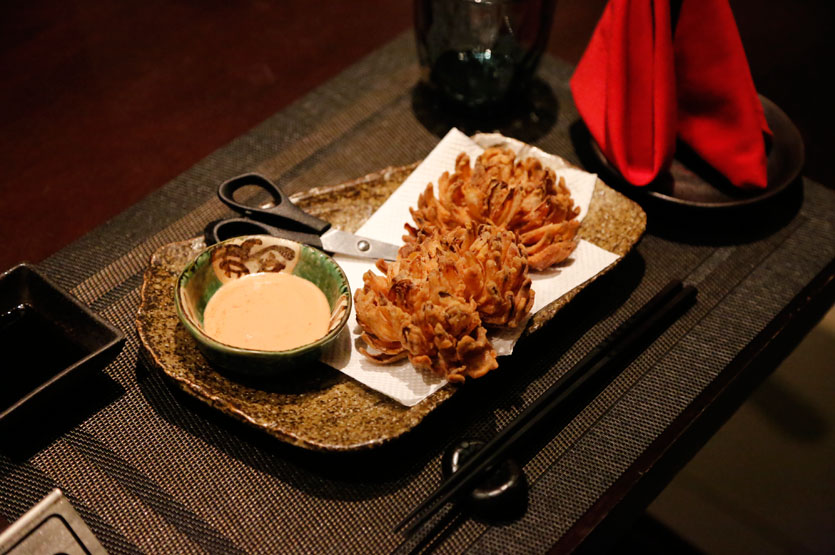 For dessert we had the Tempura Ice Cream which was tasty but naturally the ice cream comes a little melted and not the consistency we expected.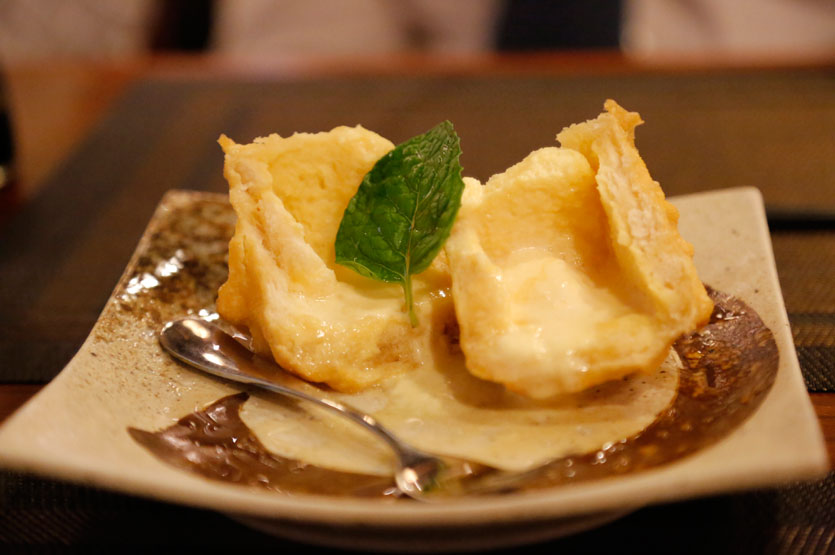 ---
Service
The hospitality we experienced from the time we walked in was remarkable. Everyone who served us was very obliging and ready to please. They make sure that when you leave the place, you will definitely want to visit again.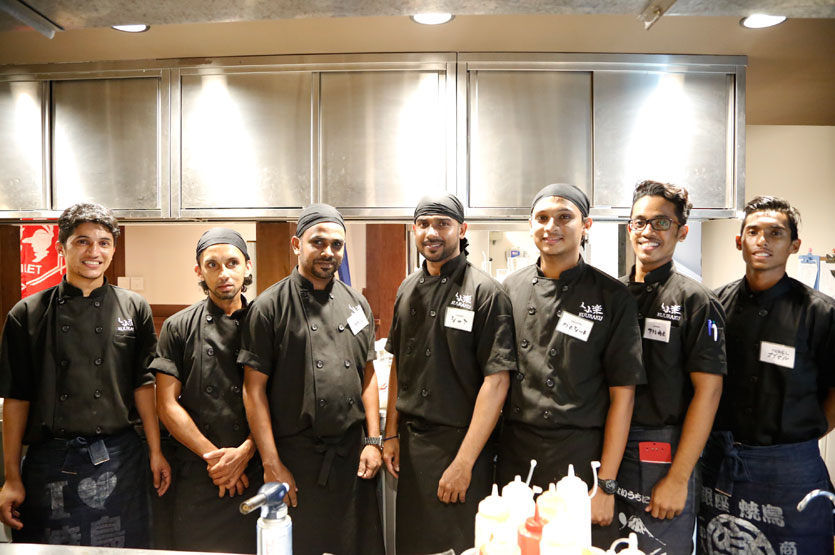 To sum it up, this is a place all you Japanese food lovers really need to visit and check out for yourself.
Photographs by Zeeshan Akram Jabeer