HoneyBee Desserts is a home-based business that's been in the industry since 2018. Run by mum and daughter duo, HoneyBee Desserts offer cookie bars in a range of innovative flavours. Setting themselves apart from brownies and blondies, these cookie bars experiment with a variety of different tastes and textures and offer their very own twist to each item.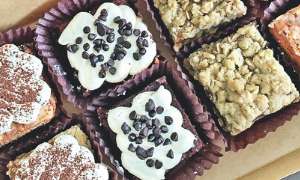 "We wanted to bring something new and unique to the market and we loved playing around with classic flavours. Our cookie bars are our own authentic creations, full of flavour, made with high quality ingredients and in small batches with utmost love and care. We also created it in just the right size – it's not too much and it's not too little!" says daughter Melissa Lewke.
The current cookie bar range offers 8 different flavours – Red Velvet, Caramel Snickerdoodle, Chocolate Macaroon, Chocolate Chip Cheesecake, Salted Caramel and Spiced Caramel Apple Crumble along with their newest additions, the Tiramisu and Sticky Toffee. They also do three unique flavours of speciality brownies such as Black Forest brownies, Fudgy brownies and Black and White brownies and cater to custom requests on occasions to whip up delights such as fudgy lemon blondies and browned butter honey and pistachio bars.
Tiramisu
We are always open to a different take on one of our favourite classic Italian desserts and this experiment didn't disappoint. HoneyBee Dessert's take on it offered a sturdy and grainy cookie bar infused with coffee with a creamy and sweet mascarpone and cream cheese topping. Topped off with chocolate powder dustings – the tiramisu flavours were subtle but undeniable.
Sticky Toffee
The Sticky Toffee flavour was our personal favourite. The cookie bar was chewy and sweet with a soft crusty layer on top. What we loved most about it were the chunks of toffee that were embedded inside the bar that made it gooey and soft from the inside. If you have a sweet tooth and sugar cravings – the Sticky Toffee hits all the right spots.
Red Velvet
With a soft red velvet base, this cookie bar is topped off with a generous layer of cream cheese and dotted with chocolate chips. These Red Velvet bars had a buttery soft centre that just melted in our mouth with the right amount of rough, crunchy texture to distinguish it from its softer cake version.
Spiced Caramel Apple Crumble
Stealing our hearts right after the Sticky Toffee was this very subtle flavoured cookie bar. While this cookie bar is far less sweet than the rest, it had more depth in flavour than the others. The combination of the spiced caramel apple together with the rough oat crumble on top – this is a dessert that is perfect for those with a mild preference for sweets and goes amazingly well with evening tea! The Spiced Caramel Apple Crumble is made without eggs and is a popular item among customers.
HoneyBee Desserts require 2 days advance notice when placing an order. Delivery is available within Colombo and its suburbs. Orders can be placed via Instagram (@HoneyBeeDesserts)