The face behind the delectable and very popular Nandi's Milk Toffees, Nanditha Peiris Gamage began making her milk toffees "14 years ago, with just 30 pieces at Odel ward Place. Now we supply around 2000 pieces a week to 5 Odel outlets, Paan Paan, Barefoot, Tasty Caterers, Avirate Cafe and Isso."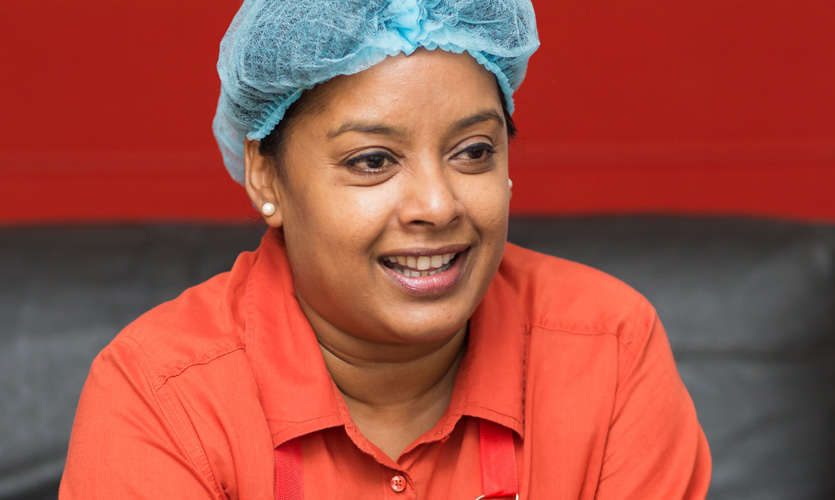 1. Which food personality would you like to be reborn as?
I would love to be reborn as Rachel Allen...she is so cool the way she conducts her show, she makes cooking look so easy and her dishes are quick and easy to prepare too. I really like her style.

2. What is the most ridiculous client request you have accommodated?
So far, I've been lucky enough to not have any crazy requests! But some of the more daunting challenges I've faced are catering to large events like weddings, Company functions where milk toffees boxes are given as gifts to all the guests. I've had a number of orders where I've had to provide over 1000 milk toffee pieces. It's a real challenge then with lots of planning done before the event. luckily only two ingredients have to be stocked up Cashew nuts & milk maid, I get extra help during such events. they help me in packing the MT in specialized boxes/containers /wrappers etc. It's a lot of work but very fulfilling once you see the end product. Another good thing is the shelf life of the MT is 2 to 3 weeks, so we get started a couple of days before the event. That really helps.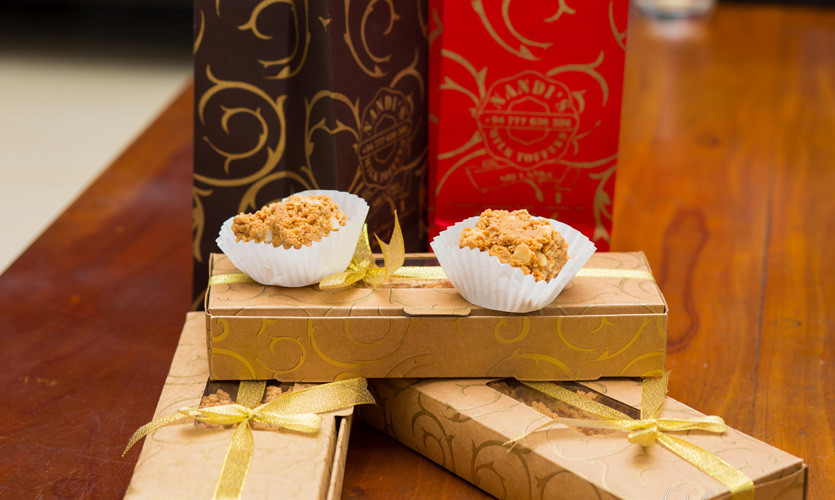 3. If you were to pick a reality cooking competition to take part in, what would you pick?
To cook in a cooking completion..... I can only think of master chef, but I feel the show has become very stale now. The first two completions were so very interesting. The whole family used to watch it together and lay bets on who will have to leave the show in the next episode. To tell you the truth I don't watch it any more.

4. You've been given the opportunity to bake something for your favourite celeb. Who would you pick and what would you make?

I would pick chef Kiran Jethwa he has such an exciting life, travelling all over the world cooking dishes with the native people. what fun. His programme Tales From The Bush Larder is really worth watching. I find his style of cooking very innovative and interesting. I would love to cook him a dish of creamy sea crab curry with murunga n Sri Lankan spices, accompanied with roast pan and pol sambola!

5. What is your favourite food memory?
As I have lived most of my life in Delhi my favourite memory is eating hot hot crispy Jalebe's with cold ice cream. Oh to die for. Actually all Indian sweets are to die for - full of Ghee, sugar some form of milk, lots of nuts etc etc. So bad for your health but so addictive. The most authentic place to buy Indian sweets is at Panash. I visit that place at least once a month. Sooo good.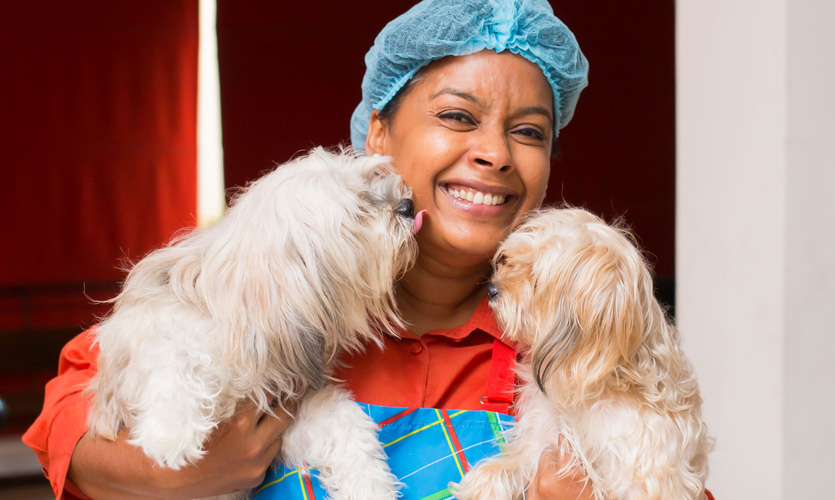 6. Funniest / most embarrassing kitchen incident?
I haven't really had any funny or embarrassing incidents when cooking, making milk toffees can be rather easy going except for the strenuous stirring! that's involved... Ha ha My kids call me a female weight lifter.

7. What is the most challenging ingredient you have used?
Almond essence is one of the toughest ingredients I've had to work with, For the Christmas season I make a special fruit n nut Christmas cake version of the Milk toffee which has been quite a hit. Could never get the correct dosage so finally did away with almond essence. Very tricky ingredient.

8. What nonexistent food combination or dish do you wish would becomes a reality?
One really unusual combination I would love to see work is a link between Indian and Japanese food. As they are both my favourite cuisine. but i must say Japanese food is so much more healthier.

9. What would you choose to be your "Last Supper" meal?
As I absolutely love Japanese food such as sushi, sashimi and nigiri, for my last supper I would definitely go for an omakase meal, where the chef decides the menu and plates all the courses of the meal in front of you, preferably by one of the famous chefs in Japan! And dessert has to be an Indian sweet. wow! I am in heaven.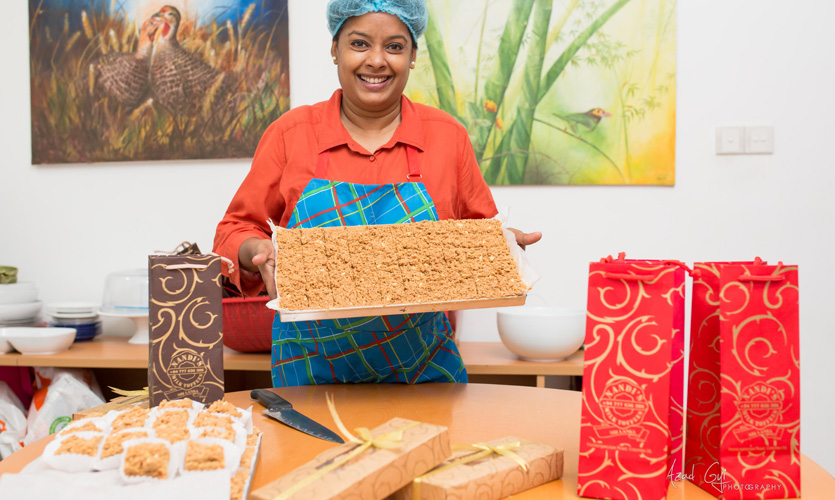 Do check out Nanditha's page on Facebook for more information. She also delivers islandwide and worldwide. https://www.facebook.com/NandisMilkToffee/
By Rihaab Mowlana
Photo Credit: Azad Gyi