The 3 Brothers Italian Bistro is located in the heart of Park Road, one of the busiest streets in Colombo. They serve authentic Italian dishes unlike any other restaurant in Colombo. You can hang out with a friend sipping on some wine enjoying one of their cheese platters or go all out on pasta, pizza, bruschetta and many other truly Italian dishes they offer. The bistro can accommodate up to 40 people indoors and they have a garden area for when you feel like dining outside to get the true Italian experience.
Drinks
Mint and Lime Cooler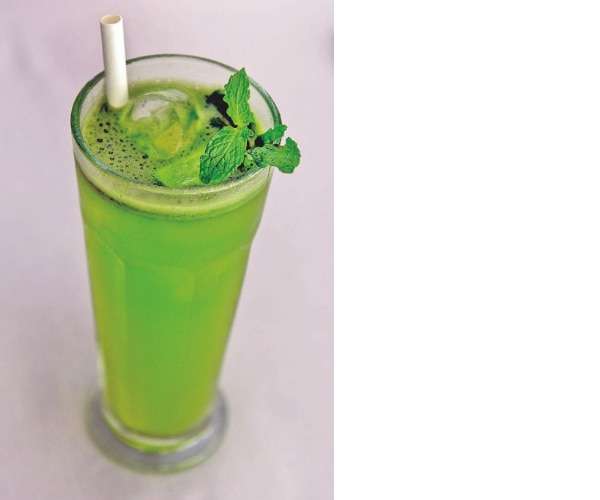 The Mint and Lime Cooler (Rs. 450) came with a generous amount of mint and lime and it was extremely refreshing to have on a hot and sunny day. The flavour of mint was nicely pairing with lime and was like a breath of fresh air.
Hot Chocolate
The Hot Chocolate (Rs. 400) was not too heavy and not too light, it was just the right amount of chocolate one would expect. This would not in any way interfere with the meal you are about to have as it was not too heavy and pairs quite well with the dishes they offer. This generally comes with marshmallows, but they were out of marshmallows that day, but I ordered it anyway as I am an avid hot chocolate fan.
Starter
Bruschetta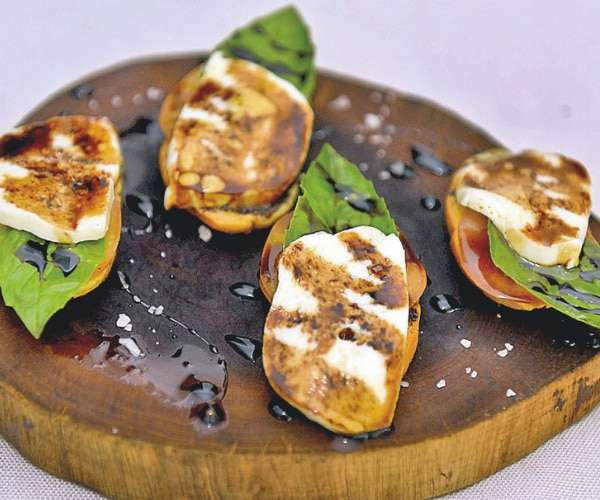 They have a myriad of starters and appetisers to select from and I opted for the Bruschetta with Fresh Tomatoes,
Garlic, Basil, Italian Buffalo Mozarella, Balsamic (Rs. 720). This was definitely refreshing and the flavour combination; oh my! There was a slight tanginess from the balsamic vinegar which was cutting nicely through the mozzarella and was pairing nicely with the basil in it and the basil with tomato was a smacking duo with everything brought together by the bread.
Mains
Basil and Pine Nut Pesto, Homemade Gnocchi and Parmesan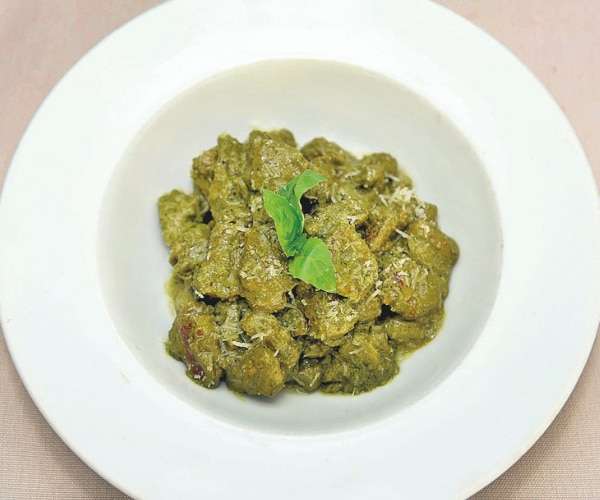 They have quite a range of pasta and we opted for gnocchi because only a very few restaurants serve it in Colombo. The Basil and Pine Nut Pesto with Homemade Gnocchi and Parmesan (Rs. 1160) was absolutely sublime to the point I forgot this was a vegetarian dish. The pesto was on point and the olive oil making the flavour of basil subtle and with notes of pine nuts hitting here and there. The gnocchi was made out of just flour if I'm not mistaken and it was nicely done. I would have liked for it to be a little fluffier, but still, this was very nice.
Homemade Prawn Ravioli with Butter Sauce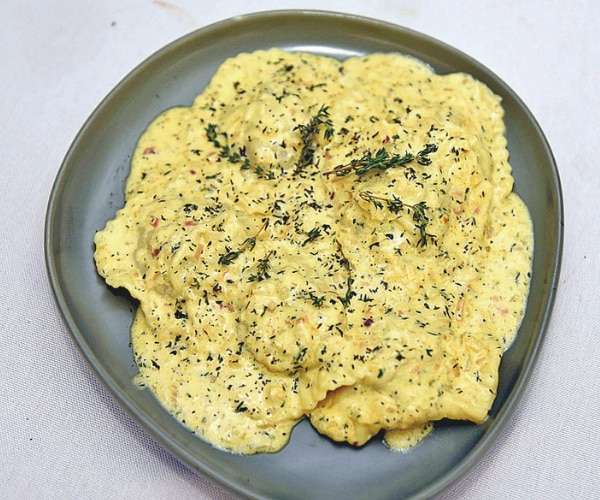 The Homemade Prawn Ravioli with Butter Sauce (Rs. 1780) was made to perfection. The ravioli were filled with so
much prawn and they were so fresh. The prawns had little flavour so it could blend nicely with the butter sauce and
that was the star of the dish!
Pizza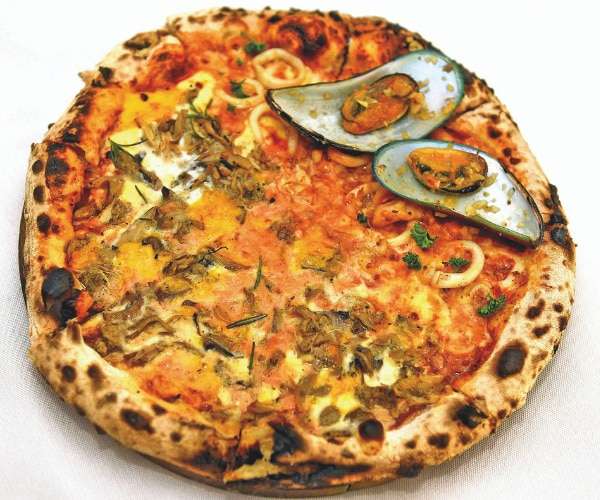 We chose Roasted Chicken, Assorted Mushrooms, Oregano, Mozzarella and Cheddar White Sauce (Full – Rs. 1890) and Frutti De Marre (Full - Rs. 2720) which comes with prawns, calamari, garlic, tomato, parsley, and mozzarella, with the half and half option. They offer thin crust pizza crust and Napoli style crust and we opted for the latter as that was their signature style of crust. In it, the dough is fermented for up to 24 hours and the difference was apparent in the dough. The dough was rich, and I could taste small hits of alcohol here and there which I loved. The pizzas were top notch and we would reorder them in a heartbeat.
Dessert
Dark Chocolate Tart with Fresh Cream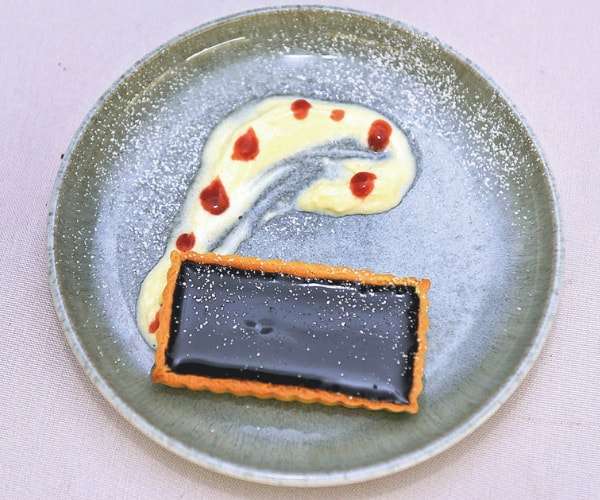 The Dark Chocolate Tart with Fresh Cream (Rs. 520) comes with tart made with rich dark chocolate which was not
too bitter in a very crispy creamy crust alongside a touch whipped fresh cream and raspberry coulis. If you are a
chocolate enthusiast like me, then this is a must-try.
What we recommend: The Basil and Pine Nut Pesto, Homemade Gnocchi and Parmesan, the pizzas and the Mint and Lime Cooler were our favourites
Would we go again? Yes definitely. We cannot wait to see what new dishes they come up with.

Tips/notes by writer
There is a 10% service charge added at the end of the bill.
Service:5/5
Parking facilities: 4/5
Toilets: 5/5
Opening hours: Lunch – 12-3pm, Dinner – 6-11pm
Features: Dine in, takeaway and delivery options available
Price range: Rs. 200 - Rs. 3450
Photos Nisal Baduge
Address: 180 Park Road, Colombo 5
Contact- 0112505818
Social media: https://www.facebook.com/3brothersItalianBistro/
Instagram : https://www.instagram.com/3brothersitalianbistro/?hl=en