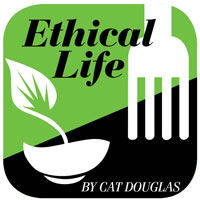 This recipe is one of my own that I've adapted over the years depending on what ingredients I have in the cupboard. It can be eaten anytime of the day - wrapped in a tortilla as a breakfast burrito, on top of some toast for a quick lunch or as a topping for nachos for dinner. You can put an array of different toppings such as avocado, jalapenos or sour cream (cashew sour cream for vegans), let your imagination and your fridge make the decision. I've given this chilli to my non-vegetarian parents before and they loved it so I'm glad to be sharing this recipe with you today.
Shopping List
· 3 x cloves of garlic, diced
· 1 x onion, diced
· ½ cup water of vegetable stock
· 1 - 2 potatoes (white or sweet), cut into medium sized cubes
· 1 carrot, diced
· 1 x pepper (capsicum - any colour), diced
· 1 x can (or 1 cup of dried) red kidney beans. You can use any bean you like though but kidney beans or black beans give it a more Mexican feel
· 1 x can diced tomatoes
· ½ tin canned corn (or ½ cup fresh corn)
· ½ cup soya mince (or you can crumble tofu up)
· 2 tbsp paprika
· 2 tbsp ground coriander
· 1 - 2 tbsp chilli powder or sauce (you can adjust depending on what level of spice you like)
· 1 handful of spinach (or another green such as kale)
What Next?
· Fry the onion and garlic of medium heat until they soften. Careful not to burn them.
· Add in the potato and carrot and enough water to stop them sticking to the pan.
· Add in 1 tbsp paprika, ground coriander and chilli.
· Let that cook until the potato and carrot start to soften.
· Add in the pepper, beans, corn, soya mince and tomato.
· Add the rest of the spices.
· Let simmer for about 15 minutes.
· Mix in the greens and let cook for 2 minutes, add anymore spices as necessary and you are done!
· Add any toppings you like such as corn chips, avocado, sour cream, jalapenos, fresh tomato, fresh coriander etc.
Enjoy!